Leasing deals have limited mileages and high initial rentals can be a problem. However, Volkswagen's Personal Contract Hire (PCH) deals offer relatively low monthly payments and, as we've discovered below, a bargain can easily be found.
There's only one deal available directly from VW at the time of writing, so we've added in some extra offers from independent lease providers to help you find the best bargains.
Volkswagen leasing deals 2021/2022
Volkswagen Arteon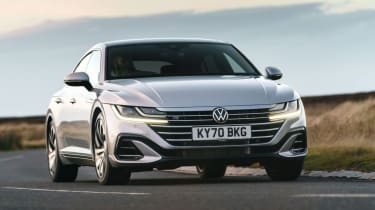 The Volkswagen Arteon is one of the most stylish cars in the VW line-up, and it's designed to take on upmarket rivals such as the Audi A5 Sportback or BMW 4 Series Gran Coupe but with smaller bills. You can get your hands on a leased one from VW from £558.57 per month. View this deal here.
Model: Arteon R-Line 2.0 TSI 190PS 7-Speed DSG
Monthly Payments: £558.57
Initial Rental: £3,351
No of payments: 35
Annual mileage: 10,000 miles
Excess mileage: 10.8p per mile
Volkswagen lease deals from independent providers
Volkswagen Golf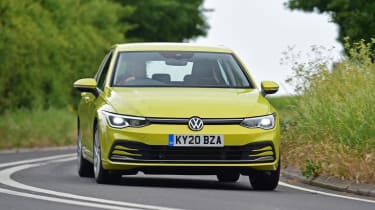 The Golf has long been a staple of the hatchback world. Whether in sensible standard set-up or in the hot GTI and R variants, this VW has proven a huge seller for the brand and is often referred to as the benchmark for other brands to follow. A careful blend of handling, practicality, build quality, and an overall classy image all make the Golf an excellent all-rounder to lease or purchase. View this deal from Leasing.com.
Model: Golf 1.0 TSI Life 5dr
Monthly Payments: £230.90
Initial Rental: £2,078.10
No of payments: 47
Annual mileage: 8,000
Excess mileage: charges apply
Volkswagen ID.3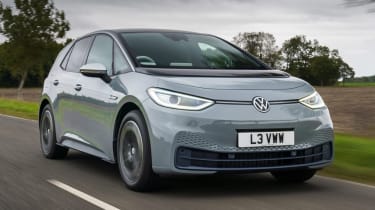 The ID.3 was the first of Volkswagen's new 'ID' generation of fully electric cars. It's safe to think of this sensible, zero-emission family hatchback as a successor to the e-Golf, with big improvements made to the overall practicality and daily usability. The 58kWh battery fitted to the model on offer in this deal will even deliver up to 260 miles of range from a full-charge – plenty for most uses, including longer journeys. View this deal from Leasing.com.
Model: ID.3 107KW Family Pro 58kWh
Monthly Payments: £274.84
Initial Rental: £2473.56
No of payments: 47
Annual mileage: 8,000
Excess mileage: Charges apply
Volkswagen ID.4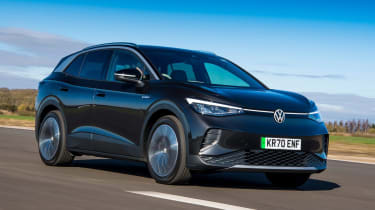 The second car of the 'ID' generation, the ID.4, is Volkswagen's first entry into the growing electric family SUV market. As a result, Volkswagen has taken extra care to ensure that it makes a strong first impression with new customers. Plenty of usable space, generous levels of on-board technology and a comfortable ride all make the ID.4 a pretty solid choice of family car, and you can now lease one for less than £320 a month. View this deal from Select Car Leasing.
Model: ID.4 109kW Life Pure 52kWh 5dr Auto
Monthly Payments: £318.89
Initial Rental: £2,870.01
No of payments: 47
Annual mileage: 5,000
Excess mileage: Charges apply
Volkswagen Polo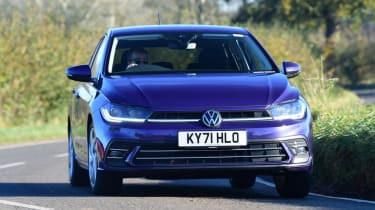 The Polo has often been regarded as a smaller, and cheaper, version of the Golf, and this is no bad thing. The latest sixth-generation Polo is now more like its big brother than ever. With a composed ride, a surprisingly practical amount of space for a car of its size, and an overall classy feel all make the Polo a truly desirable supermini. What's better is that you can lease a Polo for less than £210 a month, thanks to this deal. View this deal from Leasing.com.
Model: Polo 1.0 Life 5dr
Monthly Payments: £205.92
Initial Rental: £205.92
No of payments: 47
Annual mileage: 5,000
Excess mileage: Charges apply
Have you ever leased a car? Let us know what you think of leasing deals in the comments section below…
Read more of our best car recommendations…