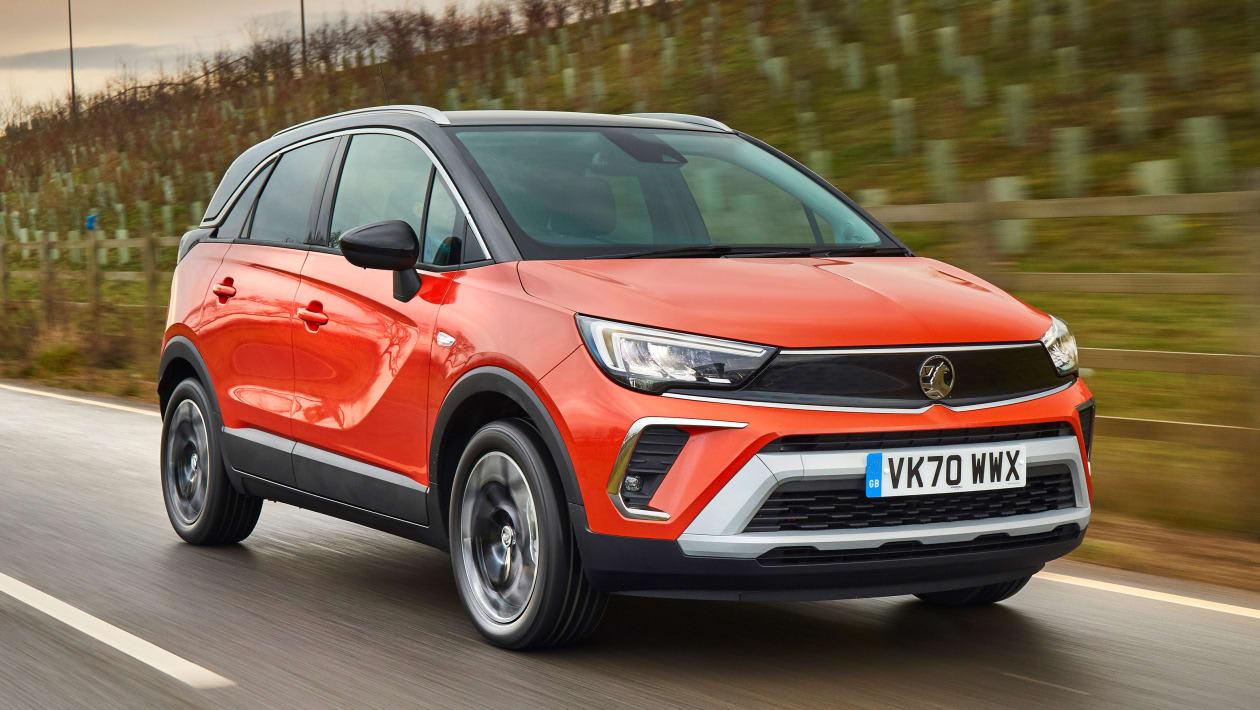 Vauxhall has re-jigged the Crossland, Grandland, and Insignia's trim-level structure. In the process, the company has added some extra standard equipment to each specification and slashed the price of some of its models by as much as £2,400.
All three cars now get the same basic trim-level structure, which is separated into three specifications called Design, GS Line and Ultimate. Prices for the Vauxhall Crossland now start from £18,415, which is almost £2,000 cheaper than the old SE Edition base-model.
The cheapest Design model builds on the specification of the old SE model, adding safety equipment such as forward collision alert and automatic emergency braking. Buyers also get 16-inch alloy wheels, a seven-inch touchscreen and lane departure warning.
Prices for the Crossland GS Line start from £20,840 with Vauxhall's cheapest 128bhp 1.2-litre petrol engine. Upgrades over the base-model include 17-inch alloy wheels, privacy glass, a contrasting black roof and gloss black exterior trim. The infotainment system is also swapped out for a larger eight-inch unit and dual-zone climate control is now standard.
Vauxhall's new range-topping Ultimate specification adds 19-inch alloys, LED headlights and body coloured replacements for the car's bumpers, wheel arches, door mouldings and skid plates. The cabin also gets a lift, with heated front seats, Alcantara upholstery, a heated steering wheel and a panoramic rear-view camera. Prices start from £24,515.
It's a similar story with the Grandland. Vauxhall has removed the old model's Elite trim and added a bit more standard equipment to the remaining three models. Prices start from £25,810 for the cheapest Design specification (or £615 cheaper than the old SE model), for which buyers get 17-inch alloys wheels, dual-zone climate control, lane assist, a seven-inch infotainment system and all the safety equipment found on the Crossland Design.
The Grandland GS Line bumps the SUV's starting price up to £28,070, but the extra cash brings 18-inch alloy wheels, LED lights all round and alloy-effect skid plates. There's a major tech upgrade inside, too, with Vauxhall's 10-inch infotainment system and 12-inch digital gauge cluster fitted as standard.
Ultimate-badged cars start from £31,570, which is £1,525 less expensive than the previous range-topping model. Standard equipment includes 19-inch alloy wheels, Vauxhall's Pixel LED headlights and the same body-coloured styling pack as the Crossland. Inside, there's also heated front seats, a heated steering wheel, Alcantara upholstery and some extra safety equipment, such as blind spot assist and lane positioning assist.
The Insignia line-up shares the first two trims in Vauxhall's new range, but there's no Ultimate specification available – just Design and GS Line here. The former option is priced from £30,720 and comes as standard with 18-inch diamond-cut alloy wheels, dual-zone climate control and an eight-inch infotainment system.
The Insignia GS Line has a starting price of £33,975. Upgrades over the Design specification include 20-inch alloy wheels, Alcantara interior trim, AGR-approved sports seats and a wireless smartphone charger.
Now click here to read our review of the new Vauxhall Grandland…