The Toyota RAV4, the brand's current-generation mid-sized SUV, made a clean break with its more than 25 years of history when it went on sale in the UK at the beginning of 2019. Following so many of its rangemates, it switched into Toyota's latest 'TNGA' modular vehicle platform technology. Its dimensions changed only slightly, becoming one of few new cars to become shorter at the kerb than its immediate predecessor.
But the mechanical change most will likely have noticed happened under the bonnet. Having been available in all of its previous forms with conventional petrol engines, and since the 'XA20' second-generation version also with a diesel for those who wanted one, the new RAV4 switched to petrol-electric hybrid power exclusively.
While buyers in other markets can buy conventional petrol-engined versions of the car, then, in the UK the RAV4 comes with a 2.5-litre, four-cylinder, atmospheric petrol engine and a combination of electric motors, depending on what version you opt for. Both front-wheel drive and four-wheel drive are available. Entry-level cars offer 215bhp and front-wheel drive, while 'Hybrid AWD-i'models come with power increased slightly to 219bhp (because they add a second electric drive motor for the rear axle).
It's the range-topping RAV4 PHEV that we've elected to test, though, whose more powerful electric motors and drive battery combine with its combustion engine to produce up to 302bhp – which is enough to get your attention.
Technical specs
Model tested:
Toyota RAV4 2.5 PHEV AWD-i Dynamic Premium
4cyls inline, 2487cc, Atkinson cycle, petrol; with 2 x electric motor
Driveline layout:
Front, transverse; four-wheel drive via ERAD
Model tested
Toyota RAV4 2.5 PHEV AWD-i Dynamic Premium
View all specs and rivals
4cyls inline, 2487cc, Atkinson cycle, petrol; with 2 x electric motor
Driveline layout
Front, transverse; four-wheel drive via ERAD
Electric range
46 miles (tested)
Electric range
46 miles (tested)
Being capable of almost 50 miles of lab-tested electric running on its 18.1kWh drive battery, and emitting as little as 22g/km of CO2, the plug-in hybrid also moves the RAV4 into quite rarified waters as a tax-saving company car. It's one of a still-very-limited number of family cars that might cost a fleet driver less than 10 per cent of its showroom value in annual benefit in kind tax, but might also cost his fleet operator less than £50,000 at list price. The regular RAV4 Hybrid can be had for much less, but no version of the car other than the PHEV promises to beat an advertised 50mpg, or emits less than 130g/km of carbon dioxide.
Toyota RAV4 engine line-up and trim levels
The petrol-hybrid RAV4 comes in a four-tier model trim range that opens up with the sub-£32,000 Icon version, and continues with Design, Excel and the range-topping Dynamic. The plug-in hybrid verson, as tested here, has three options: Design, Dynamic and Dynamic Premium. Alloy wheel sizes range from 17- to 19in; and while entry-level cars miss out on equipment such as heated electric seats, LED headlights and front parking sensors, they do get adaptive cruise control and plenty of active safety kit as standard.
The RAV4 is built in St Petersburg, Russia for the UK market, with range-topping plug-in versions assembled in Japan instead.
Has strong performance combined with convincing real-world economy
Refined, spacious and comfortable
Genuine 46-mile electric range is outstanding among PHEV rivals
Expensive compared with some PHEVs
Lacks premium allure and luxury ambience of rivals at the price
Toyota clearly set out of make an impact with this daring-looking fifth-generation RAV4. While it doesn't have the plunging roofline or slimline features of the smaller Toyota C-HR crossover, there are much bolder lines and more chiseled features on display here than previous generations have had.
You wouldn't call the result beautiful, but it'll certainly get your attention. At the risk of authoring a car that some may consider fussy, Toyota has carved plenty of form and detail into the RAV4's flanks, and – with some success – has chosen big stand-out design features to distinguish the car like its arrowhead radiator grille, kinked C-pillar and squared-off wheel arches.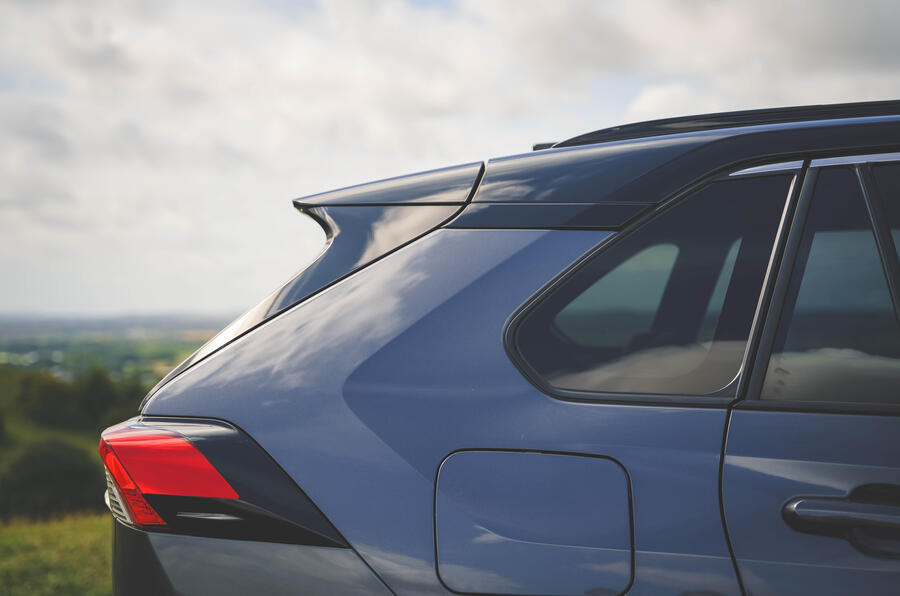 Underneath the body panels, the car's new all-steel model platform and chassis brings greater torsional rigidity, a lower centre of gravity and double-wishbone rear suspension – all of which promise improved handling. Both the bonnet line and driver's seat are 15mm lower than in the fourth-generation RAV4, while the glasshouse is larger than before, boosting visibility all-round. The car's electromechanical power steering system is now rack- rather than column-mounted, while road-biased 'summer' tyres replace the all-weather type fitted to the previous-generation car.
Like so many of Toyota's hybrid-intended motors, the 2487cc four-cylinder petrol engine that primarily powers the RAV4 runs on the thermal-efficiency-boosting Atkinson combustion cycle, and has a more 'undersquare' cylinder design than its predecessor (the engine's smaller-of-bore and longer-of-stroke than its predecessor was, for better natural torque production). Fed by both direct and indirect fuel injection and aspirated by two different forms of intelligent variable valve timing technology, it produces up to 176bhp for the car; it's mounted transversely under the bonnet; and it drives the front wheels in tandem with an electric motor/generator itself rated for up to 118bhp.
In the case of four-wheel drive cars, a second electric motor drives the rear axle directly with up to 54bhp, although 'total system' power outputs for the front-driven Hybrid and four-wheel drive Hybrid AWD-i are only 215- and 219bhp respectively.
The plug-in hybrid RAV4 uses most of the same mechanical ingredients as the regular Hybrid, although its combustion engine produces slightly greater peak power (182bhp) and its front-mounted electric drive motor is significantly more powerful and torque-rich (180bhp, 199lb ft). Total system output here is 302bhp; as ever, Toyota doesn't quote a total system torque output but, with both electric motors working hard and the combustion engine's torque curve building, there can safely be imagined to be in excess of 400lb ft finding their way to the car's axles.
Featuring so much electrification, the RAV4 might never have been taken for a particularly lightweight member of the SUV set, but entry-level front-driven cars can actually weigh in at less than 1600kg according to Toyota's claims. A plug-in hybrid is nearly 300kg heavier than a like-for-like, all-wheel drive regular Hybrid, however. Our PHEV test car weighed in at 1949kg in running order and with fuel onboard, but that fell well within Toyota's claimed kerbweight range for it. It's plainly not light. Allowing for the car's good-sized 18.1kWh drive battery though, it might actually qualify for quiet praise against a backdrop of PHEV SUVs which almost universally weigh more than two tonnes.
The RAV4's interior has been well-prepared for everyday family life. There's plenty of space for up to five occupants, with taller adults able to find enough space in the back pretty easily (although there's no sliding back seat functionality here).
Access is easy too, and the seats are comfortable, while the good-sized boot offers more than 500 litres of loading volume below the tonneau cover, rising to more than 1600- up to the roof with the seats folded. There's a little bit more cargo space still in a regular hybrid than in a PHEV, and the latter doesn't have room for a spare wheel where the former does – but still offers plenty of versatility.
There's a distinctly high-quality feel about the car's switches and fittings: one that isn't overly rich, luxurious or glitzy, but is all about solidity and integrity of materials. The interior tends to prefer bigger switches and knobs to smaller, fiddlier ones, and secures all very robustly.
The driving environment is made up of a medium high-set seat offering good visibility, in front of a hybrid analogue/digital instrument layout and alongside a raised centre console that makes the transmission and handbrake controls easy to reach. If you're taller than 6ft 3in there's a chance you'll notice a slight shortage of driver's leg- and headroom compared with some mid-sized SUVs, but you'd have to be very tall indeed to be inconvenienced by it.
You get big physical controls for the heating system and most active safety and convenience systems too, so the car becomes easy to operate once you're familiar with its layout. Likewise, the digital dashboard and head-up display can bamboozle you with lots of information at first, but once you've configured them to your liking there's little extraneous information broadcast or important info left out. Setting up the head-up display to display a rev-counter is a real boon if you like to know exactly when the combustion engine is running, and how hard it's working, for example.
Cabin storage is plentiful, with good-sized door cubbies ready to accept drinks bottles; an armrest cubby deep enough for purses and tablet PCs; and a grippy rubber pad at the base of the centre stack to hold your smartphone steady on the car's wireless charging pad. A half-sized glovebox in right-hand drive cars is the only annoyance on that score.
The car's Touch 2 infotainment system is fairly easy to navigate and displays its menus and mapping clearly enough. It won't win many fans for its graphical sophistication or its roster of connected features, but it does offer smartphone mirroring for both Apple and Android phones, and plenty of USB device charging ports in both rows of seats. You have to lavish top-of-the-range cash on a Dynamic Premium trim car to get a JBL nine-speaker audio system and a head-up display though (both are worth the money), while entry-level Design-trim PHEVs don't get wireless device charging.
There can't be an awful lot wrong with the performance of a near two-tonne SUV that'll knock over the 0-60mph dash in less than six seconds, but that also stands ready to really impress you for its real-world running efficiency – whether you charge it regularly or not.
Broadly speaking, that's the prospect that the RAV4 PHEV offers. It has commendable refinement and isolation too, and mostly good drivability and flexibility as it accelerates. Under wide throttle applications you're aware of just a little bit of the 'rubber band effect' of hybrid Toyotas of old – but mostly you'll be too busy marveling at a car of this size that can mix it with hot hatchbacks as it zips away from rest. The characteristics of the car's electric motors and transmission make it feel punchier when pulling away from town speeds than when overtaking around the national speed limit, but there's still plenty of urgency left under your foot for assertive motorway driving.
Making brisk progress isn't really what this car feels best suited to once you're used to its outright capabilities, however. You can sharpen its pedal calibration by selecting the sportier driving modes; but you still have to get quite a long way into the accelerator, and make the engine do its impression of either an (admittedly distant) outboard motor or a hard-working three-speed food mixer, to get the car really moving. Driving it more reservedly and responsibly is generally more satisfying.
Do that and this car is a relaxing, efficient, comfortable and very pleasant family conveyance. It starts in electric mode when there's charge in the battery pack, but can also be driven in HV (battery hold), Charge (battery charge) and Auto EV/HV modes (in which it deploys electric power and regulates battery condition automatically). There's also a Trail mode for loose surfaces.
Whichever mode you've chosen, you'll find the engine starts and stops very unobtrusively indeed, and there's always plenty of urge under your foot in typical give-and-take motoring. Toyota could really only improve drivability in two ways. Firstly, by giving you finer control of brake energy regeneration in electric mode via the car's shift paddles, allowing you to coast when the road's clear, and then to blend battery regen up only when it's needed so as to boost rolling efficiency (there isn't even a 'B' transmission mode here). And secondly, by delivering a better and more intuitive-feeling brake pedal. As it is, the RAV4's brake pedal feels mushy, then grabby, as it trades motor regen for friction braking, and annoyingly it seems to get worse the harder you drive the car and the more you've need of it.
The RAV4 is a comfortable, generally gentle-riding family SUV even in PHEV form. Unlike other manufacturers, Toyota hasn't been misled to tune the range-topping version as if it were a high-rise performance car just because it's powerful- and fast enough to give some syllogistic validity to the logic.
And so this car has just the kind of rounded, mature, easy-going on-road qualities you'd hope an extra-versatile family car would. It feels relatively softly sprung, but not wallowing or inert. It rolls as it corners a little but its rate of roll and its ultimate lean angle are both contained, and neither is permitted to corrupt the linearity and intuitive authority of the car's medium-paced, medium-weighted steering, which makes the car very easy to place and feel natural to guide at both low speeds and high.
Some SUVs of this size and price can feel heavy, wide and cumbersome on the road, but the RAV4 isn't one of them, retaining a sense of balance and understated agility, and demonstrating little dynamic penalty for its considerable kerbweight. Hurry the car along and you'll more likely be steadied on more testing roads as the car's vertical body control reaches its limits, but outright cornering grip and balance are encouragingly high, and traction likewise. At times, you really can feel the car's rear-mounted electric motor and its more rearward weight distribution helping to rotate the chassis on the way out of bends, filtering in a sense of sporting dynamic poise to the car's character that few will have expected.
The car's ride is supple and absorptive across the speed range, just as you'd want a practical family car's ride to be. Good isolation makes cruising refinement on good surfaces commendable, with our noise meter registering just 61dbA of cabin noise at 50mph (a decibel lower than a Range Rover Evoque P300e). But there was just the occasionally interruption to the general onboard calm caused by our test car's 19in alloy wheels, which clunked and fussed a little over sharp edges and drain covers. It's not a serious enough factor to erode the car's generally refined, comfortable and easy-going vibe overall; but it may be another reason to think hard about whether you really need a higher and more expensive trim level, or would actually be better served by an entry-level RAV4 PHEV on 18in wheels (or could perhaps have the smaller rims fitted by your dealer).
We've already touched on the main pecuniary reasons that a company car driver might choose a RAV4 PHEV over any other plug-in SUV. The car's 46.5-mile WLTP EV range and sub-50g/km CO2 score combine to allow it to qualify for BIK tax at seven per cent of its list price, rather than at eleven, twelve or even more in the case of some of its rivals. That difference might save a 40 per cent income tax-payer £100-a-month all by itself.
Private buyers will likely look to real-world fuel economy to offset some of the high purchase price of the plug-in hybrid, of course: and what you get here will depend on how often you charge, as with all PHEVs. The difference here is how unlikely the RAV4 PHEV will be to disappoint in any case. In UK-typical motorway touring, the car will return nearly 50mpg on a flat battery. Around town and during unhurried commuting you could expect similar or slightly better – again, on a flat battery.
But charge the car regularly and you'll really get the benefit of that electric range. Our test car verified its electric autonomy claim almost exactly, averaging 46 miles in electric mode over several trips; and that fed into an average test economy of 67.9mpg for the car, which really is very commendable for a PHEV considering the impact that our performance testing always has on the figure. The car's trip computer only reads to 200mpg – but if you're a habitual home-charger and a short-range commuter, you could easily average better than that over the long term (although, of course, you might not know by exactly how much).
As regards charging, Toyota includes a 32-amp charging cable and a 6.6kW onboard batterycharger with the RAV4 PHEV as standard and so, via a 7.4kW home wall box or public charging post, this is a car you could charge from flat to full in around two hours (which is more quickly than in the case of Suzuki's related Across SUV). Unlike Land Rover's comparable PHEV SUVs, however, it is not compatible with DC rapid charging.
The Toyota RAV4 PHEV is kind of car that might reaffirm your faith in the idea of the plug-in hybrid car, if by any chance an earlier encounter with a different one had disappointed. With a really useful electric range and good underlying fuel efficiency, it delivers on the potential of the technology in a way in which rivals, for different reasons, can struggle and fail to do. It has surprisingly strong performance, decent drivability, and an all-round freedom from any practicality compromises. And in terms of its chassis tuning, it doesn't go off on a wild goose chase in search of particular driver appeal, but instead just presents really versatile, comfortable, rounded ride and handling, precisely as a mid-sized family SUV should.
This car gives you hope for the PHEV concept not as a one-dimensional gimmick, tax dodge or lab-test emissions cheat, but as a valid route to using less fossil fuel as part of your daily motoring. Put simply, that's because when the RAV4 PHEV is running electrically, it can carry on doing so for what feels like a more meaningful distance than you get with many PHEV alternatives; and when it isn't, this is still a gratifyingly frugal car for its class.
There will be people for whom a cheaper diesel SUV would still make better financial sense, clearly; and others who might perhaps expect more desirability, luxury appeal or dynamic spice for their £50k. But there should be plenty who can see the sense in paying a premium for a car of such broad and unqualified capabilities as this.