So we poor neglected souls in the UK won't have the opportunity to buy the Toyota GR Corolla.
For a nation so used to opening its wallets for great hot-hatches, it's a genuine shame, especially when you think about the impact the Toyota GR Yaris has had.
However, we haven't been completely overlooked. From the Gazoo Racing stables, we do at least now have the option of a Toyota Supra manual. It's a model that represents an interesting second bite at the cherry for the fifth-gen Toyota Supra, which we've always regarded as being well-rounded and capable but, equally, has never truly gripped us.
Toyota launched the three-pedal version of the Z4-underpinned Supra earlier this year (albeit only on circuit) and revealed that it had also taken the opportunity to fettle the car's chassis. The manual model duly introduces firmer anti-roll bar bushings, increased damper rates and retuned power-steering, all intended to make the Supra feel more direct, controlled and engaging – stiffer competition for the Porsche Cayman, in short.
There are also new, 19in forged wheels and lighter seats and overall nearly 40kg is saved compared to the automatic Supra, which uses an eight-speed torque converter. Note, though, that opting for Pro specification adds power-adjustable seats in leather and a 12-speaker JBL sound system, putting around 20kg back into the recipe. Note also that Toyota has no plans to pair this manual gearbox with the 2.0-litre, four-cylinder engine of the entry-evel Supra. Such a car might have been a nice alternative for all those unable to secure slots for the sold-out Toyota GR86, but oh well.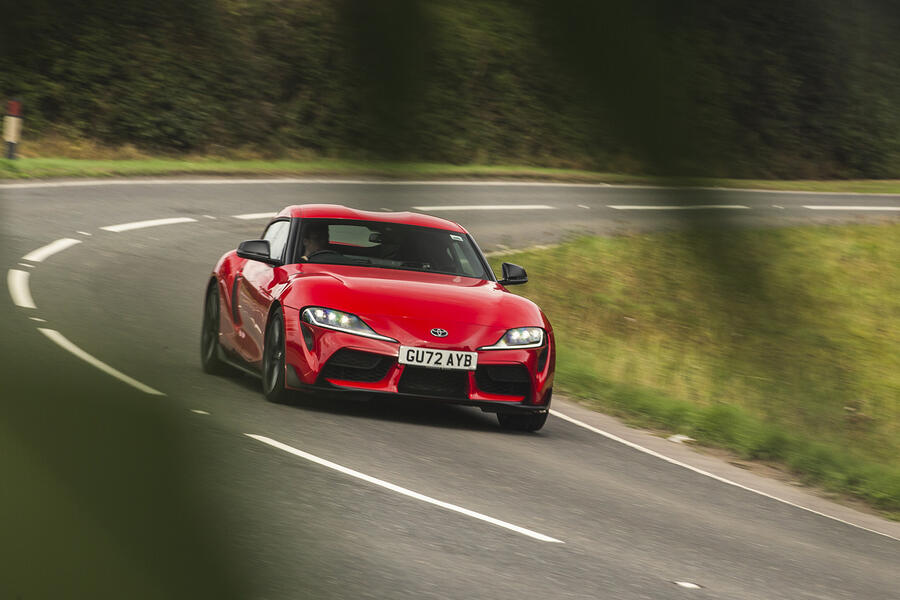 Experiencing the manual Supra on UK roads, what becomes clear is that there are good reasons why you might go for the manual Supra and one why you wouldn't.
You'd have it because, simply, how many front-engined, two-seater, GT-style cars with six or more cylinders, and that come with the pleasure of changing gear yourself, can you currently buy for little over £50,000? That's right: one. The Supra is your only choice and it's enticing and romantic for that reason alone. With its high scuttle, pillbox view forward, the faint sensation that you're sat right above the electronically controlled LSD and, of course, the new manual 'box, this relatively attainable Toyota gives off mini-Ferrari 550 Maranello vibes.
More specifically, the modestly weighted clutch-pedal is a little long but the shift-action itself is involving enough and far more fun that pulling the stubby little paddles found on the automatic car. There's also something lovely about hitching higher gears early doors and letting the engine's reserves of torque effortlessly drag you along. Equally, red-line upshifts are slick enough and, while there's some crankshaft inertia with this turbocharged BMW straight-six, rev-matched downshifts come easily enough, though there is also an effective rev-matching function, which lends the car to everyday driving.
Less impressive is fuel economy: the six-speed manual 'box means plenty of revs are needed for motorway cruising, while on B-roads you're unlikely to match the efficiency of the automatic car, which slips itself into higher gears almost without you noticing. A smallish tank also doesn't help matters when it comes to your perception of the car's thirst, which feels considerable.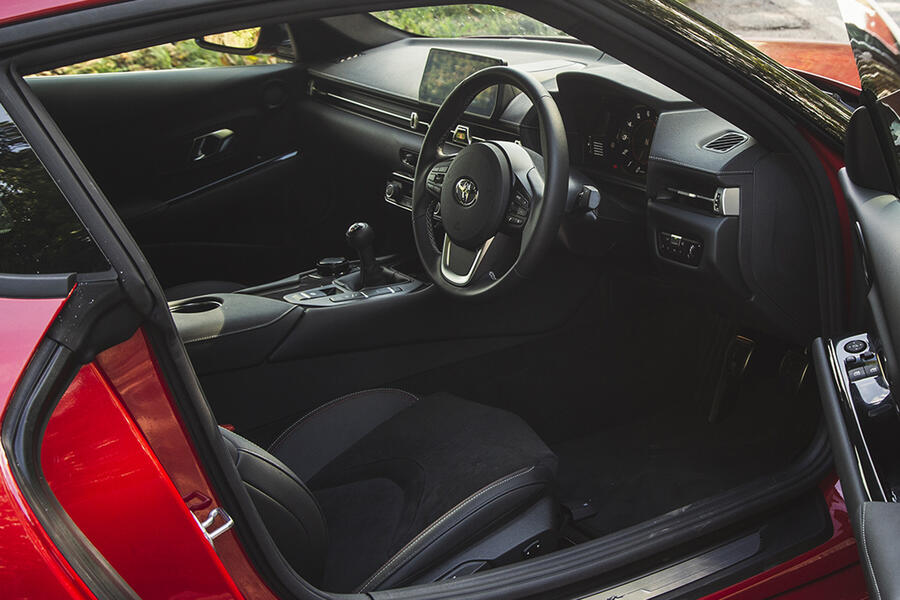 As for the chassis tweaks, they do make the Supra usefully more throttle-adjustable and precise. Come fractionally out of the accelerator mid-corner, for example, and the long nose will tuck in gently and your line will tighten to satisfying effect. The original car did that but not to this extent.
The steering response feels notably more alert too, though only perhaps to those intimately familiar with the original MY19 GR Supra. With that car there was always slight sense of delay as your commands on the steering wheel were fed forward. Now, with tighter body control at the front axle, direction changes happen faster and more in unison between driver and front axle. This improvement is particularly welcome because it give you that more confidence in what is a very fast car in the right circumstances.
However, the changes don't fundamentally alter the Supra's gentle understeer balance or fully placate back axle, with still gets agitated during cornering on less than perfectly smooth roads, where it can bob along a little awkwardly. Unsurprisingly this effect is particularly obvious with the softer of the two damper settings though the firmer setting doesn't kill it on the spot.
So, while improved, the Supra is still no Cayman-slayer, mostly because it lacks the Porsche's immense composure and its transparent steering. It flows well enough but it's not something that you can really grab by the scruff and attack B-roads with. The DNA remains more GT than sports car.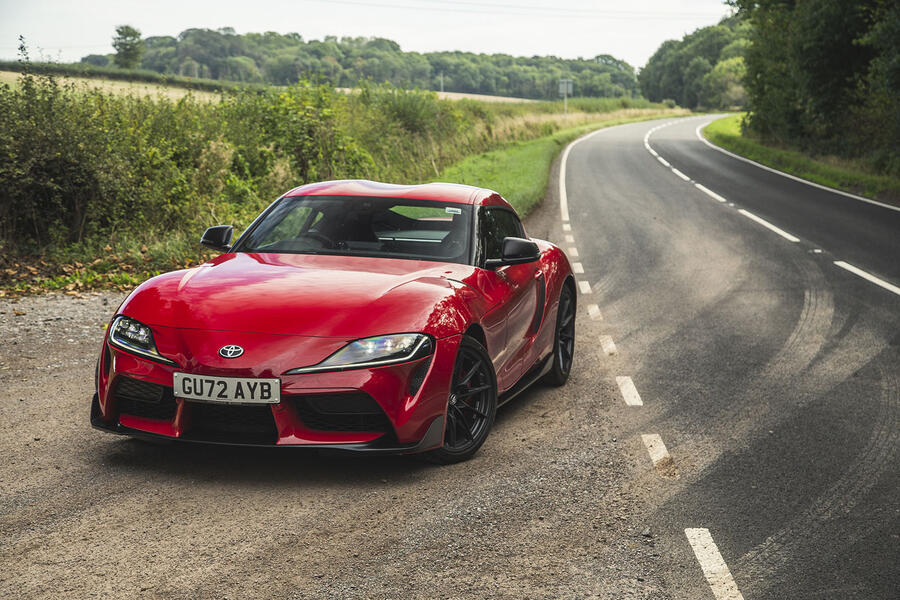 As such, ride quality remains good, so if do you want an attractive junior GT that you can just get in and go, and that is more involving than ever, the manual Supra is well worth considering. It also has that corker of an engine, which loves to spin out but is also tractable and just polite in daily driving.
Most of all, though, there's really nothing else quite like it in this portion of the market.

Model tested:
Toyota GR Supra 3.0 Manual
6 cyls in-line, 2998cc, petrol
Transmission:
Six-speed manual, limited-slip differential
Driveline layout:
Front, longitudinal, rear-wheel drive
Model tested
Toyota GR Supra 3.0 Manual
6 cyls in-line, 2998cc, petrol
View all specs and rivals
Transmission
Six-speed manual, limited-slip differential
Driveline layout
Front, longitudinal, rear-wheel drive