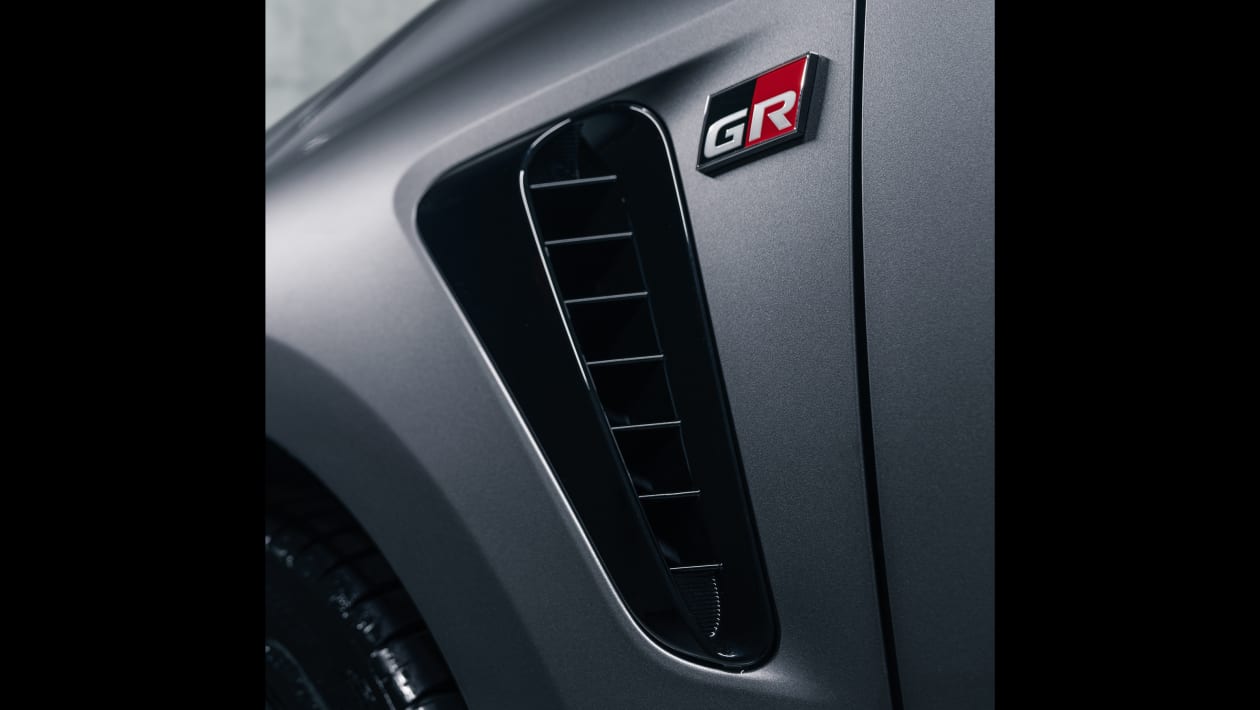 Toyota's newest hot hatch is almost here. The GR Corolla will be revealed on 31 March at 9:30am ET (02.30 BST 1 April), the company's US arm has confirmed.
The teaser video accompanying this announcement shows a sizeable front wing brake duct – next to which is a GR badge – plus a GR-branded red brake caliper under a multi-spoke gloss black wheel, and an embossed 'GR-Four' logo. The latter element suggests the use of the GR Yaris' all-wheel drive system.
We're not expecting the GR Yaris' big brother to come to European markets, however. Instead, the model will focus on North America, where the GR Yaris isn't sold.
Earlier this month, Toyota gave us a glimpse of its forthcoming GR Corolla hot hatchback in a new video advert for the recently revealed GR86 sportscar.
The GR Corolla is briefly seen parked in the background of an abandoned shopping mall as the new GR86 drives past in front of it. While the video doesn't reveal much about the car, there is a similar GR livery to the pre-production versions of the Supra, GR86 and GR Yaris.
A rear shot at the end also gives a few more clues. As the car's engine burbles into life it's possible to spot a subtle rear spoiler and a rear light cluster that's the same design as the standard Corolla.
Expected to go on sale in 2023 – the GR Corolla is tipped to be powered by the same 1.6-litre turbocharged three-cylinder petrol engine found in the GR Yaris. An earlier teaser image from last year revealed GR Corolla's interior, including an instrument cluster showing "G:16" where the time would usually be shown. It is understood that this is a reference to the GR Yaris's G16E-GTS engine code for its turbocharged three-cylinder unit. The power figure could also be more than the GR Yaris's 257bhp with the Corolla's climate control dials showing 2, 6 and 8 – the same as the 268bhp Japanese-market GR Yaris.
The Corolla's sat-nav showed the car next to a road named "GR Four". This all-wheel drive set-up uses limited-slip differentials on both the front and rear axles, combined with an electronically controlled centre differential.
An automatic gearbox was also shown – it's thought that this will be the only transmission option available. Meanwhile, Toyota is working on an automatic GR Yaris, which will presumably use the same transmission as this hot Corolla.
There's not been a high-performance Toyota Corolla since the T-Sport of the early 2000s, which delivered 189bhp from its supercharged 1.8-litre engine, so the promise of a new GR Corolla is a bold move from Toyota, especially given its direct rivals in the USA will range from the Volkswagen Golf R to the new Honda Civic Type R.
Click here for our list of the best hot hatchbcaks on sale right now…