The super-saloon market remains, as ever, fairly small but fiercely competitive. The German big three still have a huge presence, although they perhaps aren't as dominant as they've have been over the years, with changing emissions legislation having shaved away the meat of certain performance brands' model ranges – and opened the door for others to move in.
In the past few years, we've seen the return of Alfa Romeo to the segment. The Italian marque's Giulia Quadrifoglio is epic and has since been joined by even more hardcore GTA and GTAm models. Meanwhile, BMW's decision to remove the standard M5 from sale in the UK has bumped it from the top spot, with the brand new, challenging-looking but brilliant-handling M3 Competition usurping it.
As ever, power and performance figures are getting more and more impressive, with some of the cars in this list now churning out in excess of 600bhp. But output alone isn't enough to grab the top spot. Finally, sense may be returning to this segment, and cars with just-so power and proportions and performance well balanced against real-world usability are coming back to the fore.
We're now onto the sixth generation of the BMW M Division's M3. For many, it may not seem quite the attraction it used to be, with the two-door coupé body it once called its own having been pinched by the M4. Even so, few performance cars mean so much to their manufacturers as this, and few represent such a huge event when a new one comes along.
Like every 'G80' 3 Series, the M3 has put on just a little size and weight relative to its predecessor, but it has also changed somewhat under the skin. This is the first M3 you can have with four driven wheels and the first that has ever come with a torque-converter automatic gearbox. There's a six-speed manual available in come markets, too, but BMW UK offers only the choice between rear-drive and all-paw configurations, both with the automatic 'box.
Meanwhile, a new twin-turbocharged 3.0-litre straight six comes in under the bonnet, codenamed 'S58B30T0', making just over 500bhp and quite a bit more torque than the old 'S55' 3.0-litre unit managed.
While the styling of this car is certain to divide opinion, the M3 Competition's drive is easily good enough to work as a balm for your reservations. Superbly taut, poised and precise handling, allied to a superbly balanced chassis and one of the best steering racks you will find in any saloon in the world, truly set this car apart. As usual in an M3, the engine is cast in a slightly supporting role, but it has great response, linearity and clout when you call for it. The four-wheel drive system in the M3 xDrive is also one of the best around, magically guessing when you want it to feel rear-driven and when you just want ultimate traction.
The new M3 is the super-saloon class's new benchmark. For its distinguishing blend of driver engagement, outright pace, everyday usability and performance value, nothing here is better.
Save money with new 3 Series deals on What Car?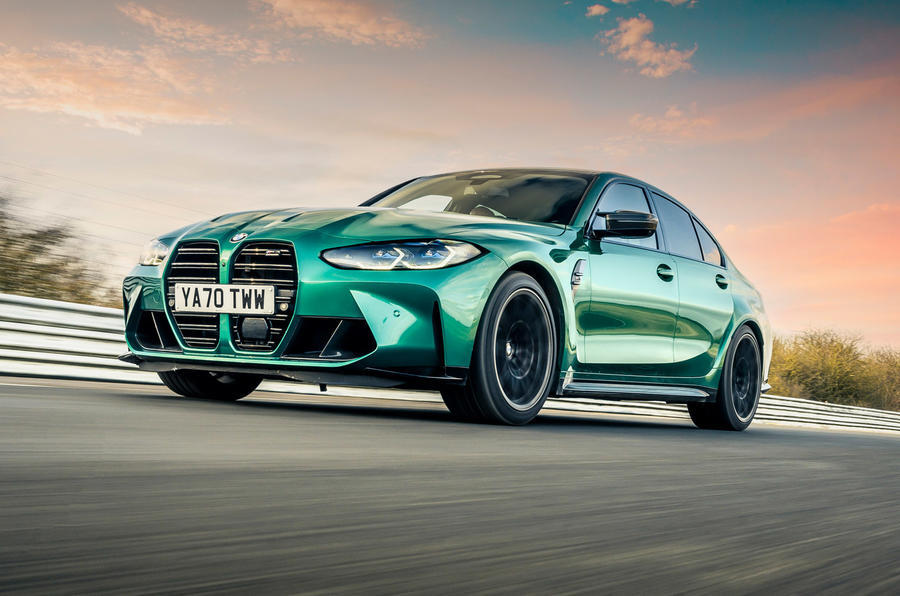 2. Alfa Romeo Giulia Quadrifoglio
The Alfa Romeo Giulia Quadrifoglio missed out on a class-leading berth here by the skin of its teeth. Excellent handling, a composed ride and gorgeous looks are order of the day – all key traits for any serious contender in this segment.
Its Ferrari-derived turbocharged V6 is also enthralling – not quite as flexible as the M3's straight six but with its own distinct appeal. Its handling, meanwhile, is as lithe, balanced, direct and sports-car-like as it's possible to find in anything with four doors – and very engaging with it.
Overall, this car marks a stellar return to form for a brand that had been floundering for some years. The only real shortfall – and it's a relatively small one – is the interior, which is a bit lower-rent than those offered by Mercedes-AMG and BMW.
Save money with new Giulia deals on What Car?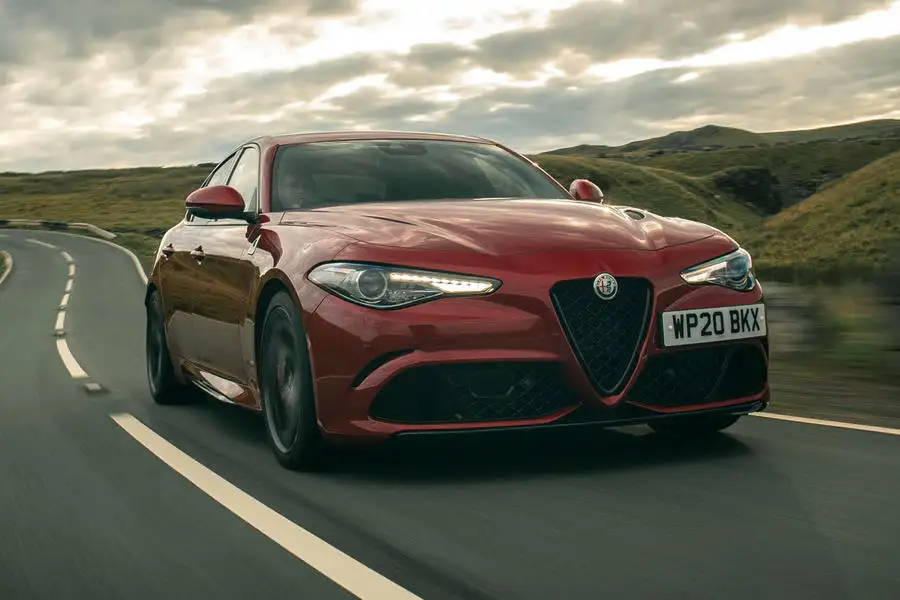 3. BMW M5 CS
The addition of a CS model at the top of the M5 range has transformed BMW's flagship bahnstormer from a very good car into one that touches greatness. Despite the badge, this isn't some stripped-out, track-based special but car that refines and enhances the standard (and still available) M5 Competition. There's more power (isn't there always?), plus a raft of suspension tweaks, most of which are aimed at making the big BMW one of the most involving fast four-doors that quite a lot of cash can buy.
Under the carbonfibre bonnet (one of a number of changes that helps trim 70kg from the M5's kerb weight), the familiar 4.4-litre V8 has been massaged to deliver a thumping 626bhp. For the suspension, there are revised springs, dampers and anti-roll bars, plus a 7mm drop in ride height. Visually, the CS stands out thanks to its vast 20in forged alloy wheels, nifty yellow daytime running lights and whole host of 'gold bronze' trim inserts.
Get moving and its clear that BMW M's engineers have tried to serve up a driving experience that effortlessly melds 'super' and 'saloon'. Performance is bombastic, the twin-turbocharged V8 pulling with a deep-chested elasticity that opens up overtaking opportunities denied to most others. Then there's the finely balanced handling, which offers enough agility and immediacy to have you quickly forgetting about the CS's rather large exterior dimensions. This is truly engaging driver's car, one that gets better the harder you drive, remaing poised and on your side when the standard Competition starts to betray its mass and size.
Yet the CS combines this breathtaking back road ability with an easy-going everyday usability. The reduction in sound deadening means it's not quite as refined as its lesser bretheren, but it's not far off and is far from a wearisome long distance companion. This is backed up by the ride, which only feels sports-car firm and focused at very low speed. At all other times, it rides with remarkable suppleness and control, as you would expect from an executive saloon. And of course it's still a 5 Series, so you get a spacious interior that's impeccably screwed together, lavishly equipped and crammed with the latest tech.
Any downsides? Well, at the thick end of £140,000, it has a price tag to match its talents, but that's largely academic, because the current UK allocation of CS models has already been sold.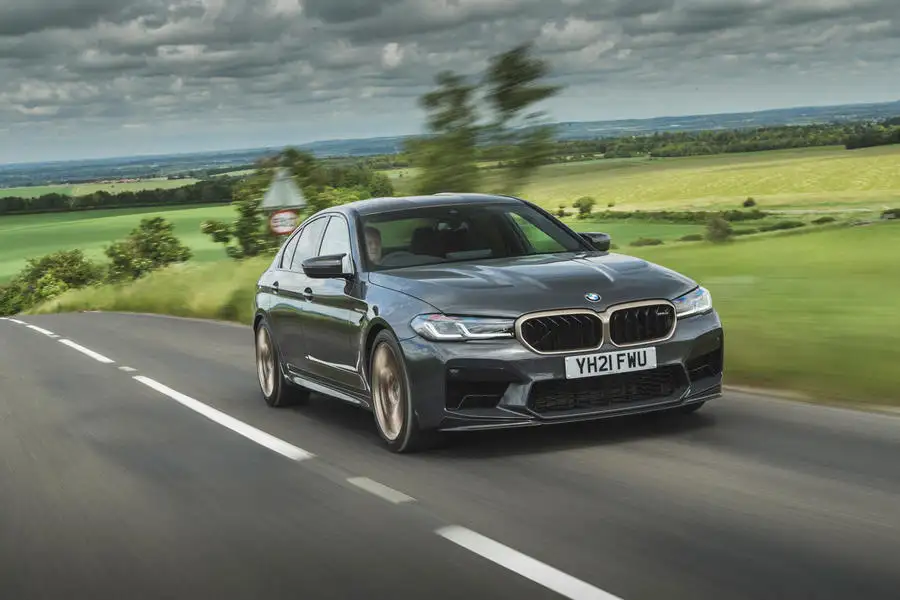 You might wonder why, when we've already given the latest B3 the full road-test treatment and awarded it an exceptionally rare five-star verdict, this Alpina doesn't sit even further up this list.
The short answer is this: the road-test star was the Touring variant, and the B3's ever-so-slightly more laid-back character in comparison to the Giulia Quadrifoglio suit wagon duties to perfection. It means the B3 Touring is simply one of the greatest all-rounders of all time.
For an out-and-out super-saloon, the B3's four-wheel-drive chassis doesn't grab you quite as hard as the others – although that isn't to say it does not still grab you very hard indeed. In a first for Alpina's take on the BMW 3 Series, the new car uses the same straight-six engine as the M3, albeit in a different, lower state of tune. That said, a recent update has seen power increase by 32bhp to 488bhp, while torque has swelled even further to 538lb ft, up from 516lb ft. And it's that torque in the first half of the rev range, combined with M-Power grunt up top, that gives the B3 its supercar-like turn of pace. The saloon claims 0-62mph in just 3.6sec, while top speed is a heady 190mph.
On the move, you're also treated to Alpina's comprehensive revisions to the suspension hardware and geometry, torque-split, braking system and steering of the BMW M340i xDrive on which the B3 is based. The result is one of the most sweetly resolved and intuitive performance cars on the road, and one that's easier to live with the Alfa.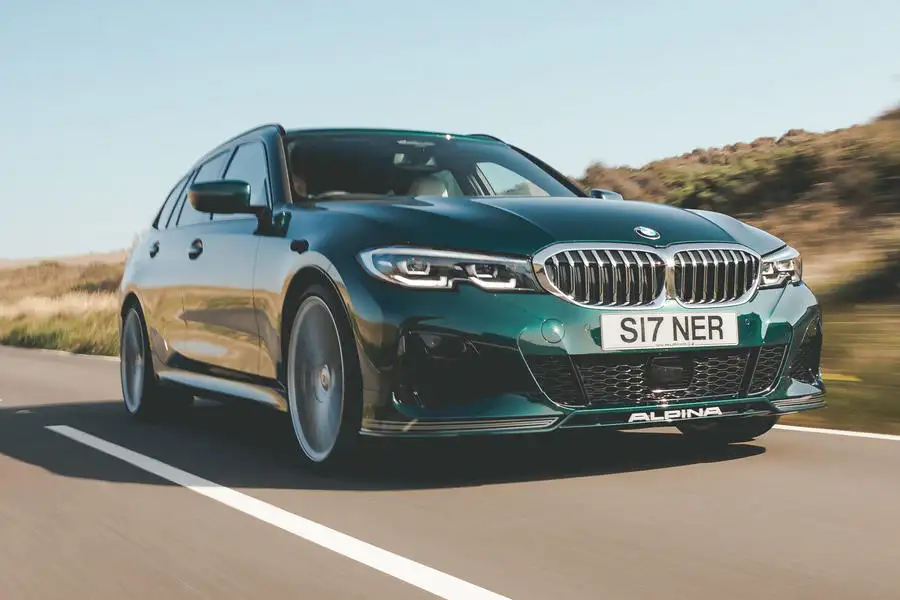 Alpina has always done things in a slightly different way than the M Division when it comes to creating quick BMWs, favouring a more laid back approach that gives us fast saloons with impressive comfort and refinement on road as well as first-order performance.
The B5 Biturbo is more of the same, but this latest-generation model now boasts four-wheel drive and a 600bhp 4.4-litre V8, so while it may be set up with comfort in mind, it's certainly no slouch. Standard spec is generous, the cabin is plush and the handling gives little up to the M5 on road or track.
The more reserved styling makes for a nice contrast to the more aggressive designs employed by rivals, too. All round, it's a typically appealing package.
Save money with new 5 Series deals on What Car?
If there was only one reason that the Mercedes-AMG E63 S deserved your attention (and there are considerably more than one, by the way), it would have to be its ballistic engine.
That 4.0-litre twin-turbocharged V8 churns out 603bhp and a mind-bending 627lb ft of torque for an official 0-62mph time of 3.5sec. In a mid-sized four-door saloon or, indeed, estate car. Crikey indeed.
So, it's certainly powerful, but there are a few small niggles to report of the E63 S, too. Despite switching to air springs, its outright body control and ride aren't quite what they used to be, the former lacking a little bit of outright damping authority and the latter feeling stiff-legged at times.
This is still a very impressive car, though, and its Drift Mode feature is a riot, but the E63 S just lags behind its smaller, leaner rivals for all-round driver appeal.
Save money with new E-Class deals on What Car?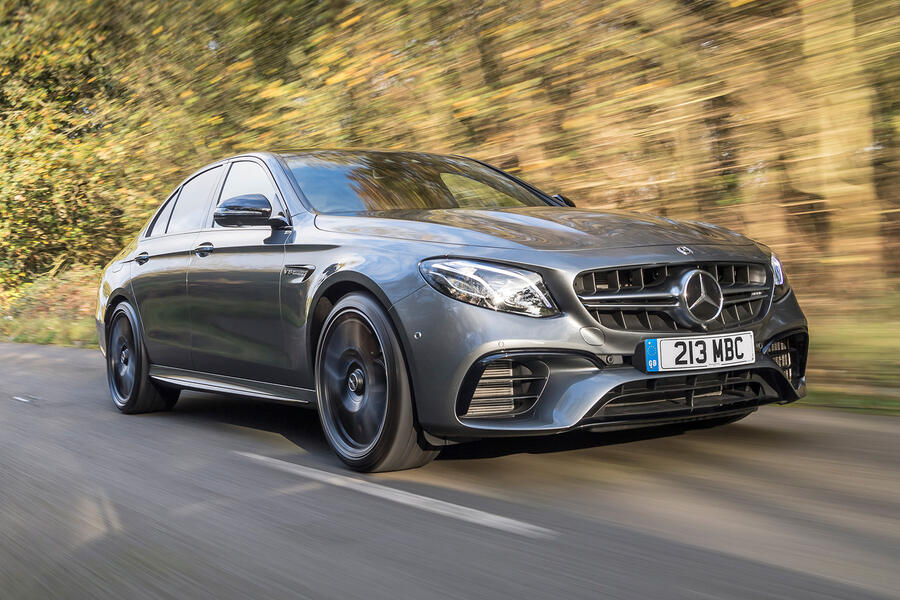 America has a long tradition of delivering adrenaline-pumping muscle cars – machines that offer increadible bang for your buck, particularly when it comes to sledghammer straight-line pace. However, while these cars have power and peformance in abundance, they're often lacking the chassis sophistication to match Europe's best when the road turns twisty. Not so the Cadillac CTV-5 Blackwing (and its smaller, BMW M3-sized sibling, the CTV-4 Blackwing).
Over on this side of the pond, Cadillac is best known for its soft and squidgy pensioner-spec saloons and gargantuan SUVs, but the firm also does a fine line in super-saloons. The CTV-5 packs a 668bhp supercharged 'small block' 6.2-litre V8 that catapult from 0-60mph in a barely credible 3.0sec, while the top speed is a little north of 205mph. Yet it's the Blackwing's ability to match the power to such poised handling that's truly remarkable. Despite its size and heft, the Caddy feels agile and engaging, the combination of quick steering and finely tuned adaptive dampers helping to disguise its mass and encourage you to exploit its rear-wheel-drive balance.
There's another highlight too, because unlike almost all of its European rivals, the Blackwing is available with a six-speed manual gearbox (there's also a 10-speed automatic option). Oh, and do the exchange rate calculations and the Cadillac costs just under £70,000, or half the price of the BMW M5 CS. So, what's the catch? Well, the biggest one is that you can't actually get one officially in the UK. But if you import yourself or use a specialist dealer and don't mind left-hand drive, you will have one of the coolest super-saloons on the street.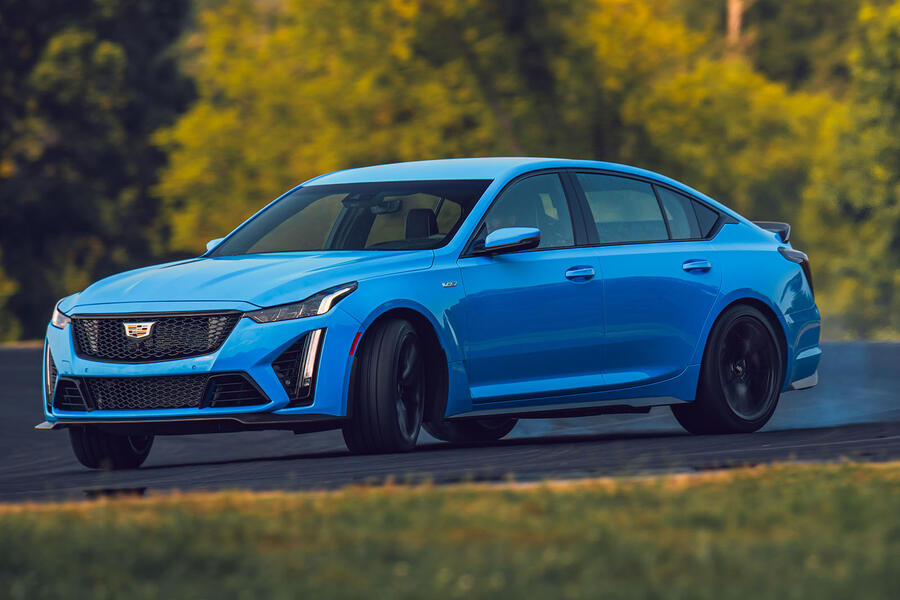 Okay, so the Audi RS6 Avant isn't a saloon, but we would be remiss to exclude Ingolstadt's most iconic model from this list. Unsurprisingly, this new C8-generation car builds on the strengths that the RS6 has become known for over the years, majoring on power, traction and practicality. But while its predecessors were historically fairly reserved in their styling, this one, well, isn't.
It certainly has the performance to match its overtly aggressive exterior, too. Admittedly, its 591bhp and 590lb ft might not quite be a match for the likes of the E63 S, but there's enough firepower here to get the RS6 from 0-60mph in a staggeringly short amount of time. With our road test timing gear hooked up, we saw a fastest run of 3.28sec and a 3.3sec average.
But while the RS6's straight-line pace is undeniably immense, its 4.0-litre twin-turbocharged V8 isn't quite as outlandishly characterful as the Mercedes-AMG's. And although its four-wheel steering and torque-vectoring sport differential allow it to feel far more agile and incisive in its handling than any of its predecessors, it's still not quite a match for the best in class when it comes to driver engagement.
But as a fast, immensely surefooted and surprisingly comfortable super wagon, there are few cars out there that appeal in quite the same way as the RS6 undoubtedly does.
Save money with new RS6 Avant deals on What Car?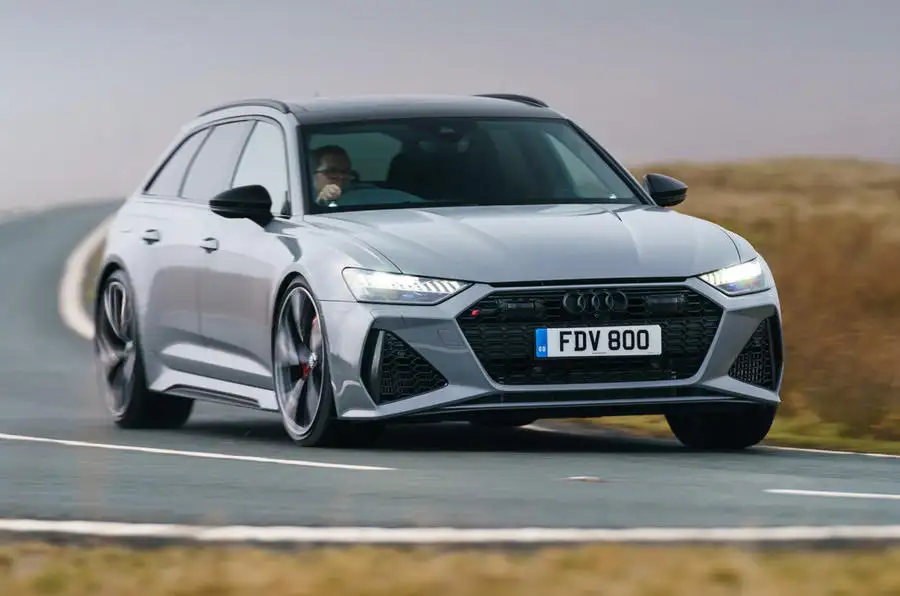 Mercedes' now world-famous in-house tuning company ushered in a new dimension to its model portfolio when it launched its first petrol-electric hybrid, the CLS 53 4Matic+.
Rather than a howling monster V8 engine, there's a very modern turbocharged straight six under the bonnet that, using both conventional and electric induction compressors, produces 429bhp at peak power. Torque is less easy to claim for, since the car also has an electric motor downstream of the engine that can add up to 184lb ft into the driveline to supplement the engine's 384lb ft. Mercedes doesn't quote a 'total system' torque figure, and most of the hybrid system's assistance is done at lower revs, where it couldn't combine with that engine torque figure anyway.
Still, this car certainly performs like a big four-door saloon-cum-coupé with plenty of torque to deploy, being only 0.1sec slower than the old CLS 63 S from 30-70mph through the gears and has very convincing initial throttle response indeed.
The ride and handling aren't as hardcore as in Mercedes-AMG's V8 models, but that's entirely the point. This is a car with genuine near-40mpg touring ability and driving experience refined and calm enough to serve as either a bahnstormer or a well-mannered long-distance grand tourer. And it does both pretty well.
Save money with new CLS 53 deals on What Car?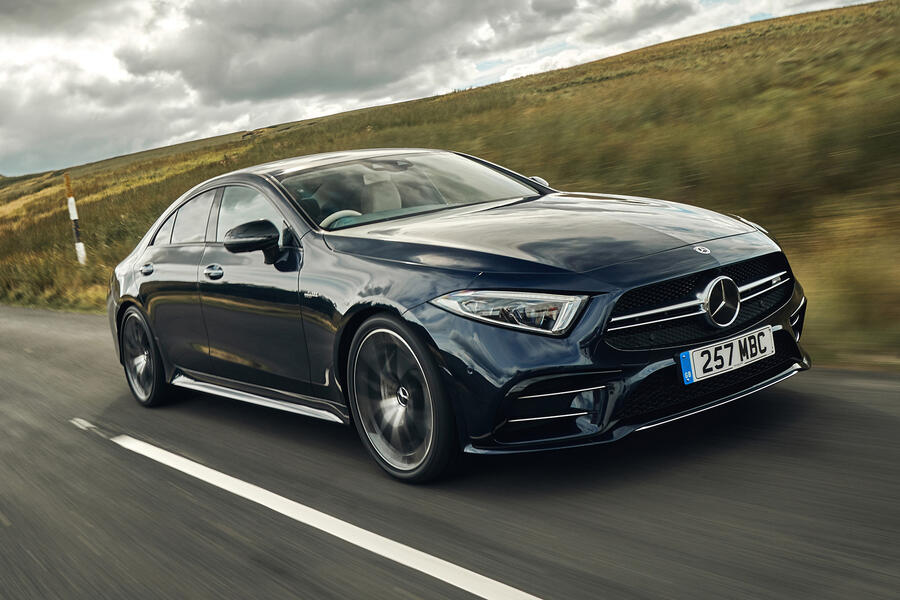 We couldn't leave this one out. Slightly over-isolated controls, under-developed on-the-limit handling behaviour and an air-suspended chassis that doesn't communicate particularly well are certainly disappointments that we've noted on both occasions that we've road tested the Tesla Model S. But you might well decide that you don't care about such thing when wrapping your head around the notion of a mid-sized, zero-emissions saloon with 1006bhp, a battery range that promises more than 500 miles on a charge and 0-60mph performance that, Tesla claims, can be as low as 1.99ec when the battery is fully charged and conditions are just right. Of course, that acceleration claim has to be taken with a pinch of salt, as Tesla measures its figures using the US method, where a one-foot rollout is allowed before the stopwatch starts.
Other highlights? Well, the Plaid will be available with the brand's controversial 'yoke' steering wheel that has been designed to usher in the age of driverless technology but which is rather less useful if you do actually want to drive the car, not least when more than a quarter turn of lock is required. And while the Model 3 proves that Tesla has learned a thing or two about chassis tuning, the Model S still remains a rather wooden companion when you're pressing on along a twisting road.
Save money with new Model S deals on What Car?