The impact of progressive changes made to CO2-based benefit-in-kind (BiK) taxation and to corporation tax in the UK since 2019 has given company car drivers a pretty stark choice: either opt out of your employer's fleet scheme and into the car market first hand, or stay in and switch to a plug-in hybrid car.
The legacy of those changes can already be seen in the growing popularity of 'PHEV' executive cars. As those cars attract a greater following, so the number of models competing grows. There are now many more electrified executive cars than we can list in a top ten chart, ranging from sub-£40,000 affordable options to more expensive pseudo-performance models.
For all of them, annual benefit-in-kind tax liability can be roughly worked out in same way: by multiplying the car's 'P11d' showroom price by its 'BiK' tax bracket, and then by your own income tax rate. A plug-in hybrid's benefit-in-kind classification, meanwhile, is defined in part by its CO2 emissions and in part by its electric-only range. So right now, for the 2022-23 tax year, the most tax-efficient cars in this list could qualify for 'BIK' at just eight per cent of their showroom value; and the least efficient, depending on individual specification, could cost as much as 15 per cent (to a typical company car driver, the difference between the two could be worth well over £100-a-month). Most conventionally powered executive cars, by contrast, would now qualify for BIK company car tax at 30 per cent or more
As many company car drivers will have already discovered to their cost, if you want to continue paying anything like the same benefit-in-kind tax on a company car in 2021 as you have in past, the only way to do it – if you haven't already – is to move out of a petrol or diesel car and into a PHEV. These are the cars you should be considering for that big move.
Having been in a period of relative stability for eighteen months or so, the plug-in hybrid executive car segment is about to go into another phase of rapid change, with fresh metal waiting in the wings to bring big improvements in real-world electric range to the class. And the first car to have hit the ground ready to lead the change is the latest 'W206'-generation Mercedes C-Class, which launches in the UK in PHEV later this year.
Packing a drive battery twice the size of many of its rivals, the new C300e brings with it a claimed WLTP electric range of some 62 miles. That's enough not only to make the car particularly tax-efficient, but also to make a big difference to the saving the car could deliver for drivers who pay for their own fuel. DC rapid charging is also available as an option, at speeds of up to 55kW.
The C300e's powerplant is comprised of a 2.0-litre turbocharged petrol engine and a 127bhp electric motor, and makes 308bhp in all, in a car that can crack 62mph from rest in just 6.1sec. The car is available in both saloon and estate bodystyles with no significant compromise to either passenger or boot space.
So far we've only driven a left-hand drive example on UK roads, but it impressed us with its refinement and isolation, and also with its laid-back, luxury-first, S-Class-in-miniature vibes. Keener drivers may probably still prefer to shop elsewhere – but for most fleet drivers and operators, the Mercedes C300e is sure to be a popular option.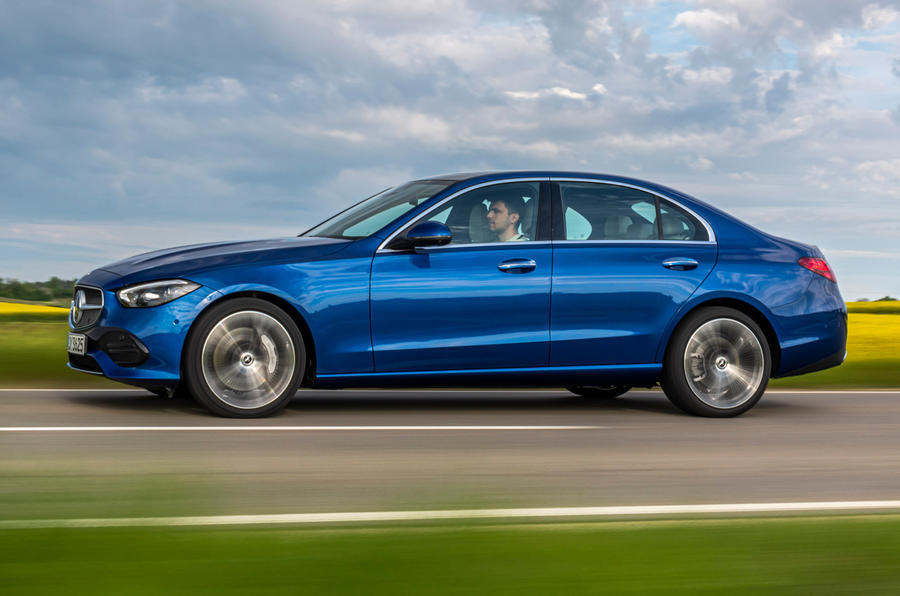 Save money with new C-Class deals from What Car?
BMW's competitors have followed its lead so many times when seeking success in the UK fleet market over the past few decades. It makes perfect sense, then, that BMW was the first premium brand to offer the market a really convincing plug-in hybrid executive option in the shape of the previous 330e, and that it should continue at the sharp end of the field with the current one.
The latest 330e combines a 2.0-litre turbocharged petrol engine with an electric drive motor mounted upstream of the gearbox, making it handle and behave much like any other G20-generation 3 Series. It imposes a relative penalty on boot space compared with its conventionally powered siblings, but it's unlikely that typical business users will notice the shortage, and cabin space is unharmed.
With up to 288bhp of combined electric and petrol urge, the 330e has a fleet turn of pace and its powertrain feels particularly responsive as well as slick-shifting. The weight of that hybrid powertrain can be detected only slightly, and only really in its occasionally permissive high-speed vertical body control. Most of the time, the 330e just feels like an agile, entertaining, first-rate 3 Series in its sporting driver appeal.
The 330e has a WLTP-certified electric-only range of 37 miles, putting it in the 12% BIK tax bracket for PHEV options for the 2022-23 tax year, but it remains a really compelling proposition on the basis of its sweet compromise of showroom price, performance, dynamism and tax-efficiency.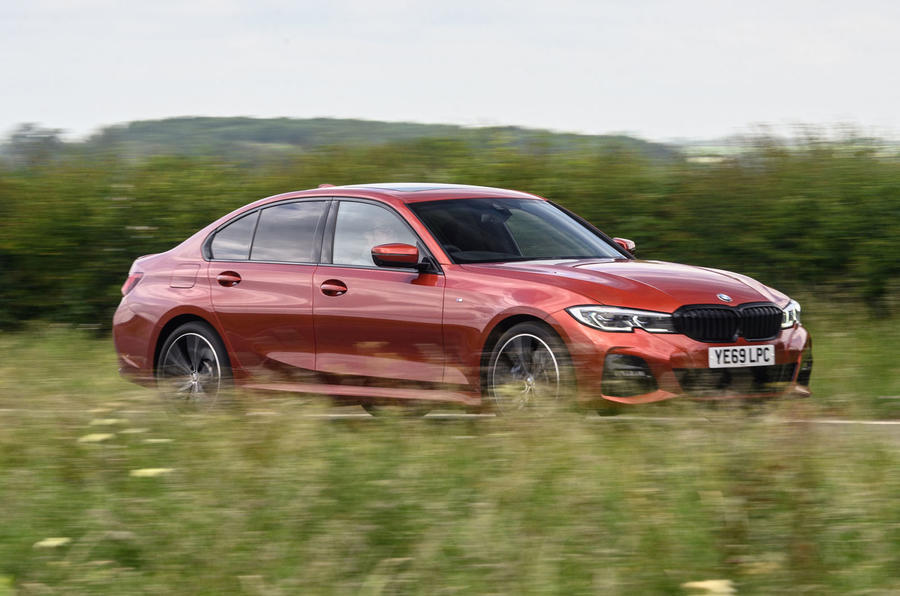 Save money with new 3 Series deals from What Car?
Volvo's history of offering its estate cars with a plug-in hybrid powertrain stretches back further than most in the business, but the recent V90 Plug-in T6 is without doubt its most successful attempt at the recipe, and an outstanding all-rounder.
A recent upgrade means the car now has a decently-sized 18.8kWh battery pack, which means that the big Swede claims up to 54 miles on a single charge, helping make it a much more user-friendly option than its predecessor and dropping it into the eight per cent BiK bracket. With 345bhp all in, the current version clearly isn't the most powerful PHEV that Volvo has made either, but it's more than enough for what is essentially an easy-going motorway mile-muncher. Another advantage the V90 T6 holds in the PHEV arena is that you can buy it with four-wheel drive, which isn't true of some rivals from the premium German brands. That said, its only all-wheel drive in the sense that there's an electric motor powering the rear wheels and an internal combustion driving the fronts, so when you're in EV mode this is a two-wheel drive machine.
The Skoda Superb iV (below) isless expensive and every bit as spacious inside, but it lacks the Volvo's calling-card rich cabin ambience and its supremely relaxing rolling character. This is how a big Volvo should feel: refined, absorbent, mature and brilliantly versatile to simple use.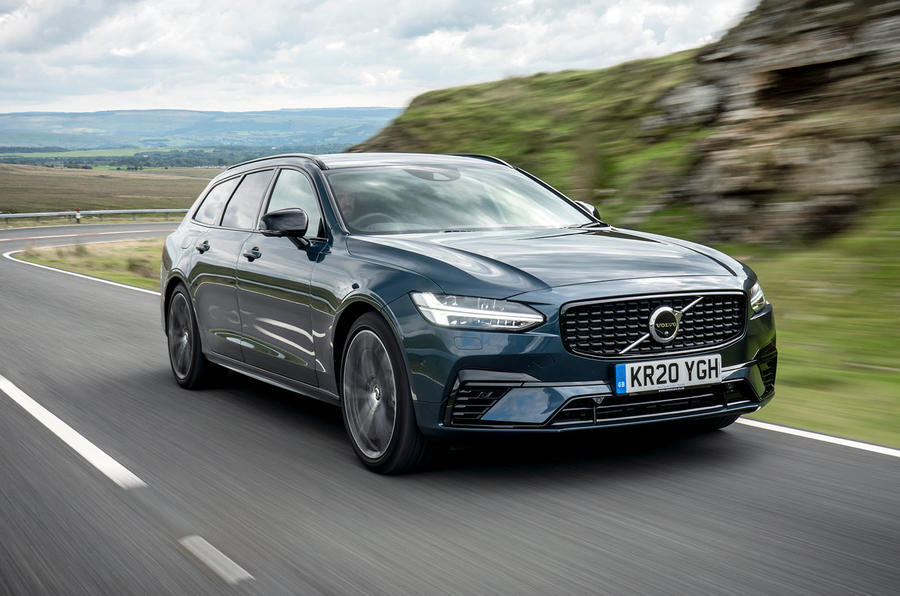 Save money with new V90 deals from What Car?
Those who like their executive car with a dash of alternative French flavour and plenty of performance appeal will appreciate Peugeot's most recent PHEV option: the 508 Peugeot Sport Engineered. This is a plug-in hybrid with twin drive motors, four driven wheels and 355bhp in all, squeezed into a package which continues to feel more compact than many in the executive market and also offers plenty of sporting appeal.
The 508 PSE isn't the cheapest option in our list, nor is it the most tax-efficient (a 14 per cent BIK liability is the best you could hope for of it thanks to a modest 26-mile electric range) – but it does combine electrified powertrain technology with performance-car dynamism quite successfully where rivals have struggled. Peugeot's steering and damper tuning are both high points, and while the car's 1.6-litre four-cylinder engine lacks the combustive richness of some, the car has plenty of thrust.
Coming in both 'fastback' saloon and estate bodies, the 508 PSE is a welcome breath of fresh air in a pretty stuff PHEV segment, and it shows that picking an environmentally responsible option needn't mean putting up with boring.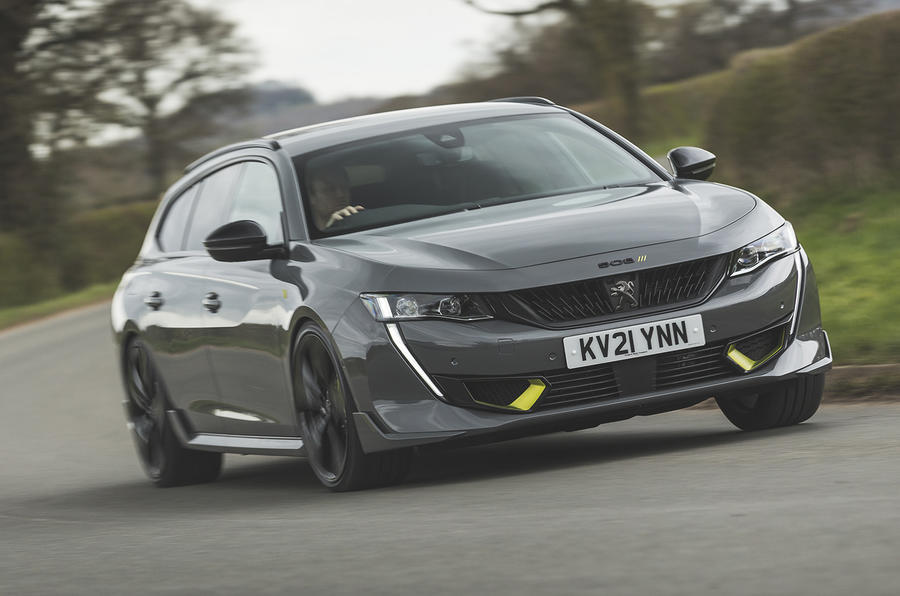 Save money with new 508 deals from What Car?
The exceptionally handsome Volvo S60 makes an extremely strong case for itself as a slick and stylish plug-in executive express, not least because a recent update has increased its all-electric range and so significantly reduced running costs.
Thanks to the addition of a larger 18.8kWh battery, the S60 now has an EV range up to 56 miles and CO2 emissions of as little as 17g/km, meaning it falls into a relatively lowly eight per cent BiK banding. Yet it also combines its rear-mounted electric motor with a four-cylinder petrol engine (which is turbocharged and supercharged) that deliver a combined might of 450bhp and a 0-62mph time of just 4.6 seconds.
But for all its grunt, this is no out-and-out sports saloon, its slightly aloof handling balance and uninspiring engine note meaning sapping your desire to push on. That said, it steers with decent accuracy and clings on well, but ultimately this is a car that prefers the easy life, which is no bad thing if you spend you time plying motorways and crawling through congested city streets. Acceleration is brisk enough in near-silent electric mode, while the ride fulls plush and relaxed at a cruise.
There's also a less powerful, 350bhp T6 option, but that's only available in the V60 estate, which is a load lugger than majors more on style than space. Either way, with its impressive EV range, top notch interior, easy-going driving experience and relatively low running costs make is great choice for business savvy drivers.
Save money with new S60 deals from What Car?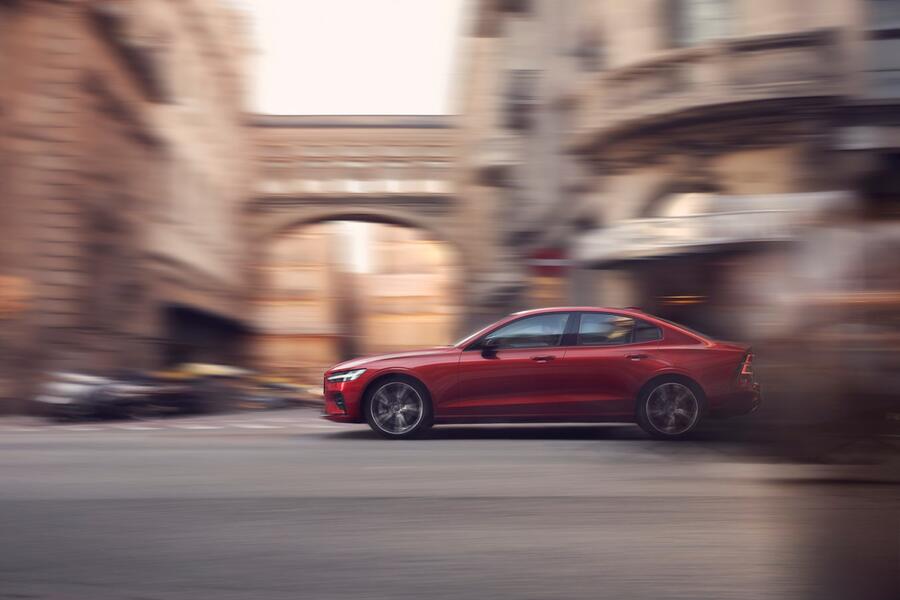 Unlike the 530e, this particular plug-in 5 Series mates BMW's excellent, creamily smooth 3.0-litre turbocharged straight-six engine with an electric drive motor, resulting in a combined output of 388bhp and 442lb ft. A battery of 12kWh of gross capacity enables an electric-only range of up to 34 miles, depending on equipment. Add that to CO2 emissions of 39g/km, and the 545e gets a BIK tax rating 12 per cent. This figures are fairly heavily trumped by rivals from Mercedes and BMW.
However, the BMW helps offset the extra costs with a far richer driving experience. Performance is strong – equal in objective terms, in fact, to that of the legendary E39 M5 super saloon of 1990s – and the transition from electric to petrol power is barely detectable. Acceleration is suitably potent, too. Put your foot down and the 545e will hit big speeds quickly and with very little in the way of discernable effort. Ride comfort remains very good.
But the 545e's trump card is that it can handle with BMW-typical precision, balance, energy and control – despite the additional weight of its electrified powertrain. The battery might be positioned towards the rear of the car, but the 545e nonetheless feels poised through faster corners, and its all-wheel drive system affords excellent traction. Standard runflat tyres do put a dampener on the car's commicative faculties, and prevent it from developing the last word in adhesive grip.
Even so, this car should be a natural choice for PHEV shoppers who can pay a premium for a genuinely sporting option.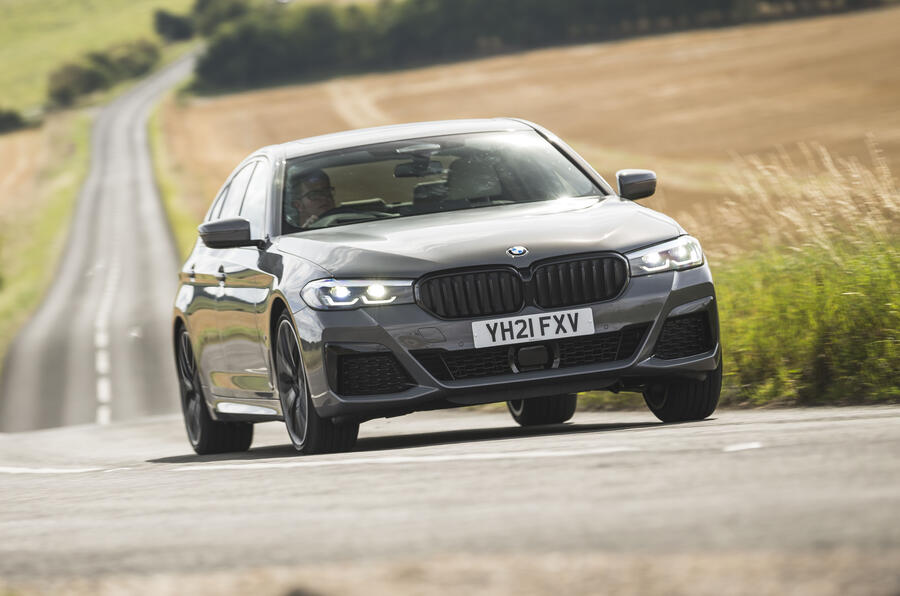 Save money with new 5-Series deals from What Car?
Skoda may have been busting a gut to change perceptions of its brand of late, but when the opportunity to bring some simple metal-for-the-money value to the plug-in hybrid market presented recently, it didn't blink. It launched the fleet-friendly Superb iV: a car that uses the engine and hybrid drivetrain with which drivers of the Volkswagen Passat GTE have become familiar over the past few years, but it packages them in a bigger family car that's on offer at a lower list price. Simply clever, or just downright simple? Either way, it got our attention.
The Superb iV is surprisingly normal, considering it was Skoda's first plug-in hybrid. It doesn't promise a particularly exciting driving experience, nor is it loaded with ritzy on-board technology or clothed in novel styling features in order to advertise its electrified credentials. It drives, ride and handles pretty much like any other Superb – which means it's fairly softly sprung and comfort-oriented, and it's easy-going rather than alert and energetic in its pedal responses.
The sheer size of any Superb ought to be a selling point for some, and the iV version is no different. Even though the battery eats into boot space a little, there's still 485 litres available in the hatchback version and more still in the estate. Electric range is WLTP-rated at 35 miles for an 12% BIK tax rating.
If you're looking for a roomy and cost-effective PHEV option that feels normal, rather than novel (read 'a bit funny'), to drive, look no further.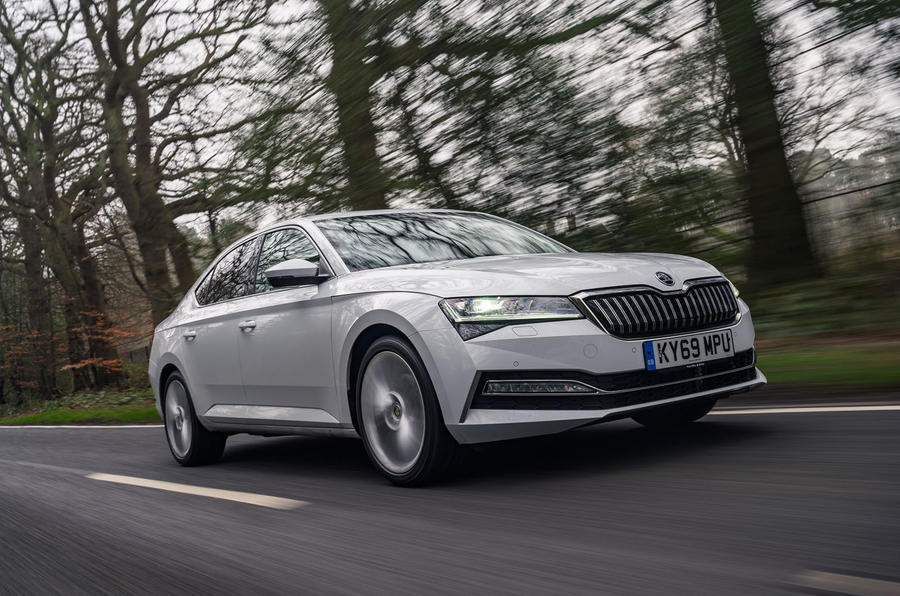 Save money with new Superb deals from What Car?
Mercedes is the only player in the PHEV segment offering the combination of a diesel engine and electric propulsion. In the E300de, it also allows you to choose a saloon or estate bodystyle, which is another advantage that isn't as widely available as you might imagine. For those reasons and others, the E300de makes the cut for this chart.
Electric range only just scrapes a WLTP-certified 30 miles, although that will depend on optional specification, so the car may well miss an 12% BIK banding if you opt for bigger wheels or a sportier trim. The fact that it's easy to add options and turn this into a £50,000-plus prospect will also have an impact on its tax efficiency, of course.
In the real world, our testing suggests that 22-25 miles is as far as the E300de will run without rousing its four-pot diesel engine. And yet considering it has only four cylinders, its performance is impressively swift. Clever power management makes it easy to capture and recycle energy without realising you're doing it, and the handling is quietly deft and fairly precise for what is, after all, a two-tonne car.
Mercedes' hybrid battery installation does take up some boot space, but it doesn't prevent the E300de being a supremely practical car – particularly in estate form – as well as a smart, desirable and real-world-efficient one.
Save money with new E-Class deals from What Car?
Citroen used to do things differently, its quirky design and oleo-pneumatic suspension cocking a snook at the 'established' way of doing things. It appears the French brand is trying to capture some of that past magic with the C5 X, which blends head-turning looks with supreme comfort and strong refinement. There's also a plug-in hybrid, which while not the last word in sophistication and efficiency, does open the defiantly leftfield Double Chevron machine to business users who might be tired of the usual suspects.
Under the skin, the C5 X uses the familiar Stellantis EMP2 platform, which also underpins various Peugeot and DS models. As a result, its gets he same 222bhp 1.6-litre petrol plug-in hybrid drivetrain, which allows a respectable 31 miles of EV range and emits as little as 30g/km of CO2. Those figures aren't as good as others in this list, and so the Citroen only qualifies for a BiK rate of 12 per cent, although slightly lower list prices than the premium opposition helps offset the difference.
This isn't a car to get the heart-pumping with excitement, the light and lifeless steering and soft suspension set-up meaning keen drivers will feel shortchanged when tackling their favourite stretch of black top when in a hurry. Yet learn to relax and go with the flow and the C5 X is a curiously satisfying machine, its plush ride and decent damping allowing you to cover ground faster than you'd think. Yet it's at its best when cruising, its hushed refinement and that lolloping ride allowing you to revel in its suprisingly classy and spacious cabin and arrive at your destination feeling refreshed.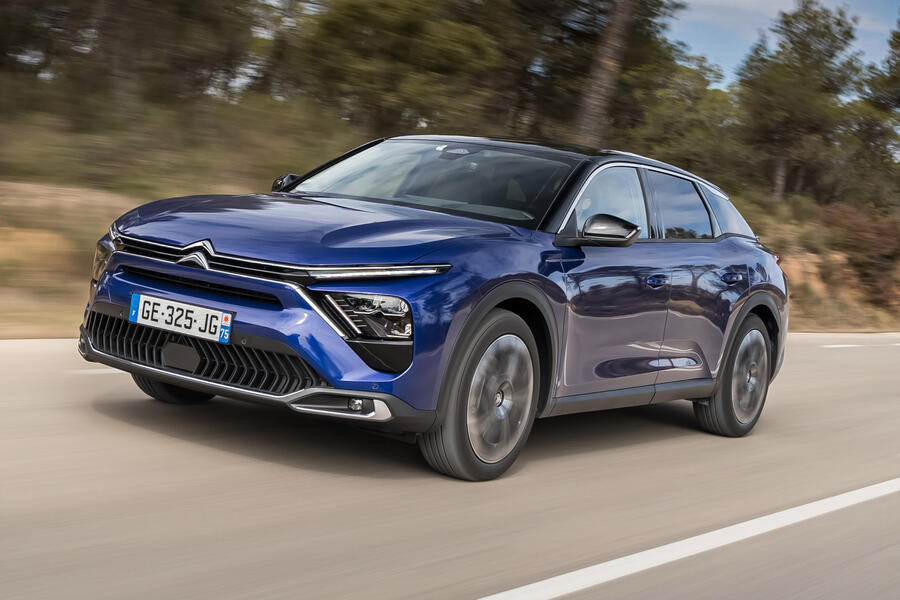 Volkswagen's extra-desirable executive option, the Arteon, had a facelift in late 2020 and now comes with a choice of fastback saloon or shooting brake estate bodies, as well as with plug-in hybrid power if you want it. And those two changes broaden the appeal of the car considerably, because in our view the car's estate body adds to the car's visual appeal while the petrol-electric powertrain will strengthen the rational argument to choose one.
The eHybrid uses the VW Group's increasingly ubiquitous combination of 1.4-litre TSI petrol engine and 113bhp electric motor, and it's front-wheel drive only: so this isn't the quickest or the most exciting PHEV on the market. It is refined and drivable, however, and a claimed WLTP electric range of up to 35- to 37 miles (depending on bodystyle) translates into about 25- in mixed real-world use.
Longer-range, petrol-only economy is a little disappointing, and the car has limited dynamic appeal – but as a roomy, alternative modern fleet option that'll cost you less than some, it's worth considering.