The market may have embraced SUVs, but the best way to haul people and their stuff at the same time is still with an MPV. These are the best ones currently on sale.
The MPV segment has been under attack for years and is now close to dying out as people move to more fashionable SUVs. For large families, a traditional MPV is still hard to beat as they make much more efficient use of their space. You'll get more interior room for the same footprint, and most MPVs have three Isofix points in the back, or even integrated booster seats, and those are features that even the largest SUVs don't offer.
Even though the traditional MPV is dying out, there is some hope in the form of van-based MPVs. Since vans have become much more habitable in recent years, the passenger versions are now a genuine alternative to the traditional people carrier. Take the seats out and they're perfect for a house move, too. Multi-purpose vehicle indeed.
Families living on tight budgets need a bit of good news right now; and, right on cue, along comes a genuine seven-seat family car you can buy for less than £15,000. Budget brand Dacia has finally joined the MPV class, and it's done so with the fairly compact but functional Jogger, which delivers value family motoring like we've rarely known it.
This car isn't the biggest, cleverest or most versatile car in its class, but if it's all the car your growing brood really needs, and it costs you Fiesta money, how could you complain? It offers five decent-sized seats and a couple of more kiddy-sized ones in the boot, but the latter can easily be lifted out entirely when you've got big loads to carry.
The Jogger shares its model platform with the Sandero supermini, as well as its 1.0-litre, 109bhp petrol engine; a petrol-hybrid is coming later. We've yet to drive either in the UK, but have tested the petrol model in Europe. Performance is pretty modest, but also more than adequate, with reasonable torque for mid-range hauling, and a tall top gear for economical long-distance driving. Ride and handling are as ordinary as the car's performance is, with a little rough springiness characterising the ride in particular – but it's far from objectionable.
The cabin is pretty sparsely fitted out in the case of lower-trim models, in which there's simply a built-in smartphone holder for in-car entertainment and navigation – but upper-level ones offer fitted touchscreen system and factory navigation as standard. And there are even clever roof bars which can convert into a roof rack of their own, for the storage of bikes and roof boxes.
There hasn't been a new MPV with the potential to rejuvinate interest in this flagging class for a decade or more; but the Jogger's value alone could do that.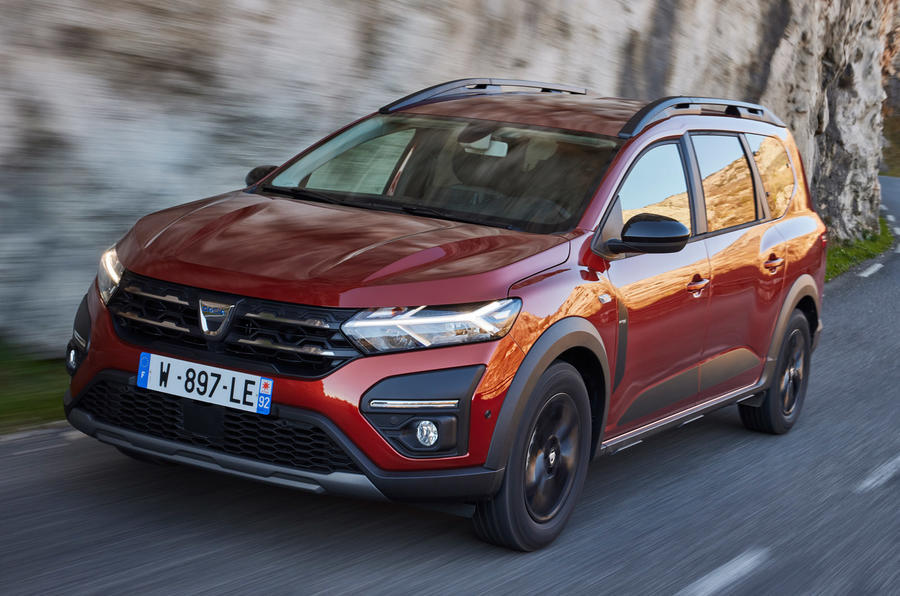 The Touran feels like a car created from the very core of the MPV textbook, having been born to deliver great occupant space from a fairly compact footprint.
It can't quite match the BMW 2 Series Gran Tourer for premium-brand allure or driver appeal, while it also lacks a bit of charm in it's design. But like all great Volkswagens, it's functional in all respects, offering a versatile and pretty roomy seven-seat cabin without risking dwarfing your three-bedroom semi.
VW only offers the car with its 1.5-litre TSI Evo engine, which develops 148bhp but hauls the car along easily enough and with creditable refinement and decent economy. Handling is neat, contained and comfortable.
The Touran scores no less than eight out of 10 in every department, making it a strong all-rounder that does exactly what it says on the tin with fantastic consistency.
Save money with new Touran deals from What Car?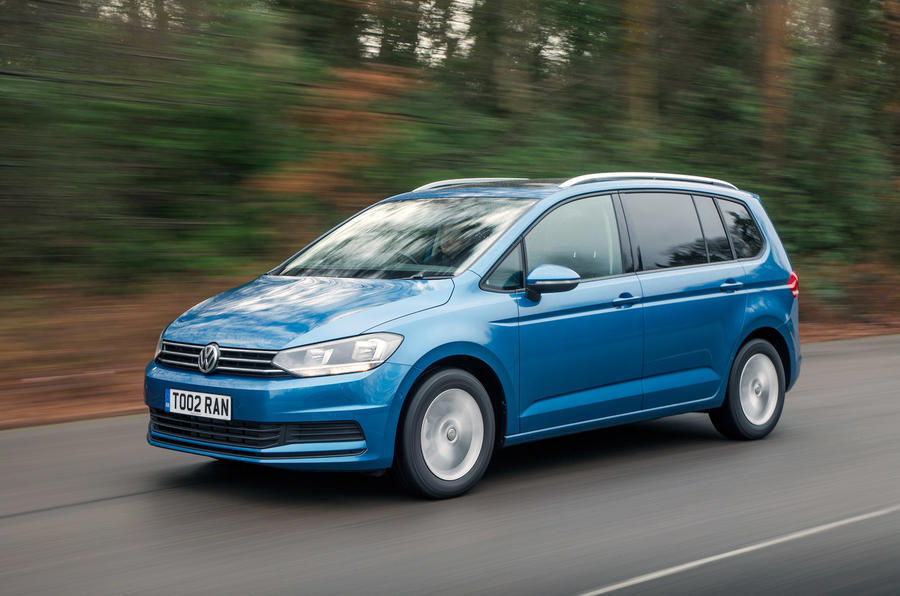 Ford is one of very few manufacturers who are persisting with traditional MPVs, although that does mean keeping older models in production for a long time. The Ford S-Max is now fairly old, having been in production since 2015, but a new hybrid powertrain and infotainment updates have kept it current.
It doesn't appeal in quite the same way as the previous one in the driving sense, the old car's unique selling point of quirky looks and surprisingly good drive having been dimmed somewhat by Ford's slightly one-dimensional 2.5-litre petrol-electric engine. However, it's still a respectable, competitive and generally pleasing-to-drive family car. As it's now hybrid-only, it's very economical, too – and with 187bhp to call on, it isn't under-nourished either.
Save money with new S-Max deals from What Car?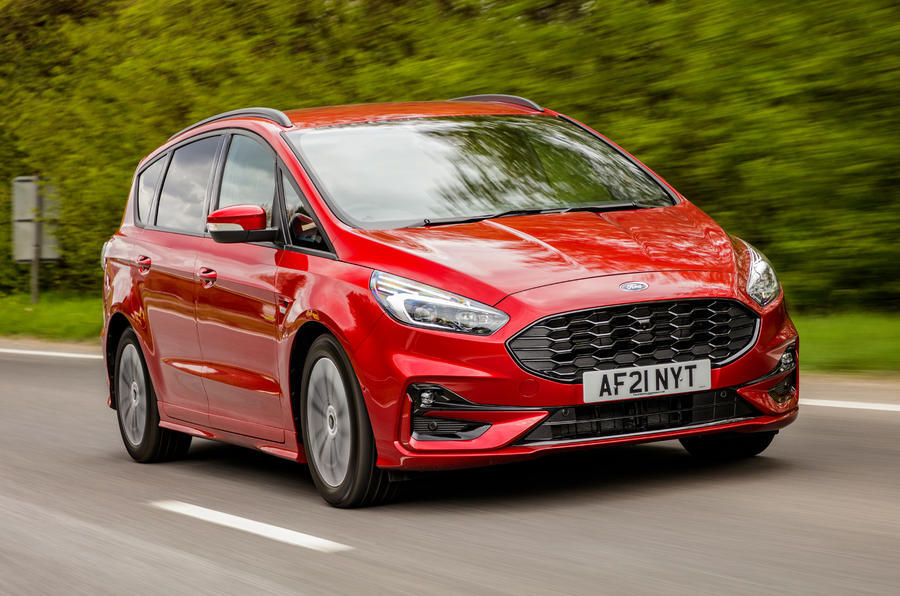 More than two decades and almost two millions sales ago, Citroën pioneered the van-based MPV with the Berlingo, and this latest (but only third) generation model returns to the original's charm and odd-ball likeability.
There are stout reasons why you might buy this instead of a more conventional MPV, too: the interior is truly cavernous, with 186 litres of storage space in the various cubbies dotted about, and even with seven seats there's still generous space for luggage.
Best of all is that the Berlingo rides with true calmmess and steers intuitively, which along with generous equipment levels for UK-spec cars make it something of an everday gem.
The fly in the ointment for some may be the car's chief selling point point for others: the passenger version of the Berlingo is now electric-only, powered by Stellantis' 134bhp electric motor and 50kWh battery pack. That makes for a real-world range of only about 110 miles; but if you're ready for zero-emissions utility motoring on those terms, the Berlingo has plenty of appeal.
Save money with new Berlingo deals from What Car?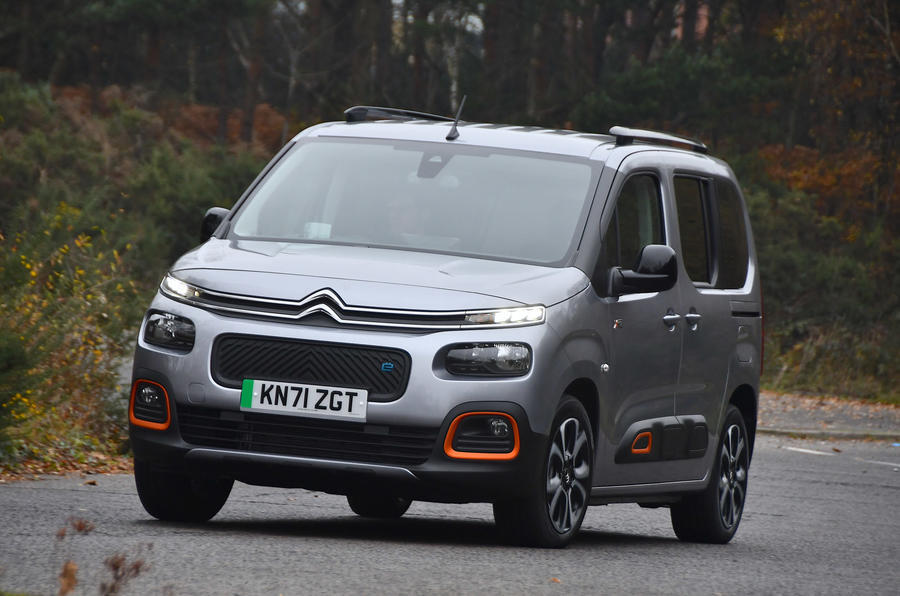 The Ford S-Max has an even bigger and more practical sister model, the Ford Galaxy. This was Ford's original MPV, remember. It's very similar inside to the S-Max but for a higher roofline and a slightly roomier cabin, and comes with the same hybrid powertrain.
The difference is that it has seven genuinely usable seats which make it the ultimate transport for large, grown-up families. It's less engaging to drive than the S-Max, but it's even more comfortable on the motorway and still handles surprisingly well, as we're accustomed to from Ford.
Save money with new Galaxy deals from What Car?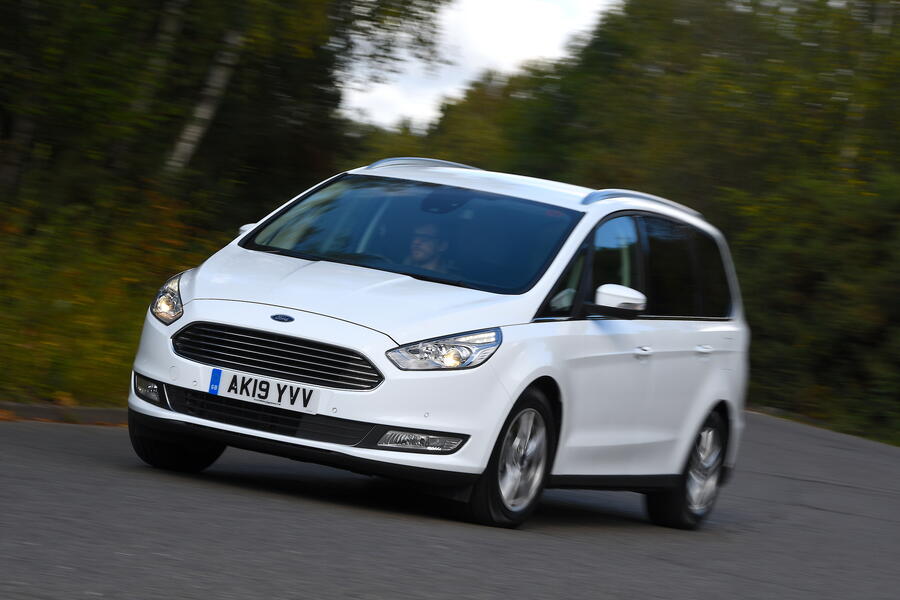 The Citroen Grand C4 Spacetourer (née Picasso) has also been around for a long time. Its predecessor was one of the market's very first mid-sized MPVs, and while its competitors from the likes of Renault and Vauxhall have long been removed from UK showrooms, the 'Picasso' is still with us.
The current model's age shows in the interior. Nevertheless, it retains all the quirkiness that made the original such a unique proposition in a segment many would assume to be entirely dull. There used to be a 5-seater C4 Spacetourer, but that has been taken off sale.
The interior might feel a little bit old, but it's still very functional and smartphone mirroring keeps the infotainment system usable. To drive, the C4 lacks the shine of Ford's S-Max, but it is far from bad on the road, and it still offers a choice of petrol and diesel powertrains – and an electric version is coming. As far as MPVs go, this is a commendable, albeit not perfect, example.
Save money with new Grand C4 deals from What Car?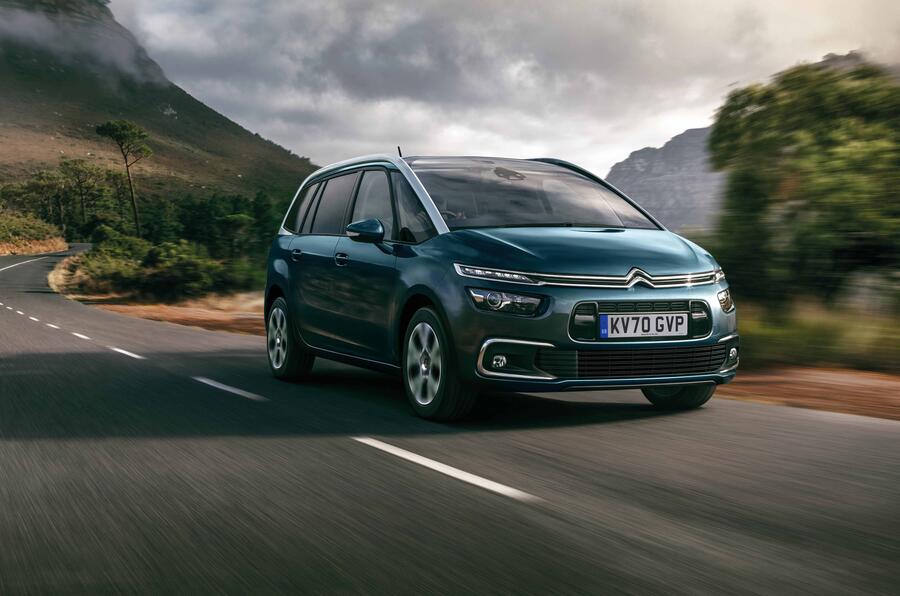 Mercedes' most practical compact car is a bit of a fusion of MPV and SUV design, but however you see this car, there's little arguing that its seven-seat cabin layout and its choice on engines make it the best model to include for consideration here.
You can take your pick from two petrol engines (the base-line 163bhp -200 or the AMG-branded GLB 35), two diesels (GLB 200d or -220d), with four-wheel drive available on each upper-level option. The all-electric EQB comes in -300 and -350 derivatives, the latter offering a pretty stirring 288bhp and four-wheel drive, combined with claimed range of 250 miles.
Practicality is on a par with other compact seven-seaters, the car's rearmost chairs only being usable by younger children, but being available in both piston-engined and all-electric models. The driving experience isn't of Mercedes' highest standard, the car's ride and handling in particular feeling stiff-legged and more poorly resolved than rivals in this list – but passable allthesame.
Save money with new Mercedes GLB from What Car?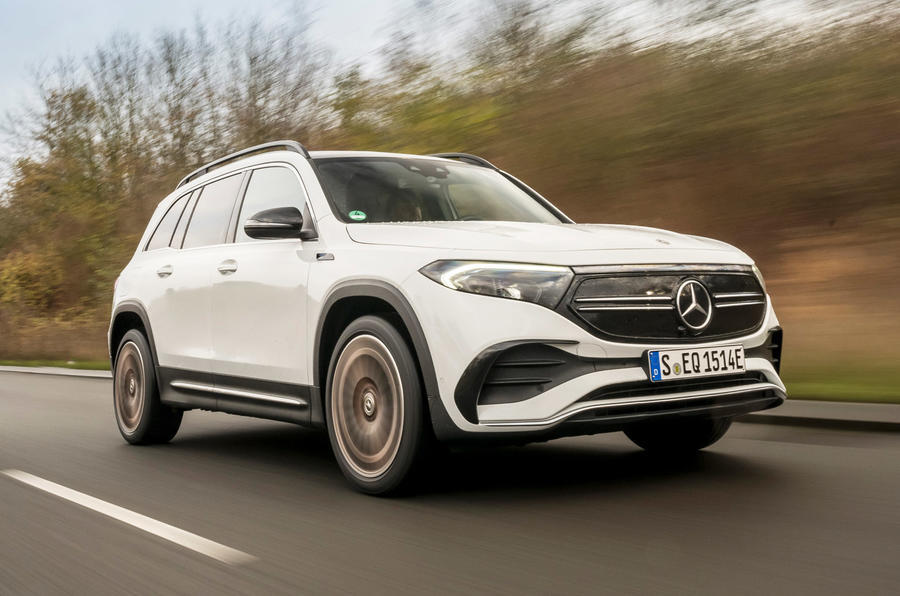 The 2 Series Active Tourer looks expensive, but that's compensated by the fact that it is well-equipped, of pretty high quality inside, and features engines that are clean and frugal. It was the first front-wheel drive BMW, but in a class of cars that are generally lacklustre to drive, this is one of the better ones.
Currently you can choose between the five-seat Active Tourer and the seven-seat 2 Series Gran Tourer. The replacement for the Active Tourer has just been revealed, and we should drive it soon. It will continue to offer popular plug-in hybrid power, and deliveries will begin in March. The Gran Tourer is unlikely to be replaced.
Save money with new 2 Series Gran Tourer deals from What Car?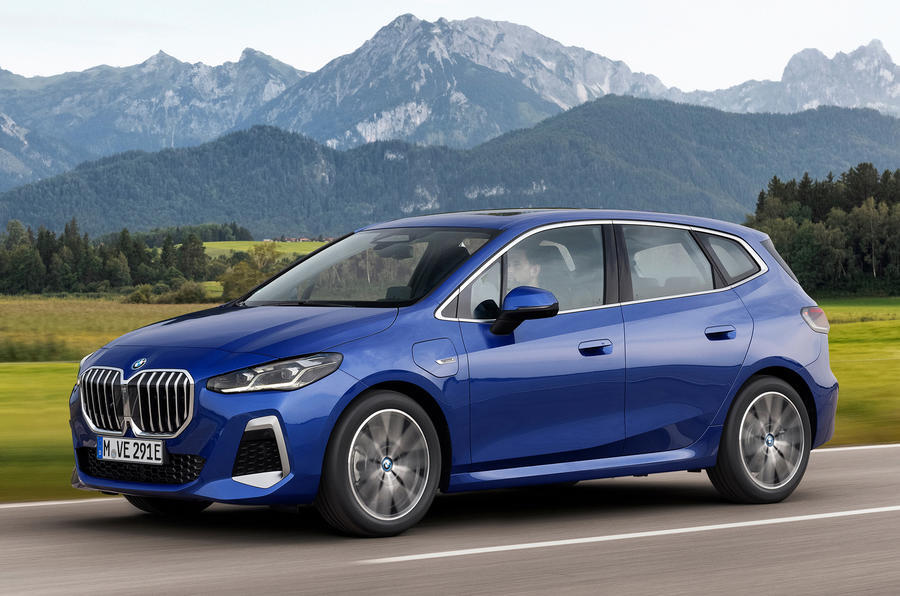 Mercedes has got the all-electric seven-seater market pretty well served between the EQB we've already mentioned, and this: the larger and more expensive EQV. Effectively an electric V-Class, this is a big, tall, van-like vehicle with sliding side doors and captain's chairs in the second row than can spin to face either forwards or backwards.
It's powered by a 204bhp electric motor and has a usable range of just over 200 miles. And with air suspension and plenty of mass rolling along, it's surprisingly quiet and comfortable, and handles well for something so large and heavy.
You'd be lucky to pick up an airport transfer in an EQV – and, allowing for the tax advantages, your chauffeur would be pretty happy to run one, assuming he could charge one up easily.
Save money with new Mercedes EQV deals from What Car?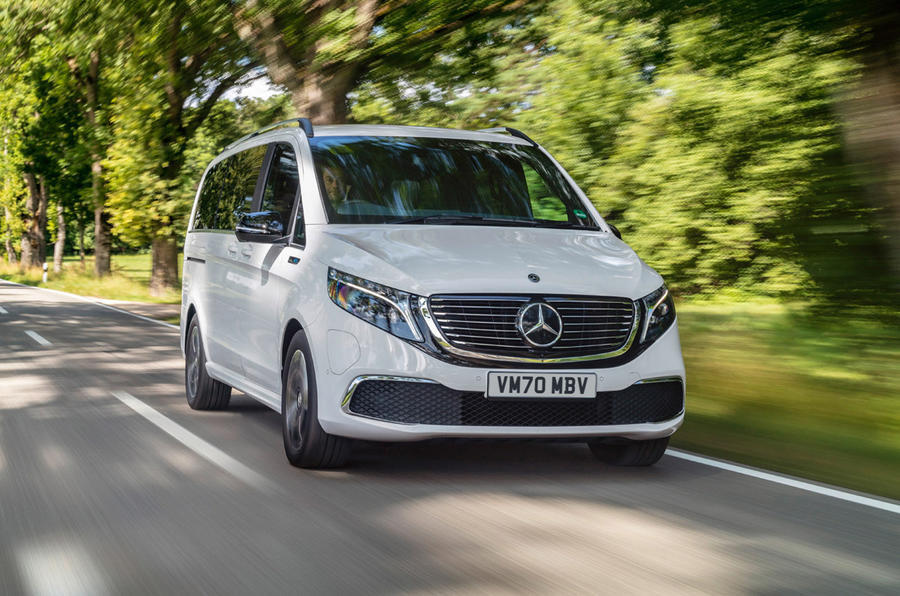 If maximising the amount of space and passenger carrying capacity available to you is your number-one priority, you need to be looking at the passenger versions of medium-sized vans. The best van to drive is the Ford Transit Custom and the Tourneo Custom is the same, but made more habitable for carrying passengers.
One of our photographers ran a Ford Tourneo Custom PHEV for six months and found that the versatility fit his lifestyle perfectly and while it was never going to rival a Focus for driver appeal, it never felt like a chore to drive, either. We'd recommend a normal diesel, though. The pure-electric range of the PHEV is a paltry 30 miles, which is just not enough for a vehicle you want to take on long trips.