Occasionally it's important to ponder life's fundamental questions, like: 'What exactly is a car facelift?' The Ferrari F8 Tributo generally isn't regarded as a facelifted 488, which in turn generally isn't considered a facelifted 458, yet they share their structures and underpinnings, their general shapes and most of their interiors. And so to the Suzuki SX4 S-Cross.
At first glance, the Mk3 S-Cross looks very new. It has a completely fresh front end, with a higher bonnet line, much more angular styling and LED headlights; the shape of the side windows has changed; and the rear is all but unrecognisable, incorporating an oh-so-2021 light bar. However, the hard points are clearly the same and the dimensions are unchanged.
If any confirmation were needed that this is in effect a heavy facelift, the interior provides it. Save for some extra soft-touch material on the dashboard and new infotainment, this is the same interior as on the S-Cross that was introduced all the way back in 2013. That might work for Ferrari, when it's a nice place to be in the first place, but the acres of hard plastic and dated design of the S-Cross will be a tough sell in 2022.
One of the all too few changes is that new touchscreen system (7.0in or 9.0in) with wireless Apple CarPlay and Android Auto. It's a little basic and not the most responsive, but it's inoffensive enough.
The analogue gauges with a small screen in between look pretty old-hat, though, and the latter is clunky to use. Suzuki says the S-Cross competes against the Nissan Qashqai and Seat Ateca, but its antiquated cabin alone disqualifies it from that. Instead, it works best as a value proposition.
Technical specs
Model tested:
SX4 S-Cross 1.4 Boosterjet mild hybrid Ultra Allgrip
4 cyls in line, 1373cc, turbo, petrol, plus 48V ISG
Transmission:
6-speed manual
Driveline layout:
Front-engine, all-wheel drive
Model tested
SX4 S-Cross 1.4 Boosterjet mild hybrid Ultra Allgrip
View all specs and rivals
4 cyls in line, 1373cc, turbo, petrol, plus 48V ISG
Transmission
6-speed manual
Driveline layout
Front-engine, all-wheel drive
Motion trim costs £24,999 and includes a comprehensive suite of safety systems, as well as LED lights, dual-zone climate control, heated seats and keyless entry. If you want similar kit from the Renault Arkana, you will pay more, but if active safety features aren't as important to you, the Dacia Duster will be hard to ignore.
At £29,799, Ultra trim comes with Allgrip four-wheel drive, the bigger touchscreen, sat-nav, leather seats, a sunroof and a 360deg camera.
Although the S-Cross requires a little acclimatisation to drive, it's quite pleasant. The engine is carried over, but then it was introduced only last year. It's a turbocharged 1.4-litre four-cylinder petrol assisted by a 48V mild-hybrid system. It's suspiciously brisk, given that it officially has only 127bhp, but it sounds pretty gruff. Indeed, noise isolation in general could be better.
The six-speed manual is light and snickety, while the six-speed auto is slightly slushy but responsive enough.
With so many pseudo-sporty SUVs around, this chassis is refreshing. There's plenty of roll and the steering is disconcertingly light, but there's enough grip and it actually rides well, smoothing out both small and large bumps without being unduly floaty – something that's frustratingly rare, especially in lower segments.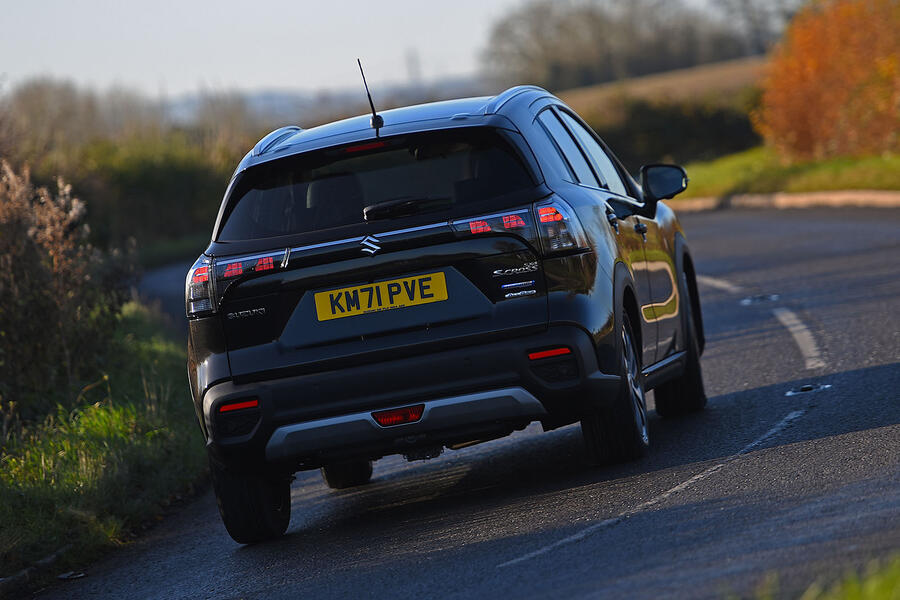 The S-Cross feels old-fashioned in both good and bad ways, but there is a definite value appeal to it. Suzuki doesn't earn the same creative licence as Ferrari when it comes to branding facelifts as new models, but in this case, it has just about got away withit. It must start thinking about a truly new mid-size SUV sharpish, though.