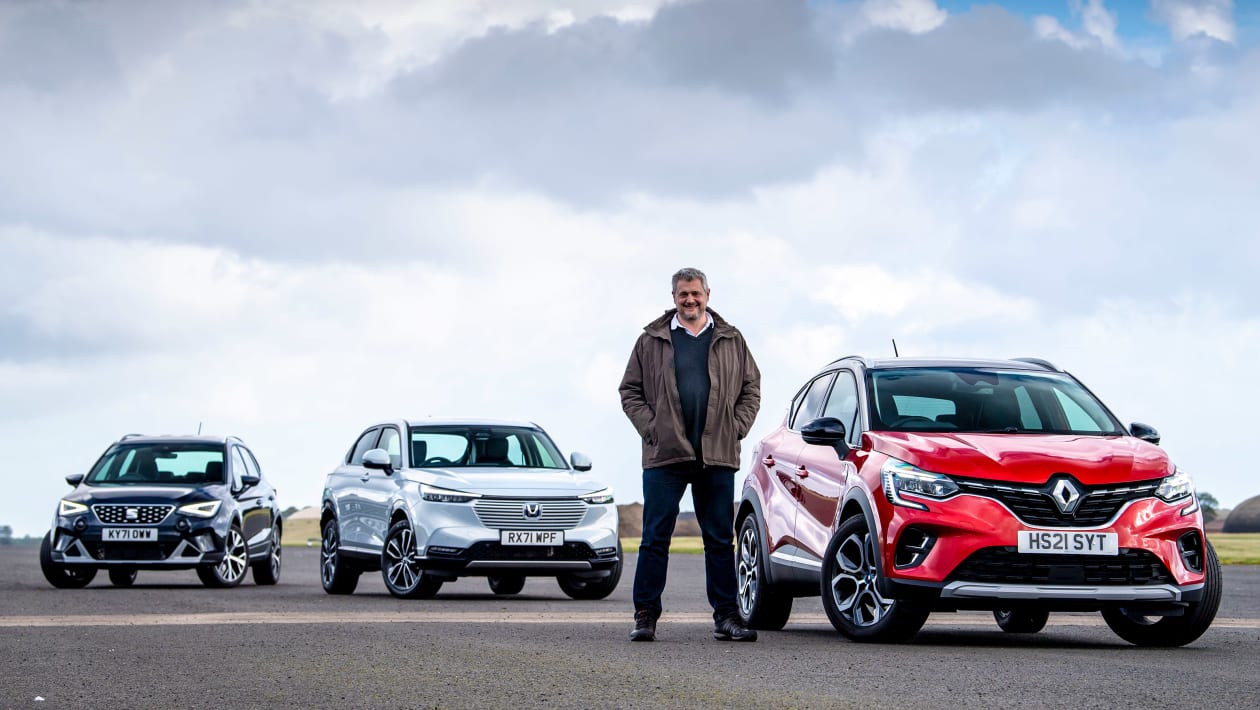 Verdict
The Renault Captur E-Tech is already proving to be a compelling proposition for anyone needing an efficient family crossover. The sliding rear bench is an added bonus, and we think our car looks the part on 18-inch alloys.
Mileage: 1,153
Economy: 53.4mpg
Passengers have described them as whooshes, whistles or whirrs, but regardless of what name you give them, I've become quite fond of the range of little noises that our new Renault Captur E-Tech makes while it's in electric-only mode.
The crossover has just joined our fleet – marking its debut by beating the Honda HR-V and SEAT Arona in an Auto Express group test – and is the latest generation of self-charging hybrid. Although you don't get the 30-odd miles of pure-electric driving that the pricier plug-in hybrid variant provides, you do spend more time under only battery power than might be imagined.
It's not just in town where the Captur cuts out the carbon tailpipe emissions, either, because the drivetrain spends a gratifyingly large amount of time in EV mode when you're out on the open road.
Progress at such times is marked by the aforementioned soft whistles and gentle whirrs. These are meant to warn pedestrians of what might otherwise be too stealthy an approach, but in fact help to give the Captur a little bit of personality as well as keeping the driver engaged with what it's doing.
They're the sort of non-intrusive but reassuring background noises you might expect from a retro-futuristic household robot politely doing its chores in a sci-fi movie, although you'll be relieved to hear that I've not been tempted to give the Renault a pet name, and nor has it shown any signs of wishing to plot against me.
More reviews
Car group tests
In-depth reviews
Road tests
Used car tests
You can talk to the Captur, of course – at least in theory – but the early signs are that it prefers to warble quietly to itself, rather than take any notice of instructions issued to the onboard voice-recognition system.
As a parent, I'm used to that sort of behaviour, so am initially adopting a patient approach. If it continues, I'll probably get a bit fed up, but the Captur is behaving so well in all other respects that picking fault at this early stage seems churlish. Perhaps we just need to get to know one another a little better. I'll keep you updated.
I've already driven around 1,000 miles in the Captur since it was delivered, and it's not only the sound effects that have proved endearing. For starters, I think this latest Captur is much nicer to look at than its predecessor, and the design not as, er…  grandma-focused.
So although I'm not about to suggest that this baby crossover is the epitome of red-blooded machismo, our car's combination of crisply cut 18-inch alloy wheels, metallic paint and black roof has drawn appreciative comments from at least a couple of chaps whose remarks might have been more derisory.
I like how it looks, too, and so do the kids, who have also been fascinated by the Captur's alternating drive modes – especially when that means using grubby fingers to select Eco driving via the touchscreen. They also enjoy the raised ride height, and a recent visit to our local banger track even gave them a chance to try out tailgate spectating, although the practical boot more often plays host to a Large Munsterlander dog.
The other drive mode options are Sport and a configurable one called My Sense, neither of which I've yet really explored, but that's really an indication of how nicely the Captur drivetrain works when left to its own devices. It's smooth, quiet, sufficiently powerful when you need it, and perhaps most of all, it's impressively efficient. My typical mix of urban, countryside and A-road miles has seen the trip computer refuse to budge from a worst-case scenario of 52.5mpg, and it more often lingers around the 54.4mpg mark. They're the sort of numbers that, not so long ago, you'd have been gloating over from a diesel.
While low running costs are great, I'm not entirely convinced that driving a hybrid is an entirely believable environmental solution. I'm all in favour of cutting down on particulates and CO2 emissions while driving, but the lifetime carbon footprint of a car with both a traditional petrol engine and a sizeable battery is harder to fathom. If you listen harder, perhaps the Captur's whistle has a nonchalant air.
| | |
| --- | --- |
| Model: | Renault Captur S Edition E-Tech Hybrid 145 Auto |
| On fleet since: | October 2021 |
| Price new: | £26,000 |
| Engine: | 1.6-litre 4cyl MHEV petrol |
| CO2/tax: | 114g/km/£170 |
| Options: | Metallic paint (£700) |
| Insurance*: | Group: 13 Quote: £453 |
| Mileage: | 1,153 |
| Economy: | 53.4mpg |
| Any problems? | None so far |
*Insurance quote from AA (0800 107 0680) for a 42-year-old in Banbury, Oxon, with three points.