Why we're running it: To see whether Peugeot's new sporting saloon can hold its own on luxury and performance in this competitive space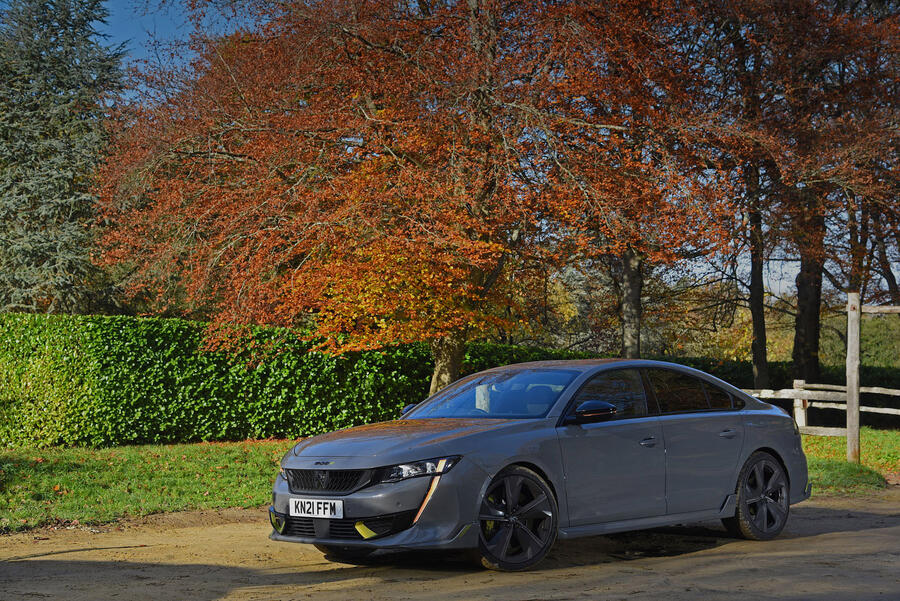 Life with a 508 PSE: Month 2
No mistaking a PSE – 19 January 2022
I will be harping on about the PSE's aesthetic allure for a while, but let's look at the details. I love the grey offset with subtle yet sporty yellow calipers, the yellow edging of the air intakes on the front bumper and the three yellow lines on the C-pillar and logos. I will almost always go for the most subdued hue if given a choice, but these flecks of fun looks great and suit the car's positioning.
Mileage: 6459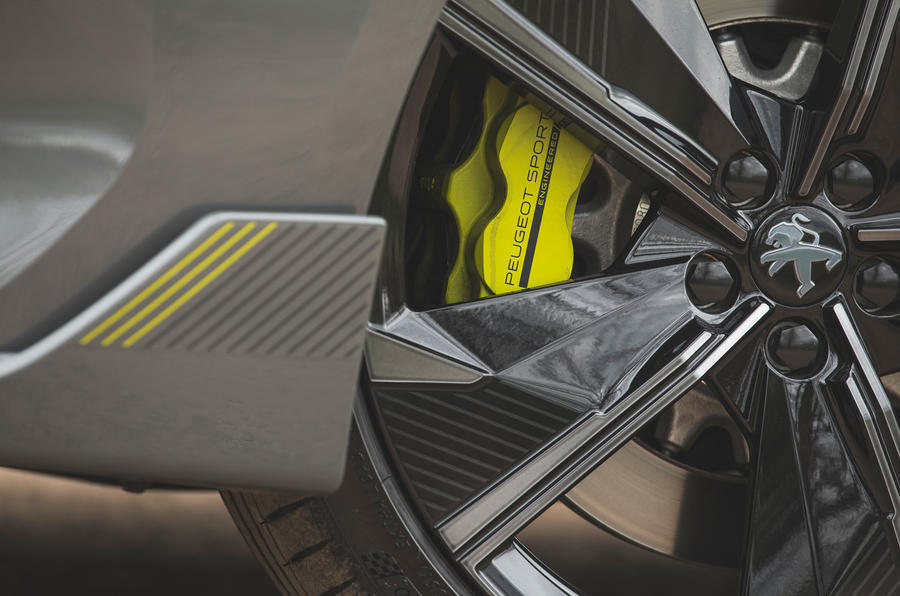 Life with a 508 PSE: Month 1
Sound of silence – 22 December 2021
Speed camera sound alerts are handy, but I've been desperately trying to turn them off in the 508, due to their irritating pitch. It's not easy to find: you have to go through five touchscreen points to get there and it's ambiguously labelled 'risk areas alert'. On the upside, it doesn't automatically turn back on the next time you get into the car, so I've been driving in peace since.
Mileage: 5921
Welcoming the 508 PSE to the fleet – 1 December 2021
There are few greater assertions of future intentions than the 508 PSE. This is Peugeot's bid not only to bring back performance for an electrified age (indirectly replacing its GTi brand) but also to showcase that it really can nail luxury to compete with the big German trio.
This saloon is the first and halo Peugeot Sport Engineered (PSE) model, but more are expected. What exactly we don't know, but earlier this year Peugeot told us it's unlikely to be a 308 PSE hot hatch, given low volume expectations and emissions limitations.
It has another claim to fame, too: it's Peugeot's most powerful production car yet. Plus it arrives as the brand gears up to make its landmark return to top-flight motorsport with a World Endurance Championship Hypercar entry in 2022, making it a prudent time to show what it can do in the less dramatic, mainstream car sector.
The statistics, then. The 508 PSE's hybrid powertrain combines a 197bhp turbocharged 1.6-litre petrol four-cylinder engine with a pair of electric motors (one with 109bhp on the front axle and one with 111bhp at the rear), sending a combined 355bhp and 386lb ft to all four wheels through an eight-speed automatic gearbox. It has a claimed 0-62mph time of 5.2sec and it achieves 139mpg on the WLTP combined cycle, emitting 46g/km of CO2.
Its 11.5kWh lithium ion battery – which happily doesn't reduce cabin space or boot capacity – offers an electric-only range of 26 miles and can be fully charged in two hours using a 32-amp wallbox.
It's those performance and efficiency figures in tandem that Peugeot is hoping to capitalise on with the 508 PSE. It's no surprise that a saloon is focused towards company cars (65% of sales are expected to be from fleets), but the brand is aiming to attract a new audience of business drivers now that it has a sporty-ish plug-in hybrid on its books.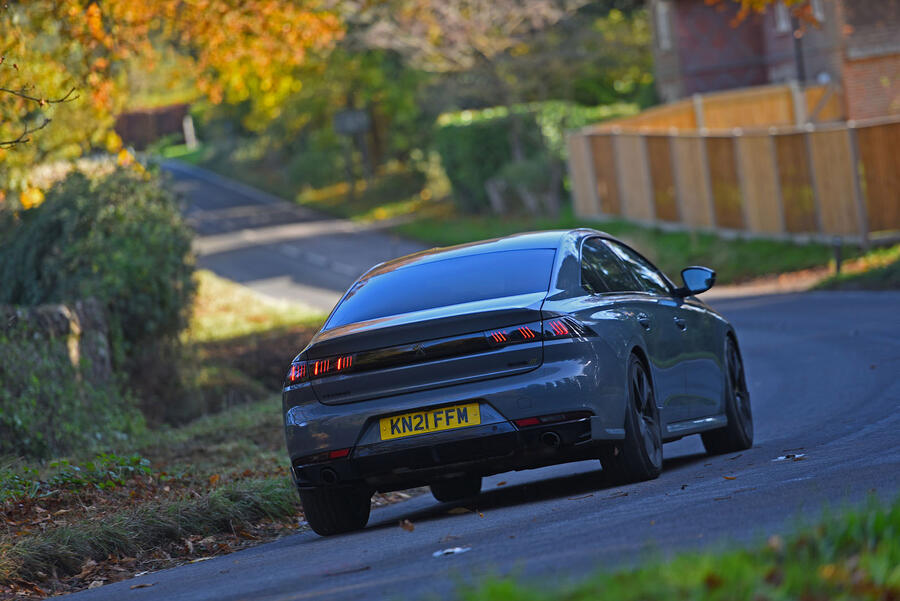 It will need to be good, mind you, considering that it costs £53,995. The Audi S4 starts at about £5000 less and does 0-62mph in 4.6sec. Still, one appealing aspect of the 508 PSE is how almost everything is included as standard. The only options that Peugeot's website shows are a panoramic sunroof (£870), a 7.4kW monophase on-board charger (£300) and black or pearlescent white paint (our Selenium Grey is no extra cost).
There are the ample safety systems that we've come to expect on modern cars: ABS, EBA, ESP, ABSD, DAA3, AEBS3… I'm just winding you up now (but there's a congratulatory email in store for anyone who can name what they are without Google). Anyway, it's very safe. Slightly more excitingly, there's a 360deg colour camera, a 10.0in touchscreen, many seat adjustments for comfort, heated rear windscreen and, I would wager, almost everything you might want.
Outside, there are 20in diamond- cut alloys, LED lights and plenty of gloss-black details.
Despite the 508 PSE being a performance model, the quality and usability of the interior feel crucial to rival traditional luxury brands such as Audi and BMW. Getting into it for the first time impresses: the cockpit is cosseting in the way one expects from higher-end cars, and the mix of leather and Alcantara, plus the layout, lends it a top-quality air.
At first glance, it feels, if not on a par with those brands, very, very close. The touchscreen also looks good; only time will tell whether that equates to a positive user experience.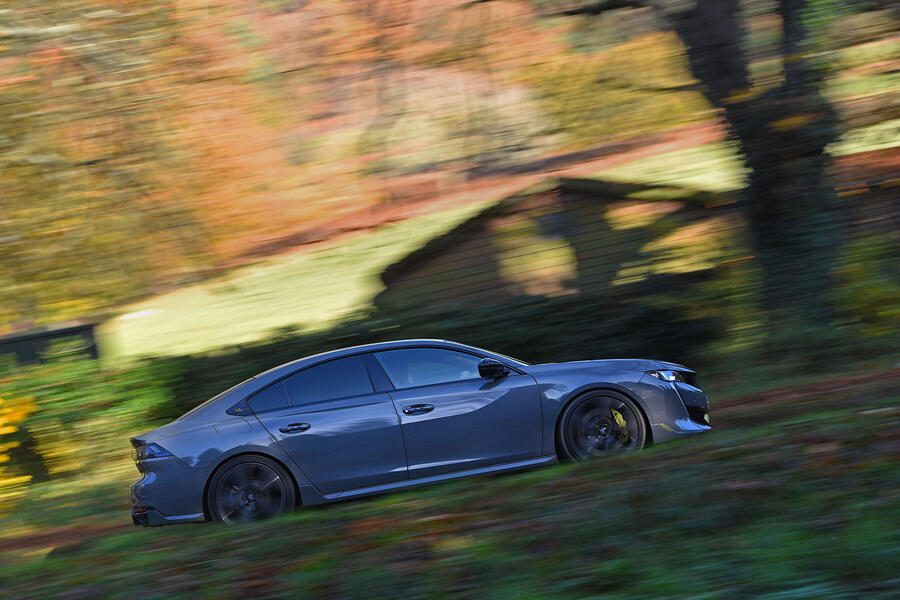 It's instantly intuitive to drive, with quick, accurate steering and unintimidating performance. It feels, in the first few miles, like an easy-to-live-with executive car with a bit of added va-va-voom and the benefit of electric-only range.
So far, I'm afraid my suburban living might tamper with how usable that electric range is, due to the charging network (or lack of), but while it will doubtless feature in these upcoming reports, it's certainly not an issue specific to this PHEV.
The 508 PSE is a bold move for Peugeot. It's exciting for us car fans to see a brand push forward with performance models when so many are shying away, but it also seems risky, especially when it pins itself against well-regarded rivals, such as the Volvo S60 T8 Polestar Engineered. The time on our fleet will allow us to consider how the PSE brand can fit into both everyday life and Peugeot's future vision.
Second Opinion
I rather like the 508 PSE. Big family cars rarely do well at our Britain's Best Driver's Car competition, but this hot hybrid impressed us with not just its composure but also its involvement. It definitely held its own. And it was then a joy to schlep the long miles home in it afterwards.
Matt Prior
Peugeot 508 Peugeot Sport Engineered specification
Specs: Price New £53,995 Price as tested £53,995 Options None
Test Data: Engine 4 cyls in line, 1598cc, turbocharged, petrol Power 355bhp (combined) Battery 11.5kWh Kerb weight 1875kg Top speed 155mph 0-62mph 5.2sec Fuel economy 138.9mpg Electric range 26 miles CO2 45g/km Faults None Expenses None