While Californian Porsche tuners get bags of attention, British specialist Paul Stephens has long been quietly going about buying, selling, maintaining and, under the Autoart banner, tweaking old Porsche 911s at his site near the Essex-Suffolk border.
Recently a customer asked him to take a 993-generation 911 and turn it all up a bit – about 25% all round, please, Paul – and this is the result. They've called it the 993R, and while we have here a development car, it will become generally available.
It's based on the basic Carrera 2, so unlike the hotter 993s, which had wider bodies, this car is as narrow as it can be. I quite like that idea.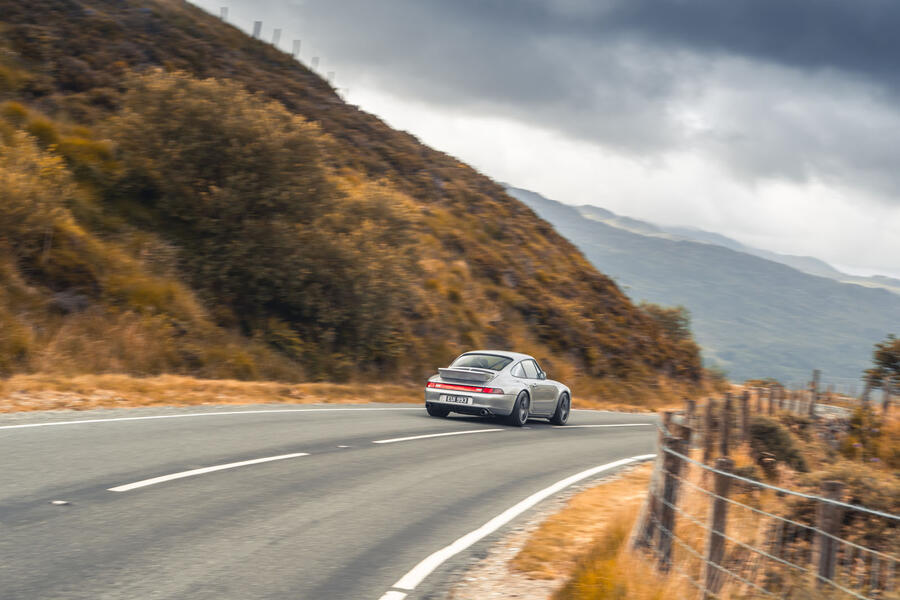 Then a lot of weight has come out of it, much from the interior but also plenty outside with the adoption of an aluminium bonnet, lighter side and rear glass, composite (meaning really good glass-reinforced plastic) front and rear bumpers and sunroof deletion. The seams are then welded (and a roof gutter removed) and a discreet roll cage is installed.
Inside, all the panels and the dashboard are removed and the wiring loom replaced. The central locking, glovebox, stereo and electric windows are removed and the air-con is replaced with an electric system mounted at the front. There are no airbags. The seats are carbonfibre Recaro items. All told, weight has been reduced from 1370kg to 1220kg.
Meanwhile, power has taken a hike, the 3.6-litre flat six enlarged to 3.8 litres, getting lightened conrods; barrels and pistons from a 993 RSR; a 997 GT3 oil pump, crankshaft and bearings; new camshafts; and individual throttle bodies. It now puts out 330bhp at 7400rpm and 265lb ft of torque at 5675rpm, which sounds like a rounded, nice amount; although if you want more, you can have 360bhp as an option.
The brakes, because this is a road car and lighter than the original, are the iron rotors from a 993 Carrera RS, rather than carbon-ceramics. There's still an anti-lock system.
The wheels are 18in items from a 996 GT3 RS, shod with 215/40 front and 275/35 rear Michelin Pilot Sport 4 tyres.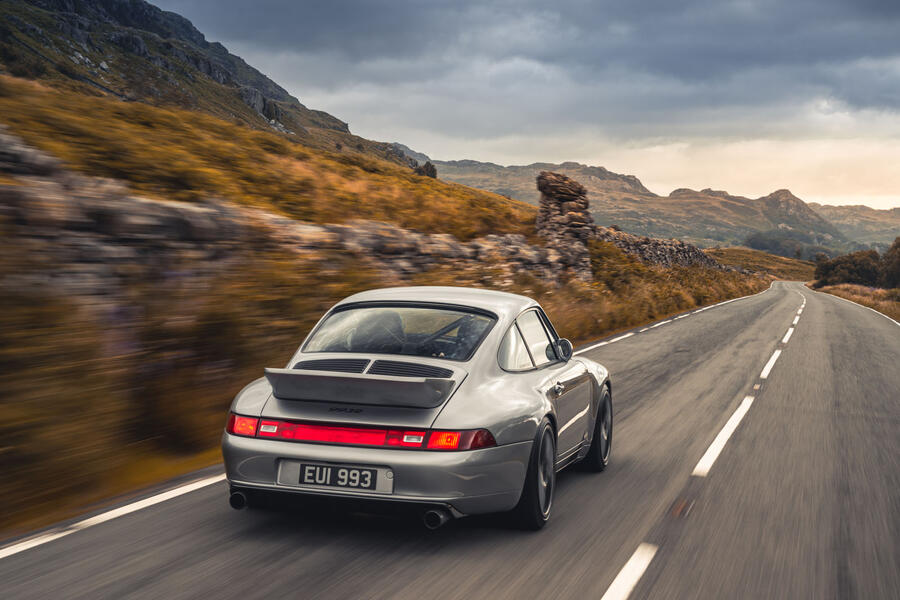 The suspension linkages are Porsche Motorsport parts, rather than the originals, because they offer greater adjustability. They get adjustable dampers from Tractive and a set-up by a specialist called Centre Gravity. There's a small knob located by the door jamb to walk through the five stages. I start in one, the softest, and nestle in for the ride.
The driving position is good, if slightly offset, with a snug seat, relatively upright, and very firm set of drilled pedals. A fantastic Momo steering wheel, too, while the usual plastic column stalks have been replaced by aluminium ones and the six-speed manual transmission – a standard unit – has a new gearknob.
This is a good, uncomplicated place to work – albeit if you want sat-nav, you will have to sucker your smartphone to the window.
It's well finished, too. A member of the Walklett family (the founders of Ginetta, if you remember) is a composite specialist and supplies the panels to which the finishing materials are stuck; and the fit and finish in here, especially given that it's light and bespoke, feels first-rate. Not showy, not overly complex, just simple. I'm on board with that.
Ditto the driving experience. In stiffening the shell, the steering has become much more precise than I remember in a 993 (although I will admit that it has been a while). It has tremendous accuracy, medium weighting that loads up well in corners and very little unwanted kickback.
There's a great pleasure in driving a car only 1735mm wide, too, so even though this one is left-hand drive (it's expected to spend time continental touring), it's easily placed in the UK.
On British roads, you don't need any more than the first stage on the damper settings, which gives fine body control but softens the edges from harsh surface imperfections.
I can imagine that, overseas or on a circuit, the stiffer settings might come into their own; but in its kindest setting, it retains a thoroughly pleasing and, above all, 911-ish balance, with a lightly loaded front end that wants help getting planted on the way into corners, by keeping some braking force on during turn-in. Then ease onto the throttle and as the balance changes so the steering lightens and the engine sings and sings – to more than 8000rpm without complaint.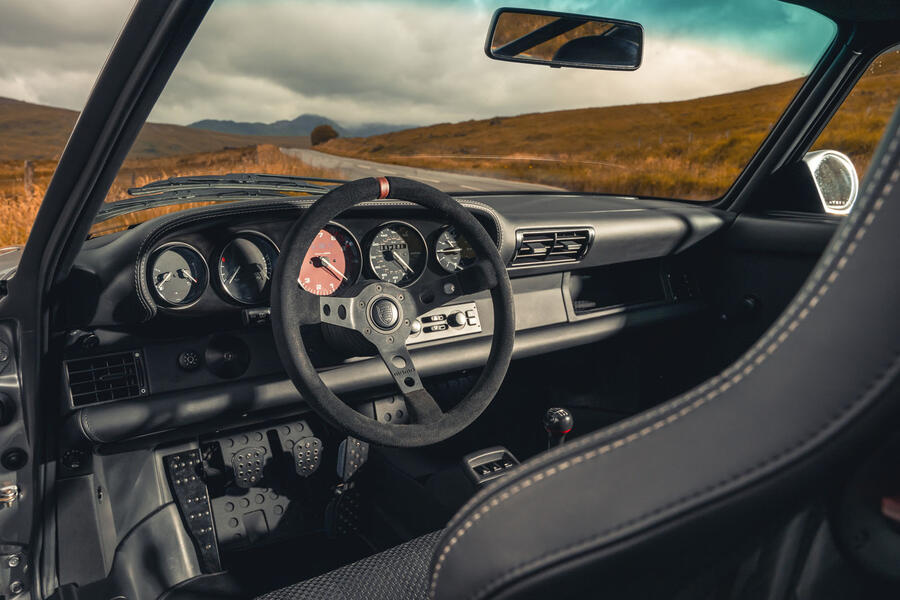 The gearshift is crisp and the throttle response fantastic, so blipping downshifts is a riot, but given that the car weighs so little and the engine is relatively flexible, you can just stroke it along in, say, third gear (or even second, if you must), and it still delivers a neatly distilled, near-classic 911 experience – as was intended.
At its limits? Those are very high, and I would rather not be finding out on the road in a one-of-one customer's development car.
Its status also affects the price. Autoart reckons it has spent £500k on the project, but series cars should end up cheaper. Until we know what that is, it can't have a star rating, but I imagine it will be near the top end.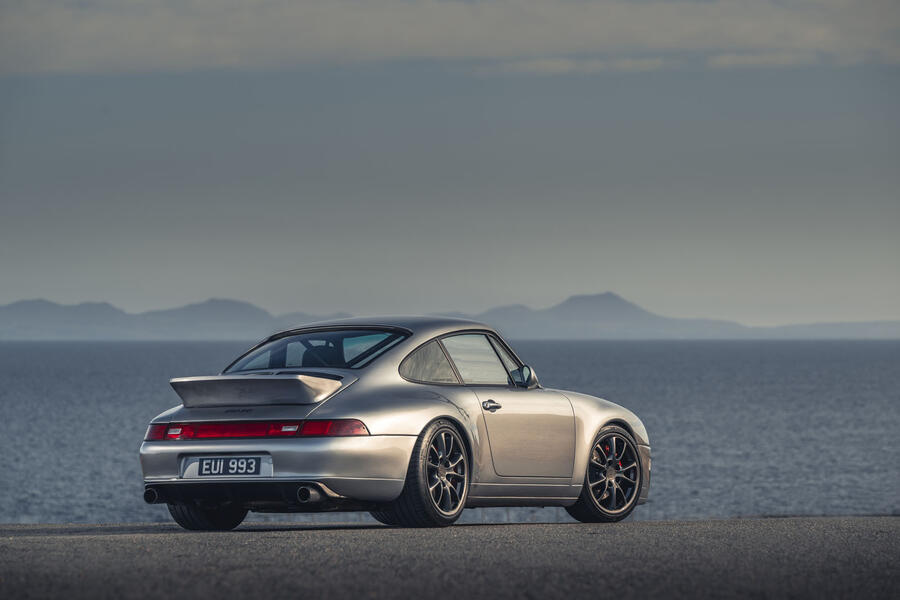 Technical specs

Model tested:
Autoart 993R
6 cyls horizontally opposed, 3746cc, petrol
Transmission:
6-spd manual
Driveline layout:
Rear-engine, rear-wheel drive
Model tested
Autoart 993R
6 cyls horizontally opposed, 3746cc, petrol
View all specs and rivals
Transmission
6-spd manual
Driveline layout
Rear-engine, rear-wheel drive