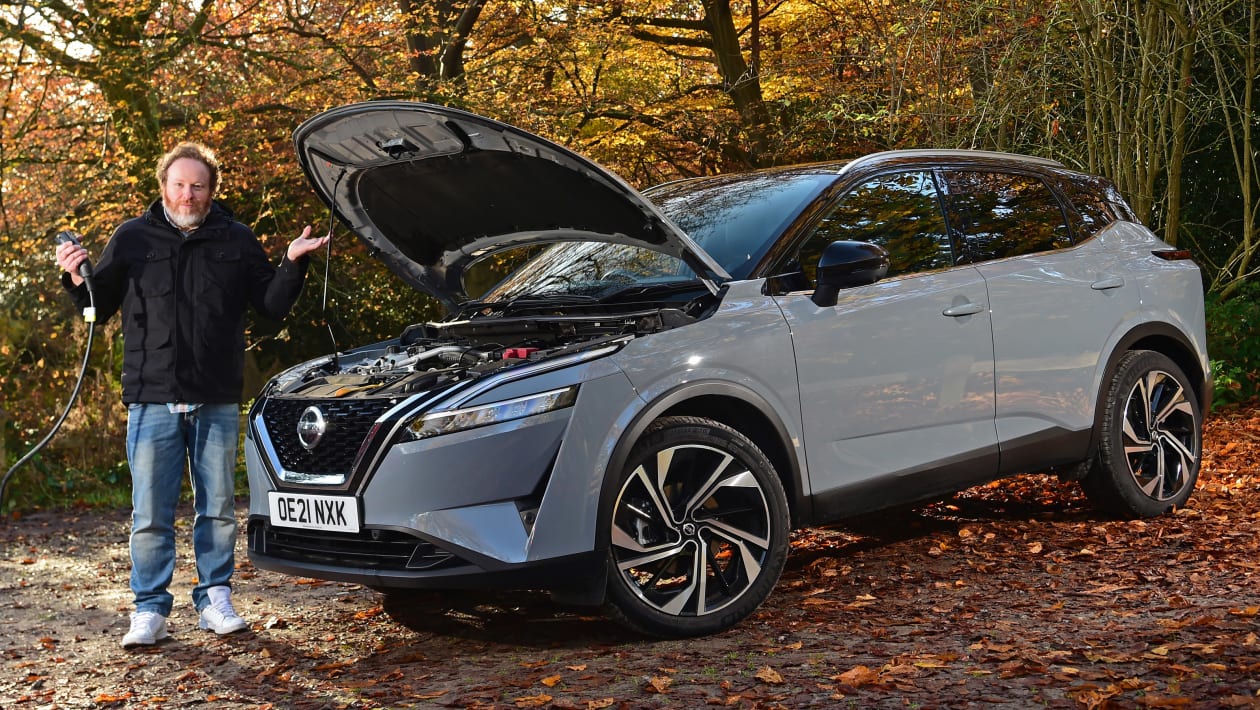 Verdict
The new Nissan Qashqai can be looked at in two very different ways. The driving side of things is slightly compromised, especially when you consider fuel economy, but it's a very good car when it comes to practicality. And inside, it feels like a more premium product than ever.
Mileage: 6,321
Economy: 34.6mpg
You may have seen the new Nissan Qashqai advert on TV. It features the new crossover in all its glory, with forked lightning flashing everywhere and the tagline "electrified with mild-hybrid power". Impressive as the advert looks, in reality mild-hybrid systems provide minimal electrical assistance – not even enough to drive a car on electric power alone. So why is Nissan using it as a major selling point?
With no diesel options available, Nissan has staked everything on mild-hybrid tech. The Japanese brand believes it boosts the efficiency of the Qashqai's solitary engine – a 1.3-litre turbo petrol in two states of tune – enough to appease those who would have previously gone down the diesel route.
However, I've been disappointed with the economy since taking delivery of the Auto Express Qashqai in mid-October. I've used it for commuting and a few long motorway trips, but I've only averaged 34.6mpg.
More reviews
Car group tests
In-depth reviews
Road tests
Used car tests
The poor economy has made me wonder why Nissan didn't add other powertrains to the range when the new Qashqai first went on sale. I can understand why diesel is no longer available, but almost every maker is bringing out plug-in hybrid versions of their new models these days.
As such, Nissan's clever "e-Power" tech will be a welcome addition when it arrives next year. It uses a 1.5-litre petrol engine to charge a lithium-ion battery, which powers the wheels. However, if you want a brand-new crossover capable of 40mpg-plus now, there isn't a Qashqai to cater for your needs.
But maybe it isn't all Nissan's fault. I never got a chance to drive the Qashqai before the UK switched to E10 petrol, but a couple of colleagues have complained that filling up with E10 has hit their fuel economy figures to the tune of 4-5mpg. Still, even if I went down the route of filling up with premium unleaded, I think I would struggle to get above 40mpg.
Despite my fuel economy woes, I have otherwise been delighted with the Qashqai. My model is a top-spec Tekna+ 158PS Xtronic Auto and it's packed with useful kit as standard. This includes a Bose sound system, a head-up display, heated seats, a heated steering wheel, a rear-view camera with a full around-view monitor, a powered tailgate and 20-inch alloy wheels.
It's not just the kit that really impresses, because the car feels extremely well built, with lots of high-quality materials used throughout the interior. The electric leather seats are very comfortable, while the huge panoramic sunroof lets plenty of light into the cabin. Everybody who has sat inside has been surprised by how luxurious it feels.
Practicality is also one of the Qashqai's strong points. There's plenty of room for two child seats in the rear and I don't have to move my seat forwards to avoid any unwanted kicks in the back. Plus the rear doors open to 85 degrees, so it's easy for my two children to get in and out.
The boot provides a capacity of 504 litres, which is more than enough for my needs. Indeed, it comfortably swallowed everything for a recent family trip to Wales, including a travel cot, buggy and a couple of bags. The boot floor can also be lowered to give a little extra storage.
On the road the Qashqai performs almost like you would expect it to. It won't win any awards for the way it drives, but most people buying one aren't going to be throwing it around corners on a winding B-road. It's a comfortable cruiser and the engine always seems to have enough power.
I'm not a fan of CVT gearboxes, but the Nissan's is amazingly smooth in town. So smooth you often don't even notice it, but as soon you come to a motorway and need to put your foot down, the revs rise rapidly and the acceleration takes a while to arrive.
| | |
| --- | --- |
| Model: | Nissan Qashqai Tekna+ 158PS Xtronic |
| On fleet since: | October 2021 |
| Price new: | £36,125 (£37,270 with options) |
| Engine: | 1.3-litre 4cyl petrol, 156bhp |
| CO2/tax: | 146g/km |
| Options: | Ceramic Grey Pearlescent paint (£745), two-tone ceramic grey and black pearl roof (£400) |
| Insurance*: | Group: 16/Quote: £497 |
| Mileage: | 6,321 |
| Economy: | 34.6mpg |
| Any problems? | None so far |
*Insurance quote for a 42-year-old in Banbury, Oxon, with three points.