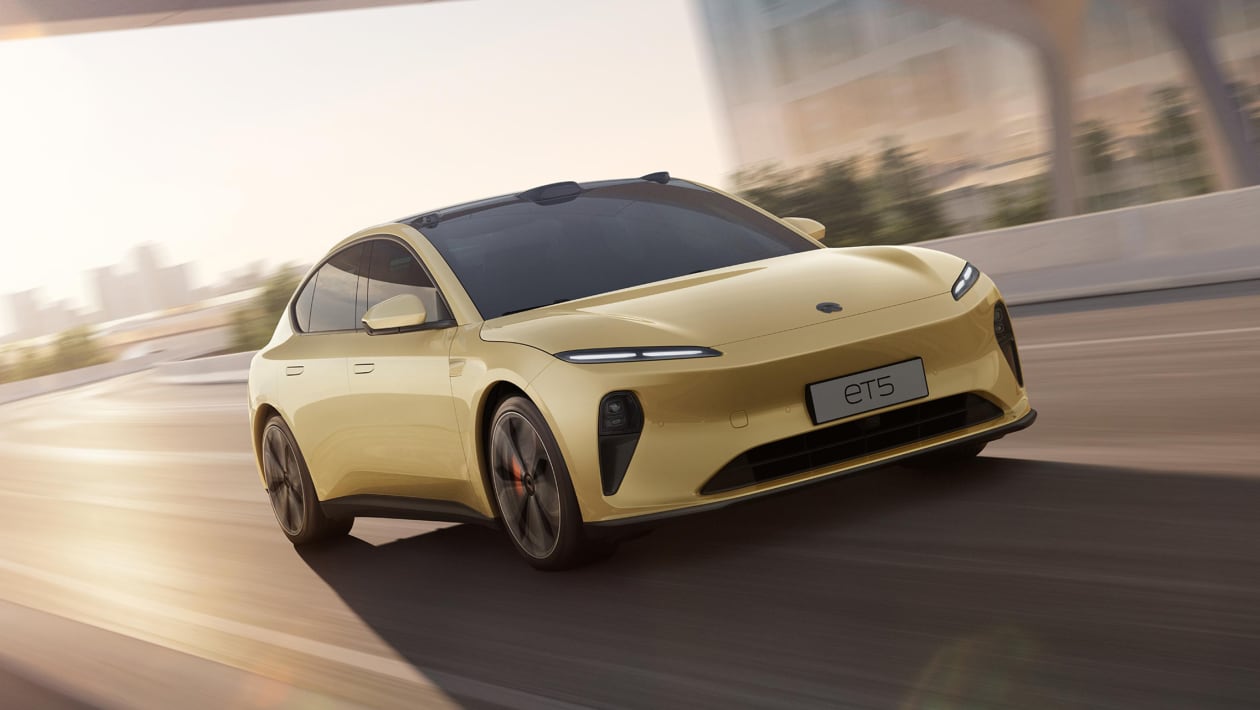 Chinese electric car brand NIO has unveiled its new ET5 mid-size saloon online, the second of three models based on NIO's Technology Platform 2.0 following the larger ET7 saloon.
Although not yet confirmed, the third vehicle could either be an MPV or a sports car, while the ET5 expands NIO's model range to five models.
Making its debut at the brand's annual NIO Day event, the ET5 offers battery options that include packs of 75kWh for a claimed range that exceeds 550km (341 miles), 100kWh for a claimed range of more than 700km (434 miles) and a 150kWh option that will exceed 1,000km (621 miles) on a full charge.
It's not yet known if the 150kWh model will use a solid-state battery, but the predicted range figures for all models are based on the Chinese test cycle, so expect the predicted ranges to drop slightly once homologated through WLTP testing.
The ET5's styling is reminiscent of the larger ET7 – the brand's only other saloon – with narrow LED running lights and a smooth look from the front. The front bumper features air curtain inlets that help channel air down the side of the car and reduce drag, along with the car's flush door handles.
At 4,790mm long and with a 2,888mm wheelbase, the 5's more compact proportions mean the arching roof (which features a full-length glass panel) is more pronounced, but it tapers aggressively towards the rear, kicking up on the boot lid with a gentle ducktail spoiler that sits above a full-width LED light bar, spanning the boot and the rear wings.
Based on NIO's next-generation platform, which features a five-link rear suspension set-up, the ET5 features all-wheel drive with a 201bhp electric motor mounted on the front axle and a 281bhp motor on the rear axle, delivering a total of 482bhp and 700Nm of torque for a claimed 0-62mph time of 4.3 seconds. The ET5 also features in-house developed four-piston performance brake calipers.
Inside, the ET5 boasts a minimalist design, with a 10.2-inch digital driver display joined by a 12.8-inch central touchscreen – 5G connectivity features, along with tech such as NIO's PanoCinema digital cockpit, full digital key technology and 19 safety and advanced driver assistance systems, according to the brand.
The ET5 will be available in nine exterior colours with six different interior themes. Nappa leather trim and ventilated, massage seats will be available as options.
NIO confirmed the ET5 features ultra-long-range, high resolution LIDAR sensors as part of its driver assistance tech to boost its autonomous driving capability.
The ET5 75kWh model will be priced from 328,000 RMB in China before any subsidies, while the 100kWh car will go on sale for 386,000 RMB – equivalent to around £38,800 and £45,700 respectively at today's exchange rate. However, it's unlikely that these prices will translate once NIO expands its operations in Europe and begins selling cars in the UK.
The brand also outlined that it would offer the ET5 on a monthly subscription, starting from 980 RMB in China (£116).
NIO has confirmed it will offer cars in Europe, but an exact date when UK sales will start is not yet known.
Check out the best electric cars you can buy here…