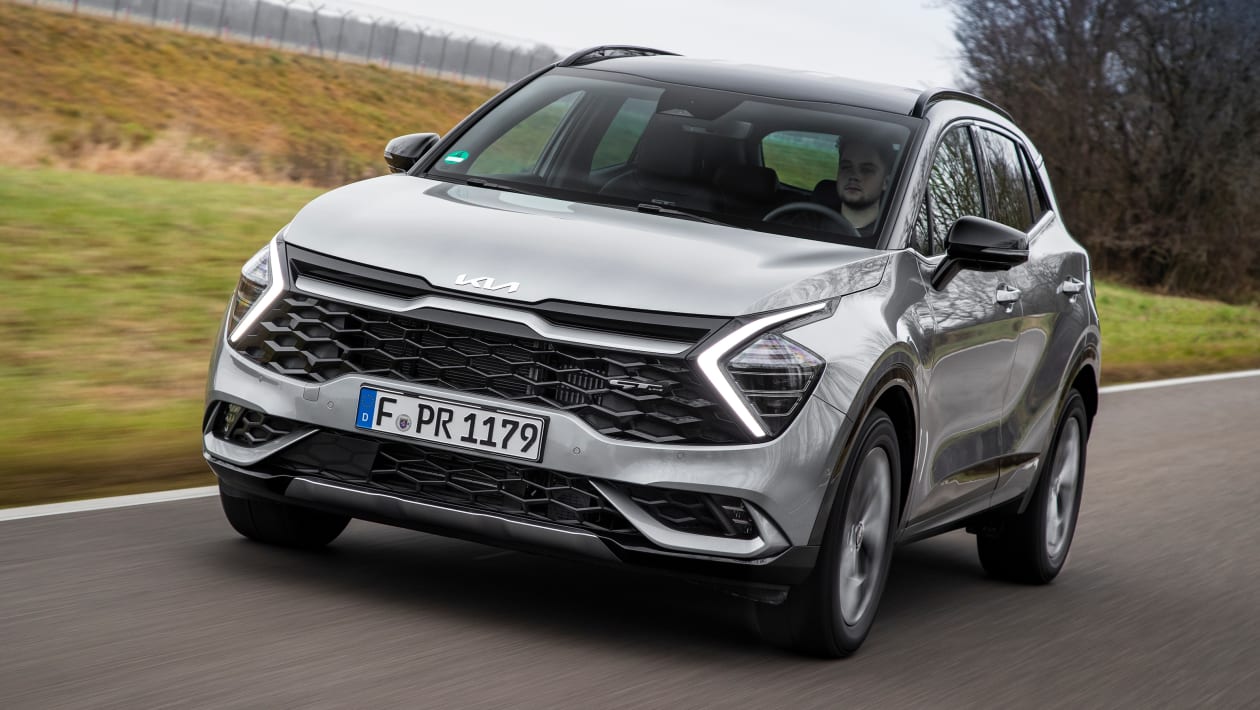 Verdict
This is our second stab at a Mk5 Sportage, but we've still yet to try a definitive UK spec. However, on British roads the car shows promising cruising refinement and composure in bends, albeit with a slightly firmer edge to its ride. We don't suspect the sweet spot of the range will be this four-wheel-drive version, at around £40k – but we're keener than ever to try some of its more modest stablemates.
The Kia Sportage is a model whose progress has closely followed that of the Korean brand itself. The first two generations of the family SUV were, well, conservative (at best). But the third iteration really set out Kia's stall as a progressive, design-led brand that could offer more than just value.
If anything, the Mk4 Sportage felt a little bit like consolidation after the huge gains made by its predecessor – but that's not an accusation that's likely to be levelled at the all-new, fifth-generation Sportage. It has a striking, bold look at the front end, a distinctive side profile and one of the most cutting-edge, tech-laden cabins in the business.
It's also available with a wide range of powertrains – including regular petrol and diesel (right at the bottom of the range), mild-hybrid petrol and diesel, a plug-in hybrid petrol and a full-hybrid petrol. We were pretty impressed by the higher-powered, pure-petrol variant that we tried in Germany a few weeks ago – but that was a powertrain that UK customers won't be offered. Now we've had a chance to try a range-topping full-hybrid Sportage on British roads.
More reviews
Car group tests
In-depth reviews
Road tests
Used car tests
The powertrain in this car mixes a 1.6-litre turbocharged petrol engine with a 59bhp electric motor and a 1.49kWh battery. The total output is 227bhp, enough to take this four-wheel-drive, six-speed automatic Sportage from 0-62mph in 8.3 seconds, and on to a top speed of 120mph. CO2 emissions stand at 140g/km for the AWD model, or 125g/km if you settle for only two driven wheels.
On the road the Sportage HEV makes a decent case for itself. You get enough of the synthetic 'whoosh' sound around town to know that the car is trying its best to pull away in pure-electric mode a lot of the time (you also hear it when you're slowing down for traffic lights and junctions, as the engine is switched off). The transition is smooth enough when the petrol motor kicks in too – although it's best to show a little patience with it, because sudden demands for acceleration send the revs soaring and expose a harsher tone from under the bonnet.
Adopt a relaxed approach and you'll be rewarded by solid refinement that improves further once you're up to a cruising speed.
In corners the Sportage keeps its body roll well in check, helped by direct steering that's pretty quick around the straight ahead (though devoid of feel, sadly). It is slightly more likely to get upset by mid-corner bumps and poorer surfaces overall, though, thanks to a suspension set-up that feels just a little firm.
Now, there are a couple of caveats here; our test car had electronically controlled 'active' dampers, which won't be available at all in the UK, and it was also shod with Michelin Pilot Alpin winter tyres. But even so, when this particular flavour of Sportage is boiled down into UK spec, we'd be surprised if it's anywhere other than at the firmer end of the family SUV spectrum – much like its predecessor, in fact.
The star turn comes in the cabin, where Kia has basically just lifted the imposing dual-screen display from its EV6 electric car and dumped it onto the top of the Sportage's neatly-styled fascia. The instrument and infotainment panels are crisp, quick to respond to inputs and easy to use – and the other controls are the dashboard are equally straightforward to interact with while you're on the move. Even the changeable centre panel makes the transfer from EV6; it allows you to flick between navigation and heating/ventilation controls, depending on your need, and it's preferable to a system hidden in on-screen menus.
There's space on board for four six-footers, and those in the rear shouldn't complain about headroom even if the panoramic glass roof is fitted. The boot, meanwhile, increases over the old Sportage to a very respectable 587 litres (around 80 litres up on the latest Nissan Qashqai), with a nice, flat floor to make it easy to slide large loads in and out. Fold down the rear seats, using the easy-to-access handles on either side of the boot, and the outright capacity extends to 1,776 litres.
The range starts with '2' and goes up through 'GT-Line', '3' and '4' before reaching our test car's equivalent, the range-topping 'GT-Line S'. It breaks through the £40,000 mark but brings oodles of kit, including 18-inch alloys, heated and ventilated front seats, wireless phone charging, an optional two-tone black roof, and synthetic leather and suede upholstery.
| | |
| --- | --- |
| Model: | Kia Sportage GT-Line S 1.6 T-GDi auto HEV AWD |
| Price: | £40,245 |
| Engine: | 1.6-litre turbo petrol, 1xe-motor |
| Power/torque: | 227bhp/400Nm |
| Transmission: | Six-speed auto, four-wheel drive |
| 0-62mph: |  8.3 seconds |
| Top speed: | 120mph |
| Economy: | 45.8mpg |
| CO2 emissions: | 140g/km |
| On sale | Now |