McLaren has launched its 2022 Formula 1 car – the MCL36, successor to the MCL35M – during an event at its headquarters in Woking.
After two years of 'digital and mathematical' development, the physical car has come together in the past two months, and will hit the track for the first time during pre-season testing at the Circuit de Barcelona-Catalunya on February 23-25 and Bahrain on March 10-12.
The MCL36, which wears vibrant matt colours inspired by the one-off livery seen at last year's Monaco GP, represents McLaren's effort to capitalise on the most wide-ranging and significant regulation changes the sport has seen in three decades. Those changes, introduced for 2022, are designed to encourage closer racing, with increased ground-effect intended to substitute for a reduction in wing-generated downforce, the turbulence of which has in recent years made overtaking problematic.
A larger wheel-and-tyre package is the other major development, and has led to predictions from some that the new cars could exhibit more edgy limit-handling than last years' crop, with the comparatively lower downforce levels also lengthening braking zones and creating overtaking opportunities. Note also the new over-wheel winglets and the wheel covers, both of which are standardised in the regulations.
Only the third physical 2022 car to be revealed, the MCL36 already shows how divergent the approaches taken by Formula 1's 10 teams could be. While Aston Martin's AMR22 uses pushrod front suspension, undercut sidepods and dramatic louvres, the McLaren uses pullrods and has a more subtle and elegant profile through its Coke-bottle midriff. In total, the MCL36 weighs 795kg (with driver, without fuel), 150kg of which is accounted for by the engine.
'It's been some time since ground-effect had a predominant role in Formula 1,' said James Key, McLaren Racing's technical director, 'but it provides a great potential to create closer and more exciting racing with these new regulations.'
Presented by drivers Lando Norris and Daniel Ricciardo, in the flesh the MCL36 undoubtedly cuts an attractive figure. However, it will, says Key, evolve considerably before the first race weekend of the season in Bahrain on March 18. 'We've hidden a few bits and pieces,' Key told journalists, 'but this is the car which is going to Barcelona.' McLaren's straight-up approach is in contrast to Red Bull, who this week revealed the RB18 of defending champion Max Verstappen and Sergio Perez only as a liveried version of the official F1 2022 show car.
With McLaren in its second year of an engine deal signed in 2019, the MCL36 will be Mercedes-powered, as was the MCL35M. The 1.6-litre turbo hybrid powerplants are mostly unchanged from 2021 so far as the regulations are concerned, but with more than 1000bhp and thermal efficiency above 50%, they remain wonders of the automotive world. Mercedes-AMG's 15,000rpm F1 M13 E Performance was integrated into the McLaren chassis and gearbox with support from Mercedes High Performance Powertrains, in Brixworth.
After plenty of time in the simulator, both drivers in McLaren's star lineup unsurprisingly sounded keen to find out what the MCL36 handles like in real life. Neither Norris – fresh from signing a new four-year contract with the team – nor the relative veteran Ricciardo have ever experienced a regulation change of anything like the magnitude of the one that's currently unfolding, but both feel that opportunities are there to be taken. They feel podiums and possibly race-wins are distinct possibilities as McLaren continues its impressive ascent from some dreadful campaigns in relatively recent memory.
Asked if he was nervous the new car might not suit his driving style, Norris replied: 'Yeah, potentially, but that's [the same] for everyone.' He then astutely highlighted the fact that, while rising through the ranks from the Ginetta Junior Championship in 2014 to F2 in 2017, he'd had to adapt to an all-new car every single season and that this hadn't particularly hurt his prospects.
Norris also said that all drivers will need to get accustomed to not only the feel of their new driving environment but also the look of it. At some city circuits, he says, even the tops of barriers will be obscured by the height of the large new tyres, and this may necessitate the use of flags or markers.
Norris's teammate, who due to Covid restrictions was only recently able to return to Australia and see his family, after nearly two years apart, was in typically ebullient form. By Ricciardo's own admission, 2021 was a season where he struggled to establish with his McLaren the kind of relationship that would allow him to unleash the world-class speed he's capable of, and 2022 represents something of a reset. This despite the fact that, at Monza last year, the Australian took McLaren's first win since 2012.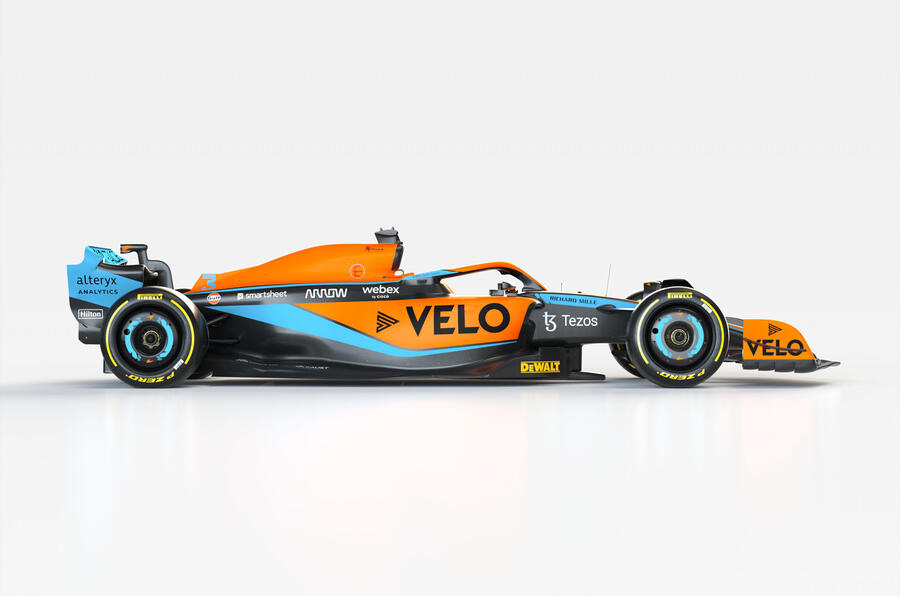 'Hopefully you can see me driving free as a bird in 2022,' he said, explaining that he feels better within himself having gone home in the off-season – despite spending two weeks in quarantine on arrival. He described the time as 'something of a pressure-release.'
Asked whether he was concerned about the potentially brutal driving environment that a ground-effect F1 car might represent, he said he didn't mind wrestling with racing cars but hoped the MCL36's handling was 'nice fun' rather than 'ugly fun', and that the cockpit wasn't the kind of place to induce headaches (to which Key later responded by saying he's generally found that 'drivers don't mind a bit of discomfort if it means the car goes faster').
Zak Brown, chief executive of McLaren Racing, finished off by stating his satisfaction with the commitment of the team. Both himself and Norris have signed long-term contracts, as has team principal Andreas Seidl. McLaren Racing is also running campaigns in IndyCar and Extreme E, and so seems in a strong position across the board, going into 2022.
'Our Formula 1 team continues to make great progress year-on-year with Andreas Seidl at the helm and this new era of regulations represents a real opportunity for the team,' said Brown. 'Lando made great progress in 2021, scoring four podiums, and Daniel's sensational victory in Monza reminded the team what it feels like to win again.