This handsome Mazda fits between the CX-3 crossover and CX-5 large SUV, yet it isn't called the CX-4. What's in a name, after all? You see, the purpose of the CX-30 is very clear, even if its identity isn't: to offer all the good qualities of those two cars in a more modern family SUV-sized package. And by and large, it succeeds in that purpose admirably well.
As you would expect from Mazda, there are some interesting engines to choose from. It gives you a choice of two 2.0-litre petrol engines, both of which lack turbocharging but use mild-hybrid technology, with a small electric motor and battery working together to improve fuel efficiency and engine response at low speeds.
Both engines come with a six-speed manual gearbox as standard, plus there's an optional six-speed automatic. The more powerful engine also opens up the option of four-wheel drive.
There are five trim levels to choose from for your CX-30: SE-L, SE-L Lux, Sport Lux, GT Sport and GT Sport Tech. All are well equipped, with automatic lights and wipers, adaptive cruise control, air conditioning and a head-up display the absolute minimum.
On the road, the Skyactiv-G engine provides reasonable punch, while the more powerful Skyactiv-X (which uses innovative compression-ignition technology to get better fuel economy) feels a bit quicker, although you have to work it to feel the difference. Neither engine can match the flexibility of the turbo units found in any other small SUV.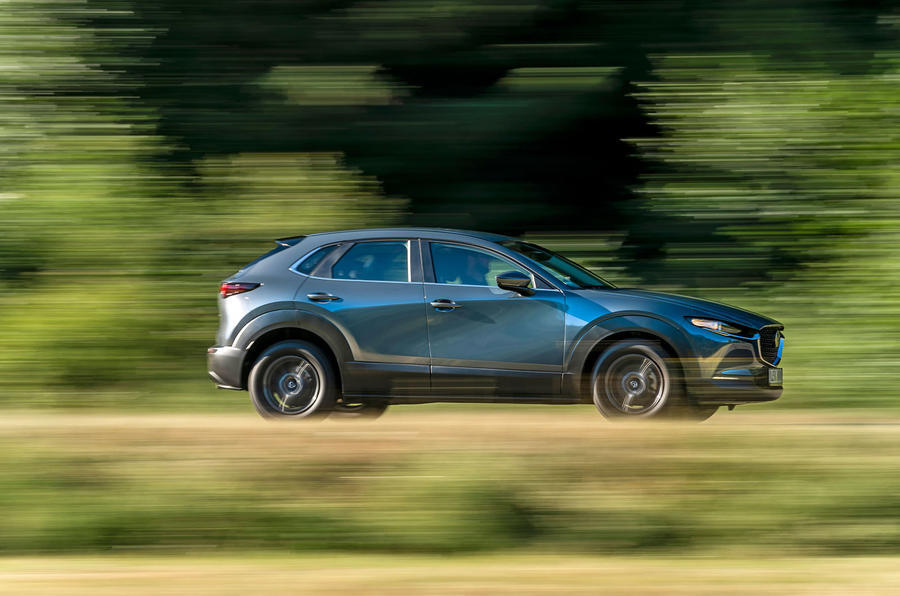 Scarred urban roads also cause the CX-30 to fidget, all while every pothole sends a thud through your seat. Even at speed on a motorway, you will still feel road imperfections as they filter up to your posterior.
The car is happy in corners, however, with minimal body lean. However, push harder and you will find that it runs out of front-end grip earlier than one or two of its rivals.
Where the CX-30 really scores is in its interior quality: no rival comes close to its classy solidity. The dashboard is slathered in squishy, expensivelooking materials and there are lashings of leatherette trim. Add some classy chrome trim into the mix and it's a fine place to be. Play with the switches, stalks and knobs and you will find that they all click, turn and move with an expensive feel, too.
All models come with a centrally mounted 8.8in infotainment display that's operated by an intuitive rotary controller mounted between the seats, along with shortcut buttons.
It also has good old-fashioned buttons and knobs for the heating and stereo, allowing you to find all the controls by feel alone once you've familiarised yourself with them. No touchscreen nonsense here, then.
There's plenty of space up front and a good driving position, but rear-seat passengers have to contend with small door apertures and rather cramped accommodation. And by family SUV standards, the boot is a bit small as well.
BUYER BEWARE
Engine Feel for vibration related to cylinder deactivation. If present it may be cured by updates to the powertrain control module (PCM).
Electrical Check all features including stop and start, power windows, auto lock/unlock and key recognition system work as they should (the last may be a tired or faulty fob battery).
Body Check the underside for damage and scrapes caused by misguided off-roading excursions. 
Interior Listen for rattles around the driver's side area. Owners have various theories, none of them relating to anything serious. 
Need to know
Euro NCAP found the CX-30 to provide outstanding protection to front-seat occupants and gave it an excellent 99% score for adult occupant protection. That helped it towards winning five stars overall.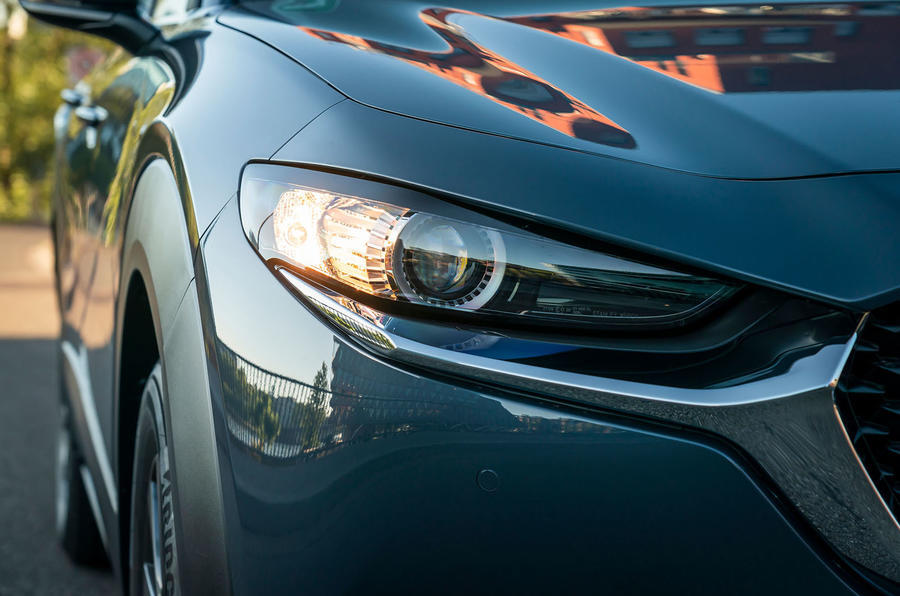 You can pick up a low-mileage 2020 CX-30 for between £19,500 and £22,000 from a franchised dealer. They tend to be in SE-L or SE-L Lux trim, so this represents a useful saving on the new price. There have been no reported problems, but there is a recall notice: the powered tailgate might partially lower unexpectedly from the fully opened position in certain situations. If necessary, Mazda will replace the tailgate's drive unit.
Our pick
2.0 Skyactiv-G: The entry-level 120bhp engine is our pick. The Skyactiv-X unit makes 178bhp despite achieving lower official CO2 emissions, but it's more expensive to buy and, while it feels a bit quicker, you have to work it hard to feel the difference.
Wild card
Skyactiv-X AWD GT Sport Tech: Okay, okay, go on then: if you really want max thrills, pick the more powerful engine and combine it with the well-kitted top-level trim. You can throw in four-wheel drive, too, for added traction in tricky situations.
Ones we found
2020 Mazda CX-30 Skyactiv-G SE-L, 12,000 miles, £19,500
2020 Mazda CX-30 Skyactiv-X AWD GT Sport Tech, 10,000 miles, £23,150
2020 Mazda CX-30 Skyactiv-G SE-L Lux, 2000 miles, £24,000
READ MORE
Nearly new buying guide: Porsche Panamera 
Nearly new buying guide: BMW 7 Series