Why we're running it: To see if Lexus's first EV can compete with the established premium electric SUVs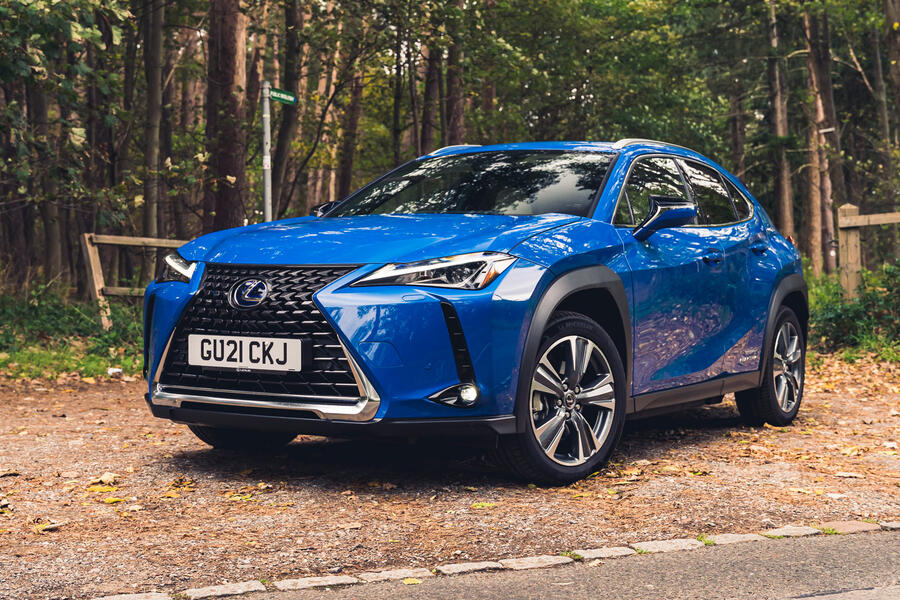 Life with a Lexus UX 300e: Month 1
Welcoming the UX to the fleet – 19 January 2022
If you're looking for an electric SUV, you're certainly not short of choice. Across the price spectrum there's the Peugeot e-2008, Volkswagen ID 4 and Jaguar I-Pace, while Hyundai and Kia have set the trend for all-round quality along with excellent range. And so to Lexus, the latest to throw its hat into the EV ring.
The UX 300e is an interesting proposition. Built on Toyota's GA-C platform and evolved from the UX hybrid, it is Lexus's maiden battery-electric car and technically the first from its parent company, too.
It's a low-slung, mid-size crossover that looks far more imposing than its dimensions suggest, and it's no slouch. Under the skin is a motor producing 201bhp and 221lb ft. This powers the front wheels and will get you from 0-62mph in 7.5sec. Regenerative braking is part of the set-up, although none of the four levels allows for one-pedal driving.
Initial driving impressions are thus: power delivery is strong and it pulls forward nicely, but the front wheels will spin if you're overzealous on the throttle from a standstill.
I'm not sure if this quiet, refined thing will be fully at home whizzing around the countryside, though. Ride comfort and insulation so far have been excellent but have made it tough to know exactly where the wheels are pointing and you get little feel of the road beneath you. What's more, at 1840kg, it's a pretty hefty car.
The UX 300e's 54.4kWh battery is good for a 196 miles of range on the WLTP test cycle. Lexus says it's capable of charging from empty to 100% in eight hours via a 6.6kW wallbox or from 10-80% in around 50 minutes using a 50kW rapid charger.
Significantly, it's one of just two EVs on sale in the UK – the other being the Nissan Leaf – that uses the Japanese-standard Chademo rapid-charging connector, rather than the much more prevalent CCS type.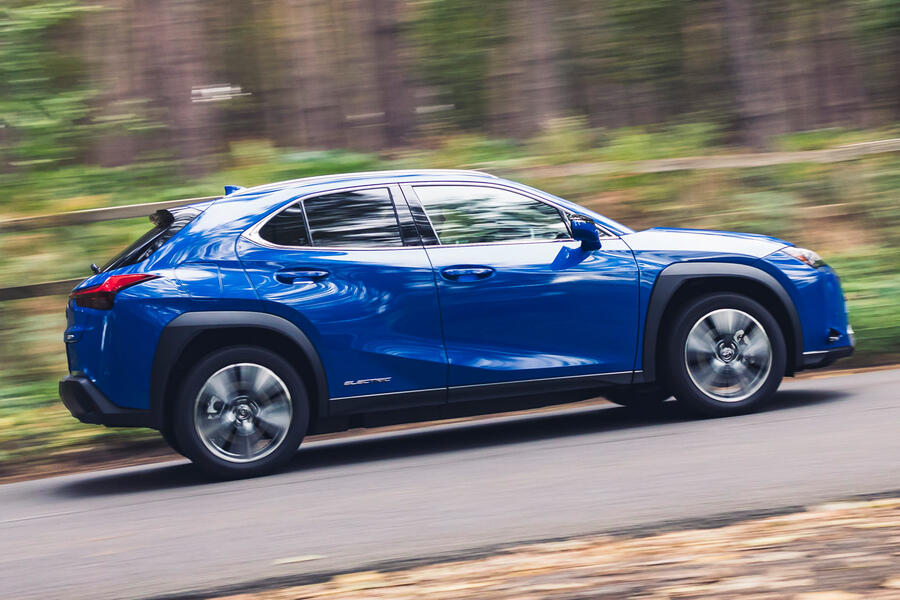 The UX 300e courts a starting price of £41,745, for which you get 17in wheels, climate control, a reversing camera with guidelines, front and rear parking sensors, automatic bi-LED headlights and electrically adjustable seats. Meanwhile, behind the steering wheel sits a partially customisable digital instrument display.
Our car is a mid-range model equipped with the Premium Plus options pack, which bumps the price up to a slightly eye-watering £45,245. Extra kit includes a wireless smartphone charger, smart keyless entry, heated seats (the front ones are also ventilated), a heated steering wheel and privacy glass.
Inside, the UX 300e is lounge-like. As you would expect from Lexus, it's an extremely comfortable and relaxing place to be. Our car is equipped with white leather seats, whose surfaces I will have to be careful with after a game of football or muddy dog walk.
There's a mixture of leather-effect materials and soft plastics all around the cabin. The dashboard looks and feels premium, although explore below the centre console and you will start to find scratchier and cheaper-feeling plastics.
The centrepoint of the cabin is the 7.0in infotainment display. This is the same unit found in several other Lexus models, and my initial impressions of it aren't entirely positive. For one, it's not a touchscreen (hear me out). Instead, menus have to be navigated via a touchpad and small control unit, which are fiddly and require too much concentration to use safely on the move. What's more, the screen itself is on the stingy side compared with rivals. The laptop-comparable 15.0in displays found in the Ford Mustang Mach-E and Tesla Model 3 might be overkill for some, but this one seems equally out of proportion in a modern electric car.
A larger 10.3in display is available in the UX 300e, but for that you need to move up to the range-topping Takumi model, which costs £51,345. There's also no sat-nav at this level, which makes the standard inclusion of Apple CarPlay and Android Auto a godsend (unless you don't have a smartphone, of course).
What might prove to be the main sticking point, however, is not the infotainment quibbles but the UX 300e's price and range combination.
Naturally, Lexus has marketed it as a luxurious, premium alternative to other compact crossovers in the segment, but a competitive range is a luxury in itself that the UX 300e lacks. The Kia e-Niro offers 282 miles and the Mustang Mach-E 273 miles, yet both of them undercut the Japanese challenger on price.
I've yet to suffer range anxiety in an EV, but it will be interesting to see if the UX 300e is capable of hitting that 196-mile figure in reality – and whether I have the nerve to find out on my approximately 150-mile round trip to Autocar headquarters.
We know motorways aren't kind to EV range, and nor is winter weather. So far, I've managed to charge it up to only 186 miles, and on the few times that I have driven it to the office, I've rationed my use of the climate control and other electronic luxuries to make sure I can get back home on one charge.
It can get jolly chilly in that all-white cabin and my home wallbox is working overtime from Monday to Friday. Even so, electric motoring is the way to go right now. Let's hope I feel the same way once the honeymoon period is over.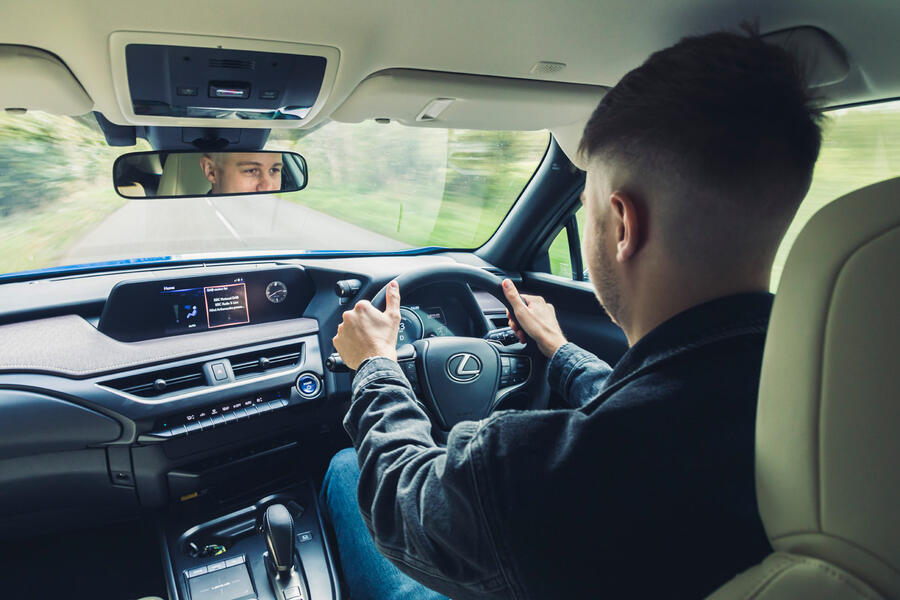 Second Opinion
When I had a go in one of the first electric UXs to land here, it felt like all the plush, calming cars on which Lexus built its reputation, only even quieter. Ideal for Jack's M3 commute, but what about when he ventures away from that and outside the urban sprawl? That will be the real test of it.
Piers Ward
Lexus UX 300e Premium Plus specification
Specs: Price New £45,245 Price as tested £45,815 Options Celestial Blue paint £570
Test Data: Engine AC asynchronous permanent magnet Power 201bhp Torque 221lb ft Battery 54.3kWh Kerb weight 1785kg Top speed 100mph 0-62mph 7.5sec Range 196 miles CO2 0g/km Faults None Expenses None