We recently had our first taste of the latest generation of Lexus's flagship SUV, the RX. We drove the RX 450h+ plug-in hybrid, because Lexus reckons that's the version 55% of customers will go for. However, if you're not a company car driver, or you do long distances without being able to plug in, there's every chance you'll be better off with the normal hybrid Lexus RX 350h, because you won't be carting about 200kg of empty battery.
The mechanicals are the familiar combo of a 2.5-litre four-cylinder and an electric motor driving the front wheels through the firm's e-CVT, while an electric motor on the rear axle provides four-wheel drive.
With a starting price of £59,950, the full hybrid is also £5000 cheaper than the plug-in, but lacking that car's substantial pure-electric range, it incurs 33% company car tax. Since there are no direct hybrid rivals to compare it with, it's effectively up against diesel versions of the BMW X5, Mercedes-Benz GLE, Audi Q7 and Volvo XC90.
Immediately, the RX 350h feels more natural to drive than the plug-in hybrid. Lighter weight doesn't turn the RX into a sports car, or even a sports SUV, but it does mean it changes direction much more willingly, and it feels more settled over bumps and crests. That in turn makes it more comfortable and even moderately enjoyable on a B-road. It turns in well and grips keenly, with limited body roll. Even the steering feels more connected than most.
The Takumi-spec car we drove earlier managed to isolate its occupants even better from low-speed clunks and vibrations thanks to its more sophisticated adaptive dampers, but overall any Lexus RX is still a smooth-riding car that is quiet at a cruise.
The exception is the engine. You can just about hear it working on the motorway, and without the extra help it gets from the bigger electric motor in the PHEV, the four-cylinder has to work harder on hills and to get up to speed. Mind you, if you were to run the PHEV on a flat battery, it would be even worse.
While it's not harsh, the four-cylinder grumble doesn't help in conjuring a luxurious, effortless experience. Over a few days with the RX 350h, it returned 37mpg – a decent result for a car of this size, but it's doubtful that will tempt people out of a BMW X5 with a creamy straight six.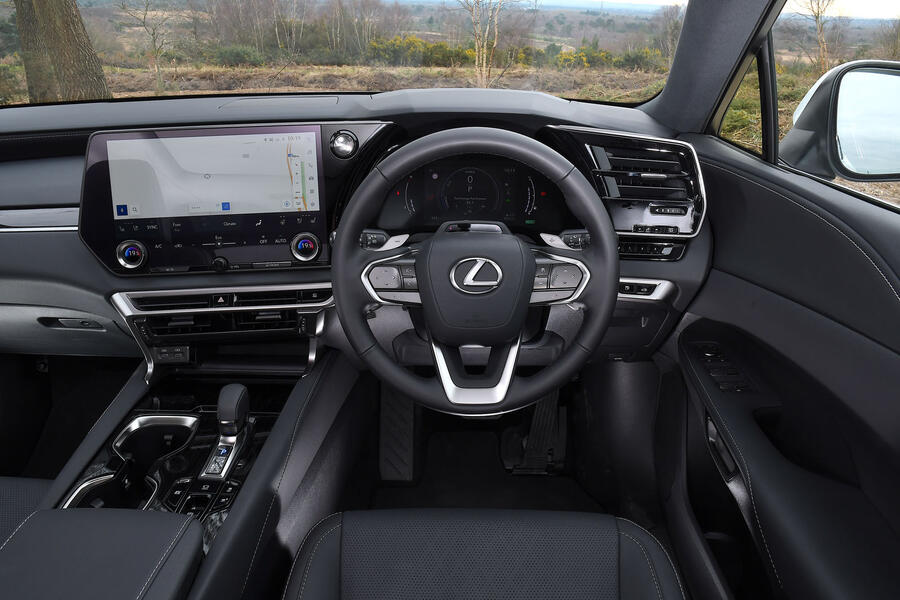 Inside, the RX looks pleasingly different from its peers, and uses mostly premium materials. That said, range-topping Takumi trim brings a significant upgrade inside over Premium Plus (our test car's trim), with wood replacing plastic and smoother leather appearing throughout.
The more time I spent in the RX, the more various things such as the fiddly infotainment, the touch-sensitive steering wheel buttons and the heated seats that default to an 'auto' setting started to grate. The chorus of bings, bongs, bleeps and bloops of the safety systems also got tiresome. The speed warning in particular is very hard to turn off and turns itself back on when you restart the car.
Apart from that, the RX is a serene and comfortable cruiser with plenty of standard equipment. The regular hybrid version of the RX handles better than the plug-in, still gets decent economy and has a cheaper list price. However, it will be an issue for many that it's barely any cheaper on a PCP, and rivals with slicker tech and more conventional powertrains might prove hard to resist.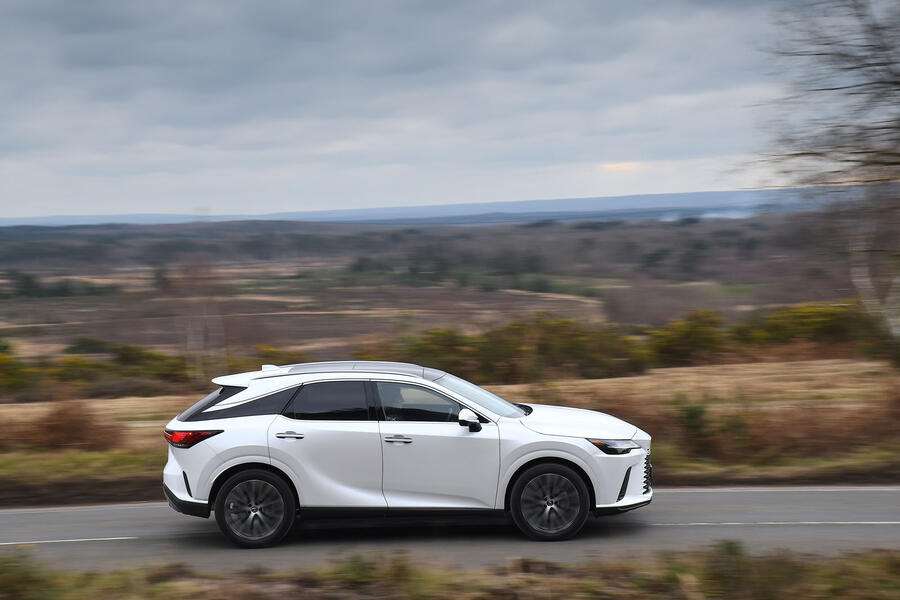 PRICES & SPECS

Model tested:
Lexus RX 350h+ Premium Plus Pack
4 cyls, 2487cc, petrol, plus 2 electric motors
Driveline layout:
Front engine and electric motor, plus rear electric motor, 4WD
Model tested
Lexus RX 350h+ Premium Plus Pack
View all specs and rivals
4 cyls, 2487cc, petrol, plus 2 electric motors
Driveline layout
Front engine and electric motor, plus rear electric motor, 4WD
Fuel economy
42.8-44.8mpg
Fuel economy
42.8-44.8mpg