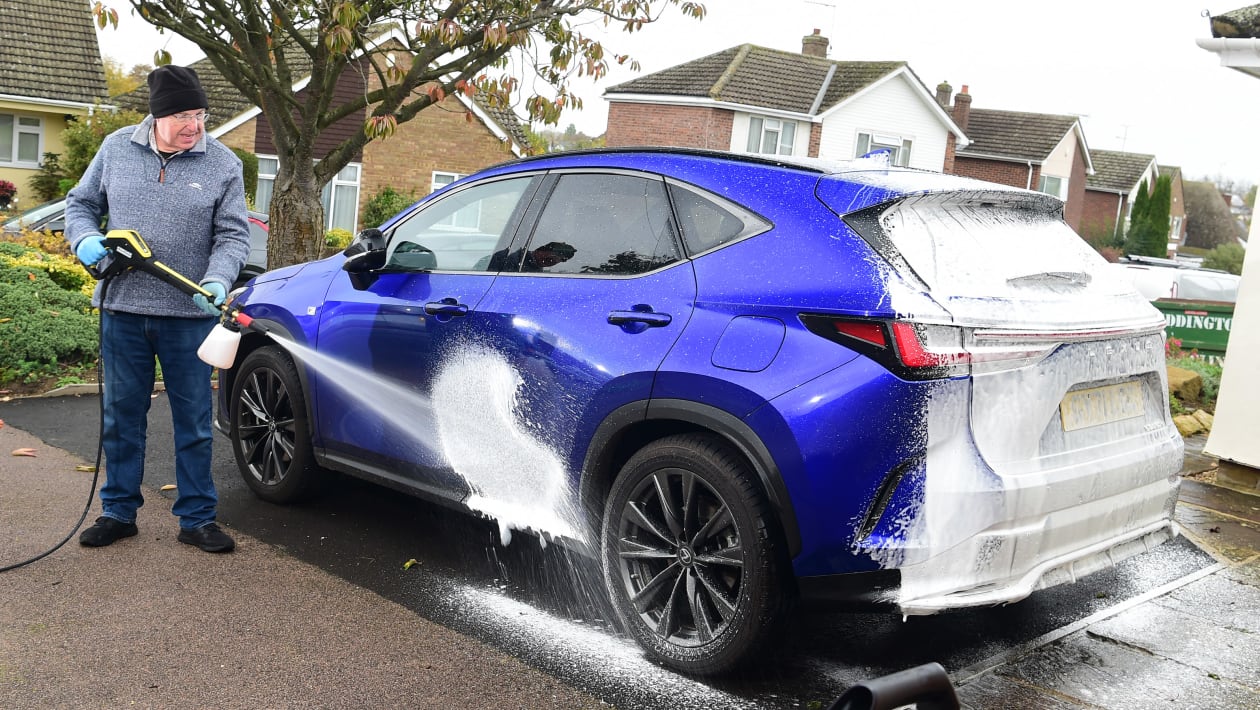 Verdict
This is a highly capable SUV that has a battery range and electric performance that makes it a pure EV and not a hybrid for many journeys.
Mileage: 1,398
Economy: 86.2mpg
Long-term test cars have to earn their keep when they're with me and not just for the supermarket run, but for the Auto Express product-testing programme.
While we can't make major modifications because the cars are only on loan to us, we are expected to keep them clean, so our Lexus NX 450h+ fleet car donated its bodywork to a recent snow foam test.
There's nothing like getting up close and personal to paintwork to get to know a car. The paint is in great condition as you would expect from a new car, but cleaning that mighty grille is a time-consuming pain. I quite like the look, but there are too many holes for a quick once-over with a wash mitt.
The other way of getting to get to know a car is tackling long journeys, and on that front, progress has been slow. You can only learn so much from a trip for a supermarket shop. Regular readers will know much of my mileage is completed with a trailer and track car behind, but the lack of a tow bar has ruled this out, so mileage has been restricted to just under 1,500 miles in a little over three months. With a towing weight of just 1,500kg, it is not the load lugger I've been used to and it may be marginal for my trailer and circuit cars. 
More reviews
Car group tests
In-depth reviews
Road tests
Used car tests
But a trip to Draper's base just outside Southampton for a socket-set test meant a welcome 250-mile or so round trip and revealed just how good the Lexus is as a long-distance cruiser. The firm but well damped ride and quiet-running motor made the miles fly by, and the boot easily accommodated our socket-set samples and sack barrow. One neat touch is the way the load cover can be folded and stored out of the way when carrying taller items.
The longer trip where we needed sat-nav assistance also revealed just how good the 14-inch touchscreen is to use. There might seem to be an extra button press than needed when flicking between smartphone mode (Apple CarPlay for me) and the Lexus infotainment system, but the large screen makes figuring out complex junctions a breeze. I also like the retention of rotary knobs for the volume and heating levels, because CarPlay covers the screen, which blocks some of the touchscreen's controls. 
The adaptive cruise also comes in to its own on a long trip with plenty of motorway miles, and it's good it can be set and adjusted via steering-wheel controls and the head-up display so your eyes don't need to leave the road. A neat touch for tall or short drivers is the display adjustment that allows you a view of the complete screen regardless of height. I've also found the speed readout handy in town as a constant, easily noticed reminder of how fast you're going, particularly in areas with plentiful 20mph zones.
Most of the Lexus's miles with me have been relatively short trips with the majority done on electric power alone, thanks to the car's useful 43-mile range. The few longer journeys have meant consumption has dropped to 86.2mpg from our initial 180mpg figure, but the Lexus still only needs filling once a month. An overnight charge costs just over a fiver, while the same range would be more than £7.50 for unleaded petrol.
Around town and for B-road driving, the twin electric motors are more than adequate to keep up with traffic. The switch to the petrol motor is barely noticeable, but my range-maximising driving stays the same and I rarely feel the need to use anywhere near all of the 302bhp output. Besides, when you do, the drone from the CVT transmission doesn't really encourage spirited motoring. 
For me, though, that's not what this highly capable Lexus is all about. It never feels like a wallowy, SUV barge, and it's
not a car that begs to be pushed on, either. But it is proving to be a good option both around town and for longer journeys.
Lexus NX 450h+: first report
We're about to find out what it's like to live with our Mid-size Premium SUV of the Year
Mileage: 305
Economy: 180mpg
There's always a learning curve when you take on a new test car. But in my many years of getting used to a new arrival, it has never been as steep as when I took delivery of the Lexus NX 450h+ PHEV.
On the face of it, the NX appeared much like the SUVs I've owned for most of the past decade, but the two filler flaps are what sets it apart. While I've driven hybrid and fully electric cars, I've never tried to live with one and the experience is quite different to the ICE cars I've had in the past. In fact, even the way I put together these reports has had to change. 
One of the key factors in a long-term test is fuel consumption, so each car gets a log. But in two months with the Lexus, I've got it out of the glovebox just twice and the second was only to top up the tank to get an mpg figure for this report, when the cost was under £15. I've not seen that for a long while.
As products editor, I've been putting a Wallbox smart charger through its paces. It was installed just a few weeks after the Lexus arrived and it lets me make the most of its plug-in hybrid technology, but the front of my house looks a bit different now.
I ran the Lexus without charging for the first tank and used whatever battery power it had when it was delivered. It achieved 43mpg; impressive compared to the diesel pick-ups I've had recently but not ideal with current fuel prices. Since then, I've charged the car regularly overnight at home, first via a 13-amp plug (eight hours or so), then the smart charger (less than three hours).
A full charge provides up to 42 miles, helping the NX return 180mpg over the past 300 miles, with petrol costing £13 and electricity just over £20. The latter will rise when my current fixed tariff ends, however. 
Even after two months with the SUV, I'm still impressed by the near-silent running in battery-only mode, but it means the tyres can be heard much more clearly. As the magazine's tyre tester, I'd like to know the effect on noise, if any, of reducing the wheel size from my car's 20 inches, because doing so usually improves ride comfort.
Our car is the 450h+ F Sport Premium Plus Pack with optional sunroof and Azure Blue metallic paint. The four-cylinder engine delivers 302bhp through a CVT gearbox. The battery assistance at low speeds means the constant revving usually heard with CVT transmissions is only felt when using pretty much all that power.
For regular driving, there's more than enough low-down urge for the town and rural roads I've mainly been using but the acceleration seems to lack sharpness. On a longer run the NX eats up the miles, with the dynamic radar cruise control taking the strain on busy motorways.
Our car has adaptive suspension, which I've yet to explore in detail, but the ride is supple in Comfort mode.
That long-distance ability is helped by the cabin being a very pleasant place to be, with a 14-inch HD touchscreen controlling most functions and providing the essential CarPlay and Android Auto connectivity. Battery, transmission and suspension settings are on the high centre console. More on these in my next report as I hope that learning curve begins to level off.
| | |
| --- | --- |
| Model: | Lexus NX 450h+ F Sport Premium Plus Pack |
| On fleet since: | September 2022 |
| Price new: | £60,450 |
| Engine: | 2.5-litre 4cyl petrol PHEV, 302bhp |
| CO2/tax: | 26g/km/£155 |
| Options: | Sunroof (£1,000), Metallic paint (£920) |
| Insurance: | Group: 40 Quote: £944 |
| Mileage: | 1,398 |
| Economy: | 86.2mpg |
| Any problems: | None so far |
Now read our list of the best plug-in hybrids…