What is it?
It seems dismissive, these days, to describe Lexus as an alternative premium brand. Hard to resist, perhaps, for European car consumers of a certain age. But this is a firm that's long past the imitation phase, which so often characterises the premium wannabe. It has found its own direction and is doing its own thing. We can like it or lump it.
The second-generation Lexus NX mid-sized SUV might be all the proof we need of that. Having come along in 2014, the first-gen version appeared at a time when the Audi Q5 and Range Rover Evoque were breaking sales records, and yet it wasn't a copy of anything. It was styled and proportioned differently. And it sold – more than a million units globally, becoming Lexus's most popular car in both Europe and the UK.
So it feels like a bit of a landmark moment now – an affirmation of sorts – for Lexus to simply give us more of the same. The second-generation car has a 'finessed' exterior design very much intended to preserve the visual character of the first. You'll need to look at the NX twice to recognise it – unless you're looking straight at the bootlid, where the brand's ellipse badge has given way to a disappointingly prosaic but instantly recognisable 'Lexus' spelled out in those oh-so-fashionable, comfortably spaced chrome capital letters.
The familiar external styling hides a major technical overhaul. Going onto the same TNGA-K model platform as the current Toyota RAV4 and Highlander, the NX has grown by an inch or so here and there but most significantly has wider axle tracks, a lower centre of gravity and a more rigid chassis than its forebear. It also has an all-new interior, with a fresh generation of Lexus infotainment technology within it.
For motive power, meanwhile, you can now choose between a familiar Lexus 'self-charging' petrol-electric hybrid (the NX 350h, which we're driving here) and a more powerful plug-in hybrid (which we reviewed last year).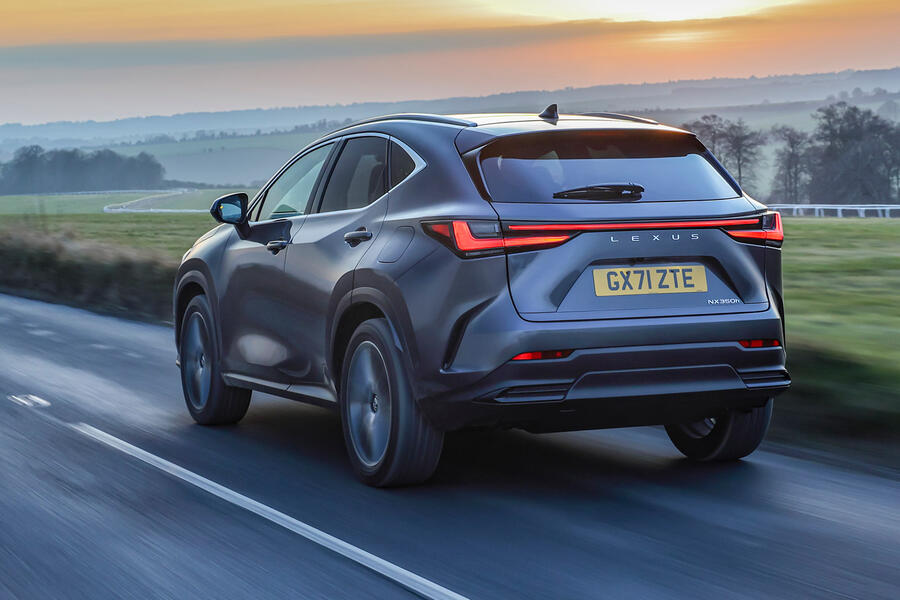 What's it like?
Although the boot is a good size, with lots of useful under-floor storage, the NX's cabin still feels a little small by mid-sized SUV-class standards. Taller adults can easily plumb the margins of head room in both rows of seats, and of knee room in the rear; and there isn't an abundance of room for longer-legged drivers up front. But the driver's seat is supportive and comfortable.
The car's new ergonomically optimised control layout is a real tribute to Lexus, as is the tactile quality of the vast majority of its dashboard fittings. Our F-Sport-spec test car had a little too much gloss black plastic on its centre console to avoid picking up smudgy fingerprints, but its new 14.0in Lexus Link Pro touchscreen multimedia is well laid out, responsive and intuitive to use. Elsewhere, the way the car's multifunction capacitive thumbpad steering-spoke controls interact with its head-up display, allowing you to adjust various systems without either taking your hands off the wheel or your eyes off the road at all, is very well thought out and executed – and a resounding lesson to the wider industry.
Even in sporty F-Sport guise, the lesser of two new hybrid NXs is refined, comfortable and quite effortless to drive, in a way that petrol-electric Lexus cars never used to be. The new 2.5-litre hybrid system is 25% more powerful than in the Mk1 NX and has crisp, assured tip-in throttle response, which allows it to accrue and maintain speed in everyday traffic easily.
When the car has to climb steeply or speed up more quickly, the powertrain has to resort to that old, slightly wheezy, outboard-motor-cum-three-speed-food-mixer performance routine, albeit only for a few seconds. The inevitable sense of mechanical detachment discourages you from summoning the car's performance for the sake of it, even though there's plenty of it available. The paddle-shift manual mode is tokenistic and unconvincing, and the sportier driving modes only really get you more revs, more detached feel and a rapidly plunging fuel economy indication. Alternatively, when you just mosey along in 'normal' mode, beating 50 to the gallon is very easy to do.
The NX's ride and handling have clearly come on, though – as ironic as that may seem. In F-Sport guise, with Lexus's clever AVS adaptive dampers, our test car had high lateral grip levels, taut body control and strikingly precise and assured handling for a car of its type. Surprisingly tactile steering also helped it to carve around corners, roundabouts and slip roads encouragingly well.
The ride offered the understated connected road feel that an interested driver might want but still filtered broken Tarmac well most of the time – although it did become fiddly and felt brittle over really complex surfaces. Without the sportier suspension, though, I strongly suspect that the regular NX 350h would be a very comfortable car.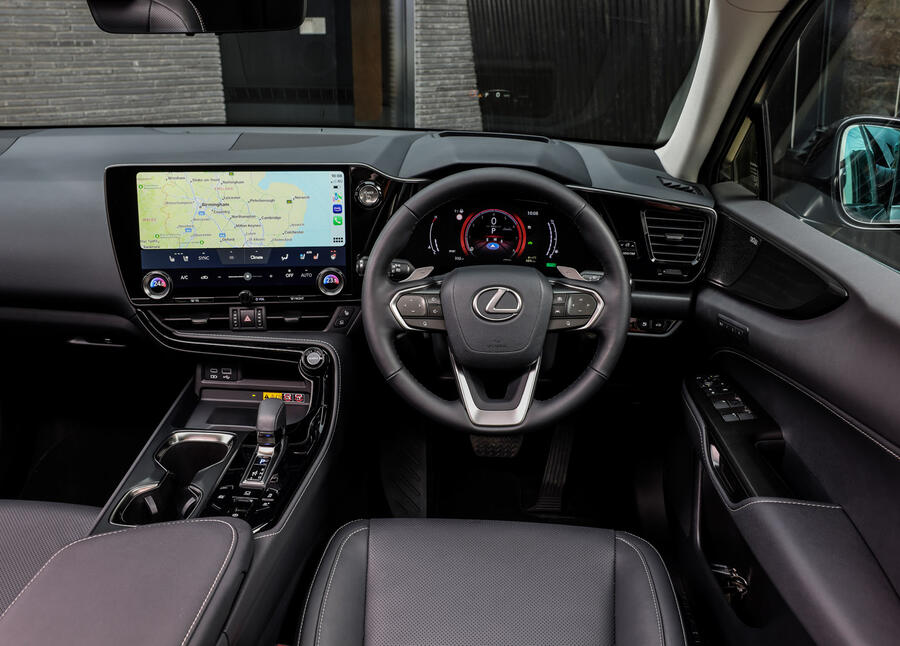 Technical specs

Model tested:
Lexus NX 350h E-Four
4 cyls in line, 2487cc, petrol; plus front-mounted, 178bhp AC synchronous electric drive motor
Transmission:
Continuously variable; 4WD via electric rear axle
Driveline layout:
Front, transverse; plus electric motors front and rear
Model tested
Lexus NX 350h E-Four
View all specs and rivals
4 cyls in line, 2487cc, petrol; plus front-mounted, 178bhp AC synchronous electric drive motor
Transmission
Continuously variable; 4WD via electric rear axle
Driveline layout
Front, transverse; plus electric motors front and rear
Fuel economy
44.1-47.9mpg
Fuel economy
44.1-47.9mpg