Christmas: peace on earth and an Airfix kit to all men. A spot of model-making on the big day is the perfect excuse to duck out of the Queen's speech. After all, you can't let the glue go off: there's a windscreen to attach.
Since men were little boys and women little girls, they've been making models. Okay, there's usually a break of a few decades while they discover other, less plasticky things, but they almost always come back, attracted by the enticing box artwork and, inside, the delicate decals and spindly sprues to which the model's parts are attached.
Chances are that if not you then someone you know will be wrist deep in glue, plastic and paint this Christmas, batting away demands to slice the turkey in favour of snipping a wheel from a sprue. If they're an Autocar reader, that wheel is likely to belong to a car rather than anaircraft. If they've been lucky this year, it will be something like the 1930 Bentley 4.5-litre Supercharged, the star in Airfix's Vintage Classics range and, at £110, its best-selling and most expensive car model. It's a proper beauty and, at 1:12 scale, a big 'un, with a skill level of four meaning its assembler will be working on it until way past Hogmanay.
Other cars in the Airfix Vintage Classics series include a 1966 Jaguar 420, recently reintroduced to the range after original kits became collectable, and a Beach Buggy. All three feature the original box artwork for that authentic period feel. They're aimed at experienced returnees: lapsed modellers who have the skills – just – to build the cars without cloaking them in a web of dried glue.
For the rest of us, there are the large and medium starter kits complete with paints, glue and brush. Cars include the Aston Martin DBR9, Jaguar E-Type, Mini Countryman WRC and 1967 Ford 3.0-litre GT. Lastly, for the truly ham-fisted and the young, there's the Quickbuild range of no-glue-required cars that click together and which, being made from ABS plastic, can be drifted into the skirting board without harm. It's a diverse line-up that includes the Ford Mustang, Audi R8, Jaguar I-Pace eTrophy and McLaren P1.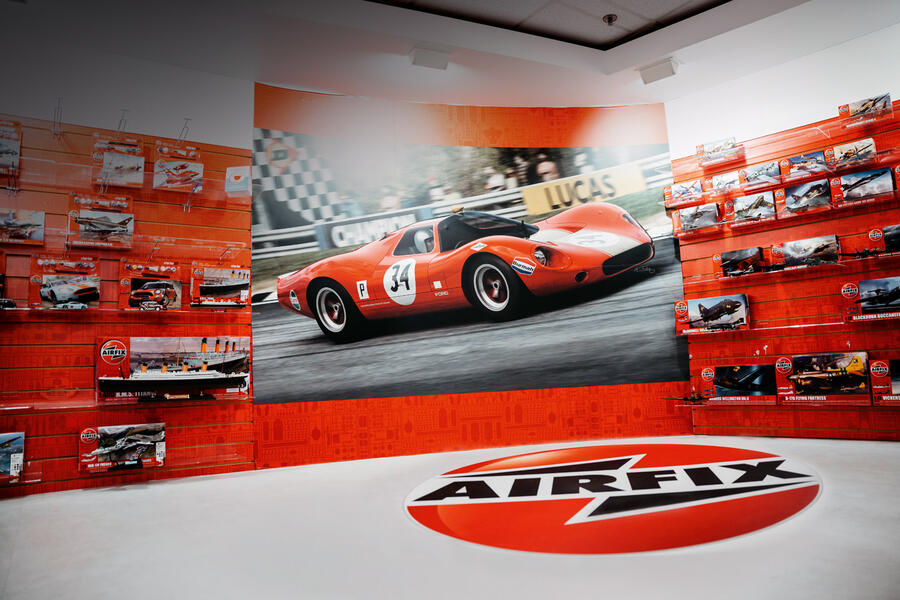 But although we've all heard of Airfix, hands up anyone who knows where the company is based?
No, not Hull: that plant closed in 2008. In fact, it's in Margate, on the Kent coast. These days, Airfix is part of the Hornby Hobbies empire alongside brands such as Scalextric and Pocher, whose exquisite 1:8-scale self-build cars and motorcycles, with prices starting from around £600, have to be seen to be believed.
The Margate headquarters includes a visitor centre where modellers young and old can admire finished Airfix and Pocher models. That's impressive enough, but I was fortunate enough to be given a tour of Airfix's trade showroom – a snaking trail through its catalogue of models displayed in finished form and with their associated packaging.
Of course, aircraft dominate (the Supermarine Spitfire is easily Airfix's biggest-selling model), but among the Avro Vulcans, Sopwith Camels and Messerschmitt Bf 109s, I spy neat rows of cars, first the Quickbuild models and then, a few shelves farther on, the starter sets and nearby a beautifully constructed example of the Bentley Blower.
More car models are promised early next year, but my guide, Airfix head of brand Dale Luckhurst, would have to dismantle me and attach the bits to a sprue were I to disclose what they are at this stage.
Retail tour complete, we move to the old factory floor (the kits are now made in India and the decals in Italy), where, to my surprise, there are racks still groaning under the weight of old steel model moulds, some of them dating back to the 1960s, into which high-impact polystyrene is injected to form the individual parts.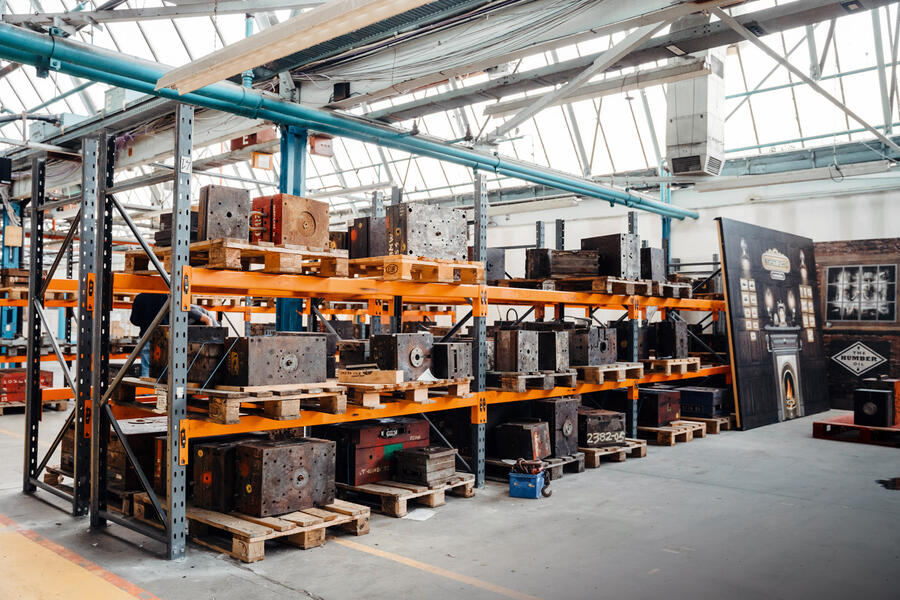 Separating the two halves of a mould reveals the highly polished surface of the individual mould shapes, each with a part number as it appears on the sprue. Depending on the model, today a new set of moulds (one for the bodyshell, another for the chassis and a third for the windows) costs around £50,000 and requires around 700kg of steel.
But how does something like a Bentley Blower go from steel monster to plastic model? Design manager Matt Whiting leads the way to the design office, where model magic is created. On his screen is a digital rendition of a Ford F-150 Raptor, making his workspace look every inch the design office at Dearborn.
"Once a manufacturer has granted us approval to make a model, they send us a CAD [computer-aided design] drawing of the car that we can adapt and convert to a mould-ready design," he explains. "It's not as detailed as the real thing – for example, Ford wouldn't want us to have the data on every last millimetre of the Raptor's construction – so we must fill in the blanks.
"We have to be careful, though. On the model of the Mustang, Ford questioned our location of the towing eye and rear parking sensors. If it's an older vehicle, we have to track down an example and laser-scan it, knitting around 30 scans together to create a 360deg CAD file before breaking the car into sections for the moulds."
What follows requires knowledge of manufacturing and packaging constraints and an understanding of modellers' appetite for a challenge. "Fortunately, 3D printing allows us to prototype a model so we can see how it fits together," says Whiting.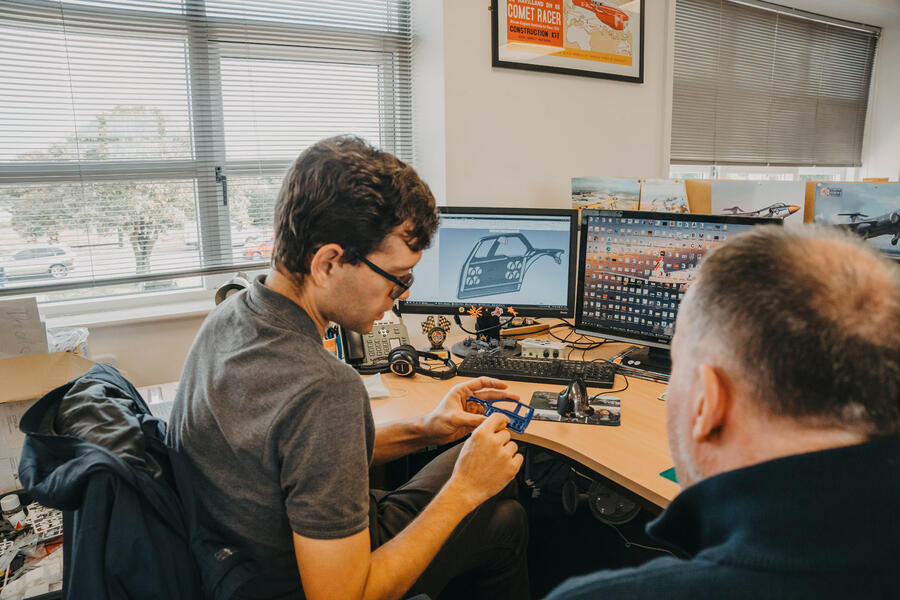 Reproducing the surface detail on modern cars can be testing. "One that stands out is the Chiron," reveals Whiting. "Bugatti was really hot on the detail and was concerned that we replicate the creases, vents, folds and aero accurately. We had to compromise at the rear, where on the real car a slender rib rises over the engine. For the model, we had to fill the space between it and the cover."
Unsurprisingly, writing assembly instructions is a huge part of the production process. Here, Airfix is fortunate enough to have the services of a former Haynes and Ford technical author and illustrator.
Decals are the work of a couple of designers specialising in the field, while much of the latest box art is by renowned digital artist Adam Tooby.
Representing just 10% of Airfix's model catalogue, cars are clearly not the primary focus, but what the company does offer is all beautifully detailed and carefully chosen. "Building a model car is a wonderful thing to do," says Luckhurst. "It's relaxing and absorbing, but it can also unite families across the generations."
Now there's the excuse you need to drag your heirs away from the telly.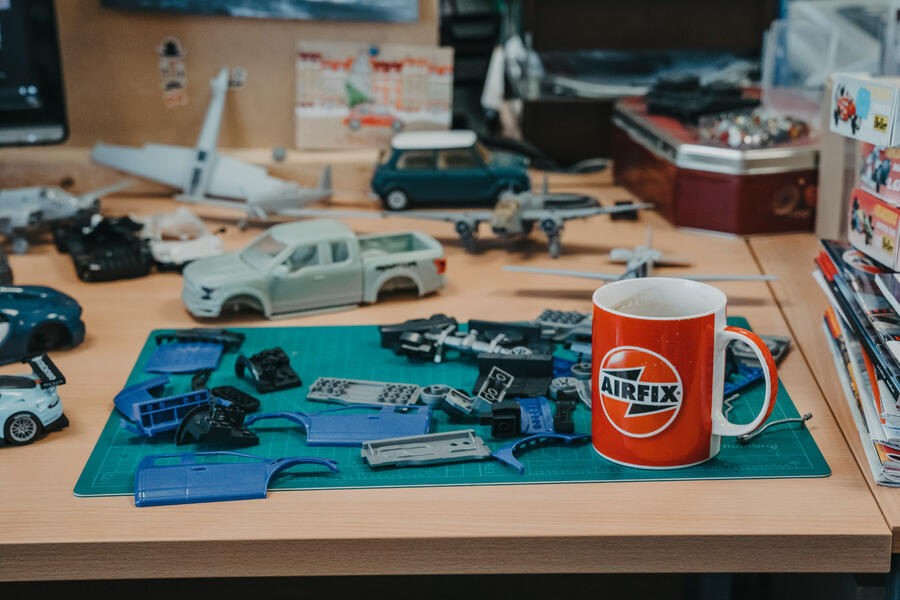 Airfix's rivals
Although it's the best-known among us Brits, Airfix has always been far from the only model maker on the market. Here are the others to consider when considering your next build.
REVEL This German model company has a large range of cars in its catalogue, spanning pre-1964 classics to what it calls post-1974 moderns via motorsports, muscle cars and street rods.
POCHER Owned by Airfix parent firm Hornby Hobbies since 2020, this Italian company specialises in large, high-quality model cars and motorcycles, with prices starting from around £600.
ALUMINUM MODEL TOYS Legendary US firm AMT specialises in classic American road and racing cars. Now owned by Round 2.
MPC Another famous US model car maker that's now owned by Round 2, MPC specialises in extreme cars, including dragsters and hot rods.
TAMIYA This long-established Japanese model maker boasts a selection of ranges, including grand prix cars and sports cars, all beautifully detailed and in a variety of scales up to 1:12. It's also a leader in radio-controlled car sets.
FUJIMI Produces exquisitely detailed model car kits, specialising in Japanese domestic motors.
AOSHIMA Another Japanese model car company, which specialises in lavishly bodykitted cars. Bizarrely, it also produces a model of a 1992 Range Rover.
Top tips from a model making maestro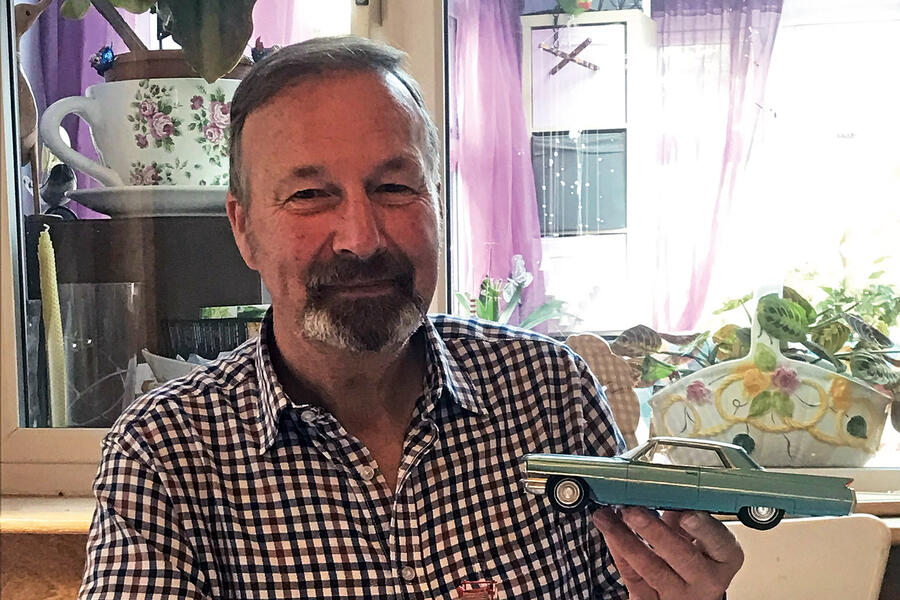 Ian Welsh, 68, has made almost 1000 model cars from plastic kits. The retired prison officer, who lives in Edinburgh, was inspired to start collecting when, in the early 1980s, he was leafing through a model magazine and was astonished by the variety of American model cars that it featured.
"I lived in a quiet Scottish fishing village and thought they were fantastic," he says. "It encouraged me to start making models of cars and other things."
One year, Welsh built every model in Airfix's catalogue. Now his speciality is 1950s and 1960s US cars. "My favourite is a 1964 Cadillac Coupe de Ville," he says, "and the longest I've taken to build a car was three weeks, at two hours a night. It was a 1958 Plymouth Belvedere.
"An essential tool is an airbrush for that professional finish; I use a Paasche Model H. For extra detail, I drill out the cylinder heads and insert plug leads and fit braided hoses and a wired distributor, all available online. I create seatbelts from masking tape."
Welsh displays his cars in cases around his house. Rita, his wife, must be very understanding, since four of them are above their bed. "I also like to display the cars in dioramas," he says. "I was runner-up at the national model-making championships in Perth for my diorama of a scrapyard."
As a prison officer, he encouraged inmates to take up the hobby with kits donated by a shop. Contests, judged by the governor, were held four times a year. "The guys loved it, and I know it helped many of them with their problems," says Welsh.