Why we're running it: Can the Defender's breadth of appeal really cover everything from disaster zone to congestion charge zone?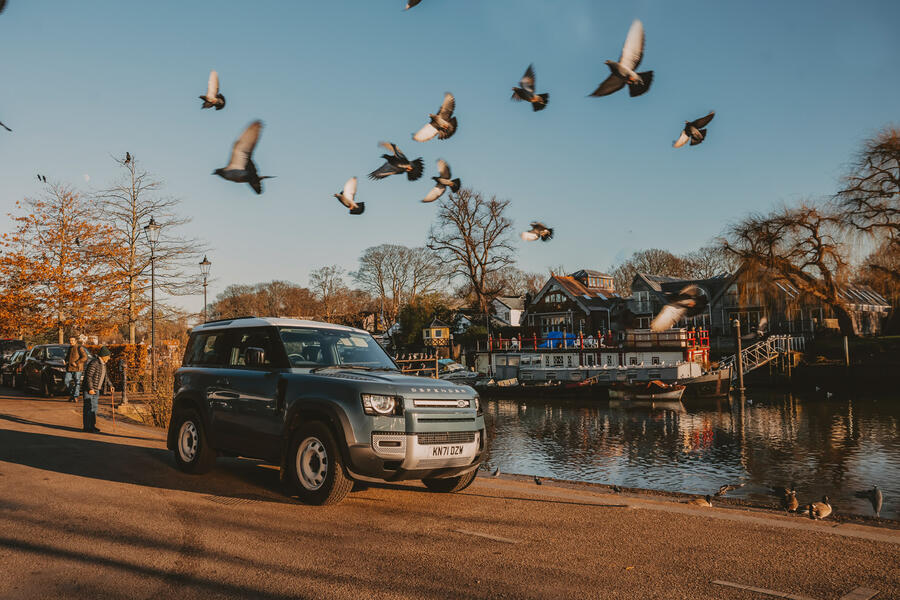 Life with a Defender 90: Month 1
Welcoming the Defender to the fleet – 9 February 2022
This is the car that Matt Prior built – something I mention early on both because I suspect that anyone who knows me will be pondering where this outbreak of good taste has come from and because it swiftly explains why someone who lives in the suburbs of London has gone all in for the off-road vibe, from the who-cares-if-you-scratch-them steel wheels to the chunky all-terrain tyres (plus an active differential).
Don't worry: this is one Land Rover Defender that will make it outside the M25, not least because it was a condition of the handover that Prior would be taking it back to point it at the scenery in Wales.
Heartbroken though I was by the calendar reshuffle that had Prior take custody of a Polestar 2 just a few weeks before the much-in-demand Defender finally made it down the production line, I gamely stepped forward and agreed to help him out.
I was hardly going to argue, was I? I dare say there's barely a motoring enthusiast on the planet who doesn't have an opinion on the new Defender and fewer still who would quibble when offered the chance to try one over a few months. It's the hottest mainstream car in the world right now, as evidenced by the eye-watering premiums nearly new examples are selling for and the huge waiting lists prompting a growing number of people to pay them.
The 'small' model this 90 may be, but perhaps inevitably there's nothing diminutive about its price. Powered by a powerful 3.0-litre six-cylinder diesel engine (good for 0.62mph in 8.0sec even at a 2.2-tonne kerb weight) and in high-end HSE trim, the base car comes in north of £55,000 on the road and close to £65,000 after what looks like a mere smattering of options.
These were taken chiefly to give it the maximum off-road capability, from electronic diff to mudf laps and scuff plates, but also for the addition of the two-tone paintwork and a tow hook. Authenticity and fitness for purpose come at a price, it seems. Too much for a three-door car? I refer you once again to those waiting lists…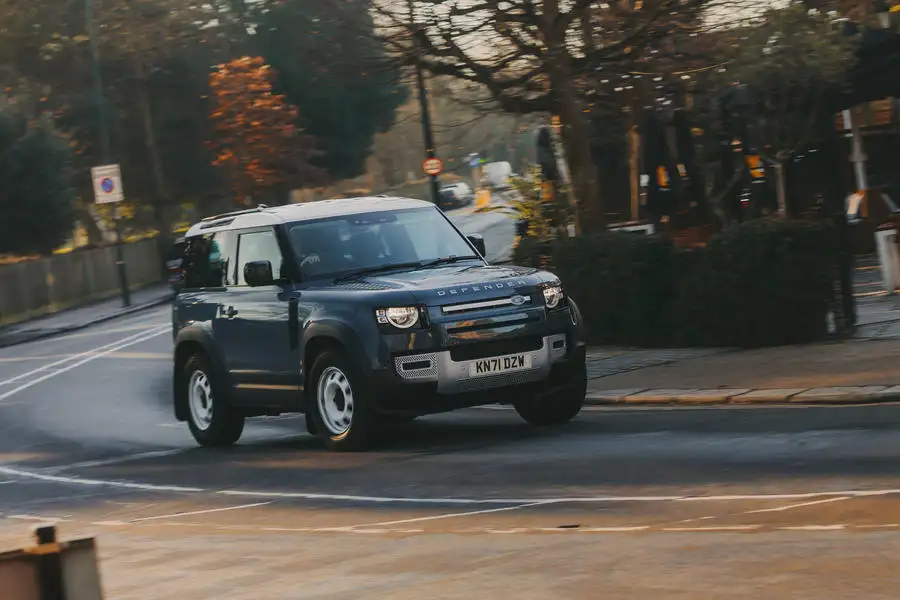 But the contradictions are clear, and I might as well get them out there. This is a £65,000 car that might not entirely suit a town-dwelling, family lifestyle.
It has, for instance, a Volkswagen Golf-like 397-litre boot that requires you to have the dexterity of a bomb disposal expert if you want to balance anything inside it without it dropping out when you swing the back open.
Land Rover is so sure you will use the rear seats for carrying stuff rather than people if you opt for the Country Pack that it installs a heavy metal divider behind the front seats, which I've now had to remove as a result of having children. Access to those rear seats is hard, requiring you to haul yourself up, shuffle round and then, if nobody is in the front passenger seat, thrust yourself a body length forward to be able to heave the vast door shut.
And, while highlighting that room up front and in the back is generous, there's also the fact that these compromises are packed in a car 4.5m long with the spare tyre (already used) considered, 2m wide, of a length that makes it hard to park anywhere and of a height that makes entering many car parks a hazard.
And yet… after a week of thinking the world had gone barking mad and I would never be able to live with it, something clicked. One moment my brain was awash with negatives (a list you could add to with the age-old Land Rover characteristic of hesitant step-off and slightly vague steering, perhaps not helped by the knobbly tyres), the next I was pondering how I could ever live without it. I've experienced this before, including with a Range Rover, and it's easy to explain but hard to fathom. These are cars that just click; suddenly you know your way round it, know and anticipate its foibles; and then, just like that, your right elbow is resting on the door frame, you're steering with one hand and you would be devastated if it were taken away.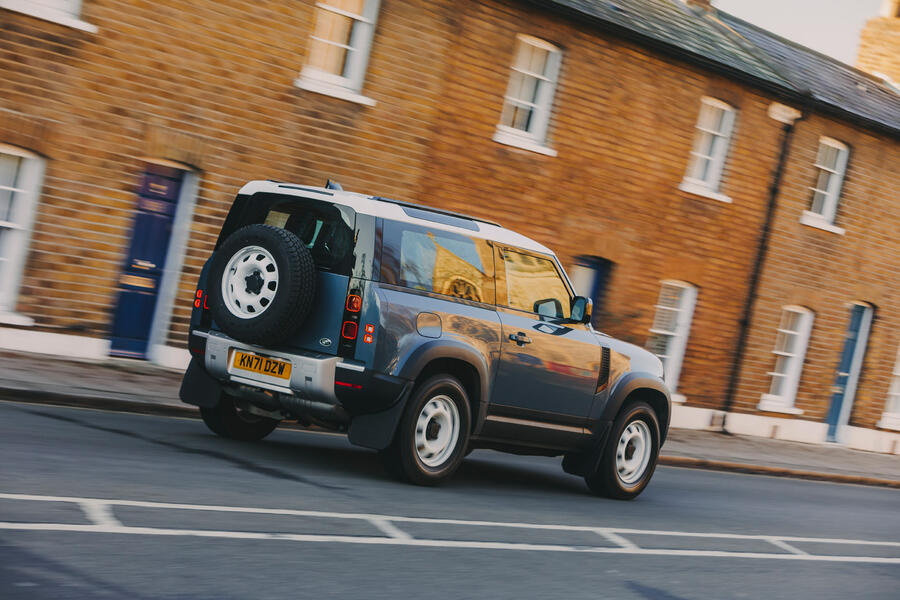 Hold the five-door 110 solution. Even the kids, pectorals now built up from all the steps and lunges they've been doing, are hopping in with relative ease, if still needing to be caught on the way out.
Where does this leave me? Maybe it should be no surprise, given that the world's most famous utility vehicle has morphed into one of the most fashionable, that I'm wondering if this love affair, compromised and contradictory though it is in part, will continue to flourish in town, on the motorway and off road. For this money, I want a car that can win my heart and mind – and there's plenty more hurdles it will have to overcome in the coming months to do that.
Second Opinion
Unsurprisingly, I'm rather taken with the Defender. It's so unlike the old one I own: it's exceptionally refined over long distances, large outside yet small in the back. But like the old one, it's at its best in the sticks. Twice I've had to change parking spaces as it was too wide for me to get out.
Matt Prior
Land Rover Defender 90 3.0 Ingenium D250 MHEV HSE specification
Specs: Price New £58,875 Price as tested £64,485 Options Country Pack (classic mudflaps, load-space partition, scuff plates, wheel- arch protection, portable rinse system) £1585, Off-Road Pack (electronic differential with active torque vectoring, black roof rails, off-road tyres, domestic plug socket) £1450, Tasman Blue paint £895, white contrast roof £900, detachable towbar £780
Test Data: Engine 2997cc, 6cyls, turbocharged diesel Power 248bhp at 4000rpm Torque 184lb ft at 1250-2000rpm Kerb weight 2228kg Top speed 117mph 0-62mph 8.0sec Fuel economy 31.1mpg CO2 231g/km Faults None Expenses Puncture repair £48