Want to own an example of that extraordinary breed of supercars that time after time broke all performance records in a 10-year spell from the mid-1980s to the mid-1990s? I'm afraid they're all gone: any decent Ferrari F40 or F50, Porsche 959, Bugatti EB110 or McLaren F1 now requires a seven-digit investment. Apart from one.
Despite being built in similarly microscopic numbers to the GTO and 959, despite being as quick or quicker than any save the F1, despite class-winning Le Mans heritage and despite being one of the most drop-dead gorgeous cars ever created, a Jaguar XJ220 can be bought today for around £400,000. A lot, I grant, but a fraction of what's required to secure any of the others.
It's hard to believe it's 30 years since Jaguar launched its ill-starred supercar, 34 since it first appeared in V12, four-wheel-drive concept form at the Birmingham show, and 29 since this title became the first and only magazine to conduct a full road test evaluation of a factory-supplied car.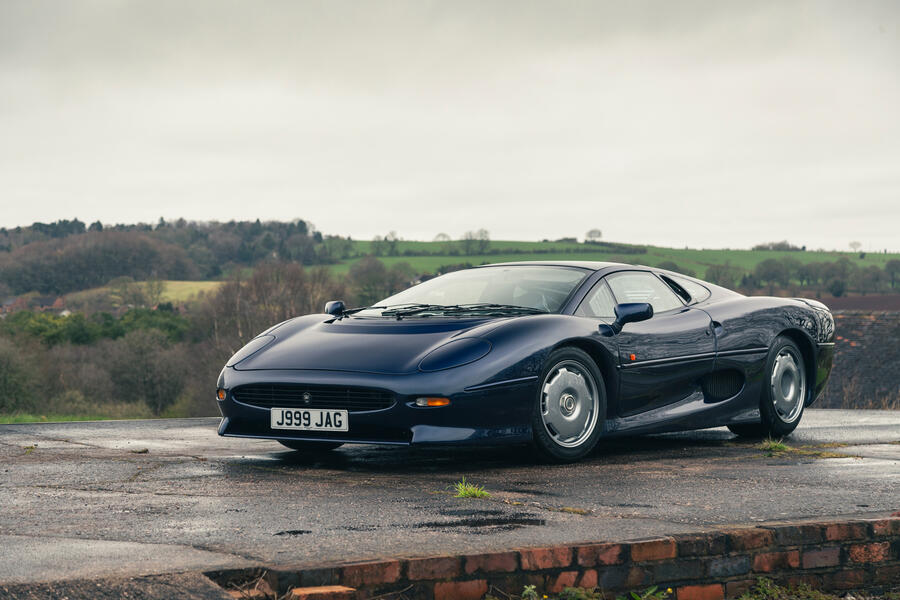 This car, as it happens. Now owned by XJ220 guru Don Law, it needs very little introduction here: J999 JAG is the very first production XJ220; it was Tom Walkinshaw's own company car and the car he supplied to us to do that road test, which we then promptly crashed, the story of which you can read overleaf.
First, though, let's pause awhile to remember what we have here. On the one hand, it's a traditional supercar – low, dramatic, impractical and fast. On the other, it's so much more than that: to this day, the most rapid Jaguar road car ever built and a car that changed so much from concept to reality that Jaguar took reluctant depositors to court to make them pay up. It also won the GT class at Le Mans in 1993 before being cruelly disqualified for having its catalytic converters removed. Not that cats were even stipulated in the rules, just that the road car had them, so the race car should have had them, too.
The fuss from investors concerned the replacement of the 48-valve V12 of the concept with a 3.5-litre V6 turbo motor or, if you take the contrary view, it provided them with the perfect excuse in a recession to back out of a commitment made in a bull market. No matter that this engine had won races at the highest level in TWR Jaguar XJR-10 and XJR-11 racing prototypes.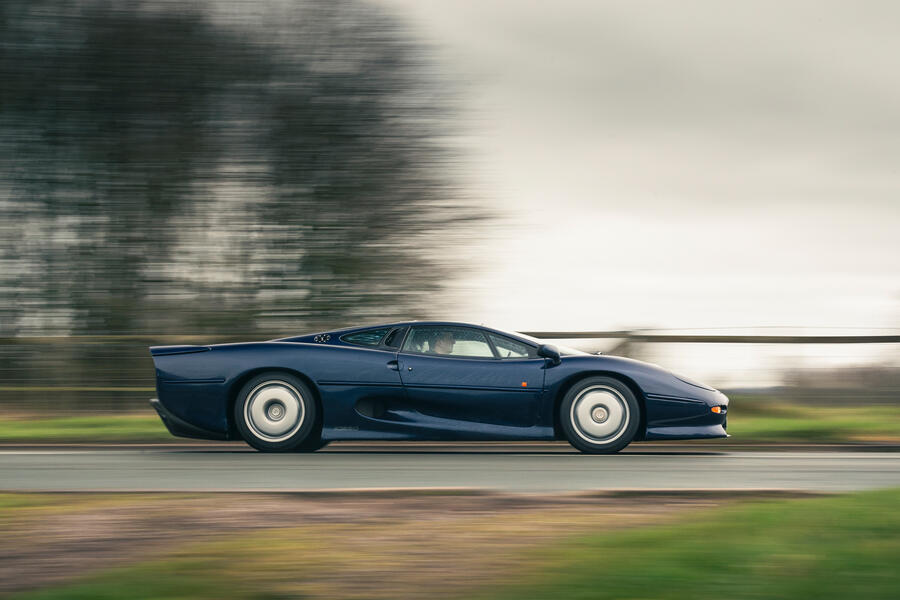 And it was fast. A 0-60mph time of 3.6sec is still rapid today, but consider it was achieved without four-wheel drive, traction control or launch control, but with tyres made from concrete by modern standards and a slow, manual gearbox. So let's look at times against that brand-new yet perennial benchmark, the Porsche 911 GT3.
Because of its traction advantage and flappy paddles, the Porsche outpaces the Jag from rest until they post identical 0-140mph times of 14.9sec. But the in-gear times tell a rather different story. Look at the 20mph increments above 60mph, when traction no longer holds the Jag back, and from 60-80mph to 130-150mph (the highest recorded for the Porsche), the Jaguar is not just quicker but wildly so, gapping the 911 by 0.5sec on average over each tiny 20mph sprint.
It was the first car we ever tested that could run a 150-170mph time within the confines of Millbrook's Mile Straight, too, and as the bloke who was at the wheel at the time, it's not an experience you forget.
So even today, 30 years later, the XJ220 is still a bloody quick machine, and it is as well to remember that when you drive it. We lauded its handling in our road test, because that's what we found on the bone dry roads that coincided with our time in the car then. In the wet, like today, it is a handful and needs respecting as such. When the 542bhp motor starts to boost hard, you need to be pointing in a straight line and even then be careful with the throttle.
But there's a part of me that likes that. I don't want a car as awesomely specified as this to be a pushover. I want to be challenged, to feel that I have something to do with our safe and speedy progress from one place to the next. And challenge it does: everything is heavy, from the unassisted steering to the clutch, five-speed gearbox and brake pedal. They need solid but accurate inputs. You must take command of the machine, but respect it too. It's wide and vision out is limited. You have to think about the way you are driving it all the time.
Treat it right, however, and the XJ220 is still wonderful. I'm even finally growing to like the deep and gravelly voice of the V6. Find yourself the space, get into the required rhythm and there is a rare driving experience to be had here.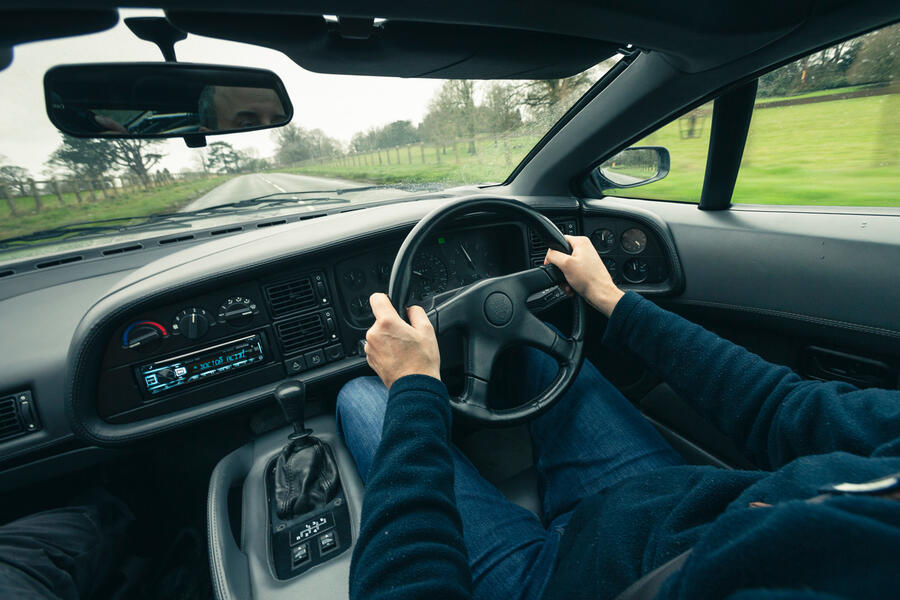 Even though it was not designed primarily as such, you can feel the racing pedigree of its TWR creators in everything it does: the no-nonsense inputs its requires, the flat and fast cornering stance, the savagery of that motor, the responsibility it places on the driver not to make a mess of it.
I'd love to say the XJ220 doesn't feel its age, but that's not at all true. In its physicality and ability to intimidate the driver, it feels every second of it. But so, too, does it in the way it rewards those smart enough to try to understand it and drive it the way it not only wants but also demands to be driven. For them there remains a driving experience every bit as rich as it was three decades ago. Now, as then, this is a fine supercar, which to this day has still not received the recognition it deserves.
The tale of the 1993 road test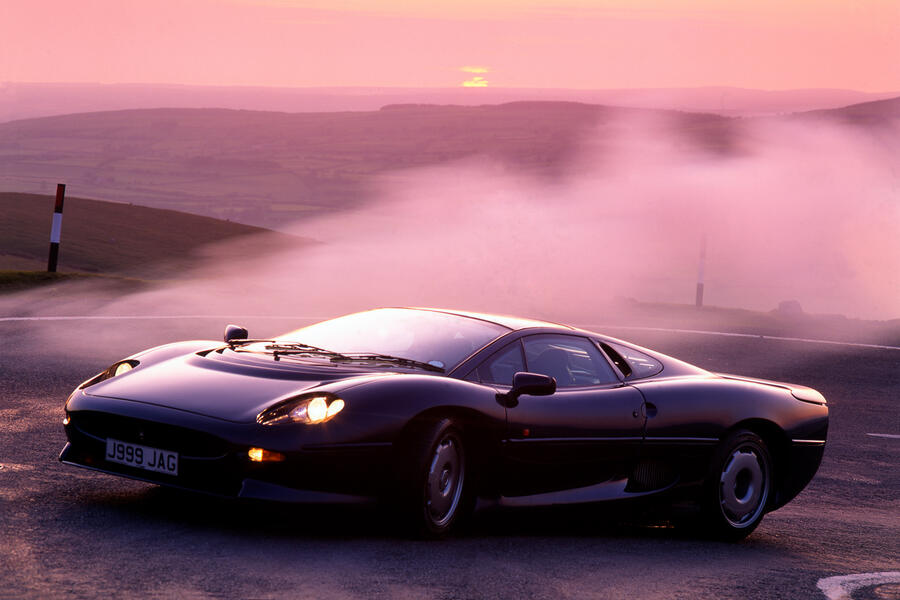 We took the XJ220 to Wales with a Ferrari 512 TR in tow for benchmarking purposes. A nice couple turned up on our first location and expressed an interest in the car, then followed us to the next, on the Brecon Beacons' Black Mountain.
At sunset, we offered them a ride over the mountain in both cars in the hope they might then leave us alone. This we did, pretty much as fast as we could make the cars safely go.
When we were done, the husband thanked us profusely and said he had to go to work. What work was that, requiring such a late start, we enquired. "I'm a traffic cop, working nights," he replied.
The next day, we headed to Millbrook, en route to which one of us proved unable to slow the Jag for a roundabout so went straight over it instead.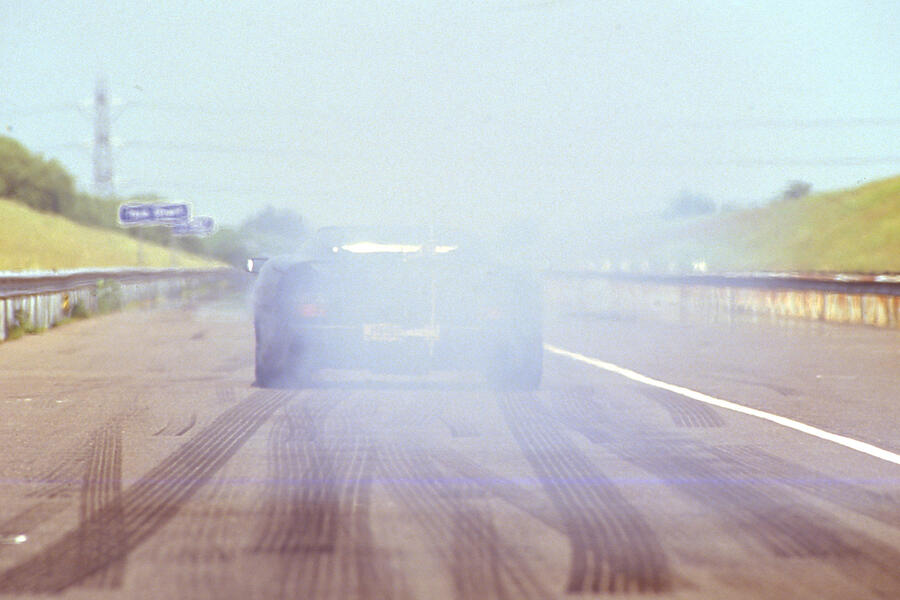 There was some damage at the front and a lot underneath, but it didn't look too bad and still steered straight so we continued, only to discover that Tom Walkinshaw himself was helicoptering in to see his personal transport put through its paces.
His PA was already there so we asked her how he would react to the damage we had done. "Either he'll be fine, or God help you," she said.
In the end, he just put his arm around the forlorn tester's shoulder and said: "Don't worry, laddie. Sh*t happens." Then sent us a simply enormous bill.