Audi's RS brand has been deeply rooted into the hearts of petrolheads for some time now, having solidified its reputation as equal company for the likes of BMW's M and Mercedes-Benz's AMG divisions. But where did it all begin?
After the success of Audi's S2 coupé and the original 'C4'-derived S4 saloon from 1991, the German car maker decided to push the envelope further when, in 1994, Audi's high-performance Quattro GmbH division spawned a new 'halo' performance sub-brand called RS – standing for RennSport, literally translating to 'racing sport'.
Later that year, Quattro GmbH gave birth to the first two-lettered badge Audi in the form of the RS2 Avant. A brawny variation of the Audi 80 'B4' model, the RS2 Avant (only available in estate form) was co-developed with Porsche – adopting the 993-generation 911's wheels, foglights and exterior mirrors and Porsche-designed brakes and suspension.
A highly potent car in its day, the RS2 Avant was powered by a 2.2-litre five-cylinder 20-valve turbocharged engine, producing 311bhp and hooked up to a six-speed manual, shooting the car from 0-62mph in 5.4sec and on to a top speed of 163mph. The first RS-badged Audi proved a trendsetter in its day, with room for five adults, luggage and the ability to keep pace with the likes of the Honda NSX and Porsche 993 Carrera.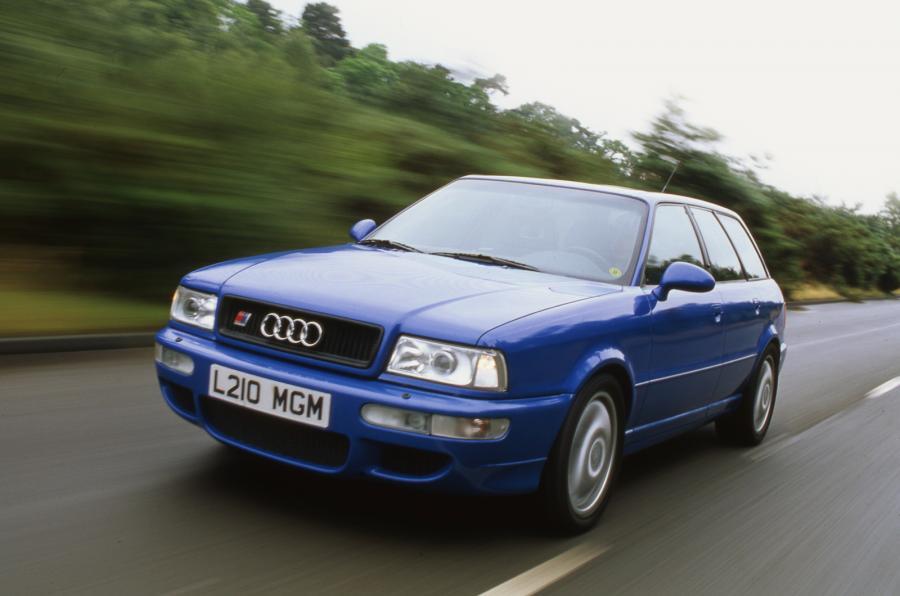 Fast forward six years and a new mid-size platform of the 'B5' Audi A4 laid the foundations for the next S and RS derivatives, the halo model becoming the RS4 Avant – again only in estate form. The B5 RS4 Avant came propelled with a Cosworth-fettled 2.7-litre V6 twin-turbocharged unit, making 382bhp.
Engine aside, the B5 RS4 was Audi's own project, having severed its ties with Porsche. The 0-62mph sprint was now dispatched in 4.9sec and the estate would accelerate on to a limited top speed of 155mph. Demand for the B5 RS4 Avant was so high that Audi doubled its production volumes. Production ceased after only a year in 2001, with over 6000 examples made.
In 2002, Audi unleashed an entirely new model to its RS line-up – the A6-derived RS6 saloon and estate. With a muscular body, aluminium mirror caps and two large oval pipes for the exhaust, both the estate and saloon had an intimidating presence.
Again, Cosworth handled the engine – its 4.2-litre V8 endowed with two turbochargers for good measure, serving up 444bhp. Partnered with Audi's five-speed tiptronic transmission, it enabled the RS6's hefty frame to dash from 0-62mph in 4.7sec, while again being reined in at 155mph. The RS6 Plus made its debut in 2004, with power increased to 480bhp and speed limited to 174mph. However, the C5 RS6 was plagued by vague steering feel and a heavily understeering character.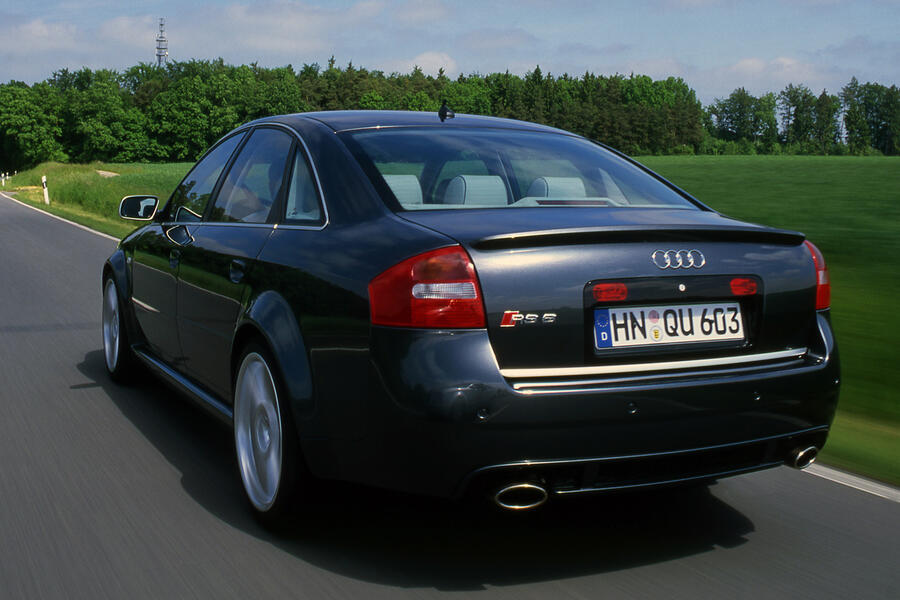 Audi regained form in 2006, with Quattro GmbH splitting its efforts in order to design and develop the first-generation Audi R8 supercar, as well as launching an all-new RS4 after a long hiatus. Available in saloon, Avant and cabriolet guise, the B7 Audi RS4 variant was, for a long time, regarded as Quattro GmbH's 'sweet spot' and finest RS model. Drive was supplied by an all-new, high-revving 4.2-litre naturally aspirated V8 shared with the R8, pumping out 414bhp at a heady 7800rpm and mated to a six-speed manual gearbox. 0-62mph was taken care of in 4.8sec while (still conforming to the voluntary agreement) being limited to 155mph. Derestricted B7 RS4s were capable of cracking 180mph.
After just 18 months, Audi brought a premature halt to the B7 production line. To this day, the beautifully proportioned B7 RS4 is fondly remembered at Autocar for its fluid ride, engaging handling and superb powertrain.
In 2008, the engineers at Neckarsulm went on a power craze, launching the 'C6' Audi RS6 with a 572bhp twin-turbocharged 5.0-litre V10, spearheading its BMW M5 and Mercedes E63 AMG rivals in the evident 'power war' at that time. Despite a chunky kerb weight of 2025kg, the beefy RS6 could still hustle to 62mph in 4.6sec, though even on a combined cycle fuel consumption was poor. Despite possessing very fast acceleration for such a big car, some questioned the integrity of the RS badge – it was refined, almost too civilised and heavier at the front than perhaps was necessary.
The following year and Audi had the Porsche Cayman firmly locked in its crosshairs when it released the TT RS. Possessing a more anabolic appearance and a lower ride height over the standard TT with a large rear spoiler, the TT RS looked a much meaner machine. A 335bhp 2.5-litre five-pot turbocharged engine provided power.
In 2012, the TT RS plus was launched, lifting power to 355bhp and removing the top speed limiter, enabling the TT RS plus to hit 174mph. The TT RS was famed for being blindingly quick, unexpectedly economical but with a jarring ride.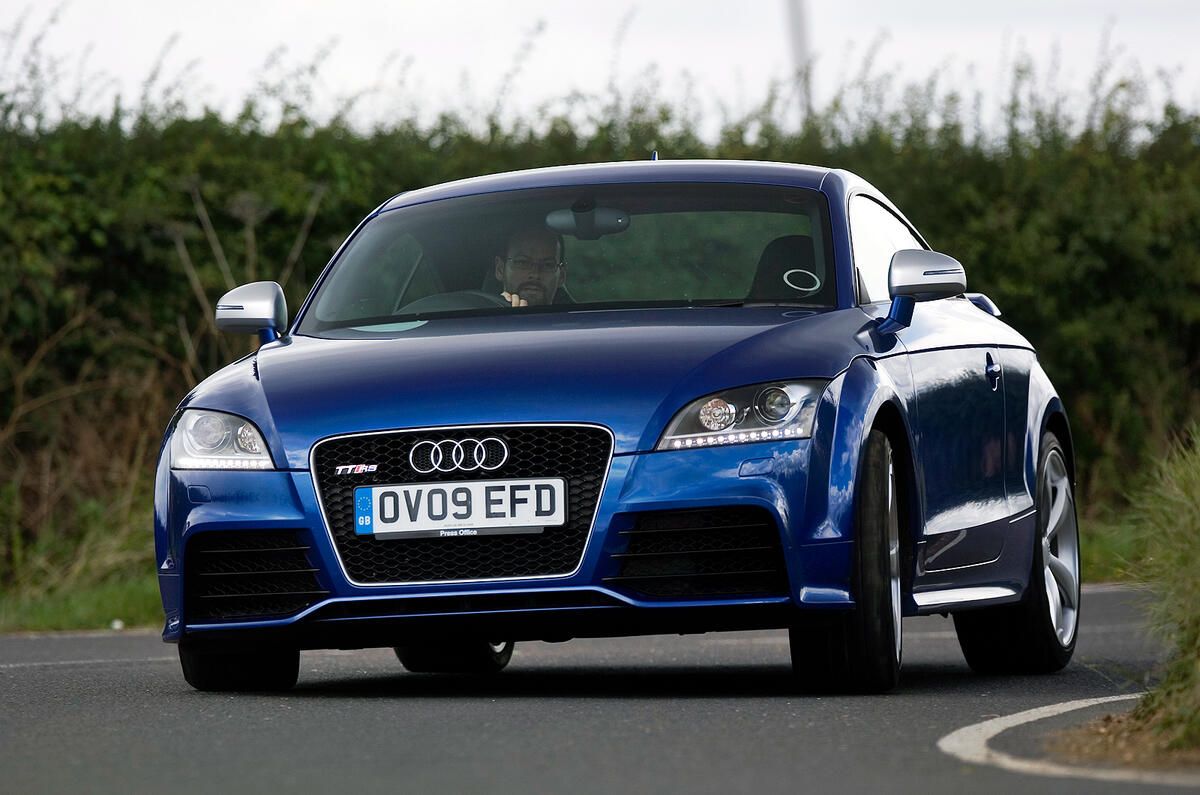 With an aim to rekindle some of the B7 RS4 magic, Audi launched the RS5 coupé in 2010. Powered by the same naturally aspirated 4.2-litre V8 as the B7, but with mild tweaking to increase power to 444bhp with an all-singing 8500rpm redline, it was only available with a seven-speed twin-clutch gearbox. Zero to 62mph was covered in 4.6sec and it had genuine all-weather performance. However, it lacked just a touch of engagement and still felt weighty.
That same year, the first-generation Audi RS3 was hastened into production. With the TT RS's 2.5-litre five-pot turbocharged engine shoehorned into the bonnet and mated to a seven-speed dual-clutch gearbox, the RS3 proved to be a more than capable performance hatchback. Despite the engine character, everyday usability and practicality, the RS3's dynamic prowess was dampened by its inert steering and lack of chassis finesse.
In 2012, Quattro GmbH reverted back to its traditional format for the new RS4, launching it in Avant estate form only. The styling was turned up a notch, with steroidal wheel arches, triangular air intakes on the front fascia and large oval-tipped exhausts at the rear, which added up to a wonderfully macho-looking car. It utilised the same 4.2-litre V8 444bhp motor from the RS5 with 0-62mph covered in 4.7sec while being limited to 155mph. An optional extra would allow this to be stretched to 174mph.
That year also saw the debut of the C7 Audi RS6 Avant, with Audi retiring its predecessor's mighty V10 powerplant in favour of a downsized 4.0-litre twin-turbocharged V8 making 553bhp. Even with the reduced engine capacity, the new RS6 remains quicker than its predecessor – rattling off the 0-62mph sprint in a staggering 3.9sec and passing the quarter-mile mark just three-tenths slower than a Porsche 997 GT2. An RS7, sharing the same drivetrain, would arrive around the same time.
2013 saw the company branch out its performance line-up to SUVs for the first time, with the introduction of the RS Q3. Sharing the same 2.5-litre five-pot engine found in the RS3 and TT RS, it produced 335bhp in initial guise before being pushed further to 362bhp in RS Q3 Performance guise. At the time, there were few hot SUVs of its size, making it something of a trendsetter.
A series of facelifts and phase updates would see the company through 2016, by which point Quattro GmbH had officially changed its name to Audi Sport. The next big change would be the F5 generation RS5, which made the switch to a 444bhp 2.9-litre V6 unit. Emissions regulations led to a delay in the UK, with both coupé and sportback versions finally going on sale in 2019. Less potent S-badged performance models now make use of a 345bhp mild-hybrid diesel V6, as the brand seeks to sustain its performance offering in the face of increasingly stringent emissions legislation.
A new Audi RS4 Avant would launch around the same time, using the same downsized V6 powerplant developed jointly with Porsche. A second-generation Audi RS Q3 would follow, again using the familiar 2.5-litre five-cylinder TFSI engine, and now available as a coupe-styled Audi RS Q3 Sportback.
The fourth-generation RS6 Avant would follow in 2019, using mild hybrid power for the first time alongside a twin-turbocharged V8 powertrain. A heavily restyled body clearly distinguished it from the standard A6, while 591bhp would prove enough to propel the high performance estate to 62mph in 3.6sec, and onto an electrically limited 155mph top speed. It was also the first time an RS6 would be officially sold in the USA. An equally potent RS7 would arrive around the same time.
The next Audi model to receive the RS treatment was also the firm's biggest to date. The RS Q8 shares a platform with the Bentley Bentayga and Lamborghini Urus, and rides on optional 23in alloy wheels – the largest ever fitted to a production Audi model. It isn't short on power, either, with a 4.0-litre twin-turbocharged V8 engine boosted by a 48V mild hybrid starter generator. The combination produces 591bhp and 590lb ft of torque, with a claimed 0-62mph time of 3.8secs and a derestricted top speed of 189mph.
The latest petrol-powered addition to the line-up at the time of writing was the updated Audi RS3, available as a hatchback and a saloon, with a turbocharged five-cylinder powerplant good for 394bhp and an all-wheel drive system that helped it take sizable strides on handling balance and driver engagement compared to the outgoing model.
2021 also saw the arrival of the firm's first electric RS model. the Audi RS E-tron GT sports saloon borrowed much from VW Group stablemate Porsche's Taycan, but maxes out at 590bhp (or 637bhp on overboost) to leave a gap between the two models. The differences between it and a regular E-tron GT are considerably less than, say, an A6 and RS6, as there are no visual upgrades aside from different alloy designs, paint colours and some RS badges. It's unclear if future electric RS models will follow a similar pattern, or if they will do more to stand out from Audi's more mainstream models.
With an ambitious target to futureproof its most potent models, Audi looks set to continue the high-performance sub-brand's impressive legacy.
Perfect for storming autobahn.
Love for Audi
RS4 B8 4.2 completely different to B7 4.2