Why we ran it: To find out if plug-in hybrid power and eight seats give Ford's iconic van greater lifestyle appeal
Life with a Ford Tourneo: Month 6
An eight-seat plug-in range extender looks handy on paper. What was the cold reality of using it for work, rest and play? – 17 November 2021
Take a quick flick through the Ford Tourneo's marketing spiel and you'll see almost as many outdoorsy types as you will tradespeople. Surfing. Camping. Rock climbing. Mountain biking. This van-based people carrier can do it all, apparently. Or at the very least get you to the beach/campsite/cliff/trail. After several months of doing exactly that, I'm inclined to agree.
As a test of 'can we cope with life on four wheels?', living with the Tourneo has been a lot of fun. My partner and I have driven it all over the country, from the south coast of England all the way to Scotland to tackle the North Coast 500. Had there not been a pandemic, it would almost certainly have taken us onto the Continent over the summer. It carried wetsuits, tents, bikes and all manner of other gear, while the eight seats meant we could bring mates along, too, without having to bury them in luggage.
During the summer, the way the passenger seats fold flat meant being able to turn the rear cabin into an impromptu camp bed and sleep on board (something we also tried in a much colder February and regretted). While the seats are mighty heavy, the tool-free removal process made it easy enough to pull out the rear middle seat and create room to slide in two bike frames. The expansive rear door even became a shelter in wet weather and a changing area between activities. Best of all, trips like these don't require lots of planning and packing: Ford has found so many clever storage spaces and cubbies that you can crack on without needing to think where every little thing must go.
It was great to be able to run on electricity alone for shorter journeys, where the Ford was quiet, smooth and responsive, if not to the level of even an entry-level EV. (It's still essentially a minibus, after all.) The contrast of silent running with the van's sizeable dimensions usually guaranteed attention, too – particularly from VW campervan owners, whom I seemed to bump into with alarming frequency over the summer holidays.
While I was always conscious of the Tourneo's weight and made an effort to stay smooth through corners and around roundabouts to avoid putting the tyres under extra load, it was refreshingly easy to drive. The steering felt typically Ford-like, not too heavy and largely accurate, and it rode well over most surfaces. It was never going to rival a Focus for driver appeal, but it never felt like a chore to drive, either.
The high driving position was on a par with what you'd expect from a large SUV, and while you sat more upright here, the cabin was still surprisingly car-like. Fit and finish was up to Ford's usual standard, and the infotainment was straightforward to use. It also played nicely with my smartphone.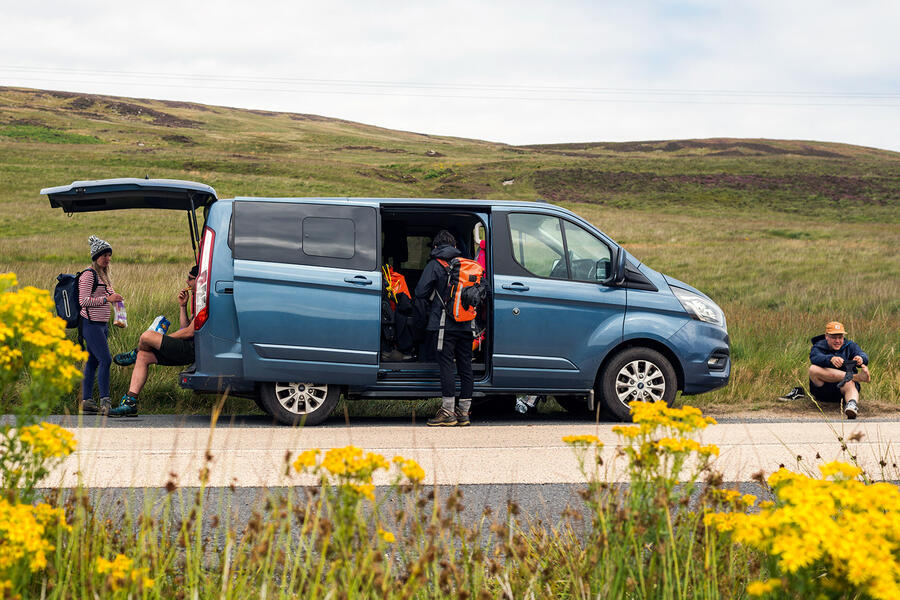 I'm sold on the lifestyle, then, but less so on the range-extender powertrain. Sadly, my day-to-day application just wasn't conducive to true eco-friendly driving.
Ford's 1.0-litre Ecoboost petrol engine might be a slam dunk for small cars like the Fiesta and Focus, but here it's paired with more than two tonnes of van – and even then it doesn't drive the front axle but instead solely charges the battery.
Fuel economy rarely impressed during our time with it but longer journeys on a drained battery could cause the MPG figure to plummet, meaning far more frequent trips to the petrol station. Even moderate gradients forced it to work overtime, with the fan needing to cool it long after I'd finished my journey.
Trying to stay on EV power proved tricky away from home, too. The limited maximum charging rate meant at least a two-and-a-half-hour wait at a public charger, which rarely seemed worth it for a paltry 30 miles – assuming the weather was good. Colder days reduced the range, as did a full contingent of passengers or luggage. By comparison, a fully electric nine-seater like the Vauxhall Vivaro-e Life might only manage 150 miles on a charge, but it can reach 80% charge in around half an hour on a 100kW rapid charger. I'd rather make more frequent stops if it meant lower emissions.
Now that the government has changed what does and doesn't qualify for the plug-in van grant, the Tourneo no longer gets any form of discount, which prompts the question: why would you pay a premium for one over the equivalent EcoBlue diesel? In my view, there's only a small market of people for whom 30 miles of range is fine, and I'm not in it.
Diesel may be vilified now, but it's still the most viable option when it comes to driving large, heavy vehicles over long distances.
Perhaps the next-generation Transit Custom, due in 2023 alongside the platform-sharing Volkswagen Transporter, will switch to proper plug-in power instead of the range-extender set-up seen here. But for now, at least, anyone looking for a van that's both lifestyle- and eco-friendly (but doesn't want to be tethered to a charging socket) will probably want to keep waiting.
Second Opinion
Based on Luc's time with it, the Tourneo's range-extender powertrain seems to really suit only a few particular use cases. You'd expect a proper plug-in hybrid – one with an engine that can drive the wheels for a smaller economy hit when running on ICE power – would be the best of both worlds. But given it wouldn't qualify for a plug-in van grant, customers will have to pay a premium when one eventually arrives.
Tom Morgan-Freelander
Love it:
Car-like manners Driving position aside, the Tourneo does an excellent impression of a large family car.
Cavernous cabin Even with all the seats in place, there's no shortage of room to store luggage and gear.
Silent running No one expects a big bus like this to pull away noiselessly. It makes for a surprisingly relaxing drive.
Loathe it:
Basic battery Real-world EV range is practical for short journeys only, not the lifestyle ones that Ford's brochure suggests.
Trickle charger Without easy access to a three-pin socket, the inability to rapid charge curtails its electric-only potential.
Final mileage: 23,664
Final fitting – 20th October 2021
The rear seats have been refitted for the last time, as I'll soon be returning the Tourneo to Ford. I'll miss being able to choose between cavernous storage or seating for eight, but my back will appreciate not having to lug the chairs out every time I swap. Elsewhere, extended EV use has bumped my average MPG figure into the mid-30s. Not bad, given how much long-distance driving I do.
Mileage: 22,367
Life With a Ford Tourneo: Month 5
Our flexible friend already appears to have one long-term fleet award sewn up – 6th October 2021
I've been up to the Isle of Arran. Six of us with all our camping gear for a week of sleeping on beaches and a good serving of rain.
Before setting off, my girlfriend and I removed two of the eight seats in the Tourneo to accommodate the extra luggage. This is definitely a two-person job unless you want a slipped disc, and I didn't fancy having a bad back before a week on a rollmat.
The rear seats, the passengers were pleased to report, are all just as comfy as the ones in the front and recline slightly. There was no problem fitting everyone's belongings in the van, but most of it had to be stacked, leading to a pretty disorganised mess towards the end of the trip. We rotated drivers and everyone seemed to enjoy driving the fun bus and found it easy to get comfortable adjusting the seat and steering wheel to fit a range of body sizes. Many noted the energy regeneration on lifting off the throttle, but this is a quick one to get used to.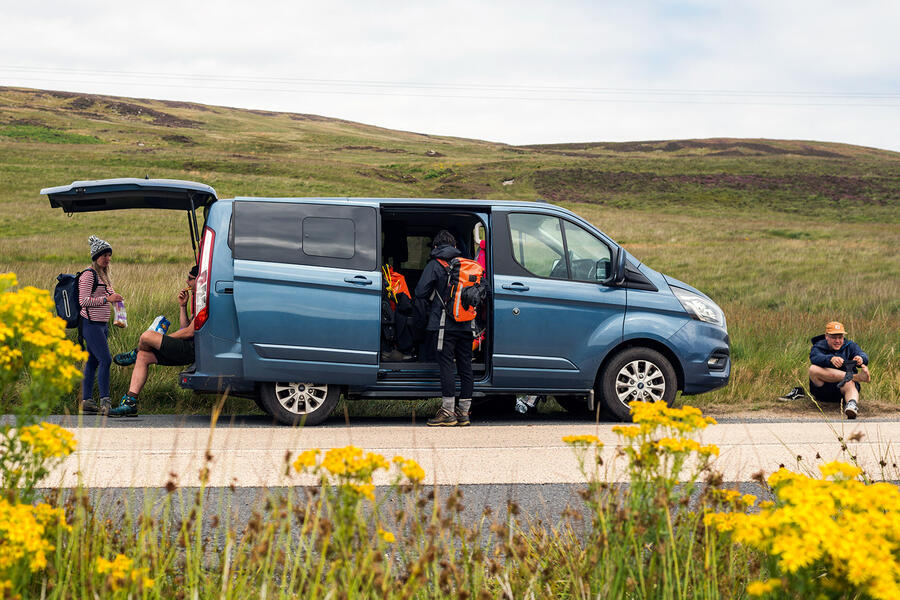 Trips like this, where we were constantly in and out of the van, really highlight the benefit of the sliding doors and higher roof line. No more bending under a low roof and around a tight door opening, like with many hatchbacks. I had sliding doors on a previous long-termer, a Citroën Berlingo, that proved to be very difficult for passengers to close from inside, but there are no such problems with the Ford.
Also useful were the many USB ports dotted around the interior of the van (almost one per passenger), which was great for keeping phones alive. However, we did seem to find the ones in the back were very slow to charge, leaving your device barely better off than when you started.
As we were constantly on the go, visiting waterfalls and camping in remote places, charging the van would have taken some dedication. The three-to-four-hour charging time just means charging on the go isn't practicable, unless there happens to be a charger near where you're intending to stay for a while.
The van is such a great asset on trips like this. Doing the same again in something less spacious and comfortable would be a struggle.
Love it:
Slide on in Side doors make for easy access no matter where you're parked.
Loathe it:
Time to charge A rapid-charging function would greatly improve the number of emissions-free miles.
Mileage: 21,244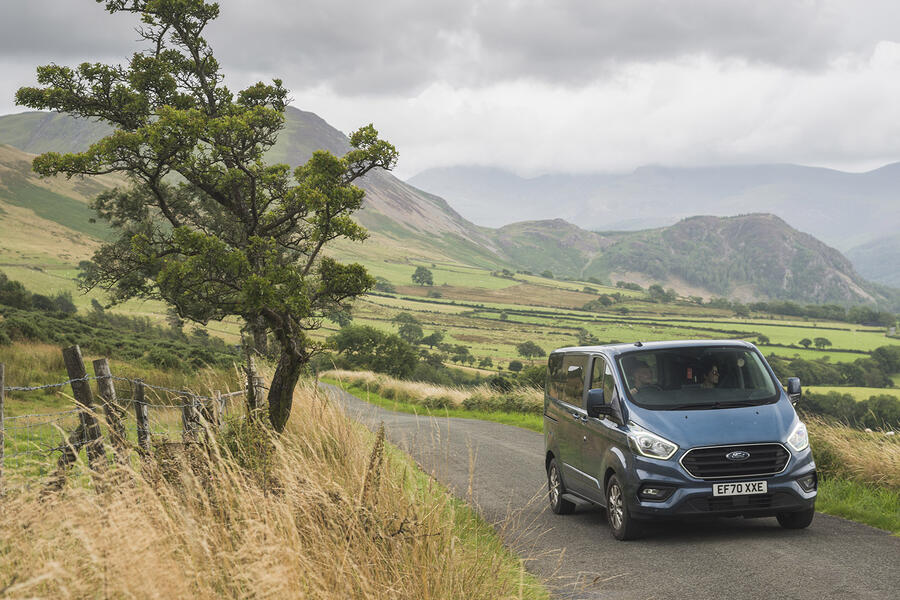 Hardly a tight fit – 15th September 2021
I'm packing for a week in Wales: two humans, two mountain bikes, two surfboards, climbing gear, cooking equipment and a double mattress. Thanks to the adjustability of the seating, I can just about squeeze it all in without even a bike or roof rack. I can't see myself not wanting a van after the Tourneo. It has made outdoor pursuits so much easier.
Mileage: 19,533
Life with a Ford Tourneo: Month 4
Our range-extender MPV isn't always silent, even when on battery power – 25 August 2021
Given that its wheels are turned entirely by an electric motor, the Tourneo can't half make a racket at times. If the petrol engine has been working particularly hard to keep the battery topped up while on the move (after a long stretch of motorway driving, say), the radiator fan kicks into high gear to cool things down. It sounded like a leafblower while I parked up on my quiet residential street the other evening.
The wind and road noise don't really bother me (both are present, although not to excessive levels, considering the van's profile), but on the bumpy and poorly surfaced roads near my house, the creaks and groans coming from the plastic interior trim are becoming quite noticeable. I'm not entirely sure where it's coming from, so I can't tell if a single trim piece is to blame or if it's a wider issue. Some investigation is required.
I'm happy to see more and more destinations adding EV charging points, which can typically fill up the Tourneo's battery in around three hours (it has no rapid-charging ability, don't forget). My current favourite is The Wave, an inland surfing spot I can get to from home purely on electric power. Plugging in there is free, and by the time I'm too tired to catch any more waves, the Tourneo is fully charged. There's no issue storing a full-length surfboard in the rear of its cabin, either.
As for the range I can get from a full charge, that's variable. Officially, the Tourneo's electric-only range is 33 miles, but after my last public car park top-up, the dashboard predicted just 27 miles. Leaving it plugged in overnight at home on a three-pin plug, the estimate read 24 miles. Blame the weather and/or my driving style, but you've got to put the effort in to minimise your reliance on the engine.
That's admittedly harder to do when you've got a full contingent of passengers, as I had a few weeks ago. A family visit to Cheddar Gorge had six humans and three dogs along for the ride, and the varied terrain meant the engine was eventually back to its leaf-blowing ways.
On the plus side, my sister's giant Golden Retriever had no problem hopping up into the rear. The seats were easy to fold away to make room for him and his water bowl without having to compromise anyone's comfort. With the Ford fully loaded, no one had any complaints about leg room. I'm hoping that will remain the case when I head to Scotland for a holiday next week – easily the furthest I will have taken it to date.
Mileage: 12385
A tight squeeze – 11 August 2021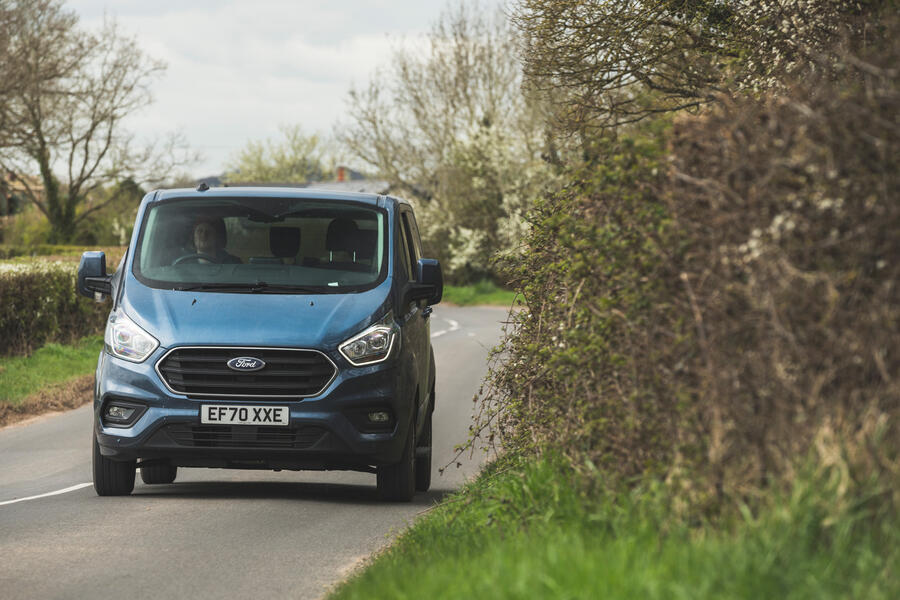 Because it's so car-like to drive, it's easy to forget that the Tourneo is a van. At 2.3m wide (mirrors out), it made getting down a narrow drive particularly awkward. After five minutes of cringing, I caved and asked the owner of a larger van to reverse so I could squeeze through. The SUV I was photographing made it through without a whimper.
Mileage: 9873
After a number of weeks together, we're learning what it's like on the inside – 28 July 2021
The Tourneo could probably make its own way to mid-Wales by now, having been driven there so many times in a few weeks for work and visits to the excellent BikePark Wales. Fold a few seats down and it can practically swallow an entire peloton of mountain bikes.
Notice that I said fold, not remove. While you can take out any combination of rear seats, it's a real pain to do so. The process is simple enough and doesn't require tools, but each seat is incredibly heavy and, even with the sliding side doors, it's awkward to get them in and out without bending over awkwardly and risking back pain. I tried it once when the Tourneo first arrived and quickly decided I wouldn't be doing it often. Not when folding them is a doddle and still frees up plenty of space.
It's what I did for a camping trip to the south coast last weekend: with me and three passengers in the front two rows, we folded down the remaining seats and had room for a large tent, climbing gear and lots of luggage, with room to spare.
Before it arrived, I was a little worried that I would feel the effects of long-distance drives, but no one had any complaints after a three-hour stretch. The driving position is vanlike, of course, so you're more raised up than you might be in a seven-seat SUV, but I'm a tall guy and still have plenty of head room. It would be nice if the steering wheel had more reach, but that's true of a lot of cars I drive.
Everyone was a big fan of the way the huge rear door opens upwards; it worked brilliantly as an impromptu shelter from the elements while we battled to pitch the tent. The amount of space it needs forces you to park nose-in at the shops if you want to throw your bags in the back, though.
And with no parcel shelf, anything you leave in the boot is on permanent display, although the tinted rear windows do at least offer a little privacy. You would need your nose up to the glass to see what's inside, so you would hope anyone with bad intentions would raise suspicion. While it's slightly longer than a typical parking space, the Tourneo isn't gigantic, so it still fits in most multi-storey car parks. There's plenty of rubber around the 16in alloys, so it feels fairly protected from kerbs, but it did get nerve-rackingly close to the height limit recently; 1.97m or 6.5ft has now been burned into my memory for subsequent visits.
Mileage: 7676
Life with a Ford Tourneo: Month 3
An unexpected service stop – 7 July 2021
A few weeks ago, our MPV refused to select drive and threw up some gearbox and hybrid system error messages. Turning it off and on again after a while seemed to sort it, but then it did the same thing again. A visit to the press garage (at Ford's request) was required. I'm hoping the module update it received has solved the issue once and for all.
Mileage: 6113
It knows when to sip power – 23 June 2021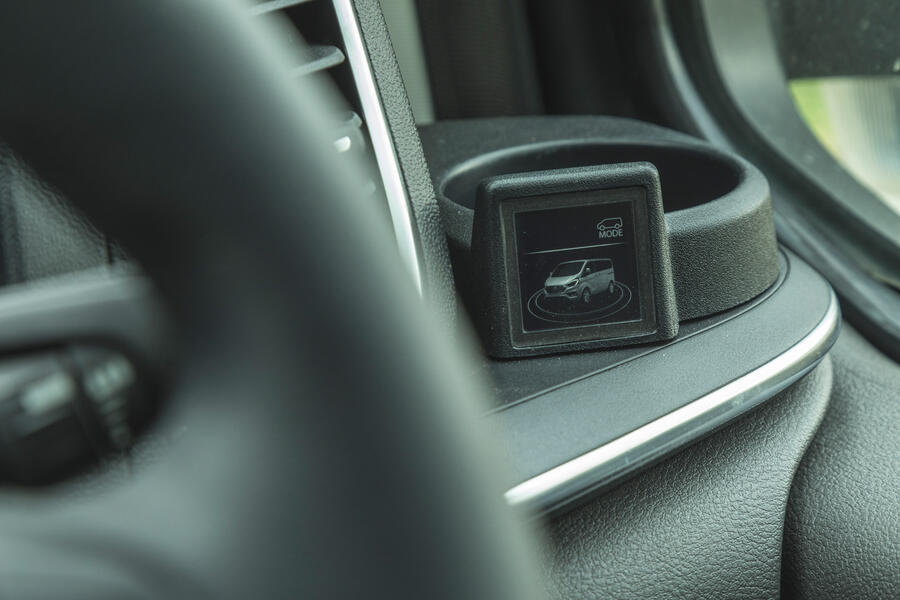 A recent trip to London highlighted the Tourneo's intelligent detection of low-emission zones. Live geofencing technology recognises them and automatically switches the van into EV driving mode as it approaches to help improve air quality. A display by the steering wheel comes to life when driving near and into these areas, so you can't really miss it.
Mileage: 4592
It seems our van prefers to let others do the climbing – 16 June 2021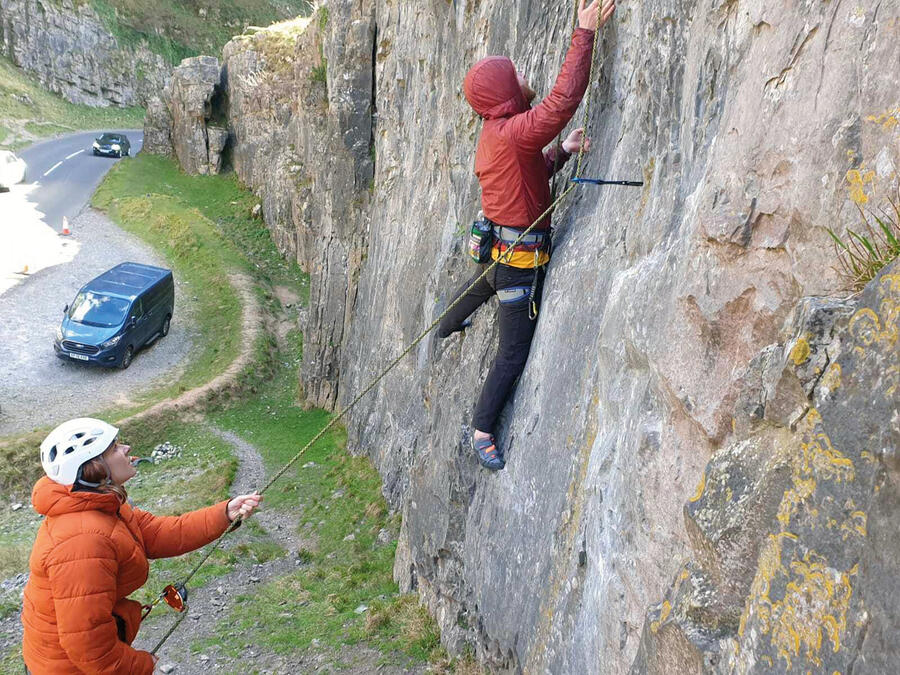 I Knew that our Ford Tourneo Custom plug-in hybrid had some kind of artificial sound generator that kicked in while it was reversing, as it's mandatory for all electrified vehicles to have one in order to warn pedestrians. I've only ever heard it from inside the cabin, though, and even then it's not especially prominent.
On a recent job, a few of my colleagues heard it first-hand and thought it was playing some kind of tune; the pitch seemingly changes based on speed and can be surprisingly melodic, although probably not enough to convince any nearby children that an ice- cream van is about to pull up.
Either way, it makes for a pleasant change of pace from the combustion engine. The 1.0-litre Ecoboost may be fairly settled when at town and city speeds, assuming it needs to kick in at all, and isn't all that invasive on the motorway, but it really doesn't get on with hills. On a recent weekend trip to south Wales for some surfing and climbing, I drove up a 25% incline and the engine went nuts at high revs. It smelled like burning plastic afterwards, which wasn't too pleasant.
I can see its potential as a lifestyle van, but said lifestyle would certainly benefit from using flatter roads.
Mileage: 3721
Life with a Ford Tourneo: Month 2
No shortage of storage space – 2 June 2021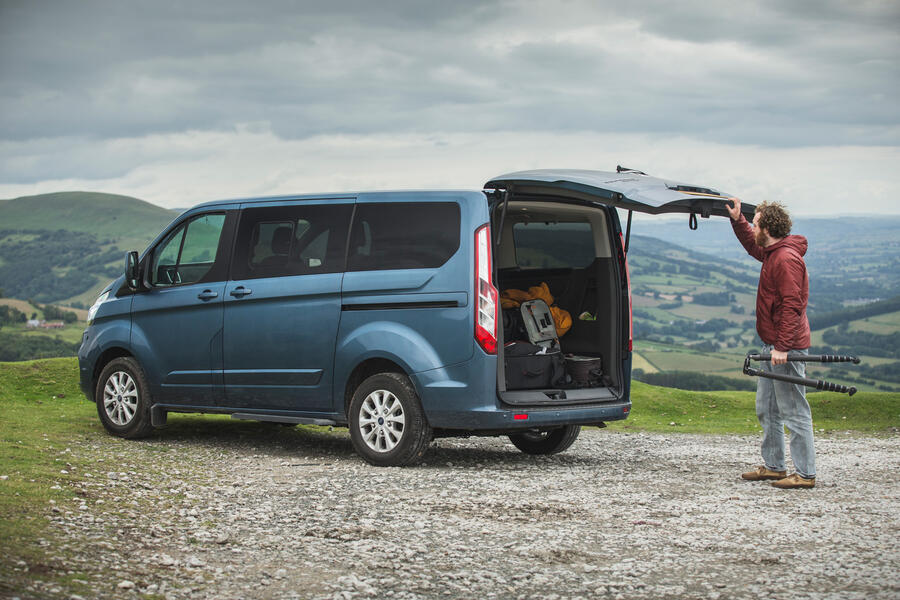 You will never be thirsty behind the wheel of a Tourneo – not when there are enough clever storage cubbies and cupholders to have at least five bottles within reach at all times. I'm finding the two stealthy containers built into the top of the dashboard most useful, because they give you somewhere to stash valuables and keep a dashcam charged, thanks to their USB ports and 12v sockets.
Mileage: 2681
Smooth and silent: two words you rarely use to describe a van – 26 May 2021
I know this Tourneo's range- extender powertrain uses only the electric motor to propel its wheels, but I'm still impressed by just how smoothly it pulls away from rest.
A lot of plug-in hybrids have such weak motors that the petrol engine almost always kicks in to assist with standing starts, but this big, heavy people-mover can do it silently.
The generator only kicks in afterwards, even with the battery practically depleted. With no lag, pulling away is also far less clunky than what you might expect from similar-size vehicles.
The energy regeneration always seems to keep a little charge available, even if the car hasn't been plugged into the mains, and it gains electric miles fairly quickly when you're coasting down hills.
Still, the 33-mile electric-only range can disappear with equal ease, at which point you're looking at almost three hours on a Type 2 charger or more than four from a three-pin domestic socket.
That rather limits your options for plugging in on the go, making the Tourneo best suited for local journeys. I recently charged at a service station, where the machine had a 48-minute limit for customers, so I recovered a measly eight miles.
Mileage: 2153
No mistaking what's powering this van – 5 May 2021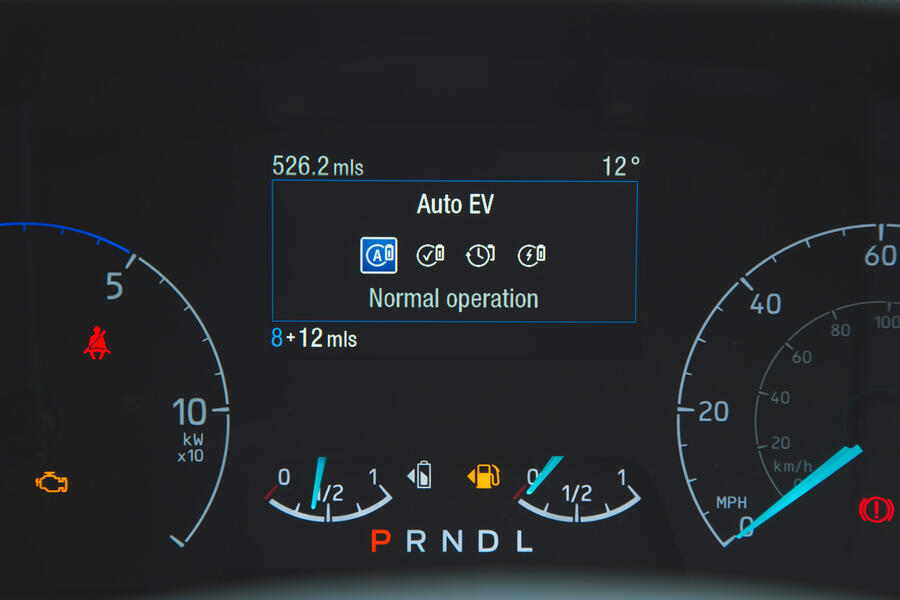 The Tourneo's reliance on electricity is splashed all over the dashboard
 in delightfully analogue fashion. There's a charge meter that shows the amount of juice you're using or recovering when coasting, slowing or rolling down hills. There's also a battery meter, which seemingly makes a warning light the first indication of any overheating.
Mileage: 1273
Life with a Ford Tourneo: Month 1
Welcoming the Tourneo Custom to the fleet – 28 April 2021
Spend almost any length of time on a UK motorway and you will be sure to spot a Transit. The iconic Ford has seemingly been the country's favourite van forever, so it's no surprise that it's advertised with the slogan 'Backbone of Britain'.
That popularity hasn't made it immune from the push towards electrification, but rather than force drivers to choose between payload and range by offering only an electric Transit (that will join the line-up in 2022), Ford has also created a plugin hybrid. But does something that works so well for commuters make sense in a load-lugger? We aim to find out, having just taken delivery of the Transit's people-carrying sibling.
The so-called Tourneo Custom swaps a cavernous cargo bay for eight seats and its sliding doors gain windows, but otherwise the two takes on the Transit formula are a lot alike. Both use the same powertrain: a 1.0-litre turbocharged three-cylinder petrol engine and 124bhp electric motor paired with a 13.6kWh battery. Here it promises 33 miles of zero-emissions driving, or a combined range of around 300 miles.
That sounds perfect for an executive shuttle that can shut off its engine when venturing into clean-air zones. However, unlike the current crop of plug-in hybrid SUVs, the Tourneo Custom is a range-extender: its petrol engine never powers the wheels directly, meaning you get the best efficiency only when undertaking shorter journeys and regularly charging. Will that make it ill-suited to thelong trips required from a photographer's main mode of transport? I'll be finding out over the next few months, and I've been told by other members of the Autocar team that mastering the driving modes will be key.
The Tourneo has four, defaulting to an automatic mode that balances battery power with engine use. You can force it to run on electricity alone, prioritise the range-extender to maintain your existing charge or force the engine to charge the battery as you drive so that you'll have juice for some EV driving later. Two stages of regenerative braking effectively let you drive with a single pedal, but I've already noticed how much jerkier it feels in the higher setting.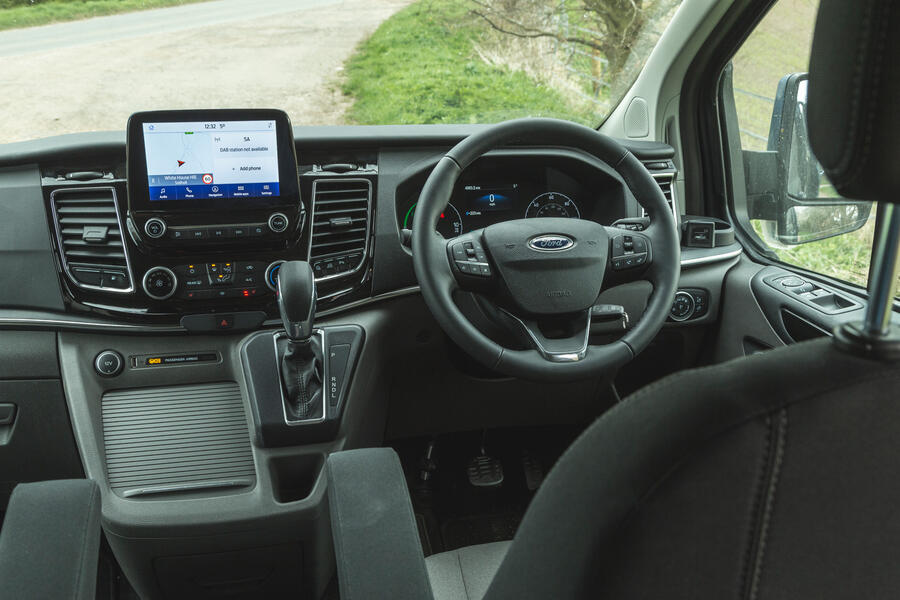 I live in a flat with on-street parking, so most of my charging will be done at public charging stations or whenever I can visit the office. Either way, our Tourneo supports only Type 2 AC charging, meaning a three-hour wait for a full charge – rising to five-and-a-half hours using the bundled three-pin domestic cable.
It will be interesting to see how the fuel economy compares with what you might expect from its diesel counterpart, especially considering that its on-the-road price is an eye-watering £62,000. A Volvo XC90 PHEV wouldn't be significantly more expensive, while a fully equipped diesel Skoda Kodiaq would be about £12,000 cheaper, so the extra load space will really need to earn its keep.
Obviously I'm not complaining on that front, given the amount of kit that I use for my job. The Tourneo's drive battery doesn't intrude on cabin space at all compared with the ICE-only versions, and there's a generous luggage capacity behind the third row of seats even before you start changing the arrangement.
It's completely flexible, with runners in the floor (hidden by moveable carpet) letting you clip them into different configurations or remove them altogether if you have somewhere to store them. They're pretty hefty, though, so this isn't something I expect to do regularly.
Covid means those seats probably won't get an awful lot of use in my care even when they are fitted, but as soon as life returns to normal, I can see this being an ideal people-mover.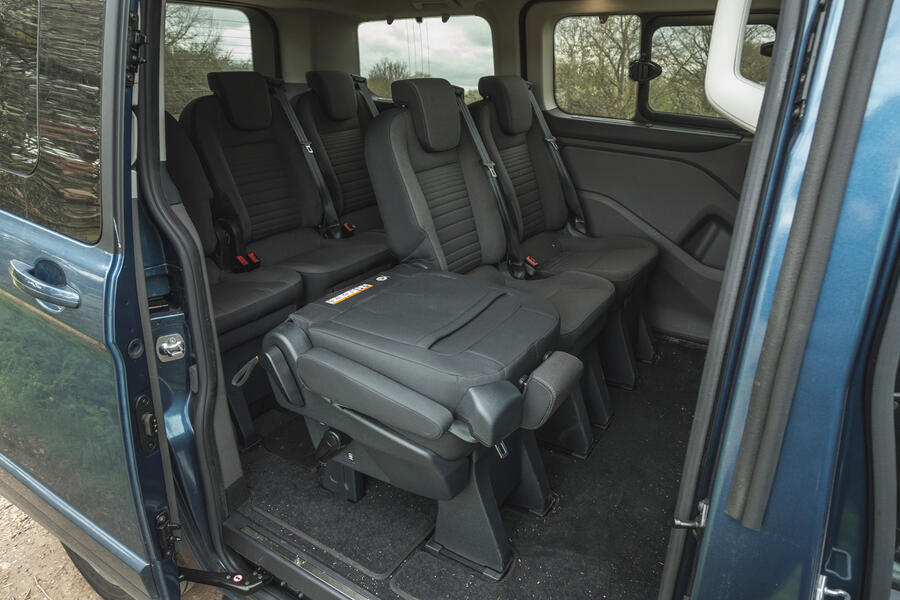 The Tourneo Custom PHEV is available exclusively in Titanium trim, which adds plenty of car-like cabin materials and standard equipment, including Ford's Sync 3 infotainment system. It's one that I'm more than familiar with, having used it extensively in the Ford Puma crossover that I ran previously.
Our van is fairly sparse on optional extras, with just an uprated ICE pack, which adds built-in sat-nav and a scattering of USB ports for device charging, and optional Chrome Blue paint. Sadly, the reversing camera, a £300 option, didn't make the cut.
First impressions? There's no forgetting that you're driving a van, with an upright driving position and lots of wind noise kicked up by the oversized door mirrors. There's a lot of familiar Ford switchgear, though, so the cabin is a pleasant enough place to be. The motor isn't especially powerful but does produce a healthy 247lb ft of torque, making it feel quicker off the line than I had expected. Motorways clearly aren't its forte, though, with it struggling to get up to speed and tanking the economy figures when it does.
I don't expect it will be easy to get the best out of this powertrain but, in other respects, few cars that I've driven recently come close to matching the Tourneo's practicality. I'm already planning on my first trip to the coast to try my luck with a couple of surfboards, plus luggage.
Second Opinion
It's a surprise that the Tourneo PHEV's electric- only range is a mere 33 miles. With all that space in the floor, between the axles, you might have expected Ford to squeeze in more than 13.6kWh. It will be interesting to see just how useful (or not) that EV ability is day-to-day.
Richard Lane
Ford Tourneo Custom 1.0 EcoBoost PHEV Titanium specification
Prices: List price new £62,224 List price now £62,114 Price as tested £63,610
Options:Chrome blue paint £780, ICE Pack 24 £606
Fuel consumption and range: Claimed economy 79.1mpg Fuel tank 80 litres Test average 24.4mpg Test best 45.1mpg Test worst 19.5mpg Real-world range 429 miles
Tech highlights: 0-62mph not stated Top speed 75mph Engine 998cc, 3cyls, turbocharged petrol w/ electric motor Max power 123bhp Max torque 247lb ft Transmission single-speed automatic Boot capacity 1200-2410 litres Wheels 17in, alloy Tyres 235/55 R17 Kerb weight 2354kg
Service and running costs: Contract hire rate £532.72 CO2 70g/km Service costs none Other costs none Fuel costs £4760.32 Running costs inc fuel £4760.32 Cost per mile 21 pence Faults Hybrid system error