Don't call it a saloon, call it a streamliner, said Hyundai. We'll just stick with saloon, but call it what you will; at least the Hyundai Ioniq 6 isn't another SUV. To create it, Hyundai took the E-GMP underpinnings from its Hyundai Ioniq 5 and the Kia EV6 – two of our favourite large electric cars – and draped a lower, sleeker body over them.
In this new world of EVs, Hyundai doesn't shout about the handling benefits of a lower car, because the centre of gravity is already pretty low in any car with a skateboard-style platform. The headline figures here instead concern the efficiency.
The first is a drag coefficient of 0.21, making the Ioniq 6 one of the slipperiest production cars around, and that pays dividends for range. With the larger 77.4kWh battery and rear-wheel drive, Hyundai estimates the WLTP range will be about 380 miles. That's 65 miles more than the Ioniq 5 with the same battery and on par with the rival Tesla Model 3 Long Range.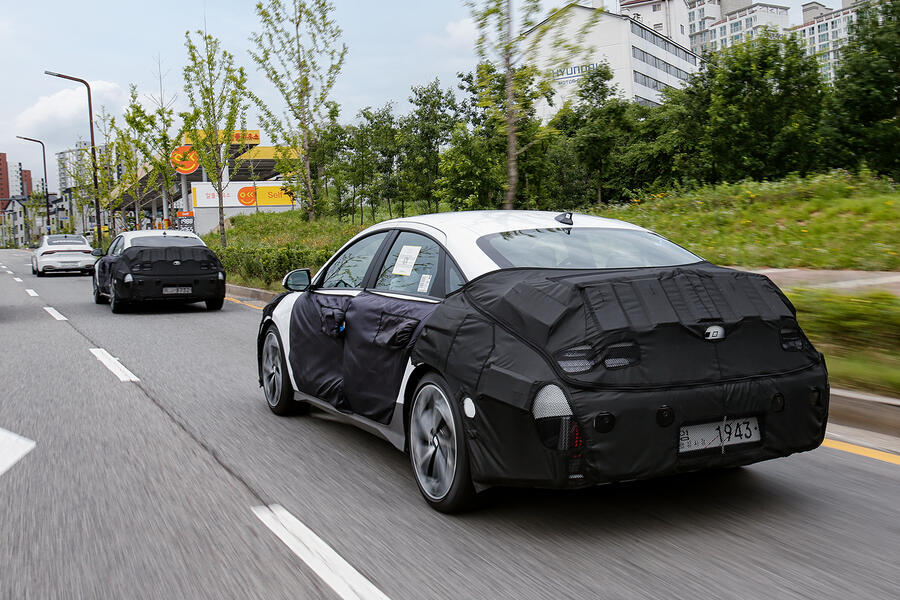 Like the other E-GMP cars, the Ioniq 6 can charge at a rate of up to 350kW, thereby achieving a 10-80% fill in as little as 18 minutes.
At the moment, details are still a bit piecemeal, since we're still some time away from first deliveries. Customer cars ought to start trickling into Europe at the end of this year, with volumes ramping up through 2023.
We do know, however, that there will be two battery options: the aforementioned 77.4kWh pack and a 53kWh one. The cheaper car will be rear-wheel-drive only; the long-range version will also have the option of four-wheel drive and 321bhp.
Power outputs for the rear-driven Ioniq 6s haven't been confirmed yet, but it stands to reason that they will mirror the Ioniq 5's, at 168bhp for the entry-level version and 225bhp for the long-range one.
Hyundai is keeping its cards so close to its chest that it wouldn't even tell us which version of the car we got to drive. It was a camouflaged prototype car and the time we had with it was extremely limited, so we will reserve real judgement and a star rating until we get a fuller experience of a more representative car.
So far, things look promising, though. In the metal and without the camouflage, it's a striking shape that has more personality than the very soap-bar-like Tesla. It's not without the odd awkward angle or detail, but there are plenty of details to delight.
It's slightly disappointing that it has a saloon boot, rather than a hatch like the BMW i4 and Polestar 2.
The designers told us that the hinges would have compromised the aerodynamics and the rear head room, and at least the lid opens fairly wide to reveal quite a large space.
The Ioniq 6 is generally pretty roomy inside, courtesy of not needing to fit an engine in, although there are some caveats. The rear leg room may rival that of the Mercedes-Benz S-Class, but the floor is rather high and the head room limited, so you need that leg room to slouch a bit.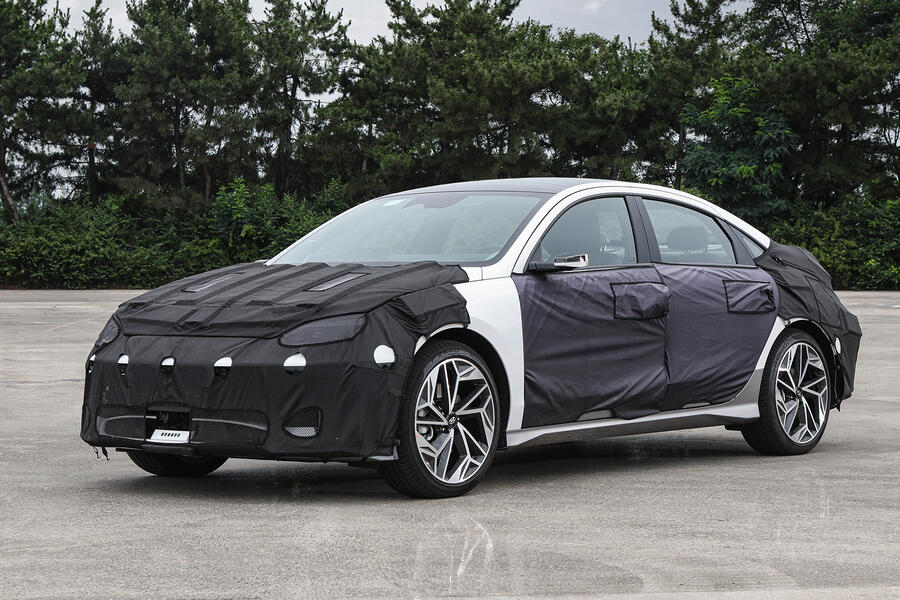 Up front, you're not immediately aware that there's a thick battery pack underneath you. The driving position isn't as low as, say a BMW 3 Series, but it also doesn't feel perched or claustrophobic. Like in the Ioniq 5 and EV6, the steering wheel comes out at more of an angle than you would expect, but there's plenty of adjustment to get comfortable.
Hyundai's presentation talked about how it reduced the number of buttons in the cabin. That will strike fear into the heart of anyone who has been near a recent Volkswagen Group product, but the Ioniq 6 is actually pretty user-friendly.
Of course there's a big touchscreen, in the centre of the dashboard but, as in other Hyundais, it works pretty well and is complemented by a row of shortcut buttons and a separate climate-control panel.
It's just the door panels that have lost their usual window switches. They've gone to the centre console in another unexpected '80s throwback.
Our test car still has plenty of prototype parts made from scratchy plastics that, if the Ioniq 5 is anything to go by, will be much-improved in the production car. At the same time, though, it demonstrates that an appealing design with a bit of colour does almost as much to lift the interior ambience as soft-touch materials. The Ioniq 6 is a bright, airy place to be.
As already mentioned, our drive was a short, mainly urban route, and the suspension settings will still be tweaked for European roads. As expected, though, the Ioniq 6 feels superficially similar to the Ioniq 5, with weighty steering that's more intuitively geared than a Tesla's ultra-fast rack.
And even without rear-wheel steering, this relatively large car (4855mm long and 1880mm wide with a 2950mm wheelbase) has an impressively small turning circle.
The ride has a bit more of an edge to it than the Ioniq 5's, but that might change on the final car.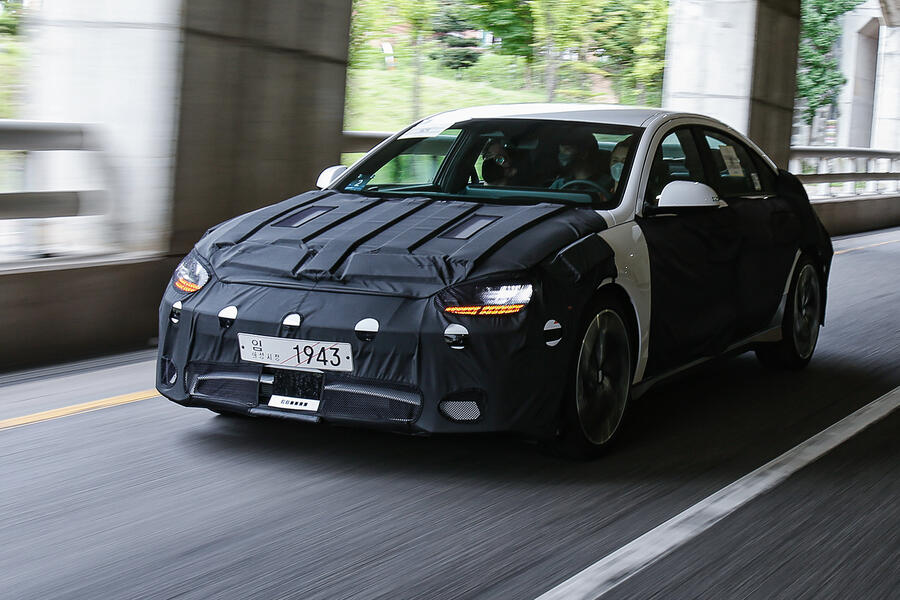 The powertrain, meanwhile, is familiar from other Hyundai and Kia EVs: it's smooth and quick and the level of regenerative braking can be varied using paddles behind the steering wheel.
Hyundai is targeting a price of £45,000 for the Ioniq 6. That would make it slightly more expensive than the 2 and comparable to the Model 3, both of which are slightly smaller.
Our recent drive was frustratingly short, but first impressions are good. If Hyundai can get the suspension tuning right for UK roads, it ought to be on to a winner.