The Purosangue is the most radical Ferrari yet, as the first four-seat four-door model to be graced by the Prancing Horse.
Although its proportions and functionality are unprecedented for Ferrari, it has retained some of the brand's fundamental features, having a front-mid-mounted V12 and being claimed to be "a true sports car".
Enrico Galliera, Ferrari's marketing and commercial chief, said: "We believe it's a game-changer. It has the performance of a sports car with the comfort and versatility of a less extreme car. For us, the strategy was to develop a sports car in a different segment."
While Ferrari has a long history with 2+2 cars, most recently with the Roma, this is the first time a four-door model with four fully sized seats has made production.
The only previous four-door badged as a Ferrari was a Pininfarina-designed concept car of 1980, named the Pinin, which company founder Enzo Ferrari reportedly liked but never signed off.
Ferrari refuses to describe the Purosangue as an SUV, but the car's proportions and functionality are very much intended for this segment – one in which Ferrari until now has been markedly absent while rivals such as Aston Martin, Lamborghini and Porsche have forged ahead to capitalise on the ever-growing worldwide popularity of SUVs.
The Purosangue is 4973mm long, 2028mm wide and 1589mm tall (compared with 5112mm, 2016mm and 1638mm for the Lamborghini Urus). Along with its 185mm of ground clearance, that puts it very much in SUV territory. It is also four-wheel drive.
V12 Performance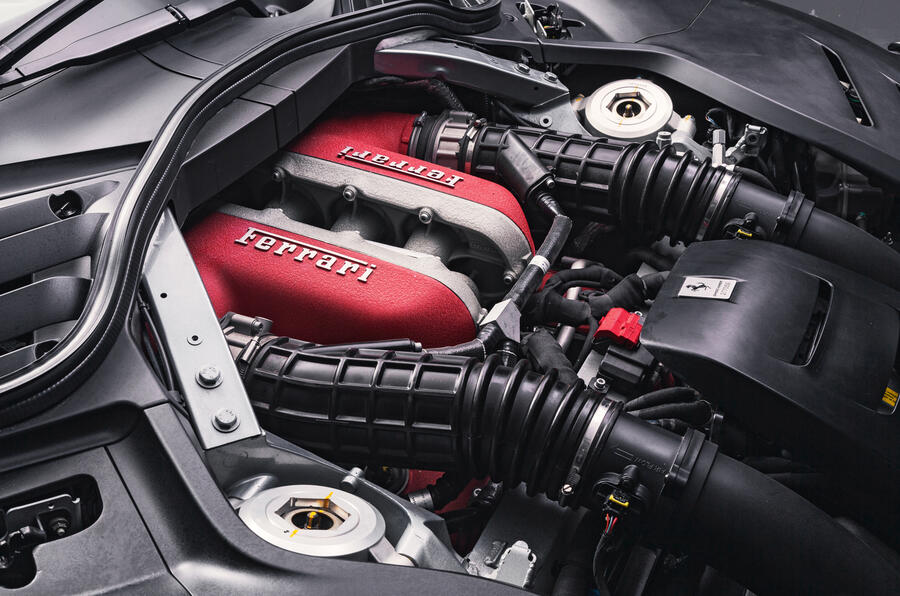 Ferrari has held true to its heritage, employing its revered V12 in the Purosangue. The naturally aspirated 12-cylinder engine is a heavily reworked version of that used in the 812 Superfast, with a 65deg angle between cylinder banks, a 6.5-litre capacity, a dry sump and high-pressure direct fuel injection.
It has been developed for the Purosangue to ensure that maximum torque is available at lower revs to counter the extra weight of an SUV while not losing the linear power typical of Ferrari's V12s.
The engine is mounted behind the front axle, while the eight-speed dual-clutch automatic gearbox sits at the rear, creating a sporty transaxle layout. This helps deliver the 49:51 front-to-rear weight distribution that Ferrari engineers deem optimum for a front-mid-engined sports car.
The Purosangue becomes the most powerful SUV on sale, with its maximum power of 715bhp arriving at 7750rpm and its torque peaking at 528lb ft at 6250rpm.
In line with Ferrari's claim that the Purosangue is a "true sports car", it achieves the benchmark sprint of 0-62mph in just 3.3sec and 0-124mph in 10.6sec.
Galliera said there were many discussions about which powertrain to use, but he believed the V12 was the right one: "It's the most iconic engine in the company. We're looking for extreme performance combined with comfort. And for as long as customers have been asking for this car, they've been asking for us to keep the history of Ferrari, and that is the V12."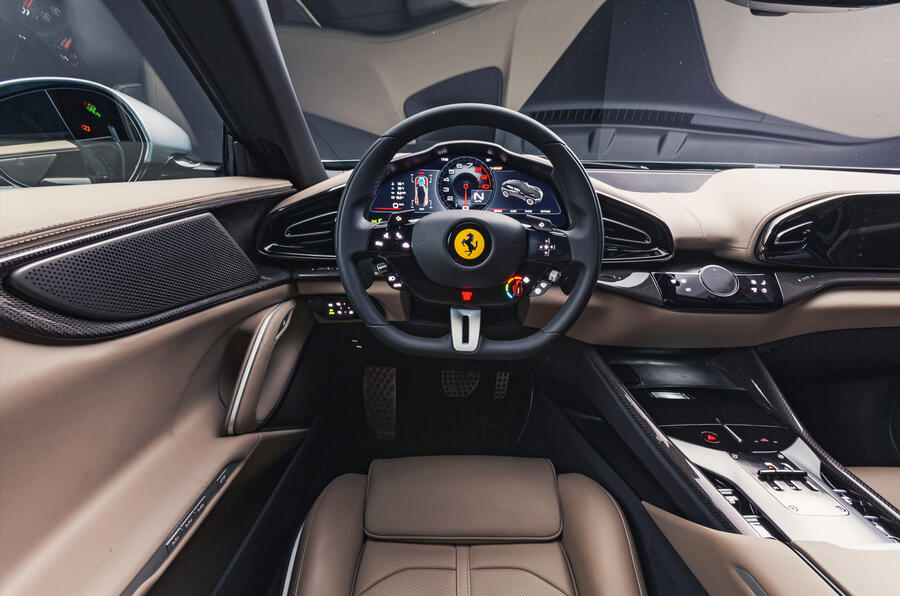 At the Purosangue's unveiling in Italy, Ferrari declined to talk about other powertrain options, but it's also expected to use either the V6 plug-in hybrid powertrain of the 296 GTB or the V8 equivalent from the SF90 Stradale in future electrified guises.
The Purosangue's new platform, which Ferrari said was created from scratch, is designed to cater primarily for a V12, but adapting it for other powertrains would "not be very hard", according to product boss Gianmaria Fulgenzi.
The platform consists of aluminium alloy in its lower structure, while the car has a carbonfibre roof as standard to reduce weight and lower its centre of gravity.
The result is a platform that's lighter than previous four-seat Ferraris', despite being larger overall.
Sports car dynamics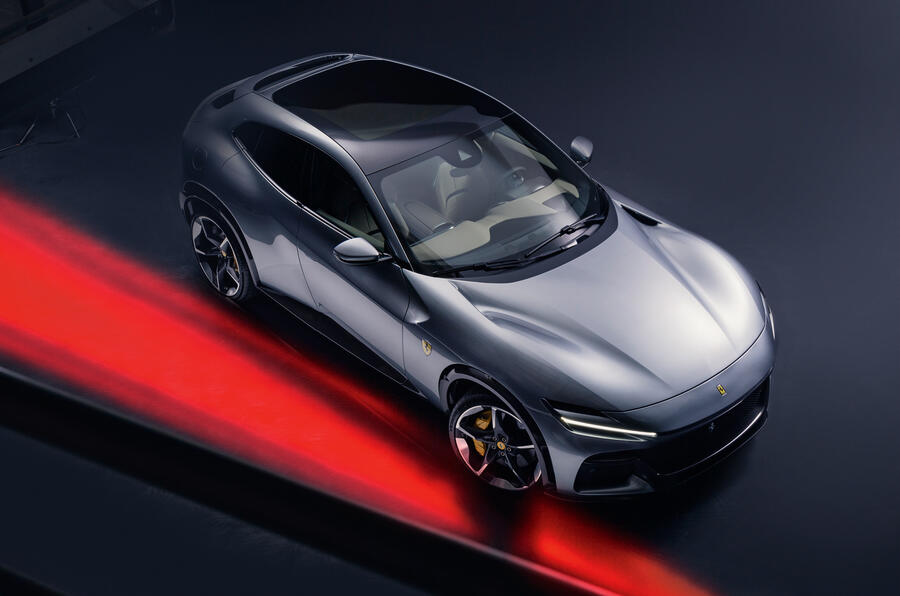 The different shape of the Purosangue created "a completely new challenge" for Ferrari's aerodynamics team. No drag coefficient figure has been released yet, but the Purosangue has been designed to create a smooth flow of air over its front surfaces, has integrated louvres in its 'floating' wheel arch trims and at the rear uses a suspended spoiler and a nolder on the lip of the boot.
The SUV gets the same dynamic control systems as many of Ferrari's sports cars, including independent four-wheel steering and 'ABS Evo', with a six-way chassis dynamic sensor.
Ferrari's new active suspension system, developed with Multimatic, makes its debut on the Purosangue. It's intended to control body roll in corners as well as the contact patches over bumps to deliver the same performance and handling as Ferrari sports cars.
Inside the Purosangue, the layout is intended to reflect a "sporty lounge".
The cockpit heavily resembles that in the SF90 Stradale, using a 10.2in display, while the seating position is still low, intended to convey a sports car feel for the driver.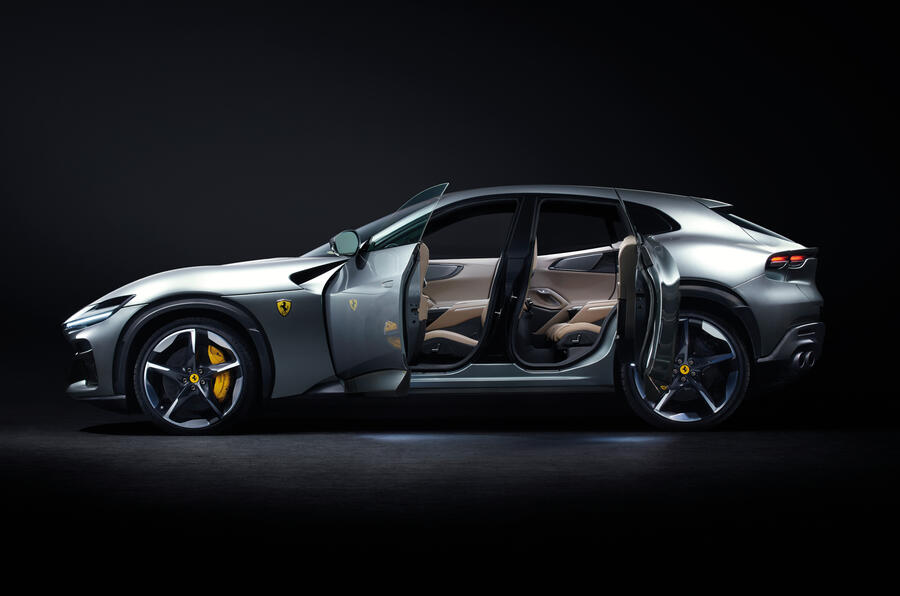 Access to the first full-sized, adjustable rear seats in Ferrari's history is via rear-hinged doors, while naturally the boot is the biggest the firm has offered to date, at 487 litres, compared with 320 litres in the 812 Superfast.
Ferrari has abandoned built-in sat-nav altogether, instead relying on Android Auto and Apple CarPlay compatibility to fill that void.
Galliera explained: "Whatever nav system we put in our car, it will never be more updated or advanced than one on a phone."
While SUVs now account for a large share of many rival firms' sales volumes, Ferrari is adamant that the Purosangue will retain its exclusivity and never take more than 20% of the brand's total sales.
Already this year, Ferrari is on track to sell more cars than ever before – easily topping 12,000. So once Purosangue sales are up to full speed, expect it to account for no more than 2500 units per year.
The Purosangue is likely to be priced from around £390,000 – substantially more than any of its obvious rivals.
UK deliveries will start next summer, a few months after the left-hand-drive versions.
Exclusive images: Luc Lacey