"What would you change?" asks Raffaele de Simone. 'Development test driver for Ferrari GT' reads his job title, which modestly understates the influence of the man who is ultimately responsible for how every Ferrari road car drives.
Of course there are some things I would change about the new Ferrari 296 GTB, because no car is perfect. But having just stepped out of it after belting it around a race track for a few minutes, somehow I forget that Apple CarPlay seemingly disables the rev counter or that the nose lift takes a while to operate, and I'm blowed if I can talk much at all, let alone say what's wrong with it.
I mumble something about how nicely balanced it is, which means de Simone is basically around to be told what a great job he has done. It's like the opposite of reading YouTube comments.
To the 296 GTB, then. This is Ferrari's latest mid-engined standard (£241,550) supercar, and its engineers don't tend to get those wrong. Probably not since the F355 but certainly not since the Ferrari 458 Italia, which felt a generation and a half better than its F430 predecessor. That might or might not have had something to do with the prospect of McLaren making a rival, so they needed it to be particularly good. It was, and every generation of Maranello's V8 supercar has since been, blinding.
This one, though? Well, it's not a V8, for a start – it's a V6, and a plug-in hybrid at that. Maranello has made electrified cars before, of course. There was the Ferrari LaFerrari hybrid and then the Ferrari SF90 Stradale plug-in hybrid, which felt like something of a technical exercise, like it was made so that Ferrari would know how to get this one right. And, oh brother, have they got this one right.
The 296 GTB is named after its engine capacity and cylinder count, sort of. The low-slung 120deg V6 with twin turbochargers mounted between its two cylinder banks is actually of 2996cc and would make 654bhp, were it not also augmented by a 164bhp electric motor mounted between it and the eight-speed dual-clutch automatic gearbox, which is able to clutch the engine in and out.
Maximum output, then, is a gulpsome 819bhp, making this car good for 0-62mph in 2.9sec and 0-124mph in 7.3sec, with drive sent to the rear wheels via an electronically controlled limited-slip differential.
The 7.45kW drive battery sits between the two occupants and the engine bay and weighs 73kg. With the motor and inverter and gubbins too, you're looking at a set-up that adds around 100kg to the car. Losing two cylinders gets some of that back, while weight savings elsewhere mean the 296 GTB turns out 35kg heavier than its Ferrari F8 Tributo predecessor – 1470kg dry, which will turn out nearer 1600kg wet and fuelled.
Beneath that glass rear deck, the mechanicals are all very low-slung, and compact too. The 296 GTB has a 2600mm wheelbase (50mm shorter than the F8 Tributo's), while its driver sits 14mm closer to the front wheels.
This shorter wheelbase gave Ferrari some worries. The difference doesn't sound like much to me, but the engineers were concerned how much more agile it would make the car – and how much less stable. Add in not just the complexity of the drivetrain but also that the steering is electrically rather than hydraulically assisted for the first time and that the brakes are by-wire and you have a car that, if not tuned well, could feel artificial – or worse. That's one reason why de Simone's team comprised three engineers before 2010 but now numbers 15. They've done a tremendous job.
Conventionally hinged doors open to a two-seat interior that has adopted the digital displays of the 296 GTB's most recent siblings. It's cleanly designed, less flamboyant than the Lamborghini Huracán Evo's but more so than the Maserati MC20's.
Ergonomically, it's mixed. Long gone are the days when Italian supercars forced you into weird driving positions and left you unable to see out. I wouldn't mind if the steering wheel reached ever so slightly further from the dashboard, but it's no big deal. It's almost round, while the big gearshift paddles stay attached to the column where you left them. The absence of column stalks makes their location easier, I'm sure.
That doesn't help the functionality of other things, though. The controls for the lights, wipers and indicators live on the steering wheel, alongside multi-function touch-sensitive icons for the infotainment and so on. There's also a manettino dial for the driving modes, controlling the chassis. Then there are touch controls for the hybrid set-up, too. You get used to it but, all in, it's a bit much.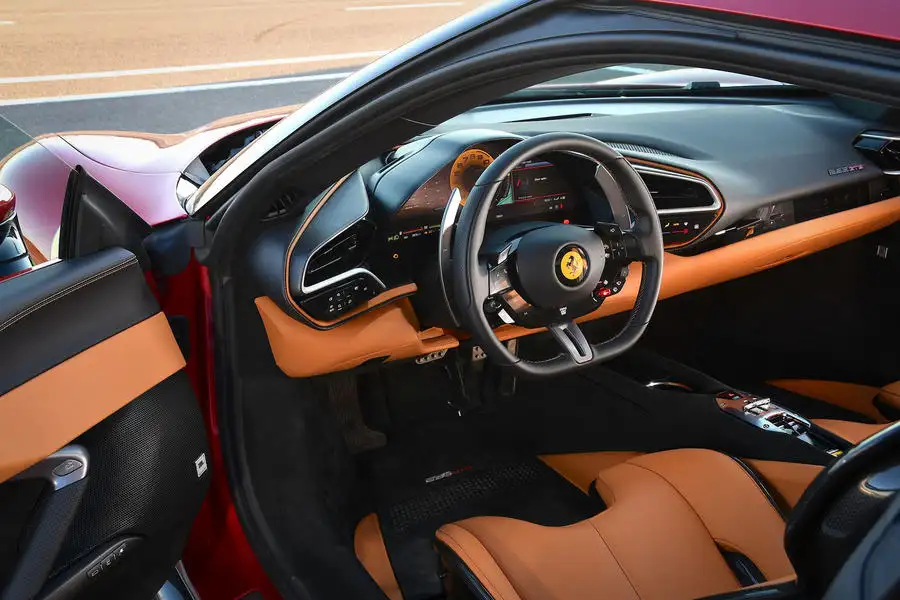 To the powertrain modes, then. You can make the 296 GTB run as an EV, which is kind of the point of the system: it will get you into zero-emission zones in cities with its 15.5-mile electric-only range. Hybrid is for daily driving, Performance gives you everything while maintaining some battery oomph and Qualifying is for short fast runs, giving you everything while letting the battery run out.
Meanwhile, the five handling modes go from Wet (stability control high) through to ESC Off (you're on your own, mate). And the electronically controlled dampers offer two states, which you can flick between in each handling mode.
What has marked out previous Ferraris of this kind is that it hasn't really mattered which mode you're in: it's a given that you have bags of power and that there's no need to use it all, because it's engaging anyway.
The same is true of the 296 GTB as a road car. The ride flows well in the softer damper setting, with a little patter on bad surfaces in the stiffer one; but either way, it breathes easily.
The steering has a little more initial weight build-up than we're used to – one of the advantages of an EPAS system is how much can be tuned. So although the steering ratio is quicker than the F8 Tributo's and it's just under two turns between locks, it initially feels more stable, yet the car still turns with real vigour.
There's a terrific blend of character to the way the 296 GTB drives – a flow to the steering, ride and turning.
And the engine is special. The V6 revs to 8500rpm and delivers immediate responses, despite its exceptionally high specific output, because if there's turbo lag, the motor can fill it (and act as a traction control system, pulling revs down more quickly than could be achieved by cutting the ignition or applying the brakes).
Ferrari even talks about it sounding like a V12, thanks to an evenly spaced firing order and a tube running from the exhaust to the cabin to carry sound, tuned to allow through third-order higher-pitched notes. So they call this engine the piccolino (Italian for little) V12. You might think that's marketing bluff – until you hear it. Then you will think they might have a point.
Does this car feel heavier and more leaden than the F8 Tributo? I'm not certain; it has been a while. But I did spend time in the 296 GTB thinking 'this car doesn't feel heavy' rather than 'this car feels light'. Then again, this is the daily version; a faster, more track-focused variant will follow.
For now, you can specify the racy Assetto Fiorano package, as fitted to the car we drove on track. Called the Fiorano Performance Pack Extended in the UK, it's a £25,920 option that removes weight and makes some aerodynamic adjustments.
Most notably, it brings dampers from Multimatic: passive shock absorbers derived from GT racing ones (the Ford GT uses Multimatic dampers to good effect). The aero changes include a front-bumper extension to increase downforce by up to 10kg at high speed. And the car is a little lighter. The door panels are different, there's extended carbonfibre inside and out and the rear deck is made of Lexan rather than glass for an overall weight reduction of 15kg.
As significant from a track performance perspective, one suspects, is that Assetto Fiorano cars come on extra-sticky Michelin Pilot Sport Cup 2R (245/35Z front and 305/35Z rear) tyres, rather than Pilot Sport 4S ones. Once up to temperature, they don't last long. Customers don't mind. Finally, there's a Le Mans-inspired paint scheme available exclusively to Assetto Fiorano customers. It's another option. There are lots of options.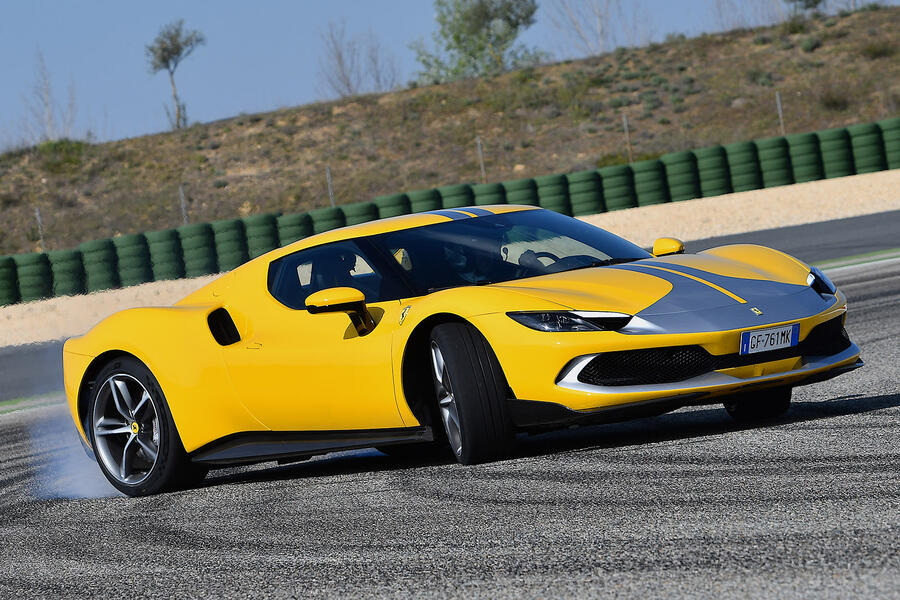 The acceleration is fierce, even if you don't take it to the 8500rpm redline (maximum power comes at 8000rpm but short-shifting is as quick, we're told), the gearshift is pulsing and the by-wire brake feel is consistently strong.
And the handling balance retains what marked out the 296 GTB's predecessors: terrific response on turn-in yet also stupendous confidence and controllability. The rear of the car feels exceptionally well supported. It resists pitching and rolling or 'falling' into a corner at the rear, but off-throttle it will unstick itself and then, with you back on the power, there's a balance and throttle adjustability to spare.
The 296 GTB feels as natural as any car going, yet there's 819bhp and extraordinary complexity beneath it.
So no, signor de Simone, I can't think of what I would change. Instead, could you tell me how, simply, you make something so complex so good?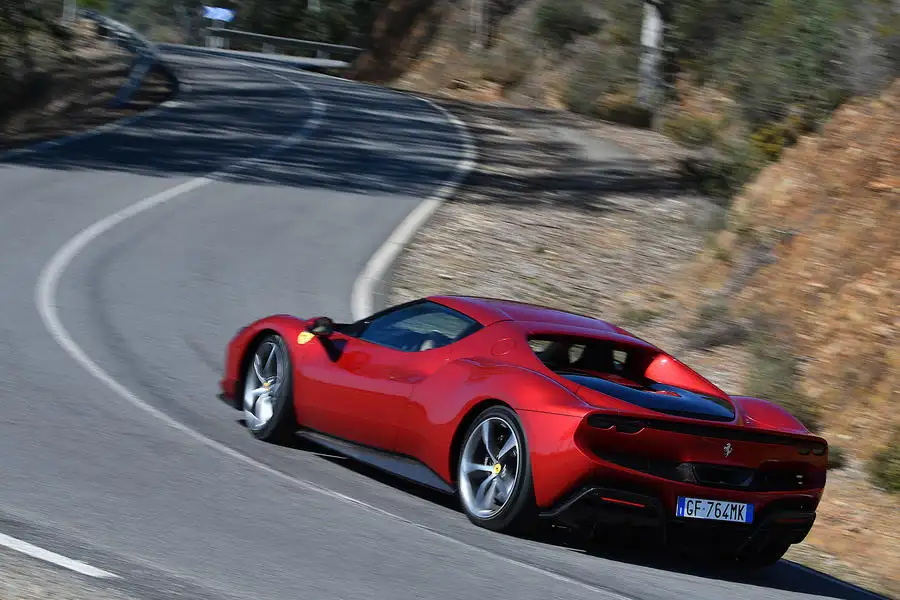 Technical specs

V6, 2996cc, twin-turbocharged, petrol, plus electric motor
Transmission:
8-speed automatic
Driveline layout:
Mid-engine, rear-wheel drive
V6, 2996cc, twin-turbocharged, petrol, plus electric motor
View all specs and rivals
Transmission
8-speed automatic
Driveline layout
Mid-engine, rear-wheel drive
Fuel economy
44mpg (estimated)
Electric range
15.5 miles
Fuel economy
44mpg (estimated)
Electric range
15.5 miles