In just a year's time, DS will become one of the first global car makers to ditch combustion engines entirely and become an electric-only brand.
It will spark what's set to be a huge change in direction for the French firm, an unknown entity among most of the British public, many of whom still see it as part of the Citroën brand – despite emancipation papers signed almost eight years ago.
Ahead of its big push, it's looking to change that, with a mid-life refresh of its smallest model, the DS 3, arriving with an electric powertrain that it hopes will strike a chord with new customers.
Continuing to compete in the hugely competitive electric compact crossover class, the 3 E-Tense will look to beat rivals such as the Kia Niro EV and Hyundai Kona Electric with its premium positioning, tempting customers with a comfy ride, a plush interior and, for now at least, a bit more exclusivity.
The 3 E-Tense is the first car to use Stellantis's new 154bhp electric motor (up 20bhp on the old one), which has been engineered to be quieter at lower speeds.
It's fed by the same 54kWh (51kWh usable) battery as found in the new Vauxhall Mokka Electric, which gives it a range of 250 miles – 48 miles more than before, thanks to the extra 4kWh of capacity.
It can be charged by a 100kW charger from 10-80% in just 30 minutes or in five-and-a-half hours by an 11kW wallbox.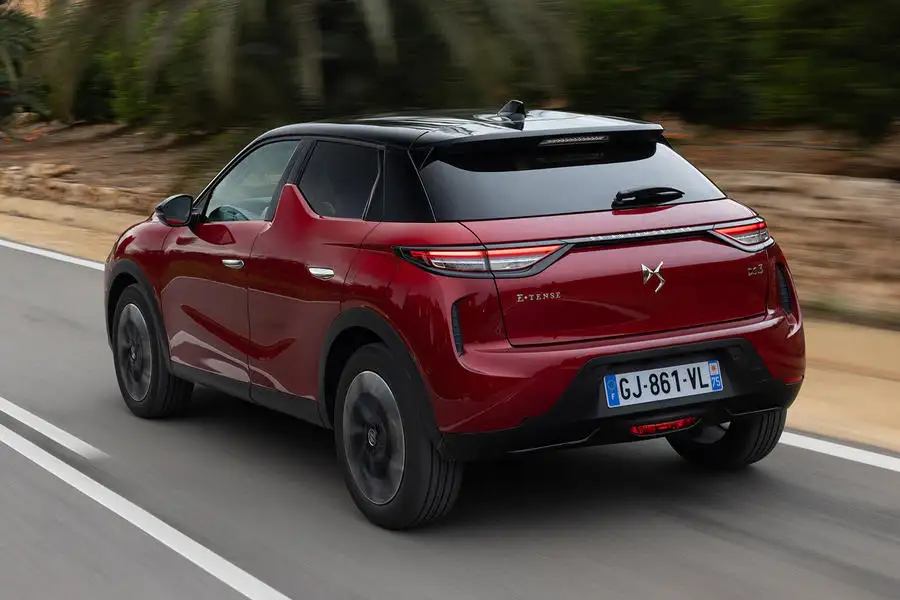 With 197lb ft of torque (up 5lb ft), the 3 E-Tense has plenty of shove around town, but on the open road it's still lacking oomph enough for you to err on the side of caution when contemplating an overtake.
A small level of confidence returns if you have the car in its faster-accelerating (50-75mph takes just over 5sec) driving mode, Sport – one of three, along with Normal and range-focused Eco. However, this also brings bitey lower-end torque that keeps you favouring the default mode.
Despite slight acceleration gripes, the 3 E-Tense is a fine car to drive, albeit unremarkable. It's comparatively relaxing, yet the driving controls aren't entirely devoid of feel. Soft suspension (coil springs paired with passive dampers) means you mostly glide over road blemishes without noticing, although body roll is generous at times and it can get flustered on more challenging routes. This will no doubt become more of an issue away from Spain's smoother surfaces.
Equally, the car has one of the nicest  regenerative-braking systems around, created thanks to DS's Formula E racing team. It strikes the perfect balance by not being too grabby but still strong enough for you to never need to shy away from single-pedal driving.
Also in the 3 E-Tense's favour is the way it looks. Bold stylings continue to give it a leg-up over its blander rivals, and the arrival of a new blacked-out, chromeless grille ("it's more premium to use less chrome", according to design director Thierry Métroz) and wider-set daytime running lights give it an edgier look than before.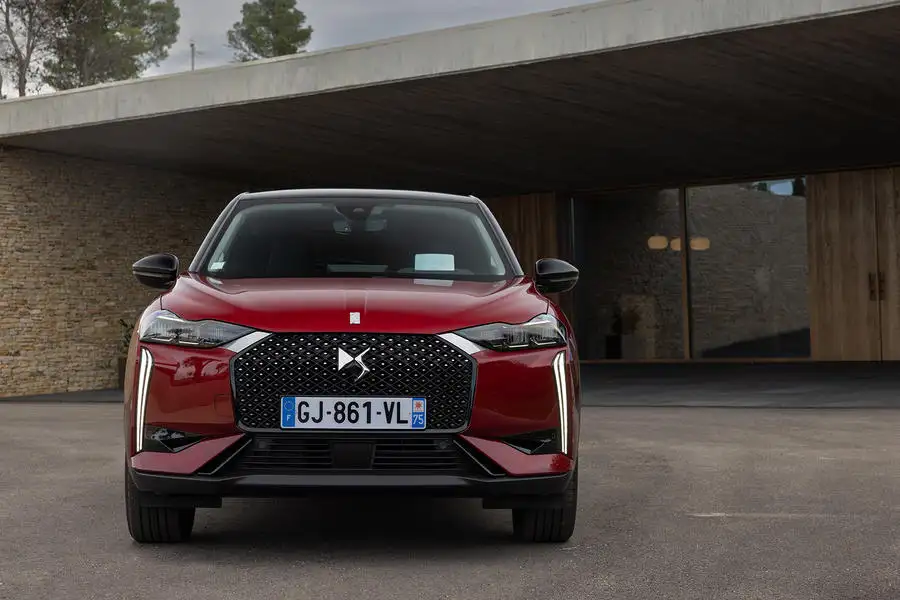 DS having dropped the 'Crossback' tag from this car's name signifies that DS considers the 3 to be a fully fledged crossover now. Yet although crossover by name, it doesn't entirely fulfil that role in nature. One of its biggest drawbacks is its poor rear interior space, which designers confirm isn't caused by the addition of the EV battery, as the ICE variant arrives with the same proportions.
When you're spending from £37,200 (our top-rung Opera trim was £42,700), this seems an oversight, especially as the cabin is a lovely place to be and feels more premium than the price leads you to believe (think more £50,000-plus Volvos).
Fresh additions include a new steering wheel (the same as found in the DS 4) and a 10.3in infotainment screen kitted out with DS's new Iris technology.
Yet it was the Nappa leather seats – only available in top end trim – that were the stars of the show, giving levels of comfort that even the longest of drives would find hard to make sore.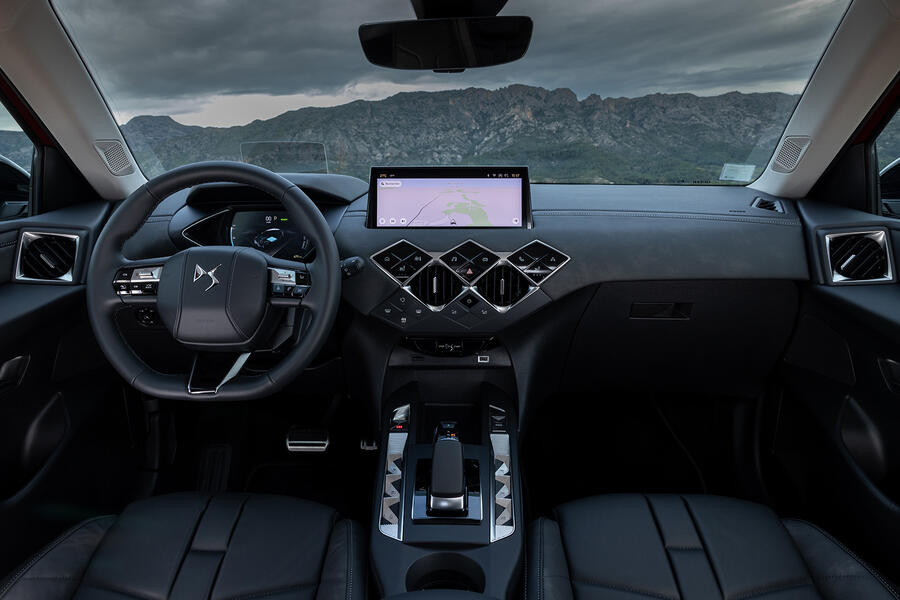 The 3 E-Tense is definitely a car that will attract more people through the way it looks than through the way it drives. But with the backing of Stellantis and with it the vast array of tools available at its disposal, this is but a stepping stone to the future (its first bespoke EV is due at the end of next year), especially as the facelifted 3 is only truly let down by what it already suffered from: sub-par rear space and a sporadically jerky ride.
TECHNICAL SPECS

Model tested:
DS 3 E-Tense Opera
Driveline layout:
Front-wheel-drive
Model tested
DS 3 E-Tense Opera
Driveline layout
Front-wheel-drive
View all specs and rivals
Battery size
54kWh (51kWh usable)
Battery size
54kWh (51kWh usable)