Win a world championship and it sticks with you for life.
Damon Hill still feels the benefit 25 years on from achieving his life's ambition at Suzuka, Japan, in 1996. "It's like a passport," he says. "It's always nice if you need to pull it out of your back pocket. There are occasions when it's good to reflect on it." One such was the silver anniversary – on 13 October, to be precise – when he finally got to celebrate with the people who mattered the most: the guys who ran his car. It didn't happen at the time, for a good reason: the Williams F1 team had sacked him. It's a saga that still beggars belief all these years later.
"I left Williams the moment I won, so I didn't have a chance to celebrate back then," explains Hill. "We did a few photographs at Suzuka, but after that one of the guys came with me to Arrows and I lost touch with the rest. Then this year Williams kindly got my FW18 running again at Silverstone and Bob Davies, my number one mechanic, was there. I suggested we should get together to celebrate. So we went to the factory and Williams opened up their heritage department, we had some champagne next to the car and went out for dinner. It was nice."
Reel back to that October finale in 1996 and it proved a remarkably undramatic climax, especially in the wake of a tumultuous couple of months that had threatened to derail a title bid that previously looked nailed on. Hill's nearest challenger was his team-mate, rookie Jacques Villeneuve, who produced what probably remains the race of his life in the penultimate round at Estoril to keep his own hopes alive at the Japanese GP. But at Suzuka, Villeneuve took pole position, then made a dreadful start and crashed out on lap 36 when he lost a wheel after a pit stop, while Hill raced serenely to a lights-to-flag victory.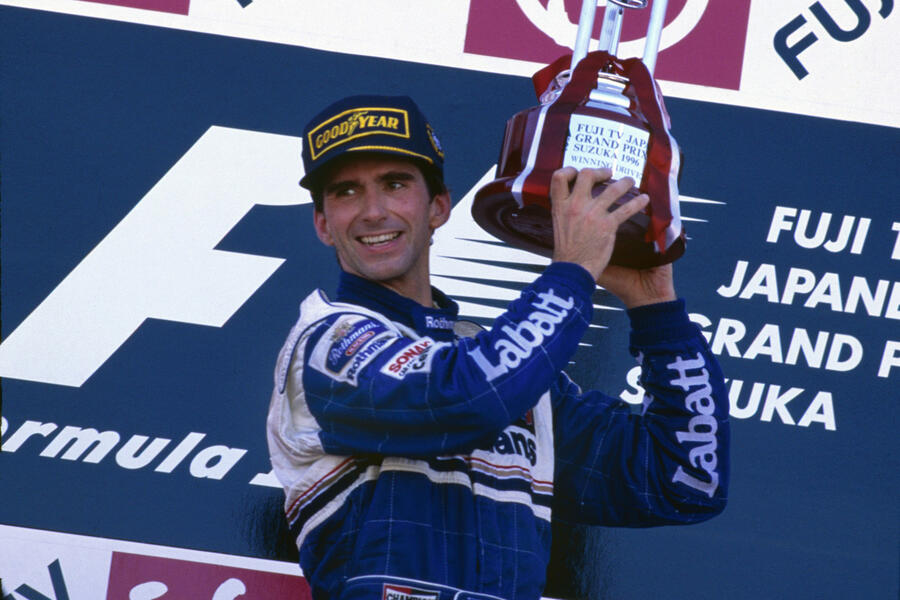 "The team came on the radio after Jacques went out and said 'you're world champion'," recalls Hill. "I said something cheeky like 'can I come in now?' and they said 'no, we'd prefer it if you stayed out and finished the job…' It was nice to finish ahead of Michael [Schumacher], who was very generous and congratulated me at the end. I got a handshake from him." He admits there was "massive relief" but also an enormous sense of satisfaction. "That overwhelms you," says Hill. "But it doesn't really sink in immediately because the moment you get out of the car you've got more duties, such as answering people's questions.
The moment was captured perfectly by Murray Walker, who tried really hard not to be biased in favour of Hill in his BBC TV commentary – but didn't always manage it: 'And I've got to stop because I've got a lump in my throat' became one of Walker's most famous lines. Watch it back today and you can't help smiling. "I watched it recently," says Hill. "I'm reading Maurice Hamilton's new book on Murray and it reminds you how important his words were. And as wonderful as he was, he sometimes didn't get all the facts right. I noticed he said 'Damon Hill, son of Graham Hill, who won the world championship in 1962 and 1965…' It was actually 1968, but that doesn't matter! Bless him."
Murray died in March this year, aged 97, and like so many of us, Hill dearly misses his old friend.
"He bonded with drivers in a way that many commentators haven't. We loved his enthusiasm, and Nigel [Mansell] was very close to him. Murray's patriotism was barely concealed with Nigel, and with me a paternal thing came out, which he couldn't really help. He was as pleased as punch to see me do well."
The context of Hill's title glory only heightened the emotion. He'd been through so much since graduating from test driver to surprise race seat in the best car on the grid in 1993, alongside Alain Prost and as replacement for Mansell – two more Williams world champions who didn't stay to defend their crowns. A year later, Hill experienced the trauma of his new team-mate Ayrton Senna dying at Imola, only to rally a devastated Williams and take the fight to Schumacher, who won the title with a blatant 'professional foul' on Hill in Adelaide. Then, in 1995, Schumacher's Benetton beat him again, but this time fairly and all too easily as Hill endured a season littered with mistakes. At 36 – the same age Lewis Hamilton is now – Hill knew 1996 might be his last chance to win the title.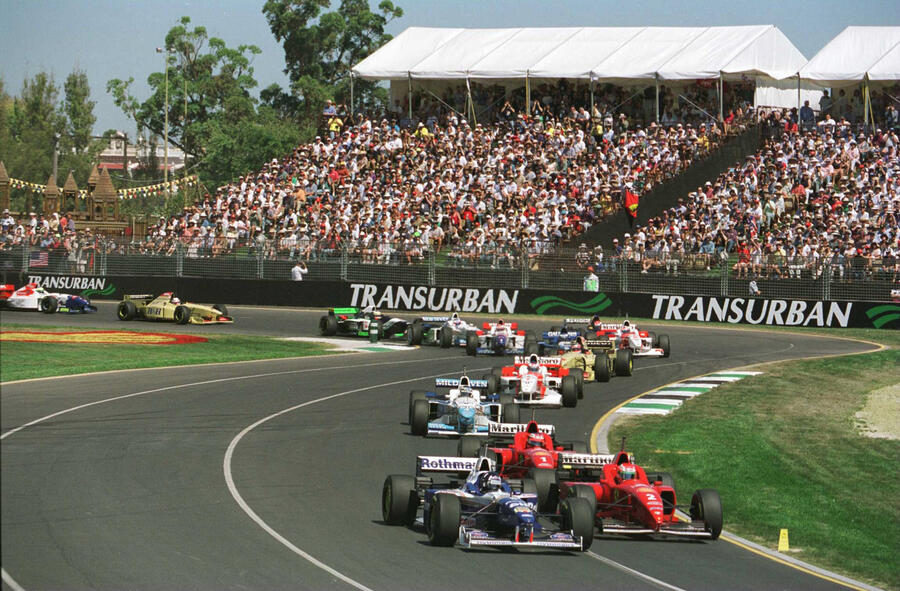 "I got a very late opportunity in F1 and I always thought just getting there was a bloody good achievement," says Hill, now 61. "I had a good crack with Alain in 1993 and won some grands prix. With Ayrton we never got to find out how I would have matched up. I would have had to dig awfully deep to show signs against Ayrton that I had future world champion potential. But these guys make you stronger, they don't destroy you, and fate had other plans. I ended up by default being thrown into the front line."
Parallels on 1994 are often drawn to his father, who galvanised Lotus in a similar way in 1968 in the wake of Jim Clark's death. "Williams felt they had lost their best chance of winning when they lost Ayrton," says Hill. "I had to work hard to convince them I could give it a good crack." Two races after Imola, he won in Spain, and it was just what Williams needed. "By coincidence, the first race Lotus and my dad won after they lost Jim Clark was in Spain. There are some strange parallels, but I wouldn't compare myself. What my dad did after Jim was just ridiculously brave."
After the difficulties of 1995, including two self-induced collisions with Schumacher, Hill's confidence was at a low ebb. Still, with Schumacher in effect taking himself out of the 1996 title race by moving to underperforming Ferrari and a rookie joining Hill in the best car on the grid, there could be no excuses. That winter he took novel counsel to steel himself for the next campaign.
"It was simply a lady who worked with me on how to deal with the press," he says. "It was the press pressure with Michael that hurt, that I was portrayed as the idiot and he was the genius. It even got to the point where the team I was driving for was echoing what their opponents were saying. It damaged me and my confidence hugely. I went to this woman, Mary Spillane, who advised politicians how to deal with difficult questions. She had a brilliant phrase. I was saying I feel this, that and the other, spilling my heart out – and she said "save it for the book". She just shut me up. I thought okay, this woman is switched on, let's listen to what she has to say. She gave me the weapons I needed to close that breach in my defences and learn to cope in a very intrusive environment."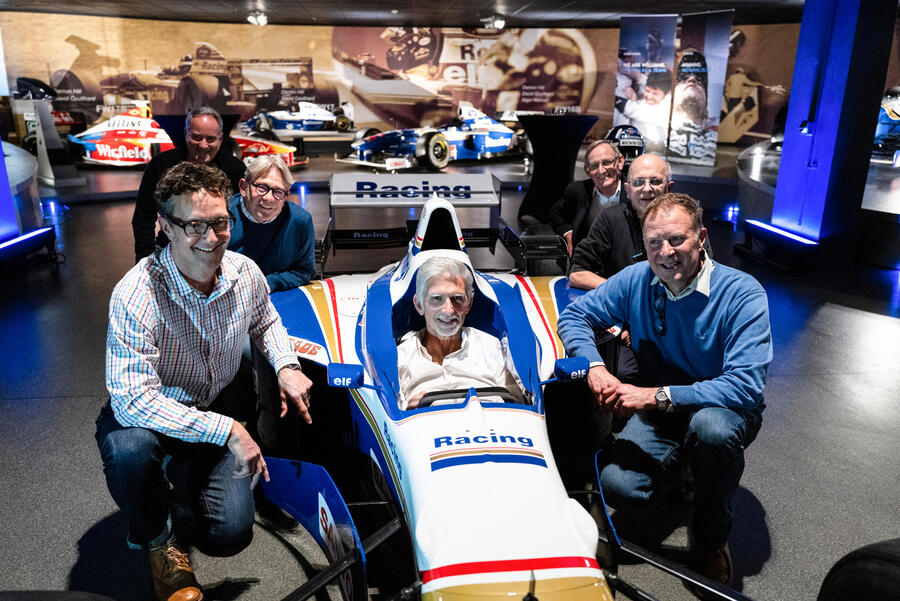 Buoyed by an intensive test programme, Villeneuve did prove a threat and even led Hill at the season opener in Melbourne, before making a small mistake that cost him victory in his first grand prix. But Hill says he was never too worried about the Canadian, whom he describes with affection as "mad as a box of frogs".
"He was quick, and I kept one eye on him. He had a mountain to climb: no experience of F1 and he didn't know most of the tracks. All I had to do was beat him and I'd be world champion. It was a case of biding my time. But it was fun being with him, I enjoyed racing against him in the team because he wanted to win fair and square. We didn't really have any difficult moments wheel to wheel."
Then at the end of July, just before the German GP, Hill was unsettled by a story that Williams would drop him for 1997 in favour of promising German Heinz-Harald Frentzen. In September, between the Belgian and Italian GPs, he discovered it was true when Frank Williams called to confirm it. "We win as a team and lose as a team didn't really apply," says Hill. "It was a case of 'it doesn't matter if you win, you're not staying!' Which is not a very good motivator. But I just thought: that's okay. As long as you don't take the car away from me before the end of the season, I'm going to do what I want to do with it. If I win, I'll walk into the sunset with my championship and say 'see you later'."
"The seeds were probably sown the previous year when I had a dreadful season and got thoroughly thrashed by Michael, so they thought they had to look elsewhere," admits Hill. The decision had greater repercussions: it also triggered the team's chief designer, Adrian Newey, to start talks with McLaren. The aerodynamicist, who with Patrick Head was the architect of Williams' 1990s dominance, was appalled by Hill's treatment and frustrated by his lack of say in the call. He'd leave Williams for McLaren in mid-1997.
Meanwhile, after a gearbox problem contributed to defeat by Villeneuve at Estoril, Hill faced the pressure of a title shootout while also working out his next move. "We stayed on for a test, then I had to go and find a job," states Hill. "I signed for Arrows because they were the only team that would offer me a one-year deal. I only wanted one year because I wanted to sign for McLaren and work with Adrian again, which very nearly happened. But I didn't get that warm, cosy feeling from Ron Dennis, so I declined politely. He made it clear that he didn't think much of me! Which is a bit annoying. I'd just spent the last amount of years trying to make my mark at Williams and I thought I'm not going through that again."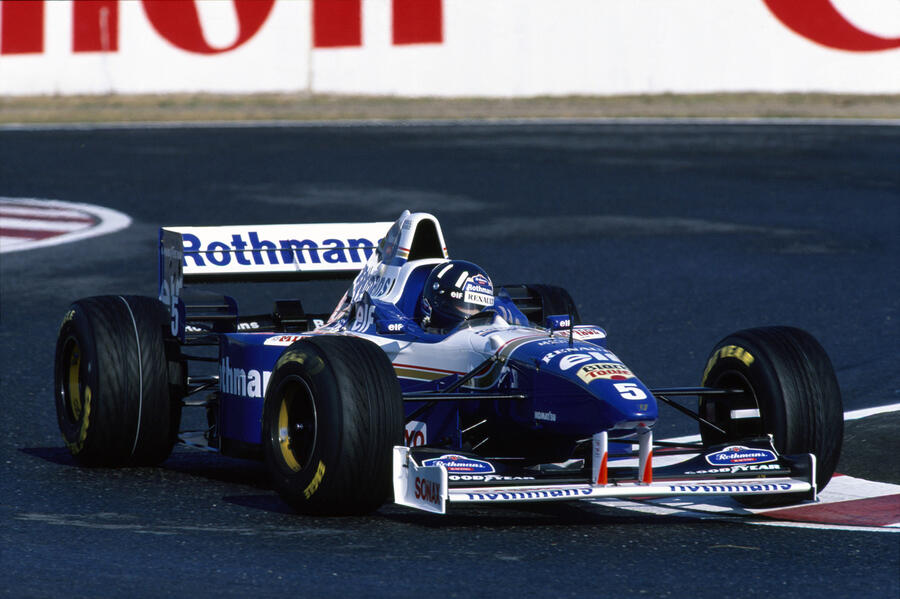 Sliding doors moments. But ultimately for Hill it doesn't matter: he'd fought for and won his title and, following a frustrating year at Arrows, scored a final, memorable win for Jordan at a wet Spa-Francorchamps in 1998 before hanging up his racing boots the following year.
A quarter of a century on from his title, Hill remains connected to F1 as a TV pundit on Sky F1. In some respects his sport is a different world to the one he knew, and mostly for the better. "The media business has become much more sophisticated and professional," he says.
"I don't think it was like that back then, which is why things could get out of hand. You didn't have any right of reply to something like The Sun, which had five or six million readers back then. The papers and TV channels were the only medium through which you could get your message out. Now drivers have the ability to fight back through social media with their own version of events if they need to. The balance is tipped in favour of the performer. The fans connect directly with the driver, not through the media."
Then again, the essence of racing and winning in F1 hasn't changed. "When I'm asked to give my opinion on Sky F1, a lot of the technicalities of what they are doing are quite different," says Hill. "But fundamentally it's about the same thing and the same sport. I think Fangio would recognise what we're doing here. My dad would have been totally amazed and super-impressed by what he would see today in the cars."
Damon is 15 years older than his father was when he died in 1975, and the clock ticks on. Dear old Murray is gone too, never to be forgotten, just like those scenes at Suzuka in 1996. He wasn't the only one with a lump in his throat that day.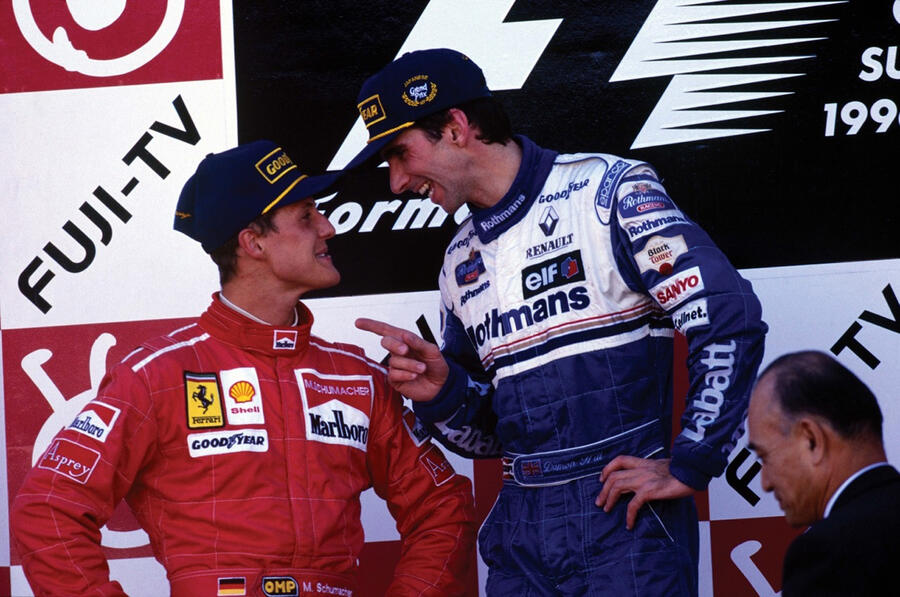 Damon Hill on…
Lewis Hamilton: "He was very young when he came into F1 and a lot of his blunders were visible and public. He's got his own views on things and he's turned it into a massive plus. He has taken on issues which are clearly dear to him and used his position to communicate what he wants to say. That's courageous. It means you're going to take more flak, but it seems he knows how to deal with all of that. He's impervious to it now."
Max Verstappen: "When he said winning or losing the title won't change his life, the truth is no competitive person doesn't want to win! That's a cover, isn't it? But he does it very well. He does give the impression that he just likes to compete and he'll see what the result is at the end of play. There's some truth in that; he's not a hand-wringer or nail-biter. He's a pretty tough young man psychologically. Not fragile at all."
Adrian Newey: "Adrian was very helpful to me, working with my engineer Tim Preston. It was interesting watching the Mexican GP this year. We were talking about why Red Bull have suddenly turned the tables on Mercedes. It's probably because Adrian is back. He has a value when it comes to not only the design of the car but also its running at a track. He understands racing, racing drivers, cars, the whole thing. It was good to have him in my corner, and he's still doing it today, which is amazing. That comes from his fierce competitive spirit. He absolutely wants to be the best all the time."
The Netflix effect: "F1 has got better in terms of its willingness to give a bit. Under the Ecclestone and Mosley epoch, its attitude was very much restrict supply and increase demand. Since then, it's been recognised that a little bit of free product increases interest. Netflix isn't free, but it is something available that wasn't before. That has whet the appetite and fired the imagination of young people who previously never paid attention to this sport. They didn't understand, couldn't get into it and Netflix has taken them around the back door and got them into the motorhomes. I'm struck by the number of children of friends I've known for years who come up to me, have never asked me about F1 and are now desperate to know about it. It's because of Netflix."