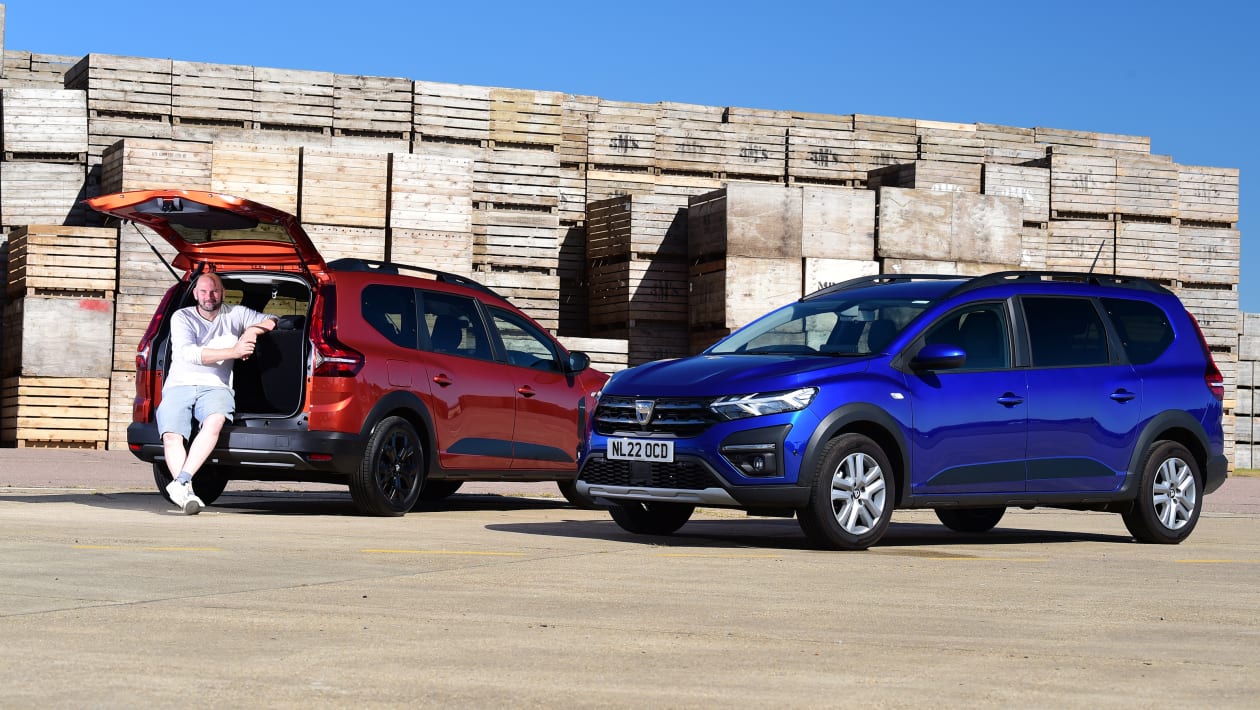 Verdict
In terms of value for money, our Jogger is a brilliant, five-star car all day long. My only reservation is the slight compromises to keep things affordable. I love my music and want to hear it through the best system I can possibly afford.
Mileage: 2,900
Economy: 43.1mpg
When you start running a new car from the Auto Express fleet and the first serious journey you make is driving the car to our annual New Car Awards photoshoot, you know you're on to a winner – quite literally! The Jogger scooped the Best Family Car award for 2022, and it was even in with a shout of taking our full New Car of the Year gong, only to be pipped by the Nissan Ariya.
It's easy to see why the Dacia was in contention; it's impressed me from day one. I was already aware of the brilliant, flexible seating, having tested an example back in March. I can fit seven into the car if needs be, and I'm not talking about squeezing them in either; I'm a chunky six-footer and can easily sit in either of the back two seats. The stepped roofline and sculpted ceiling really help here, and the legroom is decent enough, too. Getting there isn't the most graceful procedure, though, because I need to fold the rear bench forward and then wriggle into the rear quarters.
More reviews
Car group tests
In-depth reviews
Road tests
Both of the third-row seats can come out altogether, but there is little point in removing them, because they can both fold forward to sit against the back of the middle row of seats. This added flexibility means I can run the car like a conventional five-seat hatchback and shift bigger loads in the boot or choose to carry six people with enough space for a buggy. It's all very clever.
It's also good to drive, if not spectacular. I've found the Dacia's suspension a bit bumpy on urban potholes and speed humps, but have been impressed with the steering and handling. It feels like a small car when driving around town, rather than an SUV or estate. The 1.0-litre engine does sound a bit industrial, especially after driving an EV for the last six months, but I had forgotten how much I enjoy a manual gearbox.
Our Jogger's six gears make it great for motorways, although most of my journeys have been town-based. I'm currently getting 43.1mpg with little effort – not bad considering the very heavy lifting the air-con has been doing recently.
But the main way the Jogger has won me over is with its standard kit. I like to play a game where I give family or friends a lift and talk them around the gadgets in the car, then get them to guess the overall price.
So far, guesstimates range from £24,000 to £36,000 – almost twice the actual figure of £17,840 (including £895 of options). Passengers are amazed. To be fair, these guesses came from friends who aren't car fanatics, but the truth is that there isn't too much in the cabin to give away that Dacia is a budget brand. Much of the switchgear comes from sister brand Renault, with some of it resembling that in the Clio supermini.
Dacia has been so clever choosing just the key tech buyers actually want, which keeps it cheap. I was surprised to find our Jogger came with front and rear parking sensors and a reversing camera, cruise control, active braking and blind-spot warnings. The remote locking activates as you walk up to the car, which is handy when carrying a baby or shopping (both on my weekly list of tasks). The steering wheel has controls that let you switch to a digital speed reading – easier to glance at than the old school dials – plus mpg readouts on the infotainment screen.
This mid-tier Comfort trim – the closest equivalent is now Expression following a range tweak – misses out on built-in nav. You get it in the Extreme SE, but when Apple CarPlay is standard, I don't think the extra £800 for the top trim is worth it.
So are there any drawbacks? Well, as with all things in life you get what you pay for. Being lucky enough to drive new cars all the time, I'm used to a certain level of tech and the Dacia's sound system is a little tinny, while the DAB radio can lose signal. Otherwise, I'm happy. I've always preferred ingredients-shopping in Aldi to Waitrose – it's what you do with them that counts.
| | |
| --- | --- |
| Model: | Dacia Jogger Comfort TCe 110 |
| On fleet since: | June 2022 |
| Price new: | £16,495 |
| Engine: | 1.0-litre 3cylinder, petrol turbo, 108bhp |
| CO2/tax: | 131g/km/£165 |
| Options: | Metallic paint (£595), Spare wheel (£300) |
| Insurance*: | Group: 15 Quote: £362 |
| Mileage: | 2,900 |
| Economy: | 43.1mpg |
| Any problems? | None so far |
*Insurance quote from AA (0800 107 0680) for a 42-year-old in Banbury, Oxon, with three points