Why we're running it: Could this finally be an EV that appeals to both the family driver and hot hatch fan?
Life with a Cupra Born: Month 2
Is the grass greener for Born buyers with deeper pockets? – 17 August
There are few things more irritating than deciding on a new car and then realising just a little way down the line that you've backed a loser. So it was with some trepidation that I approached the range-topping Cupra Born e-Boost 77kWh that a colleague recently had in on test.
Boasting a healthy 227bhp over 201bhp, as well as that larger battery (77kWh compared with 58kWh), it looked to have my Born soundly beaten – as you would expect for its £41,975 price, some £3585 more than mine, spec for spec.
Out in the real world, however, the difference in performance isn't immediately obvious – certainly not as much as it would be between my car and the 58kWh e-Boost, which combines the higher-output motor with the lighter weight of the smaller battery to sprint from rest to 62mph more than 0.5sec faster.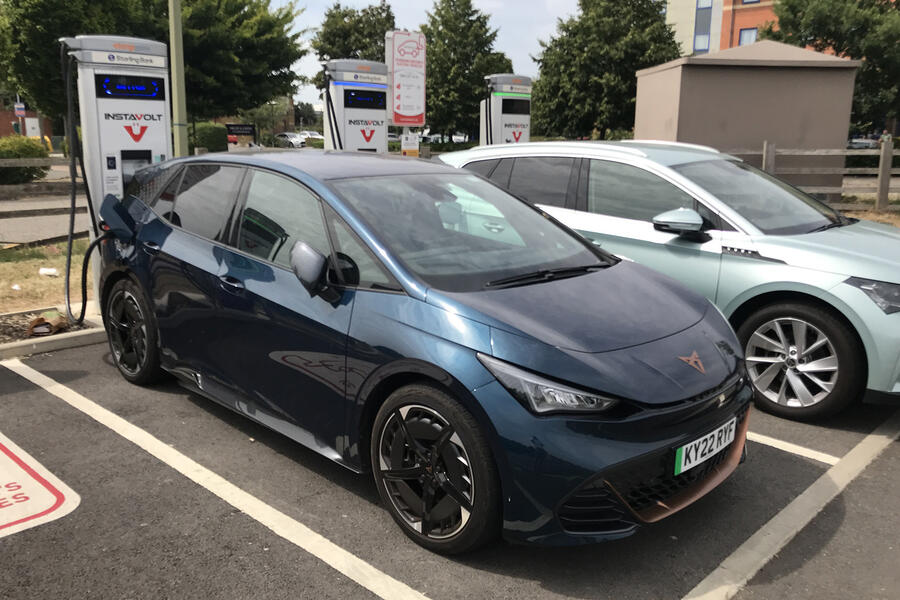 The electric motor's instant hit of torque means that even a normal Born feels plenty sprightly enough, particularly in its more dynamic driving mode, so I'm not sure that I would need to spend the extra £800 or so for an e-Boost version.
The heavier battery of the 77kWh model more than halves the e-Boost's advantage, too, so the additional performance is barely noticeable unless you happen to come across a 201bhp car at the traffic lights – and even then you will need decent reactions to leave it in your wake.
Where the bigger-battery car really scores – perhaps unsurprisingly – is in its range. My colleague reported seeing estimated 320-plus miles on the dashboard readout, whereas mine is generally pretty exhausted after 200 or so.
Having opted for a 77kWh car will also be a boon when you pull up at a rapid charger, because it permits a useful 125kW input, whereas mine has a self-imposed 100kW limit to avoid frying the batteries.
Is that combination worth the extra £3595? If I were frequently doing longer journeys, perhaps, because sitting around tied to a mains socket when you've a deadline to meet is a pain. The majority of the time, however, my Born is trundling around town on shorter runs – be it commuting to work, shuttling my children to their various activities, taking my dogs to the park or, as was the case recently, delivering dozens of parcels.
For that kind of low-speed, stop- start activity, particularly when it's getting regular top-ups in between, circa 200 miles seems plenty.
A different battery size wouldn't affect my few gripes with the car, either, which mostly centre around the silly touch-sensitive 'buttons' and the intrusive blindspot that presents when you're trying to pull out of junctions – an inevitable result of those thrust-forward A-pillars. Isn't it reassuring to know that you've made the right decision, rather than an expensive mistake?
Love it
Born for the family
It's not a huge car, at 4324mm long, yet the Born is remarkably spacious inside. Limited rear head room aside, I've yet to find it wanting.
Loathe it
Inslowtainment
The touchscreen infotainment system is just so slow, both to connect to my phone and to toggle between functions – a major flaw in this day and age.
Mileage: 3634
Modern controls aren't always as useful as they look – 10 Aug
When building an EV, manufacturers seem to feel the need to 'modernise' things that worked perfectly well before. Take the buttons in the Born: they're touch sensitive, and even the slightest brush operates them. Not ideal when it means every time you go round a corner you turn up the stereo's volume or – worse – increase the speed of the cruise control.
Mileage: 3320
We test our electric hot hatch's range with a rare trip beyond the limits of London – 3 August
Not everyone has the ability to charge an electric vehicle at home, and although I'm lucky enough to have a driveway on which to park our Cupra Born, I don't yet have a proper charger installed.
As a result, life with an EV takes a bit of forward planning to ensure I always have the charge I need before I next get an opportunity to plug it in. I'm fortunate to have access to 11kW chargers at work, and one of my closest friends is a true EV-angelist who lets me leave the Born on his driveway for a few hours when I'm running low. He has even lent me the three-pin hook-up from his Jaguar I-Pace for emergencies – although it's so slow that it's barely worth the effort unless I can leave the car alone for 24 hours.
When I'm only doing short journeys around town (which, to be fair, has proved to be the central part of the Born's remit so far), that's usually plenty. The problem occurs when I have a long journey ahead, as I did with a recent trip from my home in London to deepest Worcestershire.
At around 160 miles each way, it would result in at least one charge being needed, particularly because I hadn't until then spent much time on motorways, so its energy consumption at speed was a bit of an unknown quantity. (As a rule of thumb, I tend to get around 200 miles from a charge but will usually be looking for a plug after 180 or so.)
Using a combination of a charger at work and a socket at home, I ensured the battery had 100% charge before leaving and decided that the Instavolt Stroud Park charging station in Banbury, just a stone's throw from the M40, would be an ideal top-up point.
At speed, the Born is a serene companion, its refinement and instant power delivery making it a fine motorway cruiser (even if, as with most electric machinery, its top speed is fairly limited).
Having left early on Sunday morning, I was feeling relaxed and confident by the time I arrived at Banbury with 53% of the 58kWh capacity left. I nabbed one of the remaining 125kW outlets (noting that the Volkswagen ID 3 nearby had been hooked up for 12 hours, hogging one of the fast chargers) and popped over the road for a coffee and a bacon roll while the car took 25 minutes – at a cost of £10.05 – to get back to 82%.
From there, it was a 120-mile round trip to Shelsley Walsh hillclimb, where I was due to spend the day at the brilliant Classic Nostalgia event. I thought I would have plenty in hand but, perhaps because I had been enjoying the Born's rewarding chassis on the fantastic country lanes around Shelsley, it was beginning to look touch and go on the return trip to Banbury.
In the end, I had to turn off the air-con in the stifling heat of one of the warmest weekends on record to avoid using up too much juice (on a full charge, the estimated 264 miles drops to 220 as soon as I touch the temperature control).
I limped back into the Stroud Park station showing just 16% and a 34-mile range and quickly demolished another large Costa and a toasted sarnie as the fast charger got the car back up to 85% over the ensuing 39 minutes for a further £23 – more than enough to get me home and leave plenty in hand for the next morning's commute.
None of the above felt like a chore, particularly because I was driving solo on this occasion, but those stops combined did add an hour or so to an already lengthy journey time – and while it's cheaper to fill than a petrol car, I swear that any savings I'm making on fuel costs I'm spending on coffee and baked goods…
Love it
Quick and slick
The instantaneous and refined power delivery remains a novelty that refuses to wear off. Around town, it's a joy.
Loathe it
Intruded upon
The lane-keeping assistance is rather more 'helpful' than I would like, so much so that at times I find myself wrestling with the wheel.
Mileage: 3105
Life with a Cupra Born: Month 1
Welcoming the Born to the fleet – 20 July 2022
Over the past few years, the electric vehicle market has matured rapidly. No longer does an EV have to be self-consciously quirky to catch the imagination of buyers (think BMW i3 and Honda E), but that shift has resulted in a swathe of newcomers that are undoubtedly worthy but, well, really rather dull.
Spend enough and there are plenty of thrills to be had from the top-end Porsche Taycans, Audi E-trons and Teslas, but what if you have only a modest budget and fancy something that's entertaining to drive as well as environmentally friendly?
Cupra reckons the Born could be the answer, even if the raw ingredients aren't exactly enough to set your trousers aflame: it doesn't take much of an automotive expert to spot that beneath the bespoke badging and sharply defined copper detailing lurks nothing more exciting than the Volkswagen ID 3's underpinnings.
That at least means it's practical. The boot feels larger than its 385 litres – and, thanks to a dealer-fit optional rubber mat, it's now dog-friendly, too – and the compact electric motor and single-speed transmission leave acres of room for passengers in the cabin.
Plenty of decent-sized SUVs would struggle to better the Born's rear-seat space, which has masses of leg room, although my kids have complained that the central seat is both too firm and too high, so even my 13-year-old's taller friends are almost touching the ceiling.
Things are pretty rosy up front. At first, I was unsure about the Dinamica trim – which looks uncannily like late-1980s Ford Escort RS Turbo velour – wrapping the inviting-looking bucket seats.
It feels hard-wearing, though, and under hard cornering (of which more later) is grippy as well as comfortable. And because my car is a top-spec V3, it adds 12-way electrical adjustment, pneumatic lumbar support and an opulent massage function to the heated seats and wheel of V2 cars.
A set of snazzy seats, buckets or otherwise, does not a hot hatch make. But return to the spec sheet and there are plenty of positives on paper for the keen driver. First of all, 201bhp in a small family hatch is a decent figure, even if it does have nearly 1800kg to haul around. (A more potent 227bhp version is available, should that not prove sufficient.)
Second, that double century is delivered to the rear wheels, and the positioning of the battery pack beneath the floor leads to near-perfect weight distribution. The above is all true of the ID 3, of course, and that's hardly a ball of fire.
But the Cupra has retuned, stiffer sports suspension to give it that longed-for hot hatch feel. It's pretty swift, too: in our road test (6 July), this very car sprinted from rest to 60mph in 6.7 sec – highly respectable for a family hatchback, and slightly swifter than a Mk5 Golf GTI.
As for the rear-drive layout, don't go thinking that will turn it into a lairy, tail-sliding monster; but there is no doubt that the Born has a genuinely playful chassis.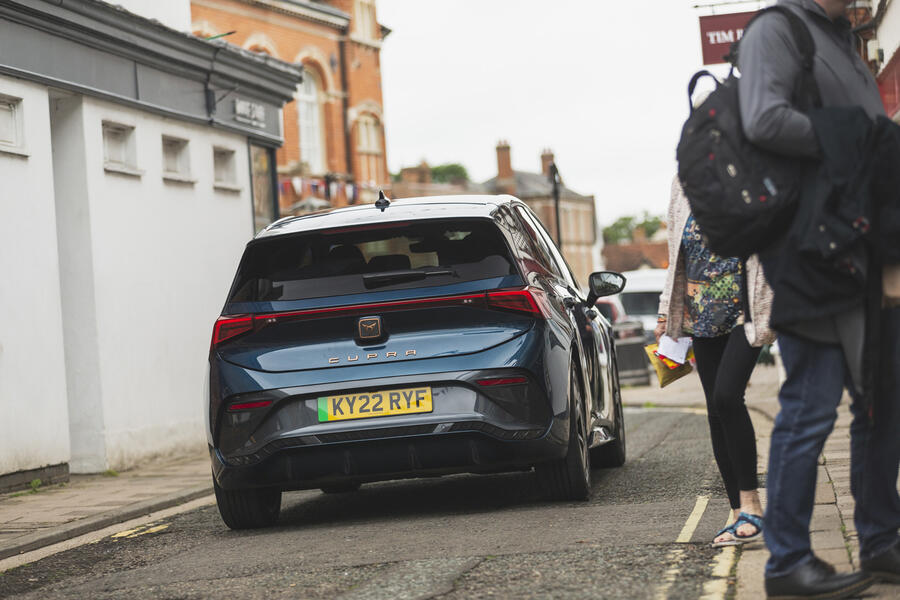 The steering isn't full of feel yet it's precise and accurate, and the Cupra turns in to corners keenly. The biggest surprise is how adjustable it feels on the throttle, tightening its line neatly with a little lift – yes, like a proper hot hatch. At a shade over 4.3m long and 1.81m wide, it feels compact, too, and quickly inspires confidence on a back road.
And that's in Normal driving mode. There's also a Sport option, but it's so hard to find among the endless menus that I usually struggle to summon the enthusiasm. So many of the car's functions are buried deep in the infotainment system that it makes it all the more infuriating that this system is so slow and unintuitive to use.
After a forensic search, I eventually tracked down and engaged Auto Hold, but I'm not sure I could find it again without a map. When you're not in the mood to thrash it, the Cupra is a pretty relaxed companion.
Its 229lb ft of torque is available from rest to 4200rpm, giving effortless pace, and, despite the 20in wheels that come with V3 spec, it rides pretty serenely most of the time: firm, but with bump and thump well isolated from the cabin by quality dampers.
That contributes to an overall sense of impressive refinement, and the range is pretty decent, too: 200-plus miles per charge is easily achieved from my 58kWh car, even when driving briskly, although relying on the air-con during the recent hot weather did put a dent in that.
If you often have to do longer distances – or opt for the more powerful motor – the larger, 77kWh battery might be a better option.
It remains to be seen whether the e-Boost motor tips the Born into full hot hatch territory, but there's also a fine tradition of 'warm' hatches that offer just enough entertainment to satisfy enthusiasts without compromising their family car qualities. It's a moniker that seems to suit the Cupra perfectly.
Second Opinion
I looked after Alastair's Born for a while and it really grew on me. After the initial frustration with the infotainment and touch-sensitive steering wheel, I came to appreciate the sorted chassis and comfy driving position. I wouldn't have minded being able to keep it for a bit longer… IV
Illya Verpraet
Cupra Born specification
Specs: Price New £38,390 Price as tested £39,230 Options Aurora Blue paint £840
Test Data: Engine permanent magnet brushless motor Power 201bhp Torque 229lb ft Kerb weight 1811kg Top speed 99mph 0-62mph 6.7sec Range 209 miles economy 3.6mpkWh Faults None