What is it?
If you think the good thing about the BMW iX is that you can't see how weird it looks from inside it, then you should see inside it.
BMW's third BEV (after the i3 and iX3) is a big SUV, nearly five metres long, two metres wide and 1.7 metres tall. Not too dissimilar to the X5, then, only more spacious inside.
It's also more radical inside, and not always in such a bad way. There's a huge screen across the dashboard centre, but the rotary infotainment controller remains, only now created from what looks like crystal glass and sited on a tall, wood-finished console.
The seat controls have migrated to the doors (not sure why), which are luxuriously padded, and the steering wheel is sufficiently weirdly shaped that, well, I think it's a wonder they were sensible enough to make it the same on one side as the other. It's also stupid to hold, because the spokes are right where your fingers would like to wrap around the rim. And the heater controls are now on the touchscreen, annoyingly. You can't pick normal round instruments, but at least they tell you what you need to know.
I can imagine seeing these in 50 years' time in the way that we browse 1970s Citroëns in the classifieds now.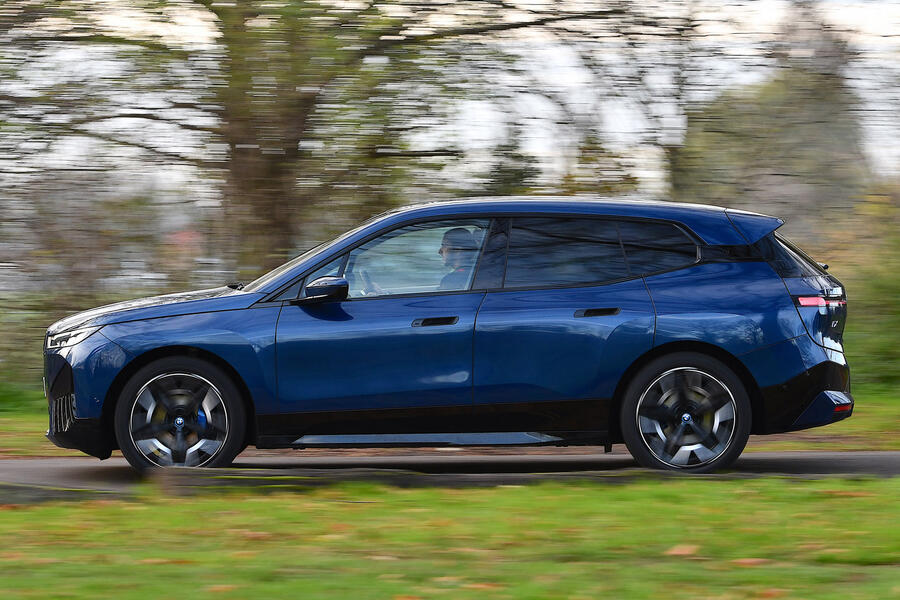 What's it like?
It is, though, incredibly spacious front and rear, and it gives you great visibility. But the boot floor is high. Swings and roundabouts. I think more roundabouts? Whatever: in the same way that the i3 and i8 were radical compared with other BMWs, it seems the iX will go the same way.
Our test car is an xDrive40 so has a motor front and rear, making a total of 322bhp, with a 71kWh (usable) battery under the floor that gives a range of 250 miles (officially) and can be charged at rates of up to 150kW. It costs around £73,000 before options.
As a result of all that hardware and the car's shape, its total weight is 2365kg, and the wheels are at least 20in, so this isn't an SUV that you will be taking off road. But given that it's zero-emissions, maybe you don't have to feel bad about that.
It's a slightly curious thing on the road, and again in some ways not too BMW-ish.
The ride is incredibly well isolated. You expect an EV to be quiet, at low speeds particularly, and of course it is, but I can't remember the last time that I drove something that absorbs bumps so well at higher speeds. It's Mercedes-Benz S-Class good or better. At lower speeds it's good,too, if marginally less cosseting. What's more unusual is how responsive, light and quick the steering is.
Usually in a BMW, there's a gradual build-up of weight and response as you steer, because the car has been developed to sit for days at 155mph (the iX is limited to 124mph), but here it takes on no additional weight. It isn't unstable; it just feels very willing to change direction.
There's no great connected feeling here between steering and car, and that's unusual in a BMW – even one of the big SUVs. There's a little roll as you do turn, but while this is a tall car, most of the masses are low down.
That makes it an unusual, although not bad, driving experience. Quiet, removed and faux-agile, with some fantastic and some frustrating interior touches.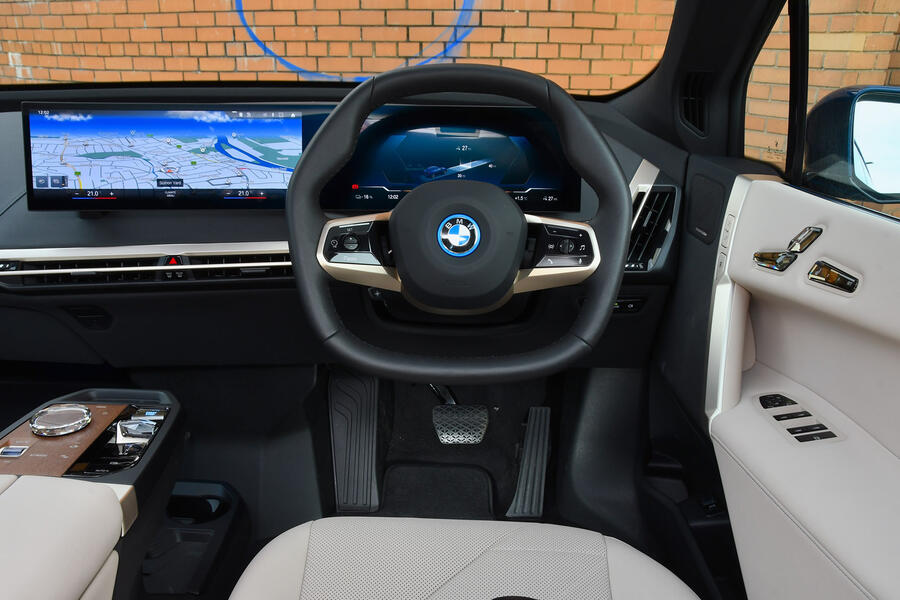 Technical specs

Model tested:
iX xDrive40 M Sport
Electric motor/s:
2x permanent magnet synchronous
Drive battery:
76.6/71.0kWh (total/usable)
Driveline layout:
Dual-motor, all-wheel drive
Model tested
iX xDrive40 M Sport
View all specs and rivals
Electric motor/s
2x permanent magnet synchronous
Drive battery
76.6/71.0kWh (total/usable)
Driveline layout
Dual-motor, all-wheel drive