Why we're running it: To see if the BMW iX, the firm's second dedicated electric car, can live up to its range-topping billing

Life with a BMW iX: Month 1
Welcoming the BMW iX to the fleet – 8 September 2022
The visual statement and ensuing debate over the styling of the iX has somewhat overshadowed the countless other far greater and more significant statements that are being made by BMW's new flagship.
They include, among others, the sheer amount of technology this car packs in, plenty of it breathtaking and truly innovative, and much of it so cool that if Apple had launched it, we'd be hearing about it for years.
Then there's the positioning of the car, and how successfully BMW has managed to pull it off. The firm has long dabbled in the luxury space with the likes of the 7 Series, 8 Series and more lately the X7, but never with overt success. Yet the iX feels so quiet, refined, powerful, comfortable and high-quality that you'd happily line one up against a Range Rover.
It may still lose, but it would not be a foregone conclusion – and that's something against the standout luxury SUV of the past 50 years.
There are those, though, who will never get past the looks, in particular that grille, and that's fine. It's not for my eyes, truth be told, but you can get it blacked out, and in certain colour and trim specifications it doesn't stand out as much as some of the photos suggest. It's not just any old grille, either: it houses many of the car's sensor and safety cameras and is coated in material that self-heals should it get chipped or scratched. That aside, let's call it somewhere between bold and divisive and get on with enjoying the car's other qualities, of which there are many.
You could call the iX a distant successor to the i3. It is only BMW's second dedicated fully electric car, arriving at the same time as that small EV icon sadly departs. Both are built around 'carbon cage' core structures and have light, airy cabins full of interesting and innovative materials, but given that the iX is five metres long and starts at close to £80,000, the similarities soon end.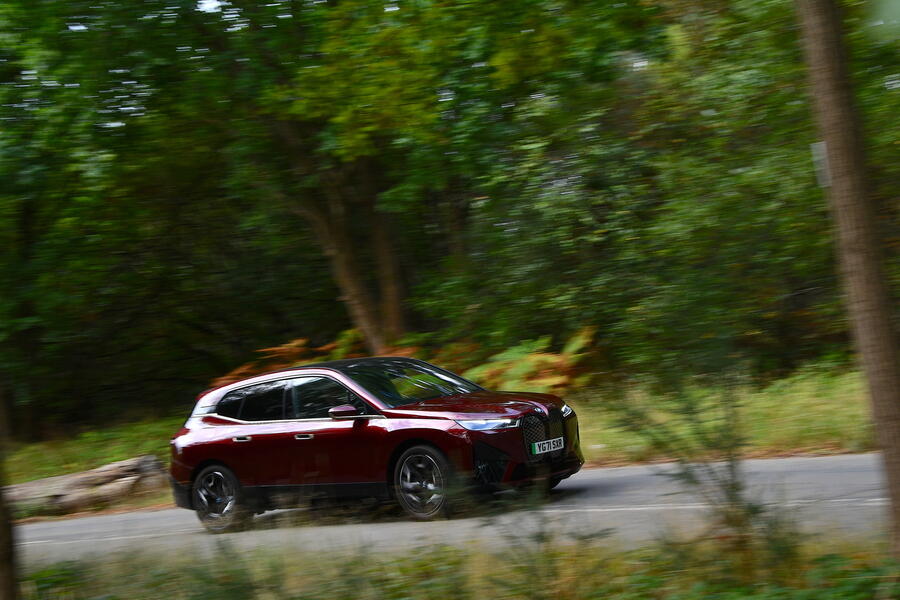 Three versions of the iX are offered. Bookending the range are the xDrive40 with a 71kWh battery good for a claimed 257-mile range, and an M60 with a 105kWh battery that'll get you a claimed 348 miles between charges. In the middle is the xDrive50 we have here, which uses the bigger battery from the M60 but gets an extra 23 miles of range as it does without the extra power and performance of the top-end model.
The xDrive50 uses twin electric motors for a combined 516bhp and all-wheel drive. That's a lot of power but it's needed for a car weighing more than two and a half tonnes – a figure that would be higher were it not for that carbonfibre core. Put your foot down and you'll be under no illusions: this is no normal big-range EV, if you hadn't realised that already.
The iX is a car that's determined to do things differently and really deviate from the internal combustion era. That first of all manifests itself in the spaceship-style noise it makes under acceleration, a soundtrack created by none other than movie composer Hans Zimmer (think Top Gun: Maverick, Gladiator and, er, Kung Fu Panda).
The volume and intensity of the sound are all relative to your use of the right pedal. That shouldn't be a revelation because that's essentially how driving a combustion-engined car works, but nobody has yet done something this different and this successfully. It sounds like doors opening in a sci-fi film, and it's good fun. I'm glad BMW made it this way.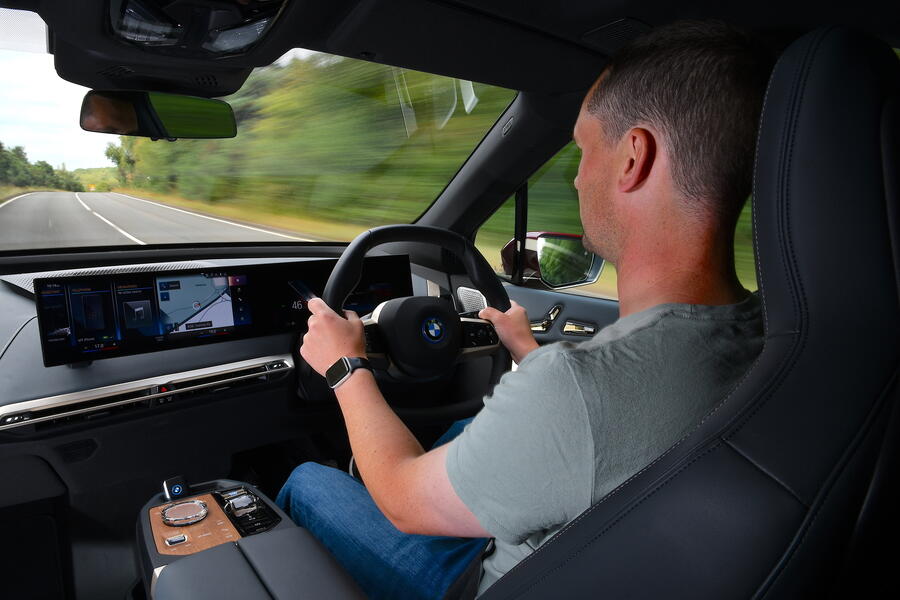 Before you drive the iX, you will already have marvelled at the cabin. It mixes high-quality materials that are easy on the eye and lovely to touch with technology that's undoubtedly in-your-face yet still sympathetically integrated. Better yet, it is also for a large part controlled by some actual buttons and a click wheel. Such common sense will never catch on…
There's so much to explore in the iX, and that's before you get to the £22,140 of options our M Sport-trim test car is fitted with. The likes of the £3500 Sky Lounge Pack (next-level cool panoramic roof) and £5000 Technology Plus Pack (plenty of clever cameras here) are all things we'll come back to.
For now, I'll doff my cap to the lovely £1890 Aventurine Red III and £550 Titan Bronze trim of our car, a lovely combination that's refreshingly not monochrome, and get settled into that oh-so comfy Sport Seat (part of the £3900 Comfort Plus Pack), from where you can enjoy the most soothing and calming of rides.
Refreshing is a word I think we'll keep coming back to. As a ground-up electric car, no assumptions have been made in the way it has been designed, engineered and created, and neither does it feel like one of those electric cars in which an internal combustion engine has simply been swapped out for some electric motors and a battery.
A different approach has been taken across the board, and the result is a car that already feels like one that will remain not only a benchmark for how to approach the development of electric cars but also one with plenty of 'firsts' to which we'll refer back to for years to come. Rarely has a long- term loan felt like such an adventure.
Second Opinion
I liked the informality of the iX when we road-tested one earlier this year. You may not think it's beautiful, but there's something disarming about the design that adds character and diffuses the stuffy grandiosity that can pervade with big luxury cars. Spend some time with it and you'll realise that this car is really likeable, and it somehow feels inclusive and informal. It's also so damned good at being quiet, supple, relaxing everyday transport.
Matt Saunders
BMW iX xDrive50 M Sport specification
Specs: Price New £94,825 Price as tested £116,965 Options Technology Plus Pack £5000, Comfort Plus Pack £3900, Sky Lounge Pack £3500, Interior Design Suite I Amido £3250, Visibility Pack £2000, Aventurine Red III metallic paint £1890, Clear and Bold Interior Application £1050, bi-colour Aero alloy wheels £1000, Titan Bronze exterior trim £550
Test Data: Engine Twin electric motors Power 516bhp Torque 564lb ft Kerb weight 2585kg Top speed 124mph 0-62mph 4.6sec Claimed range 320 miles Economy 3.4mpkWh Faults None Expenses None