What is it?
The MPV is on the verge of extinction, its place in many manufacturer price lists taken by SUV-infused family cars that offer less space and practicality but more of the me-too kerb appeal that buyers currently crave.
The situation hasn't been lost of BMW, which has just launched its second-generation 2 Series Active Tourer, a compact people carrier in the mould of Citroën C4 SpaceTourer and Renault Grand Scenic, both of which have been killed off in the UK as a result of slow sales.
That hasn't been a problem for the Active Tourer so far. The original has racked up a decent 40,000 sales since its introduction in 2015. Even so, the brand isn't taking any chances, so in a neat marketing sleight of hand, the box-fresh BMW is being presented as a 'crossover-influenced' model. See what they did there?
So what exactly is the 2 Series Active Tourer? Well, it's an all-new machine for a start, a replacement for the original, which had the distinction of being the firm's first-ever front-wheel-drive machine, essentially paving the way for the acceptance of the current F40-generation BMW 1 Series. It's underpinned by the brand's latest FAAR front-wheel-drive architecture, which means the car is bigger than before and, crucially, capable of housing BMW's latest Gen5 plug-in electric drivetrains.
As before, it aims to squeeze as much interior space as possible into a footprint that's only 67mm longer and 25mm wider than a 1 Series. That means there's much more height and a design that follows the typical one-box MPV template. And the crossover parts? Erm, there aren't really any obvious ones, the 2 Series rejecting the raised ride height and chunky body cladding approach in favour of styling that features a few design cues from the firm's X-rated off-roader line-up.
At launch, there will be a 218d diesel and two 48V mild-hybrid-assisted petrols (the 220i and 223i), but a pair of plug-in hybrids will arrive later in the year. These two will be available in 225xe and 230xe guises, with the latter delivering a healthy 322bhp, while both are capable of a WLTP-stamped EV range of 56 miles thanks to a 14.2kWh battery.
Elsewhere, the range has been rationalised to Sport, Luxury and M Sport trim levels and all versions now get many of the brand's latest array of driver assistance systems as standard (although you're likely to switch most of them off after that first tug of the wheel from the lane keep assist). Prices start at £30,625 and rise to £36,390, but are expected to increase more with the arrival of the PHEV models.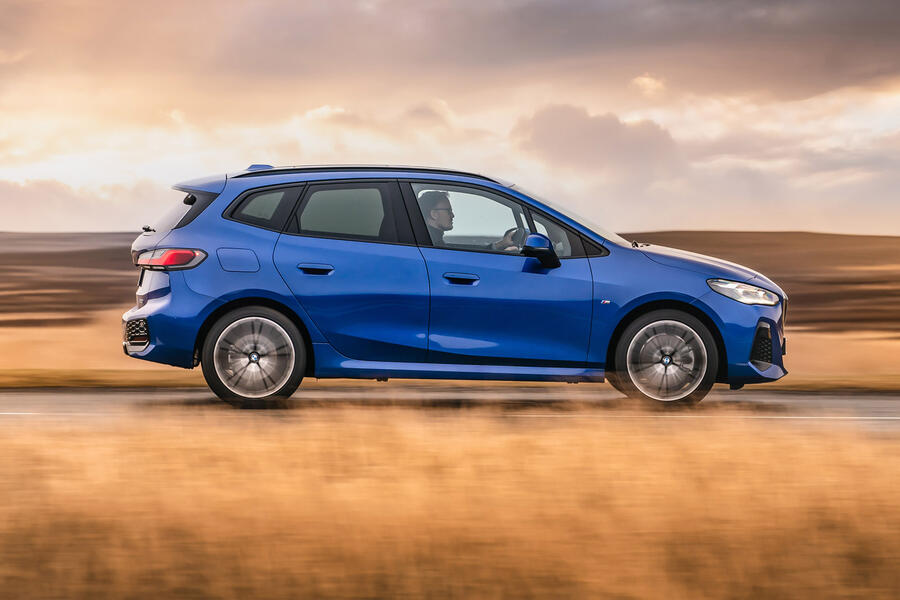 What's it like?
Let's deal with the inside first, because an MPV succeeds or fails by its ability to deliver on the family-friendly front. After all, what's the point in buying a car that's maybe not as easy on the eye or as dynamically dexterous as an SUV or family hatch if it doesn't deliver an extra slice of space and practicality?
Although it isn't an SUV, the 2 Series sits you higher than a conventional hatch does, plus the larger windows give you both a great view out and let more light into an interior that feels as bright and airy as its increased size would suggest.
In truth, there's nothing innovative about the Active Tourer's cabin, but it does offer a useful increase in room over the 1 Series despite taking up roughly the same space on the road. Those in the back get a generous amount of head and leg room, while the 40/20/40-split folding rear bench slides back and forth so you can either free up extra space for people or luggage, depending on your needs.
There's a decent amount of storage, too, with large door bins front and back, and a big centre console cubby features a neat smartphone holder and wireless charging pad. Sitting between the front seats is a large trinket tray, while 'floating' above this is an armrest that also houses the gear selector toggle and iDrive infotainment controls. Yet there's none of the numerous lidded hideaways and thoughtful touches that marked out its one-time French rivals.
The boot is big at least, measuring 406 litres with the seats in place (and pushed back as far as they'll go) and 1455 litres with them folded down. There's also some handy storage hidden below the boot floor. Better still, the new FAAR architecture means the battery for the hybrid versions is mounted under the floor between the axles, so there's no reduction in space for occupants or luggage.
Behind the wheel, the 2 Series looks the part, thanks to the decision to give it the same curved dash display already seen on the electric i4 and iX models. Comprising a 10.25in instrument cluster and 10.7in infotainment screen, the set-up also packs the brand's Operating System 8 iDrive software, which is faster acting than before.
Yet while it appears slick and works well enough at a standstill, it's a little frustrating on the move because of the constant need to tap away at a screen for basic functions usually the preserve of traditional buttons. That said, the augmented-reality sat-nav that overlays directions on a real-time camera view of the road ahead does work brilliantly.
Elsewhere, BMW has tried to distill the spirit of some of its sportier models into the Active Tourer, our 223i M Sport test car feeling as agile and biddable as you'd want from a car of this type.
It's certainly not short of usable performance, the 215bhp 2.0-litre four-cylinder petrol combining with the standard seven-speed dual-clutch gearbox to deliver a warm-hatch-baiting 0-62mph time of 7.0sec. (It's also claimed to be able to crack 150mph, which boggles the mind just a little.) It's aided by that 18bhp mild-hybrid motor, which adds some low-speed torque fill (and the occasional squirm of torque steer) to deliver a muscular boost off the line and when overtaking.
It's not the most charismatic unit, with a synthesised accompaniment to its bland note when extended, but it's smooth enough and usually works well with dual-clutch auto. Only occasionally is the transmission wrong-footed, particularly at low speeds as it and the stop-start system contrive to deliver some learner-driver-specification jerky getaways.
Another niggle is the brakes, which lack the strong initial response that inspires confidence and suffer from a long pedal action that often results in you having to apply sudden inputs at the last moment because the car isn't slowing as you'd expected. Still, there's nothing wrong with the outright stopping power.
The steering is quick and decently weighted, if far from the last word in chatty feedback, while strong grip allows the 2 Series to cling tenaciously to your chosen line. It can feel a bit disjointed in tighter turns, as if the rear axle is slightly out of phase with the front as it struggles to keep up. But through faster bends, where there's more load going through the chassis, the ActiveTourer feels poised and planted, scything this way and that with commendable composure.
It's aided by the M Sport's standard adaptive dampers. Even in their softest setting, they deliver strong body control, which means the 2 Series rarely feels as heavy and tall as the scales and tape measure suggest. The flipside is that the Active Tourer isn't quite as cosseting as you'd expect of a family-focused runaround.
It's not uncomfortable by any means, but a firm edge to the ride means that on anything other than table-smooth surfaces the BMW is always bobbing around in rhythm with the road. The expectation is that the less focused Sport model on smaller, 17in rims will feel more compliant. (Our car was riding on optional 19in alloys.)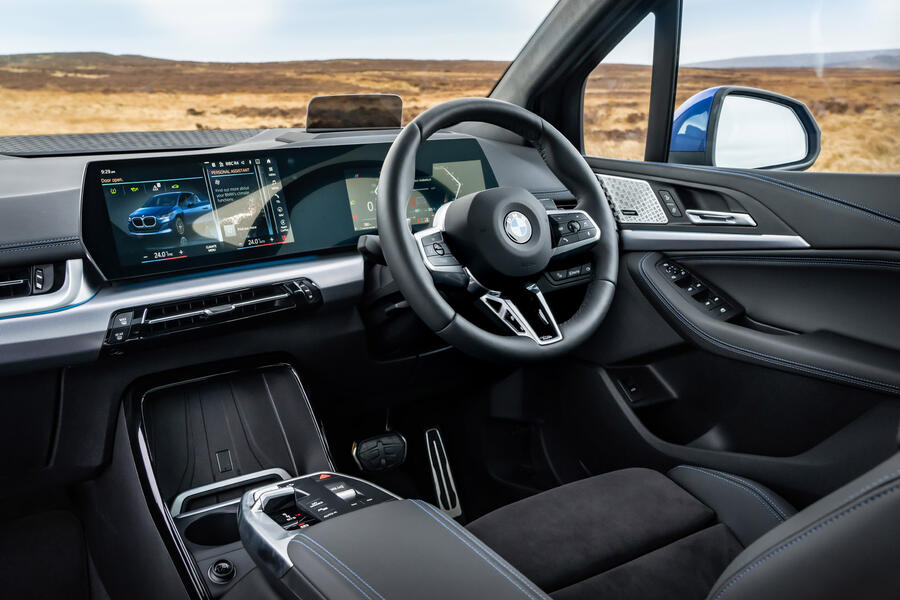 Should I buy one?
It's a shame that cars like the 2 Series Active Tourer are on the wane, because in a rational world where style and image didn't matter, these machines would be the family cars of choice, rather than bluff-fronted and heavier SUVs that offer no practical advantage over a traditional saloon or estate.
The BMW will no doubt find a loyal band of buyers who will revel in this car's combination of hatchback handiness on the road and an interior that's flexible and offers the space to rival an executive saloon. And when you're constantly carting about a family and their things, there's a lot to like in that approach. Moreover, it's a more dynamic, better-equipped and versatile choice than its only real remaining rival, the Mercedes-Benz B-Class.
However, given its more workaday remit, the cheaper and smoother-riding Sport and Luxury 220i models probably make more sense than this tinselled range-topper.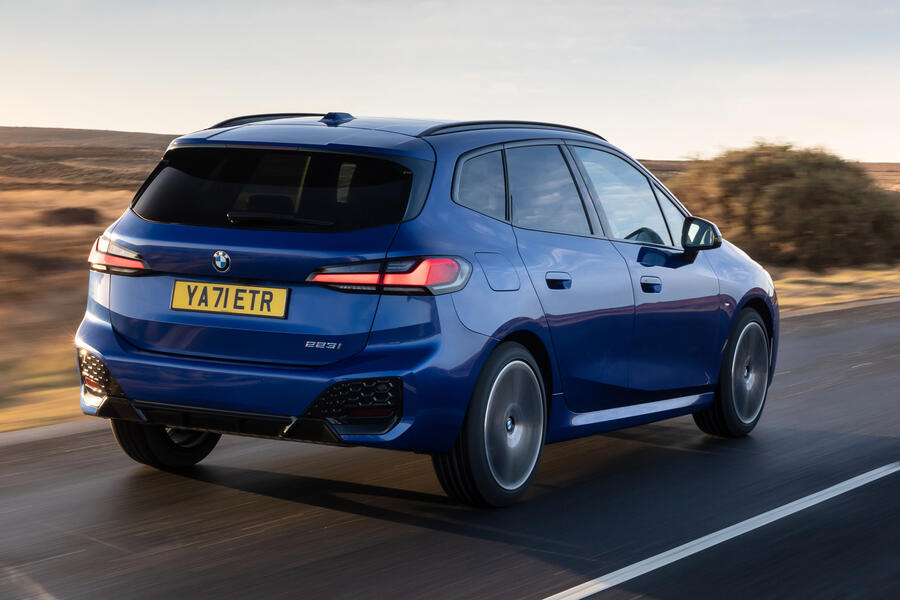 Model tested:
BMW 223i M Sport Active Tourer
4 cyls in line, 1998cc, turbocharged, petrol, plus 48V ISG
Transmission:
7-speed automatic
Driveline layout:
Front engine, front-wheel drive
Model tested
BMW 223i M Sport Active Tourer
4 cyls in line, 1998cc, turbocharged, petrol, plus 48V ISG
View all specs and rivals
Transmission
7-speed automatic
Driveline layout
Front engine, front-wheel drive
Fuel economy
42.8-47.1mpg
Fuel economy
42.8-47.1mpg