With its Beyond 100 plan in place, a strategy for five new EVs in five years from 2025 and record annual sales in 2021, Bentley is on a roll. We spoke to chairman Adrian Hallmark during an Autocar Business seminar to find out more.
You've confirmed Bentley's first EV will be built in Crewe. Was it ever not going to be?
"There was always a chance. But in this transition period between combustion-engine vehicles and battery-electric vehicles, there's even more pressure than has been in the past to not invest in more infrastructure and to fully utilise capacities and facilities that are already there. [But] it's our commitment to maximise the number of cars that we bring [to the UK]. It's never guaranteed, but I'm delighted that we've convinced the shareholders to stick with us."
For Autocar Business webinars and podcasts, visit Autocar Business Insight
The announcement was part of a wider £2.5bn investment. Where's the money coming from and what does it buy?
"The most important thing for us is all of that investment comes from our own cashflow. We won't borrow and we won't go into deficit to fund this. We will do it from our own cashflow and reserves.
"In terms of where it goes, let's be honest: cars cost a lot more to develop than infrastructure. So I would estimate that about 15-20% of that will go into the site. We've already spent a lot to get some of the administrative and test facilities completely rebuilt. But the rest, 80% or so, is in the product. And each car, as we know, is a significant cost. It's a four- to five-year development programme."
How important is Crewe to Bentley?
"How important is Bentley to Crewe as well? Seventy-five years we've been here. We have 4500 people who are at the peak of the skills in our industry and better than most suppliers out there, because we've kept wood, leather and trim as a core competence, and that will continue for the future. If we're going to keep leadership in that space, those skills can't be obtained overnight. And we see a great advantage of that being here.
"But it's not just that. If you're investing the kind of money that our customers do in buying a Bentley, it has to be authentic. It has to come from Bentley. So while we're always in competition for certain parts of the production process with Volkswagen Group facilities, we will always fight to have the maximum here.
"So in the future [with the EV], we intend to do the same. We don't envisage a sheet metal and body shop on site; we do envisage a brand-new, state-of-the-art paint shop.
"We're also changing the engineering prototype workshop and the launch quality centre, where we trial production before it goes into the factory. By doing that, we will empty the hall on the main site, which is as big as the current assembly hall that built our 14,500 cars last year. We will then completely renovate that hall and put in the new production system, with floor-mounted, autonomous, guided production trolleys and supplier components.
"The bodies will come in, we will paint them and go through the same added-value process that we do today, which is way more than any other UK luxury [car] manufacturer. And because the cost is effective, the quality is unbeatable. And it makes Bentley absolutely authentic."
You're very bullish about the future of the super luxury market. Can you tell us more about that?
"The growth potential is so big that you wouldn't know where to start.
"When the [Continental] GT was launched back in 2003, there were, according to Credit Suisse, six million people on Earth with more than $1 million free-floating in stocks, equities and other non-property investments. Today, that figure is close to 17 million, so it has trebled. In 2003, the market for cars like the GT and Flying Spur was about 3500 worldwide. Last year, it was about 68,000.
"We're seeing a steady and inexorable rise in that demand, and we expect that to continue. And with zero-tailpipe emissions cars and a totally sustainable supply chain, we think we can give another push and attract to luxury a new generation of buyers who don't associate themselves with 12-cylinder engines."
How do you make software and charging luxurious?
"We have a mission on what we call five usage cases, to have not just the best sound experience but the best other experiences in the car – and that's luxury.
"As autonomous [driving] kicks in and as people can do more in the car, even if they're being chauffeured by a real chauffeur or a digital one, we want to take the experience in the vehicle to a completely different level. So it's not about the look, the aesthetics or the way we do the icons on the screen. It's about the functionality that we can build in. And we've got five fields of activity that we want to lead in.
"The good thing about software is that it's not as expensive as hardware, especially in this space.
"What we're working on, together with the group but also with some other start-ups, is charging solutions at home, whether that's inductive or robotic. All of these things can be done at relatively low cost with a bit of innovation, and they can take the hassle away.
Do you see synthetic fuels or hydrogen fuel cells being part of the conversation?
"You can look at the maturity of those technologies and when they can be fed into the market industrialised, certified, validated and safe.
"Hydrogen? Absolutely. If you look at it within a vehicle, it's a viable option. But where do you get it from? You have to produce it, and to do so means huge amounts of energy. And if that energy isn't renewable, burning fossil fuels to create a product to then burn that in an engine is worse than making oil. So hydrogen works only if it's made with renewables.
"There's also the dilemma, ethical and environmental, that if the whole system isn't using renewable energy but you use renewable energy to produce hydrogen, you're just substituting that from the core energy supply. So really for hydrogen to work from a total environmental point of view, the whole energy system needs to be green."
How proud are you of your sales success?
"They say that pride comes before a fall. Don't get me wrong: do I feel great about 2021? Yes. But I would have felt greater if that had happened in 2020, which we were set up to do before Covid hit.
"It's thanks to the performance and capability of this team that we've come through Covid and delivered this outstanding result.
"I will give you one other statistic. For me, it's incredible. We started 2021 with the biggest ever order bank, we went through the year and we grew by 31%. By the end of the year, we had 30% more orders than we had on 1 January 2021. So that means we not only grew 30% [but also] the order intake was 30% above that.
"I will be proud only when the [EV] products are developed, the first ones delivered and we start to see that shift towards sustainable carbon-neutral Bentley by 2030.
"Hopefully, our customers will come with us in the way that they've already said [they will] and we will be the leader and be sustainable."
Quickfire Q&A with Hallmark
Your current car? "Bentayga Hybrid."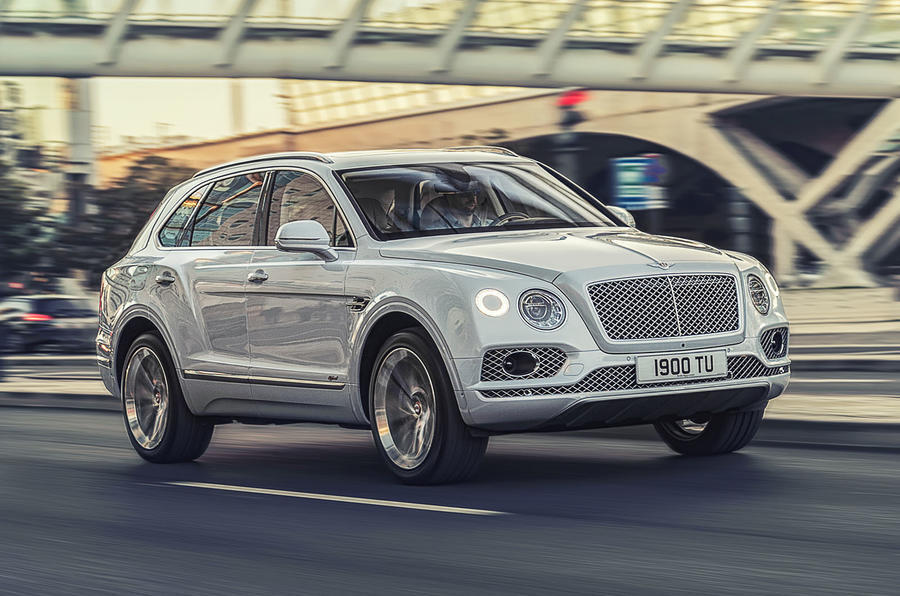 Your favourite car?"Ooh, that's like asking who's your favourite child. Porsche 991.2 GT3 RS."
Your favourite crisps?"McCoy's crinkled. As much chilli as possible."Your favourite book? "Grapes of Wrath by John Steinbeck."Lewis or Max?"Lewis."Your last holiday and how you got there? "Mallorca by plane."