Two bikes with the same 680cc engine, but very different styling
Benda has released the 680cc four-cylinder LFC 700 cruiser in China, with distribution in Europe coming soon.Benda Motorcycles
China's motorcycle industry might continue to pose some problems in the future given its history of plagiarism and reputation for cheap, low-quality machines, but there's no denying it's currently one of the fastest-moving in the world, with a growing number of brands striving to create large-capacity models that can compete on the world stage.
Benda, a brand that was barely known a year ago, is at the forefront of this new Chinese charge, and it's surprising many by not only promising new bikes and greater international access, but actually delivering on those vows. Now the firm has officially launched the production version of the LFC 700 cruiser powered by its own new 680cc four-cylinder engine, but also unveiled a second model, the LFS 700, that plants the same motor in a flat-track-inspired roadster.
The LFC 700, which was first previewed by Benda's LF-01 concept last year, is barely altered in showroom form and has now gone on sale in China, with the European market to follow in the near future. Like the original concept, the production bike has comically vast dimensions, with an enormous 67.7-inch wheelbase and a 310/35-18 rear tire, to give the sort of proportions more associated with one-off custom bikes than showroom models. There's no denying that it's attention-grabbing, with its quadruple exhaust exits and unique turbine-style air intake surrounding the LED headlight, and perhaps more importantly, it's not a bike that can be accused of copying others in terms of style.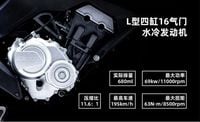 The engine does appear to have a few similarities to Honda's CB650 four-cylinder, with the same bore and compression ratio, but its castings are unique and the crankshaft's throw is 2mm longer to give the 680cc capacity. Two versions are being offered, a cheaper model with 84.5 bhp available at 10,000 rpm and a higher-spec, pricier version with 92.5 bhp at 11,000 rpm, equipped with a slipper clutch and Brembo brakes instead of Nissins. Both models have KYB suspension front and rear and Bosch ABS electronics, plus a TFT dash with phone connectivity for navigation and media.ADVERTISEMENT
How much for all that? In China, the prices are remarkably low. The cheaper version's 45,800 yuan price equates to around $7,000, while the Brembo-equipped, more powerful bike is 46,800 yuan, or around $7,200.
While the LFC 700 had been expected, Benda's launch of the LFS 700—due to go on sale in China in October—comes as a surprise. It features the same engine as the higher-powered LFC, with 92.5 bhp at 11,000 rpm, plus the Brembo brakes and KYB suspension, but gets more conventional proportions, with a part-alloy, part-steel tube frame instead of the LFC's huge cast alloy design. The wheelbase shrinks to 1,480mm (58.3 inches), and the tire sizes are conventional, with 17-inch wheels at both ends with a 120-section front and 180-section rear.
With its smaller dimensions, the LFS enjoys a significant weight advantage over the LFC, coming in at 480 pounds wet instead of 518 pounds, and its top speed is listed as 130 mph. And the price? In China, the LFS 700 will be just 38,800 yuan, which equates to $6,000.
As with the LFC 700, the LFS' styling is distinctive, even if it might also prove divisive. Angular side panels extend forward of each side of the fork, with LED turn signals built into them, and those exaggerated number boards on each side of the tail work to hide a duo of underseat exhaust end cans, each with a flattened profile and vertical, slotlike exit. The rear turn signals are also melded into the number boards, with an L-shaped design to make them visible from the side and rear simultaneously.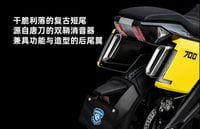 Although we've yet to hear any plans for Benda to bring its bikes to the USA, the company has already started to establish dealer networks in Europe, with a Spanish operation already in place and bikes expected to reach Italy later this year.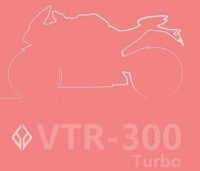 Even more intriguing than Benda's existing models are the company's plans for the future. At the start of 2021, the firm released a teaser image showing the silhouettes and names of three upcoming models. One of these was the LFS 700, now available in China, and another was the VTC-300, a small V-twin DOHC water-cooled cruiser that was also unveiled last week. The third new model, expected to appear before the end of the year, was dubbed the VTR-300 Turbo, and the silhouette clearly showed a fully faired sportbike. Will it really be powered by a turbocharged 300cc engine? Having seen Benda's other new models, it seems increasingly likely.