What is it?
It seems almost quaint to be driving a luxury limousine like the Audi A8 in 2022. As with the BMW 7 Series and Mercedes-Benz S-Class, it still is its manufacturer's flagship, but really all eyes are now on the EVs and SUVs.
That feeling is reinforced by the fact that this facelifted A8 introduces no new technologies. Nevertheless, driving this subtly improved version is a pleasant reminder that it's one of the most relaxing ways to travel, whether as a driver or a passenger.
While there are no headline-grabbing, never-seen-before features, there is one significant upgrade for the 60 TFSIe plug-in hybrid model: its battery has been uprated to 17.9kWh (of which 14.4kWh is usable) for 36.6 miles of electric-only running, and it feeds a more powerful electric motor, boosting the system output by 20bhp to 455bhp.
If the PHEV isn't for you, the A8 remains available with mild-hybrid 3.0-litre turbo V6 petrol and diesel engines and with a gloriously woofly 563bhp turbo petrol V8 in the S8.
Design-wise, the grille has been tweaked (it hasn't got any smaller) and the range-topping Vorsprung version gets digital matrix LED headlights, which supposedly have even more control over their beams so that they can, for example, highlight your lane.
What's it like?
In the A8 L, the long-wheelbase variant we tried, seeing at night is something for your chauffeur to worry about. In the back, you travel in supreme comfort, thanks to acres of leg room and massaging seats with seemingly endless scope for adjustment. If you order the Rear Seat Package, you even get screens mounted on the backs of the front seats so you can watch TV or Netflix.
And the A8 is about as peaceful a place to watch a film as any, thanks to its excellent refinement. You can hear a bit of road noise, but short of a Bentley or a Rolls-Royce, you will struggle to do better – and that includes the S-Class.
It's a pity that a few elements discord with the generally opulent vibe of the A8, like the cheap plastic footrests, sharp edges on the interior door handles, a clunky rear storage bin and unresponsive haptic buttons. These are little things that are excusable on a £30,000 car but really count on a luxury limousine.
Another reservation is with the ride. When we road tested the old A8 PHEV, the standard air suspension transmitted too much bump-thump. On German roads and with modest 19in wheels, it's still not 100% perfect but hardly jarring; and overall, it rides very serenely. It could be a different story on 21in wheels.
Thankfully, the rest of the driving experience is mostly convincing. Through bends, the steering is disconcertingly vague in Comfort mode but fine in any of the sharper modes, where the A8 becomes surprisingly agile for such a huge car. Thank four-wheel steering for that.
With a total output of 455bhp, it's plenty quick, too. More important for a luxury car is that it never feels strained – something lesser PHEVs can suffer from when their small petrol engines have to work hard.
There's no such drama in the A8. From the back, you often can't tell if the engine is running or not, and when the V6 is revved, it emits a muted but purposeful growl – perhaps not quite as distinguished as that of a V8 but pleasant all the same. Even with a depleted battery, there's ample power available. We weren't able to test how much of the 36-mile electric range remains in the real world, but the high-20s is likely.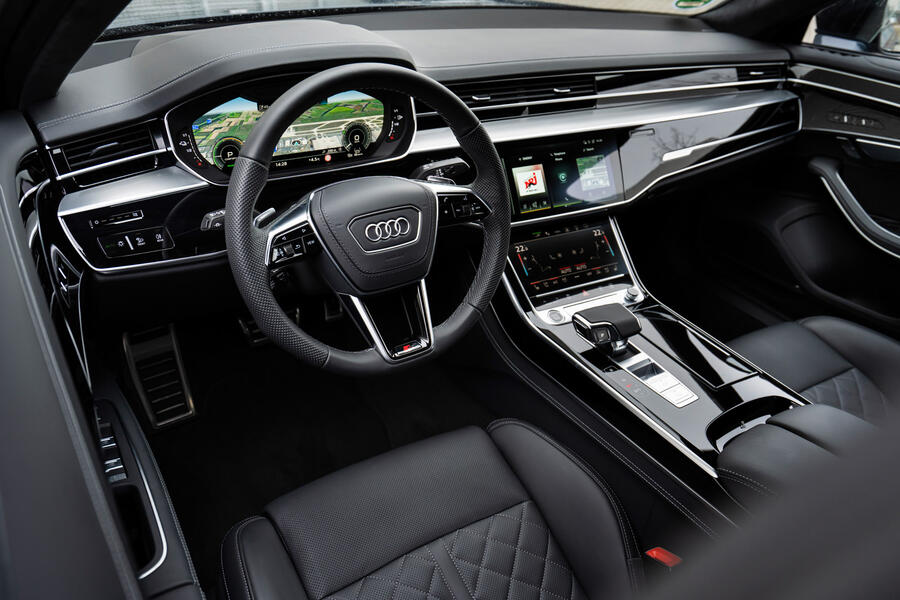 What might make a difference is the mammoth 63-mile EV range of the S580e, outclassing the 36 miles of the 745Le and A8. That's still enough for the 12% BIK tax band, though, so you can't really go wrong in this class.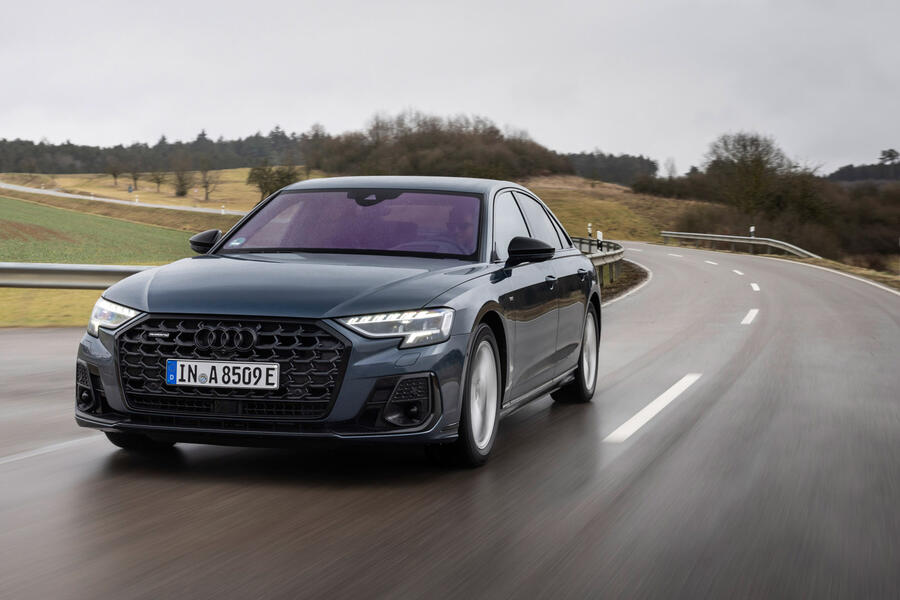 Model tested:
A8 L 60 TFSI e quattro
V6, 2995cc, turbocharged petrol, plus electric motor
Transmission:
8-speed automatic
Driveline layout:
Front-engine, all-wheel drive
Model tested
A8 L 60 TFSI e quattro
V6, 2995cc, turbocharged petrol, plus electric motor
View all specs and rivals
Transmission
8-speed automatic
Driveline layout
Front-engine, all-wheel drive
Fuel economy
134.5-156.9mpg
Fuel economy
134.5-156.9mpg