The 2022 Honda Grom adds a gear and remains America's unlikely sweetheart.
This is the land of $100,000 pickup trucks with bed rails that come to your eyebrows. Of Big Macs and bigger gulps. Of superhighways and megayachts. Where the word "small" might as well have four letters. Despite this, Honda has built an empire by selling Americans an armada of tiny motorcycles. None of it makes any sense. How could a nation with Manifest Destiny tattooed on its eyelids fall in love with any machine with less horsepower than your lawnmower? But Honda has sold around 10,000 Groms per year in the US since the tiny bike bowed in 2014.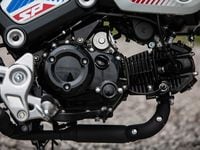 That makes it one of the best-selling motorcycles in America. And this year, Honda debuted the bike's first real mechanical refresh. The 2022 Grom has a new higher-compression 124cc engine, jumping from 9.3:1 to 10.0:1. It's good for a dazzling 9.7 hp and 7.7 pound-feet of torque. Engineers decreased the bore and increased the stroke for more grunt lower in the rev range without dinging the bike's baffling 155-mpg estimated fuel economy. And the engine comes with a removable oil filter for the first time (earlier models made do with an oil spinner). The transmission is now a wide-ratio five-speed, replacing the old four-speed.
All right, but none of that explains the draw, how a machine with a cylinder smaller than a coffee cup could woo us all and find a home in the hearts of longtime and first-time riders alike. Part of the charm is the bike's complete lack of ego. It has exactly nothing to prove, leaving tired superlatives like "fastest" and "most powerful" to other idiots. Its new, wider seat is low and comfy. The bars are tall, so the rider sits upright. Everyone wants to throw a leg over it. And they can; the physical barrier to entry is lower than a ten-speed bicycle, which explains why Honda says 30 percent of Grom buyers are new riders. This thing is a riding gateway drug.
SP trim nets you gold fork legs, wheels, and calipers, plus the red, white, and blue livery.Honda
For the rest of us, it feels like those machines we knew as kids. The Z50s and XR50s. Spend five seconds behind the bars, and you're high on that same illicit thrill you got blitzing through your neighbor's backyard just before dark. That little voice, long dormant, begins whispering in your ear again. "You can take this anywhere."ADVERTISEMENT
We spent a few hours ripping around the hills near Barber Motorsport Park in Leeds, Alabama, a handful of grown men laughing like jackals as we clung to our momentum through each corner, drafting each other on the exit in a desperate press for 65 mph. It's hard to ride the thing without hearing the Wicked Witch's theme in your ears.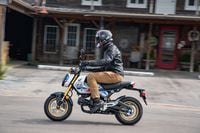 At a claimed 227 pounds for the non-ABS model, it weighs next to nothing. Seems like you could pick it up and put it in your pocket. That combination of low mass and low power makes the Grom friendly for beginners and an accomplice for everyone else, turning otherwise level-headed riders into hooligans. But even at its most naughty, you're never exceeding the speed limit. Cops look on and shake their heads, laughing.
Like all good Hondas, the Grom's engine is happiest when it's screaming its head off. Claimed output numbers show peak torque comes on at 5,500 rpm, and peak horsepower comes along shortly after at 7,000 rpm, but the single is happy to pull all the way up to its 9,000 rpm fuel cutoff. Acceleration isn't quick, but it's more than enough to contend with modern traffic in town. The '22 Grom now has a 38-tooth rear sprocket, up from the 34-tooth piece on earlier models, and it helps the bike get up to around 63 mph of its own accord. Tuck in behind a buddy, get a big downhill on your side, and you might be able to squeeze another 10 mph out of the bike.
I promise you: 73 mph has never felt faster.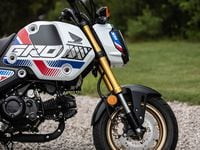 Riding with a group of Groms feels like Mario Kart made real. When you're playing with single-digit horsepower, missing a shift can be the difference between keeping pace and watching your friends ride off into the sunset. Likewise, acing an apex can close a gap in a heartbeat, and skipping dessert at lunch might just put you at the head of the pack. There's no massive swell of power to hide your sins, so you better ride tidy. The Grom turns every two-lane into your own GP course while never coming close to exceeding the speed limit, more fun per pound than anything else on two wheels.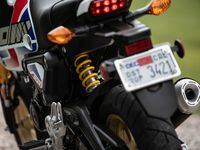 An adorable 31mm inverted fork keeps the front end up while a single shock serves the rear. None of it is space-age stuff, but there's so little mass to the machine that it doesn't matter. Same with the brakes. A tiny two-pot caliper squeezes a 220mm disc up front, while a single-piston piece works a 190mm disc in the back. They wouldn't look out of place on a golf cart, but they do the job of bringing the Grom down from top speed well enough. Base models start at $3,399, but I'm a sucker for a gold fork and wheels, so the SP trim gets my vote at $3,499. ABS will cost you another $100, plus a few pounds.
That's shockingly little money for the amount of joy the Grom brings to the world. Everywhere we rode onlookers were glad to see the little bikes, kids and adults waving or laughing. I've never seen anything like it. Maybe that's what motorcycling has been missing all these years. Maybe that's what Honda figured out early and never forgot: that bigger rarely means better.
2022 Honda Grom Specifications
| MSRP: | $3,399 (base) |
| --- | --- |
| Engine: | SOHC, air-cooled single; 2 valves/cyl. |
| Displacement: | 124cc |
| Bore x Stroke: | 50.0 x 63.1mm |
| Compression Ratio: | 10.0:1 |
| Transmission/Final Drive: | 5-speed/chain |
| Claimed Horsepower: | 9.7 hp @7000 rpm |
| Claimed Torque: | 7.7 lb.-ft. @ 5500 rpm |
| Fuel System: | PGM-FI |
| Clutch: | Wet |
| Engine Management/Ignition: | Electronic |
| Frame: | Steel mono-backbone |
| Front Suspension: | 31mm telescopic fork; 3.9 in. travel |
| Rear Suspension: | Single shock; 4.1 in. travel |
| Front Brake: | 2-piston caliper, 220mm disc |
| Rear Brake: | 1-piston caliper, 190mm disc |
| Wheels, Front/Rear: | 10-spoke cast wheels; 12 in. |
| Tires, Front/Rear: | 120/70-12 / 130/70-12 |
| Rake/Trail: | 25.0°/3.3 in. |
| Wheelbase: | 47.2 in. |
| Ground Clearance: | 7.0 in. |
| Seat Height: | 30.0 in. |
| Fuel Capacity: | 1.6 gal. |
| Claimed Wet Weight: | 227 lb. (non-ABS) |
| Availability: | Now |
| Contact: | powersports.honda.com |